BlueHost Review
Editor Review - In depth review and ratings of BlueHost
Whats good about BlueHost ?
Excellent US based support

Reliable web host

30 Day Money Back Guarantee

Founded in 1996 and still going strong

Most Popular web host
Just $3.95 $6.95 / Month
About BlueHost
Bluehost was started in 1996 and now is one of the well-reputed web hosts in the industry serving millions of domains. Bluehost has created a reputation based on offering reliable, low-cost services
BlueHost is #1 recommended hosting by Wordpress.org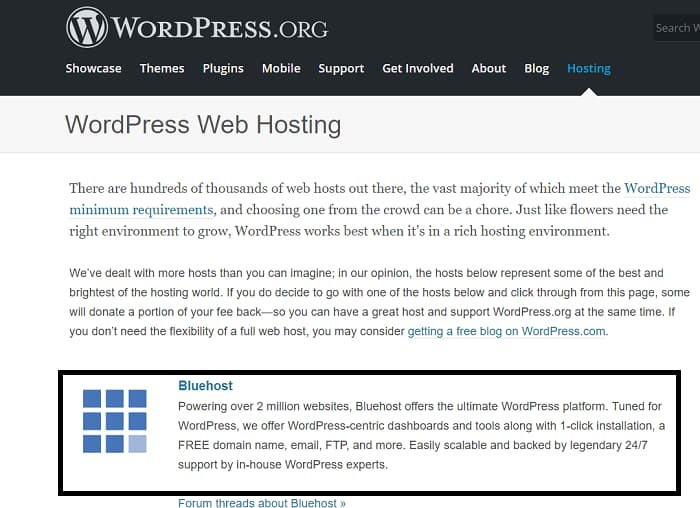 BlueHost has partnered with Wordpress and has been supporting bloggers for over 10 years. Moreover, BlueHost has a strong in-house team of WordPress experts. This means customer gets the best customer support.
Wordpress Hosting Highlights:
Dedicated in-house team of Wordpress Experts
Best Customer Support
1-click WordPress Installation makes it easy to start building your blog very fast.
If you are a blogger(mommy blogger, food blogger or any blogger) , there are four BlueHost WordPress plans to choose from:
Blogger
Professional
Business
Enterprise
Every plan includes enhanced cPanel, dedicated backup storage, SiteLock features, ManageWP to manage multiple WordPress sites and much more. If you have an existing WordPress blog with good traffic, we suggest that you use their managed WordPress hosting.
BlueHost Best Features
User friendly Control Panel
BlueHost CPanel, a customized version of cPanel, is easy to manage and administer. Using one-click feature, you can install CMS's like WordPress very easily. Details below..
Best Customer Support
As a business owner or blogger (or even for a techie), customer support service is vital to a website's lifeline. A customer needs timely solutions for all their day to day issues.This is where BlueHost excels. Details below..
Good Server Uptime Record
BlueHost Server performance is quite impressive. And a high performing server means good for your website as well, since your site will be faster.
Automated Backups
BlueHost automatically creates daily backups, weekly backups and monthly backups, for your entire hosting account (blogs/files/databases etc) and you can restore it with few click
Free Domain Offer
When you signup for BlueHost, new customers can get one free Domain name(yoursitename.com etc). Usually a domain name purchase costs at least $15 (from a reputed domain name registrar).
30 Day Money Back Guarantee
Bluehost Refund Policy: You have 30 days to try out BlueHost. If you are not happy, you can cancel your hosting plan within the 30 day period and you get your money back. Please note: If you made use of Free domain offer from BlueHost, then you will charged for the domain purchase.
SiteLock protection
Bluehost has partnered with SiteLock to provide customers with protection from hackers, malware and other threats. But you need to purchase SiteLock for an additional price.
CloudFare Protection
Customers can also enable CloudFlare(single-click integration with CloudFlare), a Content Delivery System, in their cPanel for free. With CloudFlare, you can protect your website against malicious visitors, save bandwidth and speeds up your site. CloudFlare is very well known for thwarting DDOS attacks. Wildcard DNS/Subdomains are supported and you can set this from Cpanel.Wildcard subdomains are useful when you create WordPress multi-site.
BlueHost Other Features
User friendly Control Panel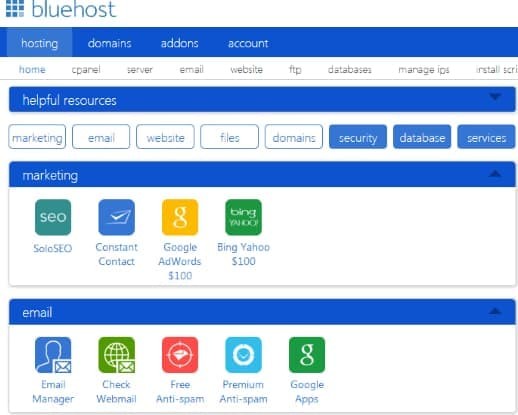 Ideally, a control panel should be easy to manage and and administer. The most popular control panel is cPanel.
BlueHost cPanel, a customized version of cPanel, is easy to manage and administer. Using one-click feature, you can install CMS's like WordPress very easily.
You can quickly setup and manage databases, create FTP accounts, setup email accounts related to your domain name.
Overall, BlueHost is a very user friendly control panel and all users find it easy to manage. Especially newbies, bloggers and small business owners appreciate the user friendly feature.
Here's a nice screenshot of BlueHost CPanel, that shows how easy it is to install Wordpress and other Apps.

Bluehost email: Here's another screenshot that shows how easy it is to manage your emails.

Server Uptime Record
Fact: All good reliable web hosts provide a 99.9% uptime guarantee.
Look:
If you dig uptime records, almost all shared web hosts will have some downtime. We will be honest here. BlueHost is no exception.
Responsible Host: But the difference is how much time the server was down and how fast they could recover from it. And it should be handled in a responsible manner, so that customers are not frustrated with the downtime. Customers should be notified about the issue along with a probable recovery time to get things back to normal.
You see, it is these kind of things that makes or breaks a hosting company. You have to retain customer trust when these incidents occur. When servers are down for a long time(which happens rarely), the web host has to resolve pretty quick.
BlueHost also provides a 99.9% uptime Guarantee. If you look at BlueHost's uptime history, they have a pretty good uptime record.
Hiccups!!! But it did screw up (big time) a few times in the past, but they did manage to recover pretty well. They did notify customers about the issue and customers were constantly given updates till issue was solved. And they did give a proper explanation of what happened. Thus, they always won customers trust, who continued with BlueHost.
This is in huge contrast to another popular web host who screwed big time, not gave proper updates while server was down, then came with some lame excuse for the downtime. You see, thats the BlueHost difference.
BlueHost Server performance is quite impressive. And a high performing server means good for your website as well, since your site will be faster.
Automated Backups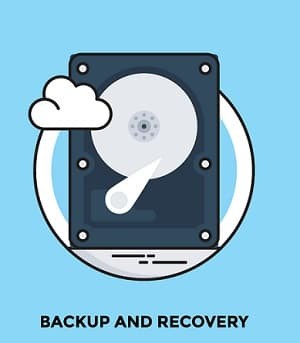 As techies, we (Editors of this article), know how important daily backups are. We cannot stress this enough.
You can screwup. You (or your developer)can accidently delete files or database. Your database can get corrupt. If you are a blogger, you can accidently delete important posts. Nasty things can happen!
But if you have a backup, then recovery is possible. BlueHost has automated daily backups(weekly and monthly as well). So if you screwed up, contact support and let them know and they can recover files or database from your backup.
So backps are a big must have for serious bloggers or small business or for any developer. It makes sure your endless hours of hardwork is not wasted. So thanks to BlueHost automated backup feature, you can have peace of mind.
Spam Control
BlueHost provides 2 Email Spam fighting Software. SpamAssassin and SpamExperts, both are part of cPanel. You need onlyone. Do not use both simultaneously. Spam Assasin works better.
Spam Assassin is a great industry standard email spam fighting tool and is included in your hosting account. But it not enabled by default and you have to enable it from your cPanel. It is recommended that as soon as you start your hosting account, You just need to do it once and it should work for all your email accounts.
How does SpamAssassin work?
It scans the entire contents of each email before it reven eaches your email inbox. Then, based on content, it assigns a score for each new email message. Higher Spam score means more likely it is a spam message. You can set a spam score cutoff and based on that score, SpamAssasin decides which emails are safe for your inbox. Spam messages are then delivered to a spam folder.
More important featues of BlueHost
Easy Upgrade: If you are a new blogger, it is always advisable to get started with BlueHost shared hosting plan(just $3.95 per month). Later, when you have a successful blog and have tons of visitors, then it is advisable to upgrade to a VPS and dedicated hosting plan. BlueHost makes it easy to upgrade for a reasonable price.
Decent Server speed: The average speed reported for test websites(various sources) with sufficient content(including images) was approximately 1/5 seconds. Any speed under 3 seconds is considered pretty good. Also BlueHost Server Response Times from its USA Data centers were under 100ms while other international data centers reported between 350 to 500 ms. Basically under a minute. Still good.
Free SSL: SSL (Secure Sockets Layer) is a security protocol that enables a site visitor to securely connect to your website.(website urls that start with https://) Bluehost SSL: Bluehost provides free SSL certificate and a customer can install SSL very easy from control panel. Once turned on, with a few hours your site can be accessed using SSL.
DIY Site Builder - Build your website!: Weebly is a premium drag-and-drop site maker for building your website. You can access Weebly from your cPanel.
BlueHost Support - How good is Support?
Best Customer Support
As a business owner or blogger (or even for a techie), customer support service is vital to a website's lifeline. A customer needs timely solutions for all their day to day issues. Bluehost customer service excels here.
Since BlueHost is a profitable company, it has heavily invested in hiring best admins, developers and techies to form their customer support group.
Then they take the time to give them best training. It is a smart decision, because poor support means bad for business.
Plus, the bluehost support team is available 24/7/365. A Customer can get support via:
Ticket based support system: BlueHost recently discontinued ticket support system. Instead they are putting more efforts into chat based support as well as phone support. We feel, being techies, chat based support is the best, because of instant response and fast resolution.
Vast Knowledgebase: BlueHost maintains a very useful knowledge base with useful articles, guides, how-to videos, instructions, and answers to most of the customers frequently asked questions. This saves a lot of time, because most common user issues are explained in the article or video with solutions.
BlueHost Data Centers
Bluehost has three datacenters and is located in USA (Utah). BlueHost networks offer redundancy in fiber lines as well as backup UPS and diesel generators to ensure networks are up. It offers a 99.9% network uptime guarantee.
BlueHost Guarantees - Uptime, Moneyback
Bbluehost offers
ANYTIME refund for unused months of service
. i.e. Even if you cancel at 11 months you will be refunded for the remaining time on your account with them. If you cancel within the first 30 days you will receive a full refund with the exception of the domain name policy. (If you received a free domain name from bluehost during your signup and cancel anytime after the first three days, there will be a $10.00 charge for your domain name, which will be your domain name to keep for 1 year.)
BlueHost Hosting Plans, Cost and best offers
Summary
Which Hosting Plan Should You Choose?
Here we discuss bluehost pricing as well as which plan is right for you. We assume you are a beginner and hence we recommend 3 plans for you. Please read on.
Shared Hosting - Suites all beginners and small business owners- $3.95 per month
If you are a newbie or new blogger, it is always advisable to get started with BlueHost shared hosting plan(just $3.95 per month).

This has all the requisites for you to get started. This plan also has bluehost wordpress hosting(startter plan).
After signup, you will get a welcome email with your control panel admin id and password. You can then setup your wordpress blog or small business website.
So this plan is ideal for :
New Bloggers - Wordpress(mommy blogger, foodie blogger and so on)
Newbies - Small business owners who need a website
Professionals - Professionals who need a website(Lawyers, Doctors, Accountants etc)
Get Started now! (Affiliate Link)
BlueHost WooCommerce Hosting - Powerful Online Stores - $6.95 per month
This plan is best for enter pruners who want to start a web store.
Basically WooCommerce is a free eCommerce wordpress plugin that lets you to sell anything online. Built to integrate seamlessly with WordPress, WooCommerce is the world's favorite eCommerce solution that gives both store owners and developers complete control.
WooCommerce Auto-Install:: BlueHost has an auto-install procedure, where in BlueHost will install it for you. This way you get a good head start. Also you get a free SSL for your online store . This way your store is secure and transactions within your site is always encrypted.
You also get a free dedicated IP address, which is great for SEO as well.
Get Started now! (Affiliate Link)
Advanced Wordpress Hosting - $19.99/month
This plan is ideal for wordpress bloggers who have very good traffic. This Wordpress optimizsed hosting plan can accomodate upto 100 Million hits per month.
This plan also promises Extreme Speed and high performance. This plan offers a better control panel and has included premium features like SiteLock Security and Advanced CDN for a high performance Wordpress Blog.
Get Started now! (Affiliate Link)
---
User Review
Review By: Tom Anderson
Review Date: 8/31/2017 8:27:07 PM
My experiences with other hosting sites led me here by far the best easiest to use hosting site I've found. Excellent pricing outstanding customer service
---
User Review
Review By: Norm Acunis
Review Date: 1/25/2012 6:26:16 PM
It's easy to sign up with web hosting companies. But what is very difficult is to sign up with one that actually cares about you. The care starts with the terms of service TOS agreements. Most are very restrictive and many companies use them ro manage their costs. Expensive customers get cited for questionable TOS violations so they will go away.NOT TRUE with Bluehost. Their TOS is reasonable and is based on a company that is not in trouble with their budget. Hosting companies that have budget problems don't install new servers and storage. Bluehost has enough infrastructure to allow customers to manage their websites easily. Further dis space limitations are entirely reasonable.Thank you to Bluehost.
---
User Review
Review By: Hari Mohan Sharma
Review Date: 2/15/2020 1:49:07 AM
I am using shared hosting Choice plus plan for the last 15 months. My website never went down. It looks uptime was near 100. I find the price as cheap. I used chat service for support and found it excellent. But my website speed is not great. I think shared hosting cannot provide much faster website speed.In all I am satisfied with Bluehost.