Best Microsoft Exchange Hosting providers
Exchange Hosting for business. Better Communication and email tools for your business.

myhosting.com is a Toronto, Canada based company providing affordable and reliable hosting services since 1997.
Why myhosting.com ?
All required Basic and Mobile Email features
1 account with FREE copy of Outlook
Sync for Windows Phone, iPhone
BlackBerry service option available
Editor's Rating:

Just $9.95 / Month
Outlook desktop software and sync FREE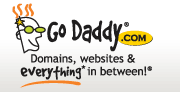 Established in in 1997, Godaddy is the most popular domain registrar and has grown into a world's leading web hosting provider managing over 18 million domains.
Why GoDaddy.com ?
2 GB storage
1 mailbox
Microsoft Outlook 2007 or
Entourage® 2008
Editor's Rating:

Just $6.99 / Month
Free Setup
Free Microsoft Outlook
---