siteground.com Review
Editor Review - In depth review and ratings of siteground.com
Whats good about siteground.com ?
Excellent customer care. Their technical support is lightning fast
Free installation of Dolphin,phpBB, wordpress,Joomla, PHBB
FREE Joomla Templates, FREE Wordpress Themes
CMS-optimized & Blog-optimized Servers
About siteground
Innovation is the first thing that comes to my mind when I think of SiteGround(SG).
These guys keeps their servers updated to latest cutting edge technology. They have roll-outed many innovative features, which only a very few companies have tried. And thanks to these efforts, their servers perform so beautifully. And have won customer confidence.
They even have developed their own custom solutions for security and high server performance. And thanks to their Innovation and consistent efforts, they have grown steadily to become one of the most established names in the web hosting industry. These guys are posing a serious threat and competition to big guys like BlueHost.
SiteGround has humble beginnings. It was founded in 2004 by a group of passionate university friends from Bulgaria. They have shared hosting plans as well as plans for the most popular CMS - WordPress hosting. They also have special plans for Joomla, Drupal, Magento and Prestashop.
The company has data-centers in prime locations like Chicago in the United States, Amsterdam, and London in Europe and Singapore in the Asia-Pacific region. They also have branch offices in the US, UK, and Spain.
SG had exponetial growth in the last few years. They also are big sponsors of main tech events like WordCamp. As of now, it has more than half a million domains under it's belt.
siteground Best Features
SiteGround, since beginning, has invested in latest cutting edge technologies and thus are way ahead than their peers in this aspect.
Security, Let's Encrypt SSL:

SiteGround is also very proactive when it comes to security.

Let's Encrypt SSL: All websites hosted under Siteground gets free Let's Encrypt SSL cerifcates. This means you get free SSL for all your websites for free, which is a very good deal. Not to mention the fact that - SSL(https for your website) is now an SEO factor.

Strong Firewall: In addition, Siteground has tightened rules around firewall so that nasty hack attacks are stopped by their firewalls. And best part is, they keep updating adn add new rules around firewall to keep it upto date and thus reduce riks to miniumal.

CMS-optimized & Blog-optimized Servers

Siteground specializes in CMS hosting big time. Thanks to Wordpress popularity, Siteground has wordpress optimized servers to cater it's customers who signed up for a wordpress plan. Similarly, they have optimzed servers for other CMS's as well.

WordPress Core AutoUpdates

33% of world's websites use Wordpress. So it is only natural that website hackers will target wordpress sites looking for known security vulnerabilities, for which security patches are not being applied.

So SG has developed it's own custom software to automatically check if any new wordpress up[dates are available , and apply the same to your site. This is a very helpful feature and SiteGround should be appreciated for this. Mosts hosts expect customers to update it themselves.

Custom cache plugins and tools for WordPress - Faster websites

SuperCacher, a custom developed caching solution for WordPress makes Wordpress blogs very fast. In addition, Siteground also has developed custom Wordpress Admin ToolKits and staging sites, which can make a developer very happy.

Staging sites

Staging sites let you have a test version of your live website and thus you can test it it out in staging website, before applying any desighn changes or other chanegs to your live website.

Ahead of competition in implementing new technologies

Newer technologies like HTTP/2, Nginx,and PHP7 were tested anmd implemeneted in their servers, way ahead tham it's competitors.
siteground Other Features
FREE domain name
Unlimited web space& Unlimited traffic
UNLIMITED MySQL/Postgre DBs
CPanel and Fantastico
FREE SiteBuilder
99.9% Server Uptime
Host 5 Addon Domains
siteground Support - How good is Support?
SiteGround support response times are one of the best among most popular web hosts. For example, live chat response time is almost within 20-30 seconds. Expert technicians are availabe round the clock(Bulgaria office based).
It has 3 channels for support:
Live chat support
Email email
Tickets support
In case of live chat, which is the most popular option amoung users, most of the issues are resolved immediately, right there when you are discussing the issue. But if your issues ia a difficult one, it is escalated to 2nd line support, whuch may take additional time.
For ticket and email support, on an aeverage, you can expect a response time anywhere from 15 minutes to an hour, in most cases.
One thing which I really liked is that they have experts for CMSs like Wordpress and related issues are solved within reasonable time. Support guys are very cortoes, patient and are very helpful.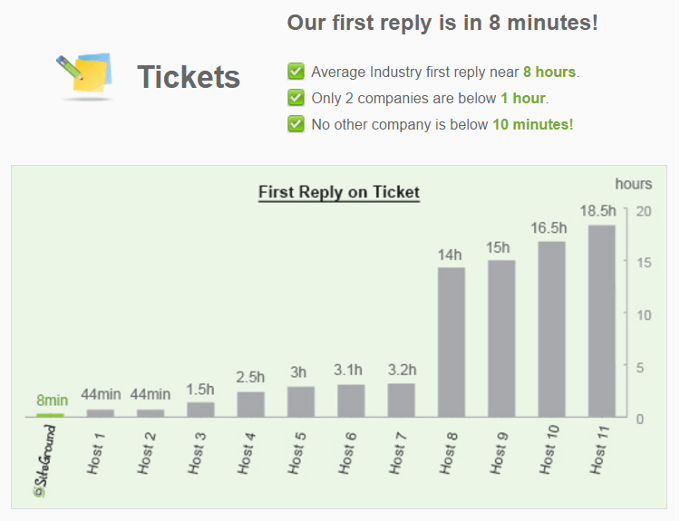 In addition to support channels, for the DIY guys, they have Knowledgebase, tutorials, webinars for most of the common issues. Siteground also provide detailed tutorials for Joomla,WordPress ,phbb,osCommerce and CRE loaded, Zen cart,Cube cart and more. Their tutorials and support information are very helpful for starters. Our Support rating. This is very helpful as well.
Overall, support quality is more than great and I was more than satisifed with the help I got from SG tech support.
siteground Data Centers
With a global audience in mind, Siteground data centers are spread across 3 continents so that you can choose the data center that is close to your website visitors.
Data center Locations:
North America: Chicago, USA
Europe: London and Amsterdam
APAC Region: Singapore
siteground Guarantees - Uptime, Moneyback
Money back gaurantee Siteground does provide a money back gaurantee for shared hosting and cloud hosting.

Shared hosting plans: 30 day money back guarantee
Cloud hosting plans : 15 day money back guarantee

Way better than 99.9% Uptime gaurantee

Siteground provides a 99.9% Uptime gaurantee. But it has consistently delivered results way better than that. Tests have proved that they have even better uptimes. As per Siteground, they have an average of 99.99% uptime and sometimes even a 99.996% to 99.999% uptime.

It has taken sufficient measures to ensure a very good uptime recortd.
Pro-active Server Monitoring: SiteGround has developed its own software to so that it foresee upcoming issues and detects issues and fix immediately.
Anti-bot AI: Botnets are nasty and can cause serious downtime. Anti-bot AI, it's own home made smart Artificial Intelligence solution, stopsmultiple brute-force attacks on it's servers, before attacking customers websites.
Secure Account Isolation: In shared hosting accounts, resource abuse or aggressive usage of resources can affect performance of other websites in same server. Sigeground has developed a "Secure Account Isolation software" that ensures no single shared hosting account can harm other accounts in same server.
Resource efficient Servers: Traffic spikes can happen. Especially for high traffic sites. Siteground servers has implemented LXC (Linux containers) technology, which is highly resource efficient and thus gives more stability during those high traffic spikes.
siteground Hosting Plans, Cost and best offers
Siteground offers 3 plans: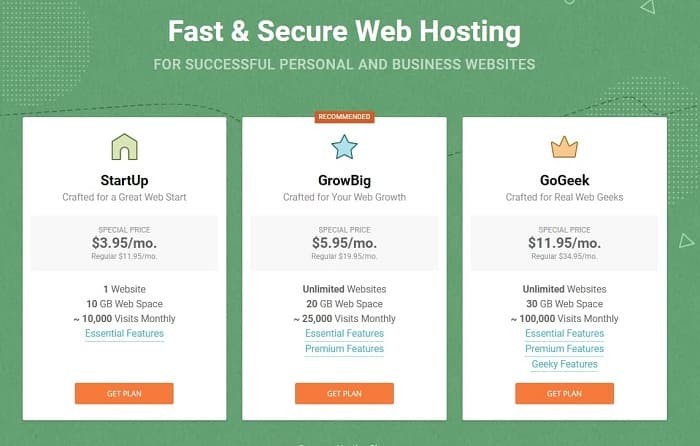 Startup Plan: Cost is $3.95/month for the first year, which is almost 80% off the regular price of $11.95/month. As the name implies, this plan is ideal for someone who is just fetting started with a website. You get one website hosting and other free goodies lncluding free SSL and free daily backups.

Growbig plan: In this plan, you get better features than a startup plan. As the plan name gives a hint, Growbig is the next step, after your startup venture is successful and you need more resources to grow. You can also host multiple websites. Plus you get free website transfer. Cost is $5.95/month for the first year, which is 70% off the regular price of $19.95/month.

GoGeek plans: This is the best plan. This plan gives an advantage to the customer. GoGeek plans are hosted in seperate powerful servers. Customers under this plan enjoy premium features like get priority support, PCI Compliant Servers and One-click Git Repo Creation. Cost is $11.95/month for the first year, which is also almost 70% off the regular price $34.95 per month for subsequent years.
Pricing Summary: Siteground pricing is competitive while offering best value to customers. Rest assured, you get the best hosting servers and performance. Period.
Summary
SiteGround is all about high performance web hosting. It has top notch support and is providing a great service at a good price. A reliable hosting company with highly innovative plans and who is hungry for success, Siteground makes a great choice for your website or blog. Switching to it is a no-brainer.
---
User Review
Review By: Tony M
Review Date: 11/23/2010 1:59:09 PM
Initial setup misleading. After a year the fee skyrockets and they do not tell you the first year is a special offer.Site is slow and errors are frequent. Support is decent but not of the quality they make themselves out to be.Most of the time it takes multiple support requests to get a decent answer. They are also great at closing support tickets that are not resolved. They also like to bill you and not tell you of the drastic price increase and they like to sell you optional services just to get things done.All they are concerned with is money. Find another web host for your site and email