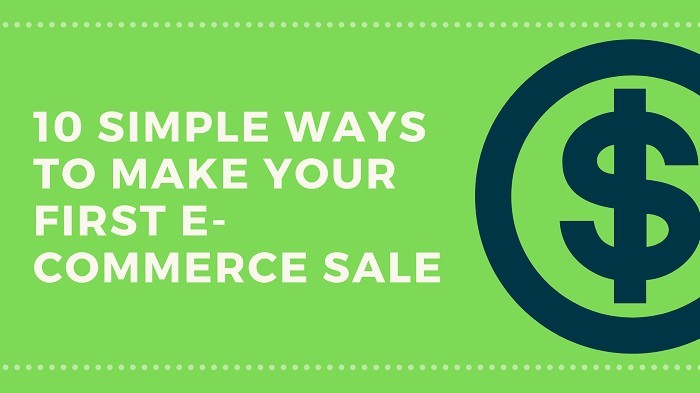 10 Proven Ways To Make Your First E-commerce Sale

Tweet This


As an e-commerce seller, you want to make money off your website.

However, making the first few sales can be challenging because it puts your store, strategy, and patience into a test.

Fortunately, if it's still the early days of your business, there are a handful of opportunities to grow, learn, and put tactics and strategies into action.

To help you get started and jumpstart your way to success, we've listed the ten efficient yet straightforward ways to make your first e-commerce sale:
#1. Email Marketing
Let's start off with email marketing.
One of the direct ways to connect with prospective clients, email marketing is an effective strategy to let people know that you have an online store, potentially attract them with exclusive deals and offers.
Ideally, you must create a lead capture page where you can share relevant information about your product as you build a list of prospective customers.
However, what if you did not create this page before you opened your store? No need to worry ‒ you can still use the same strategy for your upcoming product launches.
Also, if you don't know where to start these email marketing tools can help you with your strategy.
#2 Social Influencers
Influencer marketing has been the trend these days.
While some people still don't know your brand or business exists, the best way to introduce them to your products and services is by enlisting the help of the influencers.
Many e-commerce stores are turning to influencer marketing because they pay rates are usually lower, but the overall engagements are high.
Just think about it..
For a couple of hundred bucks, your product is exposed and introduced to thousands of prospective customers.
Who wouldn't want that, right?
As a new brand, it's crucial that you keep the costs as low as possible especially during the early stages. If you can't make enough sales, you won't thrive because you don't have a regular cash flow.
Therefore, be smart about your marketing budget.
Do your research before thinking of partnering your product with an influencer. See to it that these people perfectly fit your brand strategy, values and audience.
#3 Product Descriptions
If you're selling a particular kind of clothing or accessory, provide your clients with a size guide.
Doing so helps you cut back on returns for your online business. Encourage previous customers to leave reviews and testimonials. Then, ensure that you have a frequently asked questions page set up as well.
Writing quality descriptions with keywords are also extremely beneficial to your SEO strategy.
By optimizing these descriptions, it significantly boosts your search rankings.
As a result, your business becomes more visible to your target audience which eventually leads up to more sales.
#4 Social Media Marketing
Social media is an absolute gamechanger.
It allows you to engage with your audience on platforms where they spend most of their time ‒ on social media, of course.
Examples of these are more traditional mediums such as Facebook and Twitter.  There are also more visual platforms like Pinterest and Instagram.
For example:  Consulting.com's owner, Sam Ovens, is a successful example in social media marketing. His Facebook page has more than 1 million followers and he's got great engagement to his posts even though Facebook's organic reach has dwindled in the past years. One of the reasons he's so successful in social media is that his posts perfectly address the main issues the wanna-be consultants (his market) are facing.
Look:
If your goal is to build a thriving e-commerce business, never underestimate the power of social media. These networks instantly create a lot of buzz for your products and brand.
With the possibility of some of your content going viral, they're fantastic for highly targeted ad campaigns.
Not to mention, social media platforms like Facebook hold massive amounts of data regarding user demographics and interests which you can use to your benefit.
Related Article: 15 Social Media Marketing Tools you should know
#5 Coupon Codes
Another powerful tool to attract new customers and a loyal following are coupon codes. However, see to it first that discounting fits your overall marketing strategy.
#6 Abandoned Carts Strategy
Most customers look for the best deals online. Therefore, it's relatively common for them to place items in their carts, only to be distracted and leave.
As an e-commerce seller, one way to re-engage these customers is through creating a solid "abandoned cart" strategy. These may include reminder emails, promotions, offers, incentives, and targeted ads.
For example, if a client has already given out their email address, then for the next 24-hours, send them a coupon code to help them complete their order.
You can also try the try intent-based, a "wait, don't leave" message.
Follow it up by offering immediate incentives for shoppers to buy rather than leaving your site.
#7 Healthy Supplier Relationship
It's crucial that you have reliable suppliers at your disposal as they can make or break your business.
That's why having a good, and healthy supplier relationship can significantly boost your overall sales.
#8 Mobile Devices
Another way to leverage your business from the rest of the competition is to have a site that's accessible to whatever device your target customers are using.
Since a majority of people are using smartphones and tablets these days, you must have a site that's mobile-friendly.
Better yet, create a separate mobile site.
Doing so enhances your mobile presence, and you can even gain many sales by being convenient for visitors and returning customers.
#9 Display Advertising
Display advertising is banners, sidebars, and other prominent visual ads that show up on other websites. These display ads are processed by ad networks such as the Google Display Network.
#10 Pay-Per-Click Advertising (PPC)
For you to run a highly efficient PPC campaign, it involves strategic bidding on the phrases and keywords that are used in the advertisements that you create.
These ads appear below or above the non-paid organic search results. Usually, those with higher bids earns the #1 spot.
It is how search engines make their revenue ‒  through a per-click basis. On the other hand, impressions are usually determined through a user search query.
Final Thoughts
Sometimes, making that very sale is just a quick endeavor.
However, sustaining the growth of your sales makes you realize how tough it is to do it on your own.
The question is, how can you make your e-commerce business flourish?
Well, it's always essential that you do your research and enlist the help of professionals, such as experts in  Digital Marketing like https://www.littlegiant.co.nz/digital-marketing/ to help you reach your targets and goals, potentially setting you up for success in the long run.
Author Bio:
Violet Smith is a marketing communication specialist and a part-time blogger who loves shopping. Her goal is to drive the awareness to people through her writings.