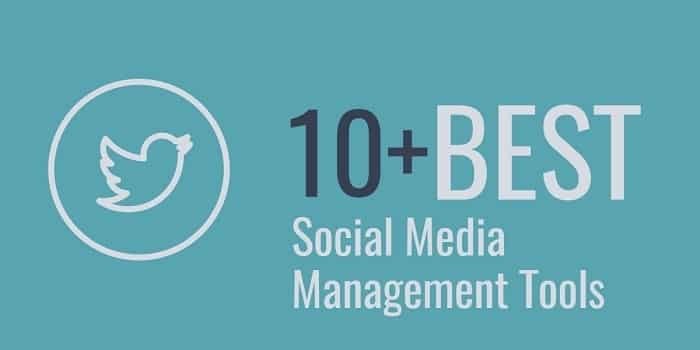 10+ Tools For Efficient Social Media Management

Tweet This


Pinterest, Twitter, Facebook, YouTube and even Linkedin – if you have all of these accounts then you know how hard it is to manage a social media account on your brand or website.

For example, while you're busy talking to your customers on Facebook, you might have forgotten to upload a picture on Pinterest or tweet something on Twitter.

Aside from that, what is the best time to engage your followers in these social media accounts? If that's too much of a headache for you, then you'll need these tools for managing your social media accounts.

CrowdBooster is a social media management tool that gives you the opportunity to give insights to your Facebook and Twitter accounts. It measures your social media marketing efforts and provide you with a powerful, yet easy-to-implement recommendations for your Facebook and Twitter accounts.

CrowdBooster auto posts on your Facebook page and Twitter account. A very useful feature particularly if you don't have the time to post in these social media accounts. Aside from posting statuses, Crowdbooster tracks new fans and followers and can give you stas on how many times the content has been shared or retweeted.

What is special about CrowdBooster is that it gives you post recommendations. It suggest the best time to publish posts based on your engagement history. This ensures that all your posts are read by your followers and not missed.

Another great feature about CrowdBooster is that it reminds you if you have not responded to one of your followers yet. This is a great feature and helps you keep track of customer posts.

 
---
Hootsuie lets you manage not just Facebook and Twitter, but LinkedIn, Google+, FourSquare and other social media platforms as well. Hootsuite has been chosen by some of the top companies like IBM, Tiffany & Co. and H&M.
The platform lets you ceate numerous social network streams and view them all in one place. Through this, you can post social media updates, and post messages to various social media networks without having to transfer from one browser tab to the other.
The free version is great for posting social media updates. With this version you'll have everything you'll need to post and even manage a team to do the posting for you. If you need access on the tool's reporting feature, you would have to subscribe to the service.
---
Buffer is another web-based social management tool similar to Hoosuite. The app was primarily intended for sharing posts across social media sites and has now evolved to be a direct competitor of Hoostuite.
Buffer makes it ease to spread content across social media platforms, but unlike Hootsuite, this tool doesn't have powerful dashboards for monitoring your social media presence and it doesn't offer deep integration across social media platforms.
What is great about Buffer is that it has a lot of apps, extensions and extras that will allow you to simplify your post in variety of places online. Once you have installed these tools, its easier to use the app than manually logging into the site and managing your posts.
Buffer lets you manage multiple Facebook, Twitter and LinkedIn accounts.
---
SocialOomph provides a host of free and paid productivity enhancements to post and manage your social media accounts. The service started out to help users become more productive in using Twitter, but now it has expanded for use with other social media sites like Facebook and LinkedIn.
The service is regularly updated and it even has some features you can use to regularly update your blog.
SocialOomph has free and premium but you can do well with their free version. The free version allows you to use it for any number of accounts, schedule your tweets, track keywords and shorten URL and track clicks.
If you want to automate your social media campaign, SocialOomph lets you use automation, but for an additional fee. These automated features are Follow-back and Auto-DM style features.
---
SproutSocial is a social media management system that lets you manage a team for your social media campaign and focus on engagement, publishing, and analytics. The service offers the ability to integrate to Twitter, Facebook, Zendesk, Linkedin, UserVoice and Google+.
The service has been used by large companies and organizations namely UPS, Dove, Yahoo!, Pepsico and Nokia.
SproutSocial is well known for its well-organized dashboard by separating the subject matter into six distinct areas: Publishing, Messages, Tasks, Feeds, Discovery and Reports.
SproutSocial also has analytics and reporting feature. When you log-in to your dashboard, analytics is the first thing you'll see. The analytics part gives you real-time snapshots that aggregates trends and help you better understand your audience.
Unlike other social media platforms, SproutSocial does not charge you with the reports. You'll see data from various social media platforms without spending a dime.
---
If you are trying to get your social marketing campaign in Twitter but it just don't work, you ought to try out SocialBro. SocialBro is a comprehensive Twitter management tool that offers plenty of features that will help you get the most out of your Twitter account.
The platform is available in a variety of editions. There's a free version that contains just the right features to simplify your Twitter campaign. It lets you use the Google Chrome app for online campaigns and the desktop version if you intent to use it offline. The free versions are only limited to the computer you are currently downloaded and used SocialBro.
SocialBro is centered around the idea of managing and analyzing your Twitter community. It shows you graphs on how many followers or friends you have, reciprocal follows and follows that aren't reciprocated. Additional features includes analysis to show you when is the best time to tweet. The problem with the free version is that you can't schedule posts.
Many of the features like the ability to analyze competitive markets and concise analytics function are available in the Pro account.
---
Socialflow offers a collection of information that determines that criteria on how you can engage your target audience. SocialFlow promises to deliver an increase in receptivity and response. SocialFlow's method are somewhat intriguing to many as there isn't enough information shows on the website that allow visitors to be educated about the service. Although the company boasts that they use live monitoring and trending information to help you develop strategies and engage potential customers and clients.
SocialFlow began in 2008 and was the first service of its kind during that time. Back then, the service aims in getting more clients out of their existing social media efforts through scientific data analysis. Today, SocialFlow has grown to more than just analyzing data scientifically and have garnered great increase in social engagement over a short span of time.
SocialFlow is a web-based application that you can access from your browser or through an app.
---
ViralHeat(ArgyleSocial) is a social media management tool that allows you to merge social data with sales and marketing to help you identify and engage with more prospects, garner better leads, and build social relationships with social media actions. It allows you with unlimited access to mentions of your chosen keywords across unlimited streams of information.
ViralHeat combines social media monitoring, publishing, analytics and reporting for all social media networks in an easy to use interface. You can monitor conversations, publish and schedule updates, and access metrics and KPI and presentation-ready reports.
---
Cyfe is an all-in-one social media management tool that can help you monitor and analyze data scattered not just in your social media networks but also on the data scattered across the web like Google Analytics and Salesforce. Cyfe provides daily intelligent and robust dashboard for your site and helps keep the "pulse" of your brand or website without the fuzz of paying unnecessary fees. This keeps your site on the loop without having to spend too much money on add-ons and unnecessary fees.
Cyfe is not just limited to social media, think of this as your all-in-one dashboard. For example, if you use multiple Gmail accounts, you can track it all in by simply logging in all our accounts into Cyfe. You can create dashboards for these accounts thus offering a quick and easy way to manage your emails.
Cyfe is free and it comes with all the basic features you'll need for social media management. If you need more like adding team members, dashboards and widgets Cyfe is available for $19 per month or $14 if paid annually.
---
With Sendible, you can schedule your social media posts and bring all your social media interaction under one easy-to-use dashboard. You can schedule social media posts from Facebook, schedule tweets from Twitter, update you FourSquare. It's similar to what HootSuite and buffer can do but offers more features like auto follow twitter accounts, email management and even send text messages.
The ability to monitor your brand is one of the strengths of Sendible. Even if customer's don't tag you in their post, you can know that they are talking about your website; therefore bringing in new users.
---