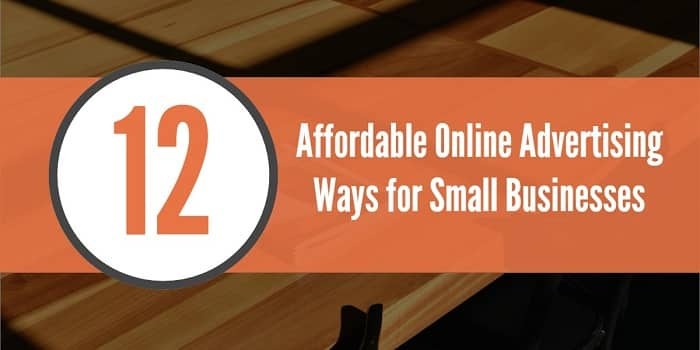 12 Affordable and Effective Online Advertising Ways for Small Businesses

Tweet This


Any small business needs to communicate with the existence of your target if you want to sell anything.

If "word of mouth" is your way of getting your business known, then you need to read this article. Word of mouth tactic could keep your business afloat at first, but it will limit your advantage to your business competitors.

The competition is fierce out there and you are not competing against fellow small business owners, you're also competing with e-commerce giants like eBay, Walmart, and Amazon.

This simply means that building a great product is not enough, you need some exposure and better exposure means you need better advertising strategies to survive.

Thankfully, there are other ways to advertise on the cheap. Here are some inexpensive ways to advertise your small business online.

 
Google Adwords is the easiest way to gain high amounts of traffic and exposure to your site. One of the benefits of Google Adwords is that it is extremely cost effective. Just this strategy is all you need to get the your target customers to go to your site.
This is because when people search for something, they use Google to do that. These search terms also known as keywords are the ways in which you can get exposure to your site.
If a keyword you have chosen match what people search for, it will appear right above Google search results. When people click your ad, you've got yourself a potential prospect. If you have the right selling points, these prospects can turn into buying customers right away.
Visit Google Adwords.
---
When banner and print ads won't work the way you want it to, there's Facebook Ads to put your focus on. Facebook Advertising provides you with the opportunity to target your audience.
Facebook will be the one to look for people similar to your consumer base regardless if they are new signups or have been in the social network for a long time.
This gives you the ability to be more precise in targeting the right audience.
The fact that Facebook has the ability to target your customer based on their affinity, gender, region, network and interest means that Facebook Ads work almost like a charm and with millions and millions of people converging in the social media platform, it is highly unlikely that no one will be interested in your ad.
Visit Facebook Ads.
---
Not many people know this, but StumbleUpon is another untapped source to generate a lot of leads. Costing at just five cents per click for $5 you can get 100 unique visitors to your site.
StumbleUpon is not just great for earning traffic to your site, but also a great way to advertise contests, giveaways and promotions.
If your content is share worthy, you'll get a lot of likes and from then on you'll receive a lot of free traffic from Stumbles. This could go for months or even for years, even if you stopped advertising.
The downside is that since StumbleUpon is a site to site surfing. Visitors won't stay longer than 5 seconds and your ad isn't targeted to a specific user base or even location.
Your goal in StumbleUpon Ads is to encourage your visitors to stay more than 5 seconds to have an effective marketing on this platform.
Don't use landing pages with email address as they usually leave the moment they see that form and don't use traditional landing pages as they skip to that. Blog-like content and videos work best in StumbleUpon.
Check out StumbleUpon Ads.
---
Advertise in Apps
Most people who are online today are on mobile. From all the apps these people have been using, it's a good marketing strategy to add your business in an ad space below these apps.
These tactics aren't fit for every small business, but if you know an app or have used an app that you think could have your target audience in it, then advertising in apps might work for you.
SlideShare is often described as the "YouTube of Powerpoint".
SlideShare allows you to take your slides or Powerpoint presentations and turn them into sales assets. Not that many advertisers have tapped into the potential of SlideShare, so there isn't much of a competition compared to other advertising channels.
SlideShare gives you enough exposure, even from the first day you published the slide.
You can even build a lead generation focus by adding your presentation and pay per lead when someone watches your presentation.
Check out SlideShare.
---
Social Networks
If you believe that your business is buzz-worthy, then create a Facebook, Twitter, LinkedIn an even a Pinterest account.
These accounts will allow you to interact directly with your online customers. Through these social networks, you can let them know of the promotions or events.
It will also allow your business to go viral through likes, shares, and through word of mouth from your customers and prospects.
If you are able to produce videos that will be interesting to your target market, then you could get a steady flow of traffic that could last for years without the need to pay for advertising fees.
Simply share a few interesting videos related to your business like tips and tricks, guides and add in some video promoting your business.
Make sure to submit more than one video to maximize your exposure.
Check out YouTube.
---
Submit Articles and Guest Posts
A great way to advertise your business without spending a dime is to submit articles on topics that your customers might be interested.
In exchange for content, they allow for backlinks to your site. This helps establish that you are an expert in that field and people will trust you more. In addition to that, it can provide potential leads and traffic to your business.
This goes true with submitting guest posts to blogs that are related to your niche. It's best to take a dive on submitting guest posts to established blogs first to get that traction you need.
---
Contrary to what most marketers believe, email marketing is not dead. Email marketing presents more opportunity to your business and drives a better return on investment. Moreover, email marketing can provide deeper relationships over a wider audience at a fraction of the cost of other advertising efforts.
One benefit of Email marketing is that it is targeted. People that have subscribed to your email list are already your prospects. Now it's your turn to turn them into potential customers.
Simply by sharing weekly updates of your business like deals and site updates can make a very effective email marketing campaign.
---
Claim Your Local Listing
The reason most small business fail online is that they forget to do this most crucial step. Sign up for services like Google Places, Bing Places, and other local listings, then claim your local listings on those sites. Fill out the accurate information about your business and its address so people can find your business in your area.
Competing in the local market has a better chance of success than competing at an international level.
---
Online Directories
It's true that online directories have lost their usefulness in search engine optimization but you can still make use of these online directories to target your market. Sites like Yelp, Manta and FourSquare will give you a small boost in traffic from the directories themselves. However, opt-in only on those free online directories as they won't be able to provide enough traffic to pay for their services.
---
Donate to Charity
Instead of spending $1000 on an advertising campaign, why not donate that to charity. If done right, you'll have equivalent or even more than what you'll get into paid advertising. That is because when people see that a business shows empathy, it won't be hard for them to trust you.
Empathy in business is vital to your success. It shows that you as a business are humans too, and have feelings. Sharing the same advocate as they have, proves that your business matters and they'll reward you for your efforts and advocacy.
---
Conclusion
Online advertising isn't cheap. From banners to print ads, it will cost you a lot of money yet results in little to no conversion at all. Moreover, they are not necessarily the best way to advertise a small business as you don't have that money yet to do such a form of advertising.
Unless you have a lot of money, advertising is not an effective long-term strategy to promote your business online. These ad campaigns do a lot in terms of exposure to your site, but it how you present your website to them that matters. If your site is disorganized and dated, people will leave as soon as they get in. If they are fooled into thinking that you have what they want, you'll lose not just visitors, but potential prospects and customers.
Present your business in a way that people will visit it often and buy from you most of the time. Earn their trust and you'll never pay for ads.
The list is just some of the many suggestions that have been proven to work. There are new advertising methods popping up each day so make sure to keep an eye out for them.