WordPress is not only the largest content management system (CMS) in the world but also a huge revenue-generation platform. With all the cool features such as WordPress plugins, themes, and add-ons, the system offers you a broad scope of opportunities to make money aside or even turn it into a full-time business.
But how exactly can you make a profit using WordPress? There are so many answers to one little question, so keep reading to learn 17 ways to monetize your WordPress content!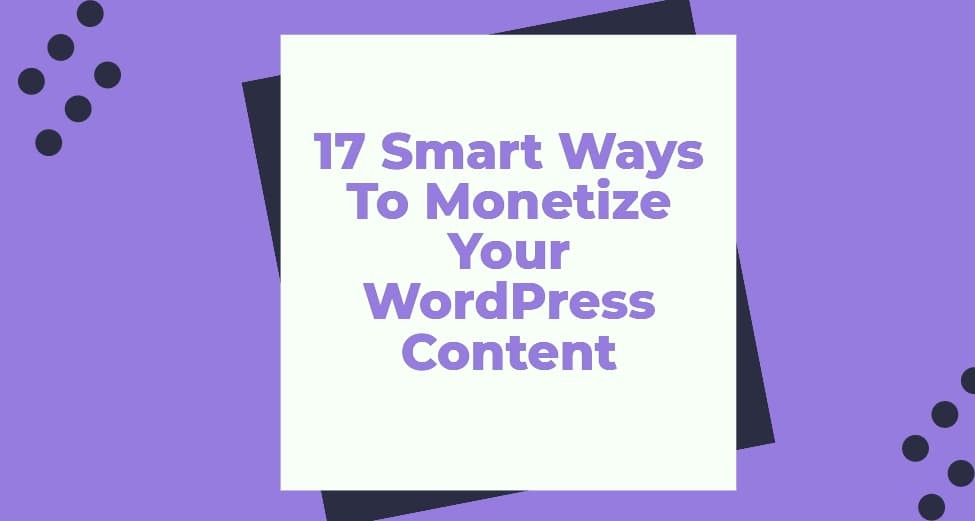 17 Smart Ways To Monetize Your WordPress Content
Tweet This
Why WordPress?
Before we show you the list of monetization tips, we want to give you a brief overview of WordPress and explain what makes it so powerful.
First of all, the platform hosts over 35% of all websites on the Internet and owns more than 60% of the CMS market share. At the same time, reports reveal that nearly 500 million users visit WordPress-powered websites each month.
The system is incredibly popular because it offers a wide range of customization features. For instance, you can augment a website using some of its 55 thousand plugins. The best thing about WordPress is that the platform is simple and easy to figure out even for beginner-level webmasters.
Practical Ways to Make Money through WordPress
Now that you understand the fundamentals of WordPress, it is time to get to the point and discuss practical ways to make money through this CMS. Let's take a look!
#1 Website advertising
You don't need to be a digital marketing guru to understand the first way to monetize your WordPress content. All it takes is to create an account on Google AdSense and start your advertising program through this network.
Google AdSense will analyze your content to identify common keywords and place relevant ads on your site. Keep in mind, however, that this strategy works well only for popular websites with heavy traffic 365 days a year. Also check out  these additional digital advertising options as well.
#2 Sell advertising space directly
Who says you need to rely on Google AdSense for website advertising? The other solution is to sell banners directly to businesses interested in promoting their services on your site. This is usually a much more profitable option because you can focus on niche stakeholders and attract them with the sheer relevance of your content. In order to sell ad space on the site, you will need a WordPress plugin such as Ad Inserter.
#3 Launch an eCommerce store
The third solution on our list is also very popular among WordPress webmasters. Namely, you can quickly launch an eCommerce store and begin selling all sorts of products on your website.
This strategy also requires a reliable plugin to simplify the process, which is why we recommend you to go with WooCommerce. With this tool at your disposal, you can easily design product pages, shopping carts, and all the other components of a typical online retail store.
#4 Sell branded products
Another option is to build a personal brand and sell your own products through the WordPress website. For instance, you can sell merchandise such as T-shirts or posters to your loyal followers. It's a very convenient strategy for webmasters who already built a large base of highly engaged fans.
#5 Create a membership-based WordPress site
Are you really sure that your content is so good that people would do almost anything to read it? If the answer is yes, perhaps you should think about creating a membership-based WordPress site. The idea is simple – visitors who strongly appreciate your writing will pay a subscription fee in order to access premium content. The best essay writers use the tactic quite frequently because they can publish lots of high-quality content on a regular basis.
#6 Sell WordPress themes and plugins
The next entry on our list is dedicated to all of you IT masters out there. If you know how to code and design fully functional WordPress tools, then you can do it and start selling those products directly. We already mentioned that WordPress offers users thousands of wordpress themes and plugins, but it won't be a problem if you can craft an advanced version of the same product.
#7 Charge for creating WordPress sites
WordPress is known for its unprecedented simplicity, but too many users are still not able to build their own sites independently. It seems like the whole buzz about WordPress.com and WordPress.org is way too confusing for first-time administrators, but it gives you the chance to monetize your CMS knowledge. This is easy money for individuals who have already launched many WordPress websites in their careers. If you belong to that category, then knowledge of wordpress frameworks is a big bonus!
#8 Become an affiliate marketer
Do you know that the annual affiliate marketing spending is projected to hit the $6.8 billion mark in 2020? It is one of the fastest-growing branches of digital marketing because it benefits everyone: publishers, advertisers, and customers.
The logic is simple – you get paid a commission for each click or purchase made through the content on your WordPress website. The only thing that matters is to choose your partners carefully and avoid businesses that have nothing in common with your site because it can hurt your professional reputation.
#9 Publish sponsored posts and product reviews
This tip goes hand in hand with the previous one. Instead of doing discrete promotions through affiliate marketing, you can opt for a more direct method called sponsored posts. How does it work?
Well, you get paid to publish a review on a given product or service. Businesses will be glad to do it in case you are running a trustworthy website with lots of visitors.
#10 Sell online courses or eBooks
Another interesting monetization mechanism for industry thought leaders is to sell online courses and eBooks. The audience is constantly in need of high-quality guides and tutorials, so you should take advantage of it by creating and selling practical solutions to users' everyday problems.
Let's say that you are a WordPress expert. In such circumstances, you can write an eBook on how to launch a brand new WordPress website in 24 hours. This is only a small example, but it should be more than enough to help you get our point.
#11 Earn public speaking opportunities by becoming a thought leader
Many companies organize events or conferences and they tend to invite industry thought leaders to join them and take part. Such public speaking opportunities are not only a great way for you to grow the network of professional acquaintances, but also a big chance to earn money for giving a speech to the event participants.
Administering a popular WordPress website with tons of traffic and lots of high-quality articles, you can establish yourself as a genuine industry thought leader and build a self-brand. In such circumstances, niche organizations will be inviting you to give lectures and attend their conferences as a public speaker.
#12 Promote your life coaching services
In case you haven't noticed, the life coaching industry is booming these days. It's a mind-boggling phenomenon of the 21st century, but you can exploit it by promoting your life coaching services on the WordPress website.
Once again, the idea is to publish lots of amazing content focused on personal development, self-branding, and similar topics. If the audience recognizes you as one of the notable niche figures, rest assured you will earn the opportunity to make money via life coaching.
#13 Offer your freelancing services
Freelancing is yet another business concept that has been taking the world by storm in the last few years. You could take it to your advantage by offering freelancing services on the website. A freelancer can be anyone from an architect to a web designer, so the only thing that matters is for you to have a special skill set and convince target clients to hire you. That way, you can get paid for doing your job and enjoy the privileges of remote work.
#14 Create a WordPress event calendar
Here's a creative tip for WordPress webmasters who administer popular niche websites. Namely, you can design an event calendar and help people and organizations promote their events online. It's a simple trick that requires little to no effort, especially if you are already attracting tons of relevant visitors to the site. The strategy works well for websites focusing on highly specific niches.
#15 Create a WordPress job board
Similar to the previous suggestion on our list, you can also create a WordPress job board. This is usually the easiest way for companies to identify and recruit young talents, while you get paid for each new listing. As always, try to narrow it down and concentrate on one niche only.
#16 Create a Q/A website
Question and Answer (Q/A) websites are extremely popular because they help people find all sorts of answers quickly and effortlessly. You can make use of this fact by designing a nice Q/A website where you will apply all the digital marketing tricks we already mentioned above. The only difference is that you can ask for higher fees because the audience consists of verified leads.
#17 Take advantage of monetization plugins
The last recommendation on our list is rather technical, but it will help you to earn more money through WordPress content. Namely, you should take advantage of monetization plugins to simplify your business efforts. Some of our favorite WordPress tools include Amazon Auto Links, Popups by OptinMonster, and Video Lessons Plugin Manager.
The Bottom Line
Users love WordPress because it makes website and content creation very easy, but some webmasters are still struggling to figure out how to exploit the platform for revenue generation. In this article, we discussed 17 ways to monetize your WordPress content. Have you ever tried any of these models to date? Which one would suit your website the most?
AUTHOR BIO
Susan Saurel is a thesis help expert and the first person to consult with if you are looking for essay help online or help writing college papers. Besides that, Susan is a part-time digital marketer who specializes in WordPress content administration. She is the mother of two kids and a passionate traveler.