5+ Best VoIP business phone systems with excellent call quality and reliability
Tweet This
A VoIP (voice over IP) service allows you to make phone calls over the Internet.
Here are some of the typical things a VOIP business phone system can do.
It helps you improve communication with customers and employees
Cut costs
Provides many features such as Voicemail and Caller ID
Conferencing, forwarding and Unlimited long distance without paying extra fees.
All you need is a phone and a good internet connection.
With blazing internet speeds that you get from most internet service providers(ISPs), a VOIP phone system makes perfect sense for small businesses.
Here are some of the best Business VoIP system providers on the market. They are rated for their service plans, features, ease of use, network reliability and customer service.

---
#1 RingCentral(Price: $24.99/mo)
RingCentral is a leading provider of hosted phone systems that helps small businesses to manage mobile, fax, and email communications. All it takes to get started is an Internet connection and a phone. Here's a list of some of the other features: Toll-Free Numbers & Local Numbers, Make and receive calls anywhere Internet access is available, incoming and outgoing caller IDs, Unlimited Texts, Voicemail & Voicemail to Email, Call Forwarding, Call Screening, Automatic Call Recording, Call Park, Intercom, Paging, Call Flip, Call Logs, Virtual Calling Card, Message Alerts , Missed-Call Notification and more! With many features to list and with best support, RingCentral is the #1 recommended VoIP Phone system.
Sign Up For Free 30 Day Trial Of Ringcental
---
#2 Phone.com(Price: $14.99/mo)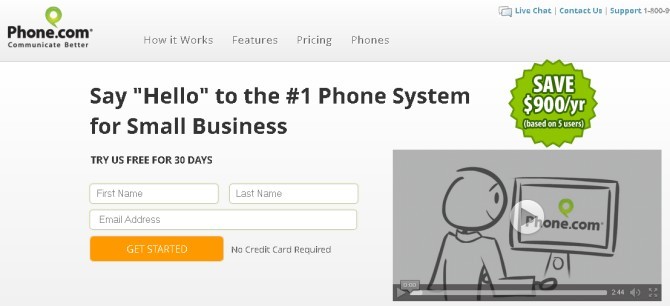 Phone.com offers low cost VOIP service for small business, home business or personal use. Phone.com supports a wide variety of devices (Devices such as mobile Phones, tablets, desk Phone and to your Computer) on which you can make and receive calls. Here's a list of some of the other features: Toll Free Numbers, Local Numbers & international phone number, conference calls with up to 500 attendees, Send and receive faxes from your desktop, call Forwarding, call Blocking & callScreening, Call Recording, voicemail,voicemail messages sent to your email address and more!
Sign Up For Free 30 Day Trial Of Phone.com
---
#3 Nextiva(Price: $19.95/mo)
Nextiva is Arizona, United States based VoIP communications company serving in the United States and Canada since 2006. They offer office telephony services to the small and medium-size companies. Nextiva VOIP is suitable for multiple industries including legal practices, construction, hospitality, consulting firms, real estate, insurance, higher education, healthcare, the auto industry etc. Here's a list of some of the other features: local & toll free numbers, Unlimited calling and faxing, call queuing, Instant automated greeting, Call Forwarding, Anonymous Call Rejection, Blind Call Transfer, Call Hold, Call Notify,Call Parking, Call Return, Call Transfer, Call Waiting, Caller ID, Instant Group Call, Selective Call Rejection, Speed Dial, Three-Way Calling, Voicemail to Email, Free Auto Attendant Recordings, Custom Ringback, Call Forwarding, Video Conferencing, CRM Integration and more!
Sign Up For Free 30 Day Trial Of Nextiva
---
#4 Phone Power(Price: $8.33/mo)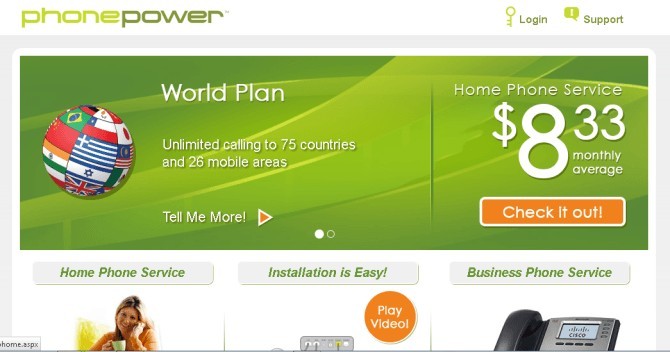 Phone Power is another telephone company that provides business VoIP. They offer flat-rate calling packages that include all your local and long distance calling saving customers 60-70% on their phone bills. Phone Power allows you to customize your business VoIP plan to meet your company's needs. Phone Power provides a wide range of features for business VoIP that will help improve your communications experience. Here's a list of some of the main features: 60 FREE minutes of international calling a month, Free Second Line, VoiceMail, VoiceMail-to-Email, Remote VoiceMail Access, Incoming Call Routing, Outbound Caller ID Block, Anonymous Caller Rejection, Call Waiting Caller ID, Call Forwarding, Speed Dial, Call Hold, 3-Way Conference Calling, Local & Long Distance Dialing, 30 Day Satisfaction Guarantee, Call Notifications and more!
Sign Up For Free 30 Day Trial Of Phone Power
---
#5 eVoice(Price: $12.99/mo)
eVoice helps small businesses to manage calls more efficiently and empower you with the freedom to work from anywhere. When customers call, they are connected through eVoice. Callers hear customized and professionally recorded greetings; and are then routed where you want, (to your mobile or to your business/office, to your home office or anywhere else), based on rules you create. Here's a list of some of the other features: Local Phone Numbers, Toll Free Numbers, International Forwarding, Conference Calling, Call Announce, Call Blocking, Call Forwarding, Call Queuing, Call Routing, Call Screening, Call Transfer, Call Waiting, Caller ID, Message Forwarding, Missed Call Notifications, Receive Text Messages, Voicemail and more!
Sign Up For Free 30 Day Trial Of eVoice