When you want your users to understand what your site is about, you don't give them a manual, a knowledge base to let them know how to use the product as no costumer ever used it anyway. What the user needs it a website guided tour  (aka user boarding)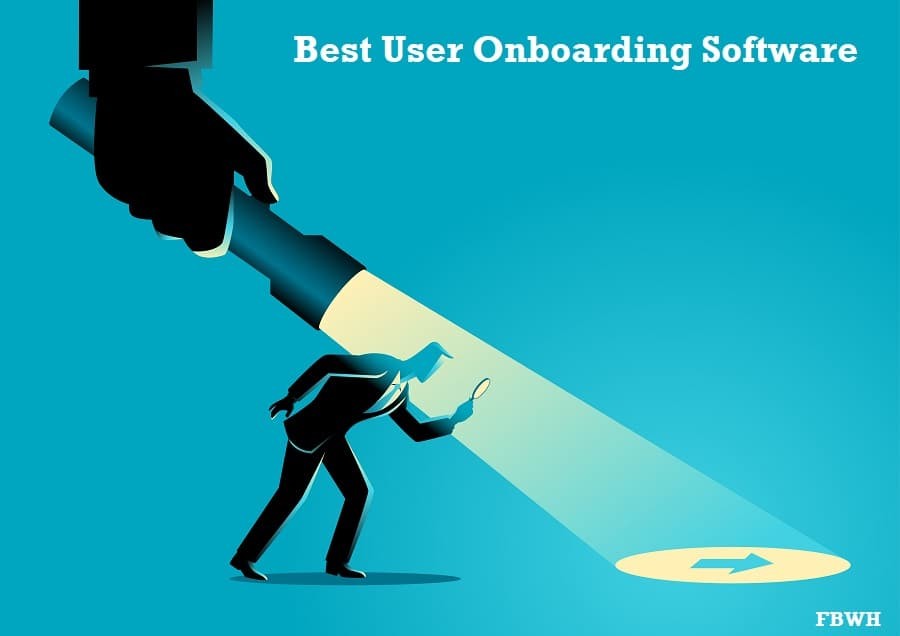 9+ Best User Onboarding Software for highly engaged customers
Tweet This
A Contact Us or live support page is also bothersome especially when they have to wait for several minutes before their questions will be answered.
What is User OnBoarding? Define User OnBoarding
User onboarding, a term often used in reference to software products, is the process of familiarizing a product or service to a website visitor. This can be done in a manual or automated way.
Using an interactive product tour software,  you can let users "walk" on your website or app.  Creating an interactive walkthrough or guided walkthrough with these tools is not hard at all. In fact, most of these sites will only take minutes to setup and implement.
Here are the best picks for setting up a guided walkthrough of your website or software product.
Userlane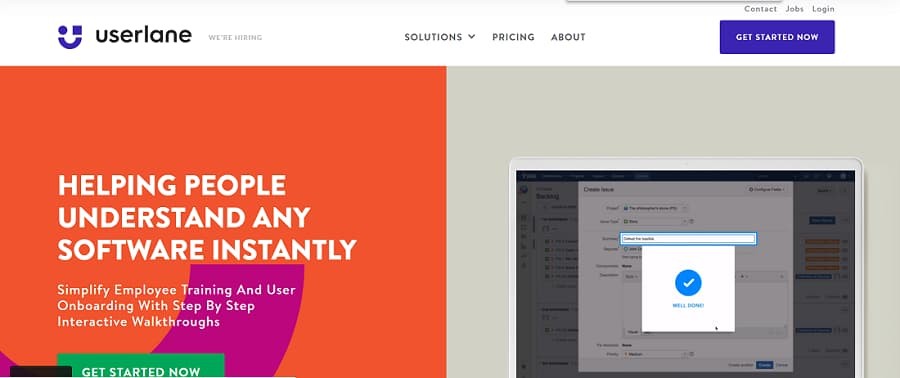 Userlane is both a customer onboarding automation platform and user guidance solution for enterprise-ready SaaS companies that want to increase engagement and activation through interactive performance support.
Using custom-made interactive on-screen guides, Userlane offers the end-user a fully interactive and gamified experience that is designed to maximize software adoption by changing the way software interacts with people and not the other way around.
The interactive guides, which are built using the platform's extremely agile guide builder, steer users logically, from point A to B, through processes they are required to carry out within any browser-based software application. The interactive guides also work across page changes and can be tailored for different target users on the basis of context or user segments. The platform, therefore, transforms users into power users of any software application instantly.
Userlane also comes with a Virtual Assistant that users can access on demand at any time (kind of like the equivalent of having your own digital nerd to help you navigate and learn a new software application), but guides can also be triggered via a link or end-user behavior.
The company offers a fully-fledged Customer Success Program included in every subscription plan. This ensures that customers are continuously supported and achieve their objectives after implementing user guidance. Userlane is highly customizable but requires no coding and is designed to meet the specific needs of any company right out of the box.
WalkMe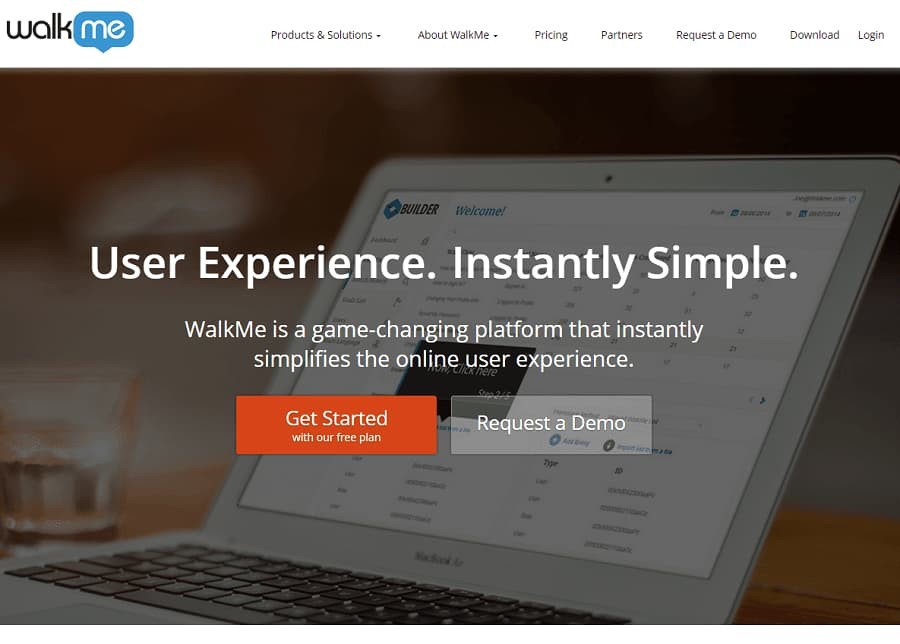 WalkMe is a tool that lets you add interactive tutorials or walkthroughs to your website or app. The service is a simple point-and-click solution that gets the job done in minutes. The plugin gives you full control to the design, content, functionality and placement of each walkthrough. It even has an analytics section so you can easily monitor if your walkthrough have helped them or if it has no considerable effect at all.
With this plugin, you don't need to do any changes in the coding of your site as this plugin acts as a layer that sits on top of it. So if you intent to remove a this to you site, it won't leave a mess unlike what other plugins do to your app or website.
Chameleon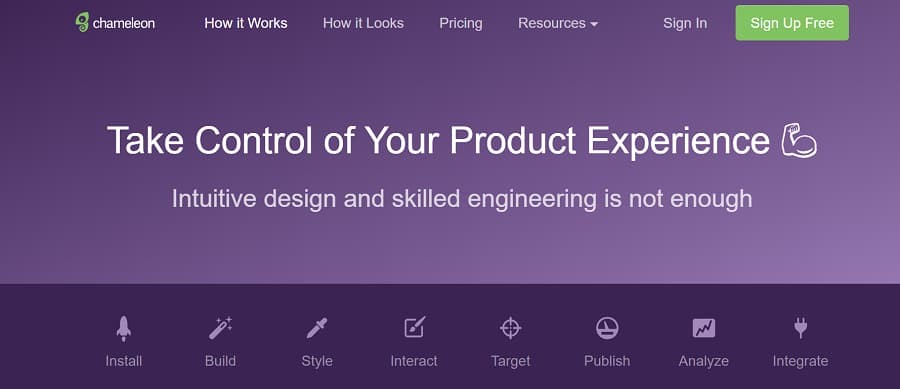 Chameleon is another awesome tool to create product tours. You can sure increase new user retention by helping customers find those nice "aha!" moments.
Best part is, you can try the tool without installing! Chameleon has a neat Chrome Extension to get you started. Your entire team can then share a preview. This removes the hassle of installing and then trying it. Once you have tested and are happy, you can always install it into your site and start making changes right from your site.
Another highlight of this intuative tool is that it works very well with single-page apps, especially apps created using Angularor or React.
Segmentation and Specific Targeting: You can setup, target and personalize based on user attributes. These custom segments thus lets you show product tours to the most relevant audience. Later, over time, you can show a sequence of interactive product tours , depending on whether users successfully engage (or don't).
Setup Triggers: Use user behaviors and thus trigger interactions when a user clicks, hovers or enters text. sThis way your tour steps are relevant and contextual to the user.
Intuitive Editor: Chameleon has a nice WYSIWYG Editor and so you can quickly build and update your product tours. You can see precisely what you're building, (in real time). You can design/manage your product tours without leaving your site. It permits Point-and-click selection and you can target specific elements on your page and Place the tour steps exactly where you wanted.
Push live instantly: Preview and activate product tours with a single click. No need to wait for release cycles, dependencies.
Helppier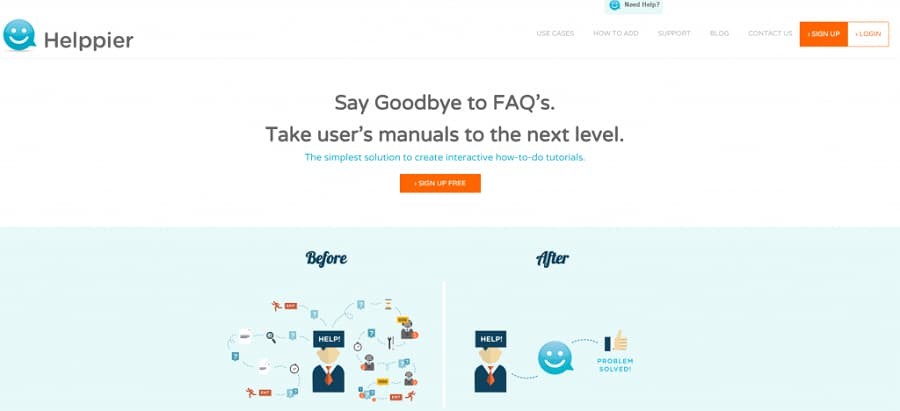 Helppier is an online tool that lets you create a variety of guides and tutorials that come in a form of text bubbles that guide your users along the way. You can create and edit your tutorials from the same "Need Help?" widgets users click to access the content. This is a much simpler approach compared to live chat, phone, or email support and even better compared to user manuals.
To install this service in your app or website, download the "Need Help?" widget on the website. You may need to access your website's back-end for this to work. After that, sign up to the account if you haven't done that yet. Once registered, you'll receive a custom JavaScript code that create your widget and connects you to the Help widget statistics. Login to your account and copy the script from the Install tab.
Now that it is installed in your site, you can start writing your first tutorial. Simply click the REC button and the app will track and record your mouse movements. Once satisfied, stop the recording and press PLAY to review it.
Helppier can be customized according to your site's overall look and feel so this app won't feel out of place. It also has access to usage statistics so you can monitor the progress of the app and determine if it has helped your users or not.
Nickelled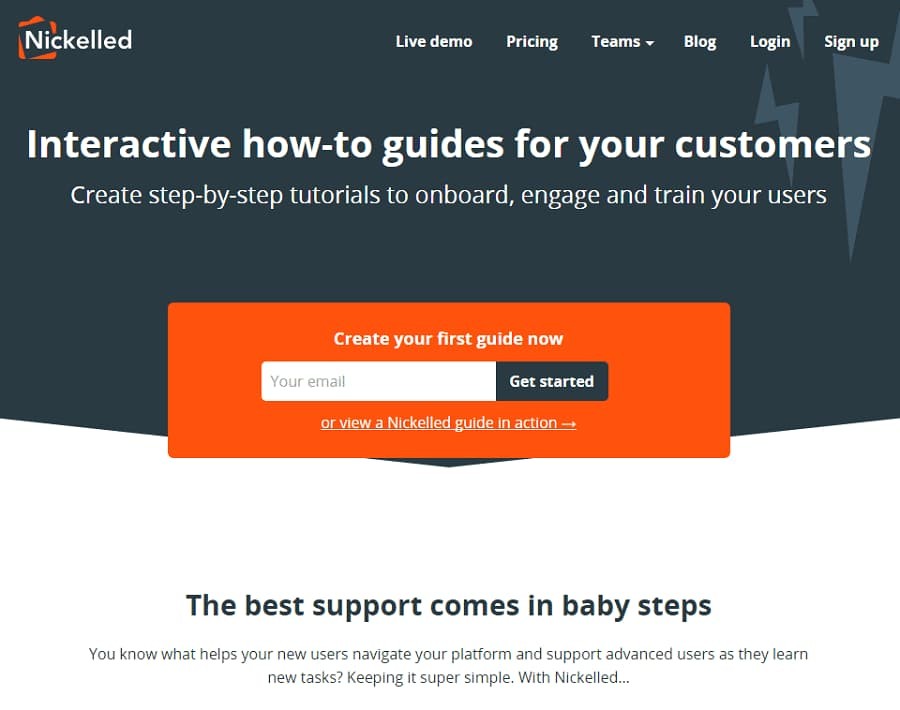 Nickelled is an online service that can help you build step-by-step tutorials and engage your users faster than any manual or phone support can do. Nickelled enables you to create, distribute and customize how-to-guides for your website to ensure that they know how to navigate to your site without the need to read through manuals.
The service integrates easily to your site and works not just on computers, but on tablets and smartphones as well. Most of all, it doesn't need for you to have any coding knowledge to integrate nickelled on your site.
Nickelled offers 2 types of guides for your site:
Shareable Guides
This type lets you use a replica of your site so you can serve your customers outside of the application. This is useful for users who want to try out the product or service of your site first, before opting in for a service.
Embedded Guides
This type is displayed within your site and shows up whenever your customers need it. Perfect for guiding new users to their membership page or dashboard. You can set in-app tours, and also have contextual in-app support. Embedded guides can also be set to automatically start on users which is very useful for new customers.
Iridize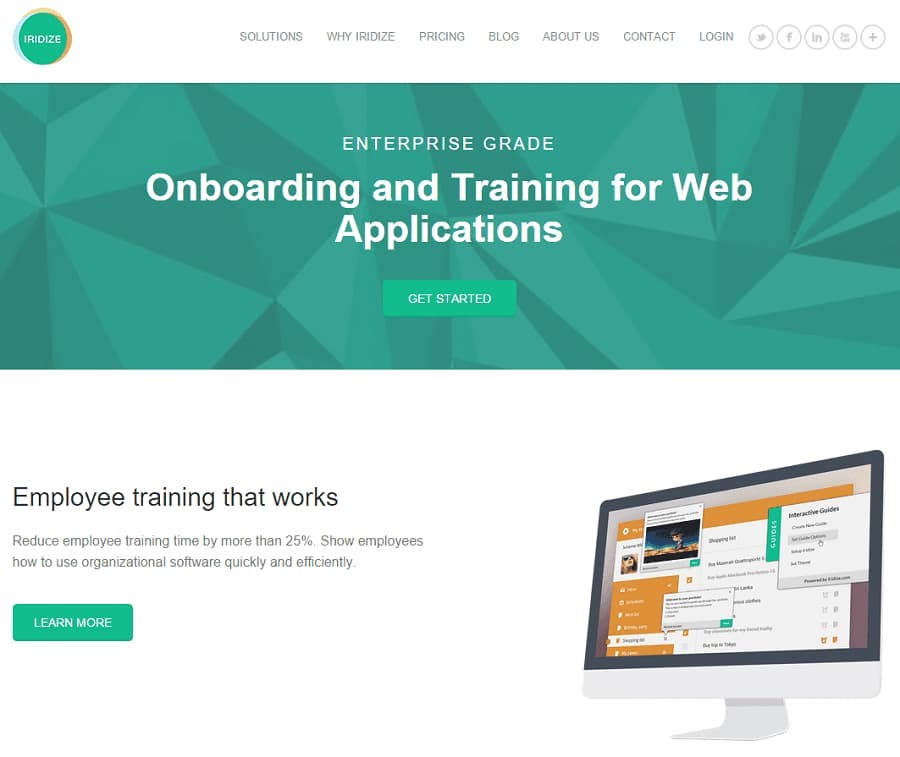 Iridize helps you train not just your users, but also your employees through smart, personalized guides and walkthroughs. With this platform, you can create dynamic, context-sensitive on-page tutorial or walkthrough guide that sits right on top of your website or app. It provides a feature-rich and fully customizable walk-thru service for your site, has a variety of usage rules and enable you to control what type of walkthrough you will show to your clients or employees.
Iridize offers an easy-to-use application that even if you don't know how to code, you can use and install this service to your website. Iridize offers not just a tutorial or walkthrough but also wizards, tips, and site tours.
TourMyApp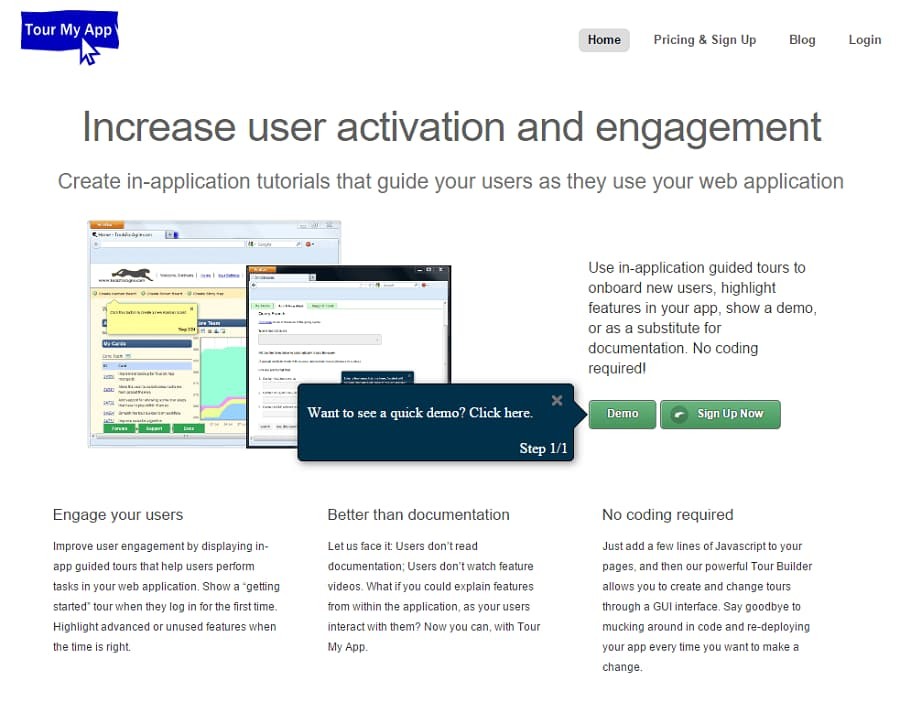 TourMyApp is the same as any other tutorial or walkthrough service for your app or website. What makes it different from the others is that it offers complete customization over the service. It is easier to maintain compared to other similar service and has a comprehensive usage metrics to track user activity.
TourMyApp is better than a documentation, video, or classroom-type tutorial it is fully interactive. Your users navigate through the usage of the app or website in real time, as if they have been using your website or app for a long time. TourMyApp is easy to implement in your site that even if you don't have any coding experience, you can use and customize the site based on your needs.
Whatfix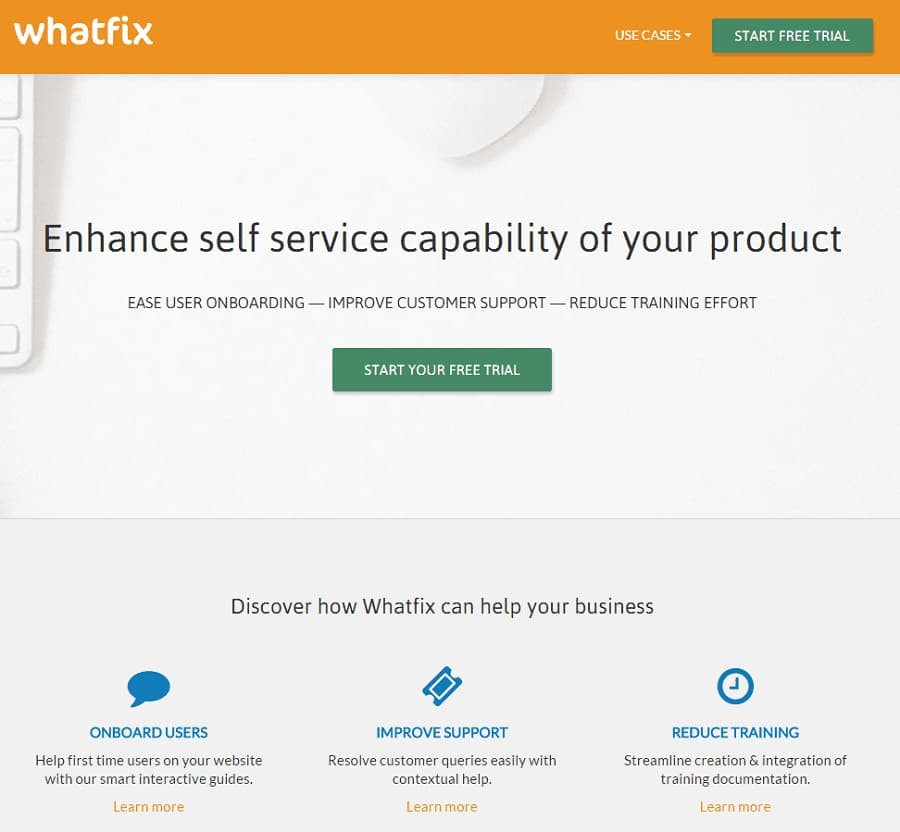 Reduce training and documentation with Whatfix. Whatfix is the solution to those boring user manuals that most of your users won't have the time to read anyway and those videos that although useful, isn't as interactive and dynamic as Whatfix can offer.
With Whatfix, you can provide live product training with the help of interactive guides. It is simply like taking your users hand and guiding them through your app one step at a time. This saves you not just time, but also money in training not just your customers, but your employees as well.
User Onboarding For Programmers
Sometimes, easy to use services have implemented limitations in which you wish you have done that through coding. In this case, you may want more than the services listed above. Here are some examples:
Joyride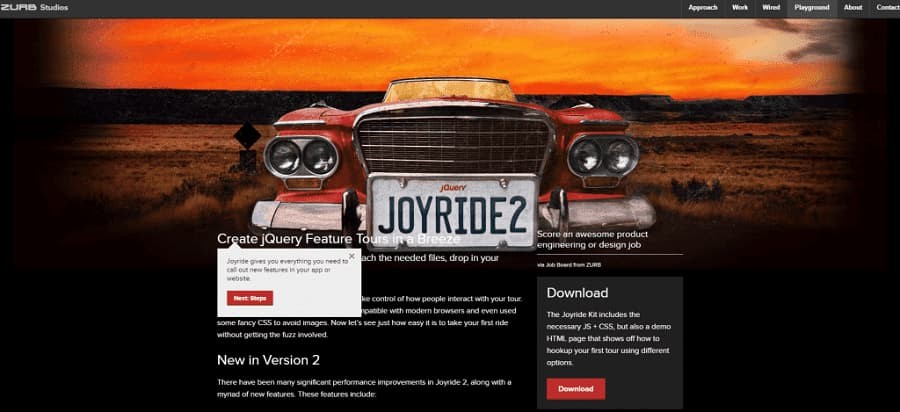 Made from jQuery, this website plugin is extremely flexible and lets you take full control of how people will interact with your tour. It is programmed to work on various website and online apps. It works with any screen size and best of all, Joyride is free.
To get the app to work, you'll need the Joyride Kit which includes the necessary JavaScript and CSS codes. It also contains a demo HTML page that shows off the features of the plugin.
To install, just add the markup as stated in the instruction as you'll have everything you need to run Joyride.
Take note that Joyride is not a WYSIWYG (What You See Is What You Get) editor and everything is hard coded.
Hopscotch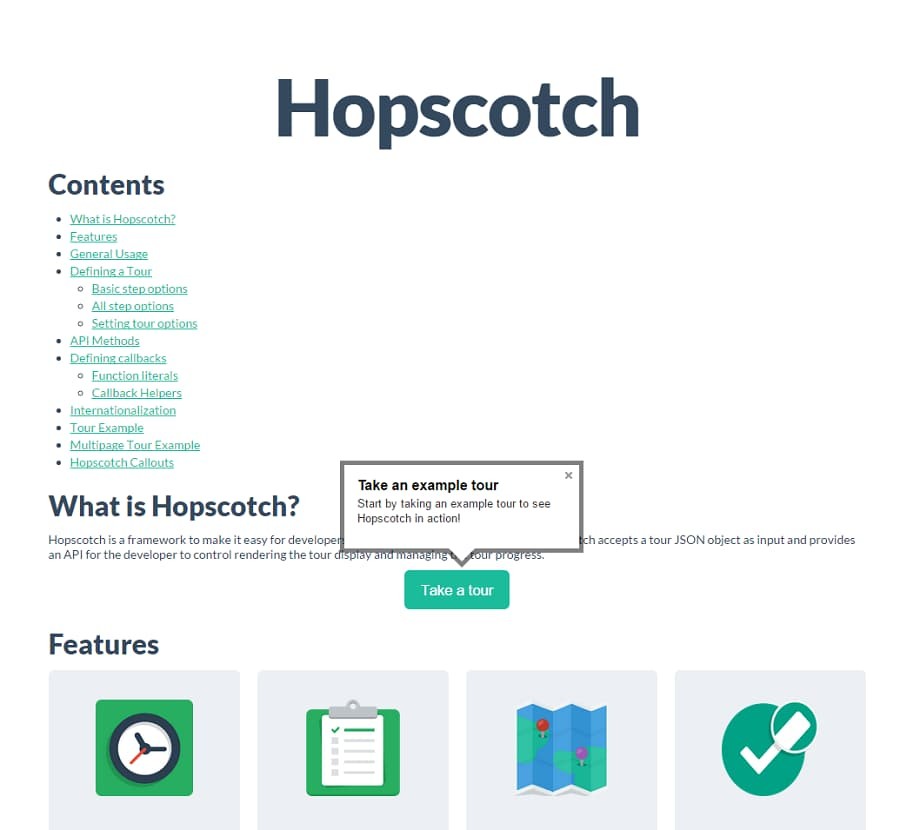 Hopscotch has just enough tools for developers to build and add product tours to their pages. It has an aesthetically pleasing popup like what other plugin offers. It handles positioning elements properly and it is reasonably configurable.
One issue of this plugin is that there is an undocumented option for the numeric indicators on the popup. So you can use the library only in situations where you are not specifically building a sequential tour.
Bootstrap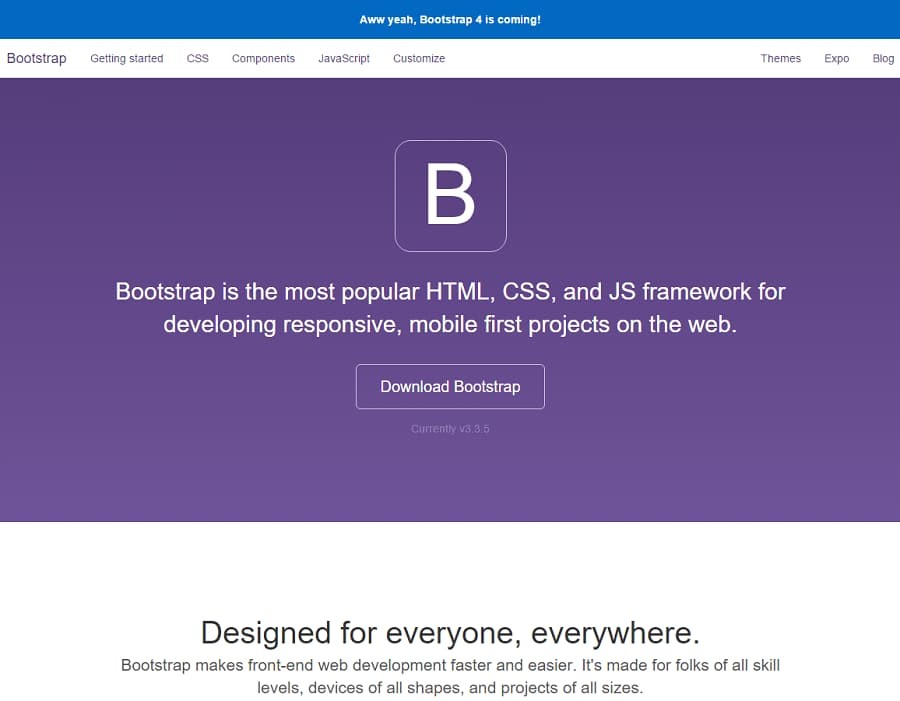 Although a web framework, did you know that Bootstrap has its own library of website or app walkthrough? But the problem is Bootstrap is only for advanced users as you won't be spoonfed the way most of the services listed here works. If implemented properly, you can create your very own site tour without any issues.
Bootstro.js is a tiny js library that takes advantage of Bootstrap's popovers to help guide users around your website. It is a quick and easy way to implement guided walkthoughs to your site if your site uses Bootstrap framework.
Sum it up:: Do you need a website/app walkthrough?
The purpose of a walkthrough is to let the users know what your website or app can do. There are some apps or websites that have a nest of menus and options and thus having a product tour software adds convenience to anyone who uses your app or website.
If your app or website is simple and straight to the point, you may not need a walkthrough as it would only annoy your users and make them feel dumb. However, if your app has hidden functionality, giving them a tour through your app or website is more convenient and more user friendly than giving them a lengthy instructions manual or knowledge base.
Do you have any new suggestions? Or have used any of tools above? Don't forget to add your comments below.