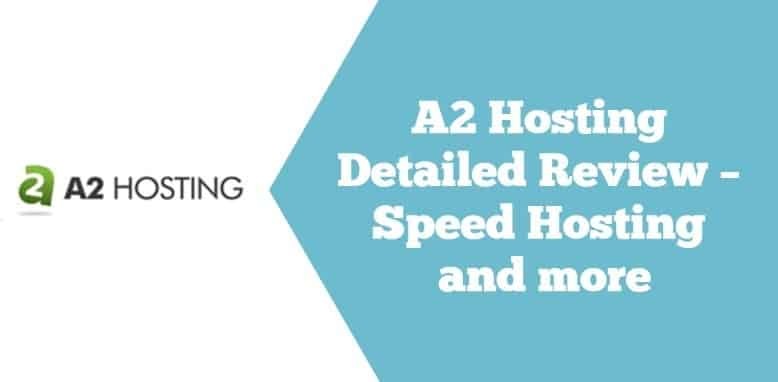 A2 Hosting Detailed Review – The Truth About Speed Hosting and more details
Tweet This
Recently I had the chance to try out A2 Hosting and I was more than impressed with the features they offered.  Started in 2001, A2 Hosting has been around for 14+ years now.  This company has been offering high speed hosting services along with good customer support. I also noticed that they had good uptime record.
Let us take a closer look.
Why should I care about A2 Hosting?
Cutting Edge Technology – Superior hardware servers and ultra Speed Optimized web hosting services make your website loading up to 20x times faster. Servers are compatible with a large variety of software.
Unique customer support – Friendly and knowledgeable support staff providing top-notch Live Support.
Competitive pricing – Get hosting without breaking your bank account. When you require more resources, plenty of options to upgrade without any downtime. Your purchase is backed by a no-hassle 30-day money-back guarantee to ensure your satisfaction.
Experience – Years of experience in providing web hosting services (since 2001)
Security – They do everything  to keep your data safe.
---
Fast Servers – SSD Speed Boost
Solid State Drive Speed Boost
When it comes to web hosting, SSD's(See Article What is SSD Hosting ) improve web site loading time. A2hosting use SSD for your OS, MySQL databases and your files. See the page load time comparison of different hosts.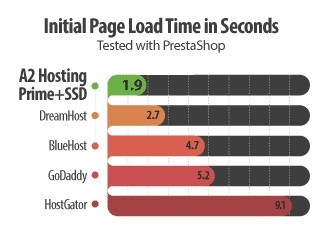 ---
Free CDN(Content Delivery Network)
CloudFlare Content Delivery Network (CDN) is a group of servers connected worldwide that automatically determines the fastest route to deliver your site to your visitors. CloudFlare have several optimization features to improve the loading of a web page. CloudFlare also provides security protection against most of security threats and keeps your website safe. Your website is automatically protected from a variety of DDoS attacks. You can enable and manage CloudFlare services directly via cPanel.

Highlights of CloudFare:
Increased Site Speed
Enhanced Security – CloudFlare CDN recognizes and blocks many malicious threats before they can even reach your site.
Easy Setup – Click the CloudFlare icon in your control panel for a 1-click CDN setup.
Increased Uptime – If one CDN server is unavailable, your site's traffic is automatically routed to the next nearest server. This way your site is never down.
---
A2 hosting Turbo servers 
Load pages up to 20X faster page loads compared to standard hosting.
Fewer users per server
Turbo Web Hosting servers have their own PHP API that provides speed improvements
Hosted on SwiftServer SSDs
Turbo Web Hosting servers compile .htaccess files to make speed improvements.
Turbo Web Hosting servers have a built-in caching engine
Provides enhanced stability
---
A2 Optimized Caching
Unlike many other hosts, A2 hosting allows caching solutions on shared servers. They have a cPanel plugin called A2 Optimized, which provides pre-configured caching for your applications from a single interface for even faster page loads. There are 3 A2 Optimized caching Options:
Turbo Cache – The entire HTML contents of a page is stored by Turbo Cache and served without running PHP for up to 20X faster page loads.
OPcache/APC – External tests show OPcache can cut PHP page response time in half. OPcache comes pre-configured with PHP 5.5 and later version, while APC is available on earlier PHP versions.
Memcached – Increases the speed of your MySQL databases by keeping your most important data in memory for quicker retrieval.
---
A2 Hosting – Developer Features
All accounts have access to all the popular applications, such as WordPress, Joomla and Drupal, shopping cart, other CMS, Forums etc. A2 supports the following: PHP (PHP 5.2, 5.3, 5.4, 5.5, 5.6 or 7), Ruby on Rails, Python, Ruby, PERL, Git, CVS, Unlimited MySQL 5.5 databases, PostgreSQL 9.1, phpMyAdmin & phhpPgAdmin, SSH access, Apache 2.2 , free Shared SSL Certificate and more.
You may want to note that A2 Hosting was the first host to introduce php7 Hosting.
---
WordPress Hosting Features
A2 Optimized: A2 hosting provides a WordPress plugin called A2 Optimized to provide the best WordPress performance and enhanced Security. With auto-optimizations like compression and caching, you will get 6X faster page loads compared to standard hosting. Also this plugin auto-hardens your WordPress sites to help prevent hacks.

A2 Optimized plugin  provides the best WordPress performance and enhanced Security

With A2 Optimized, you automatically get: Unique WordPress Login URL, automatic WordPress Updates, ReCaptcha on WordPress Login Page.

WordPress Preinstalled – You can either WordPress auto-installed right when you purchase your hosting account or use the 1-click Softaculous installer found in your cPanel control panel. A2 Optimized is a WordPress plugin, exclusive to A2 Hosting customers, providing auto-configuration for your site so you get the best WordPress performance. With auto-optimizations like compression and caching, you can turn your focus to building your site and writing content.
Free ManageWP Account – Use ManageWP to run all of your WordPress sites from a single dashboard! Just click the ManageWP icon in cPanel, enter your email address, click sign in and just like that ManageWP will auto-detect WordPress sites on your A2 Hosting account. Your free ManageWP account features include:

Manage and update your WordPress sites from a single dashboard
1-click theme and plugin updates
Install and manage plugins and themes for each of your WordPress sites
Mass spam comment removal
Built in page view stats
Two-factor login authentication for enhanced security
---
Free Site Transfer
If your current host uses cPanel, then A2Hosting can assist  or transfer the site for you. Shared hosting accounts are easily managed using the popular cPanel control panel.
---
Anytime Money Back Guarantee
You can try A2hosting risk free. Cancel your account within 30-days and you will get a full refund or a prorated refund for your unused service after 30-days.
---
Server Rewind Backups + Free HackScan
Server Rewind is a free file recovery program. Account backup snapshots are taken regularly and you can restore your data from saved snapshots when recovery is necessary. Restore a single file, MySQL database, site or your entire account. You can access Server Rewind from your control panel.
---
Free security features
HackScan is a hack protection scanning that helps block hacks before they can invade and damage your site. Other Security features include:
Daily, Automatic & Rebootless Kernel Updates
Dual Web Hosting Firewall
Brute Force Defense
Auto-Heal Hosting Protection
Virus Scanning
Server Hardening
24/7/365 Security Monitoring
---
A2 hosting Control Panel
A2Hosting offers the most popular and easy-to-use cPanel 11 control panel to customize your hosting account. After signing up, you will receive a welcome email. It will include all the necessary info you'll need including a link to  access your control panel. The address is either http://cpanel.YourDomain.com or http://www.YourDomain.com/cpanel.
You will view a screenshot as shown below when you access control panel.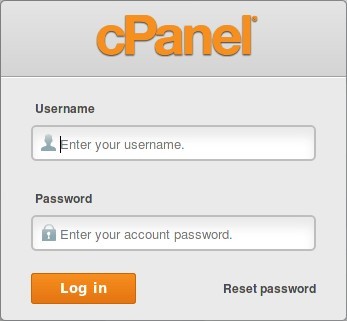 After login in the cPanel home screen as shown below will be displayed.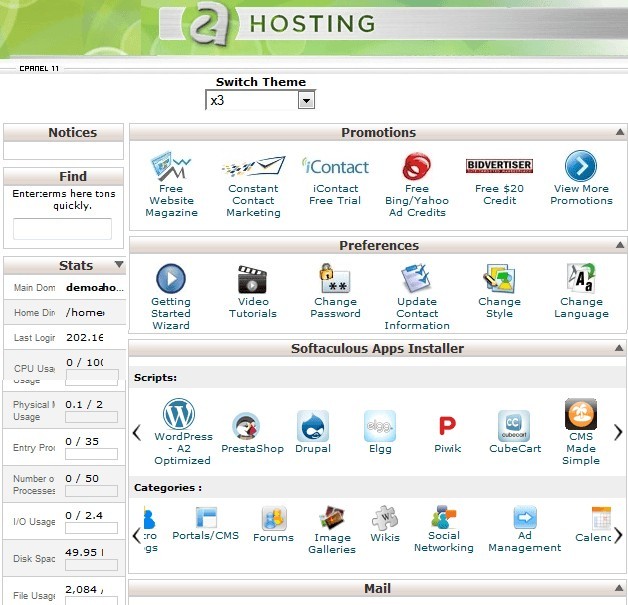 ---
A2 hosting – Hosting Packages
A2 hosting offers a variety of hosting services designed to meet different needs. When starting out a website you can start with shared hosting. As a website grows, you can always upgrade to a higher plan hassles free.
---
A2 hosting – Uptime Record
Here's a screenshot that shows A2hosting's Uptime Score -for July 2015 (for our test website). For last 30 days, the uptime score was 100. You can also see the site speed where best response was just 1/2 a second(500 ms) while worst was 2.5 seconds. I think this is impressive. Let me reiterate that Google cares a lot about site speed nowadays and faster response means your site nas better chance to get better rankings that slower sites(your competitors included)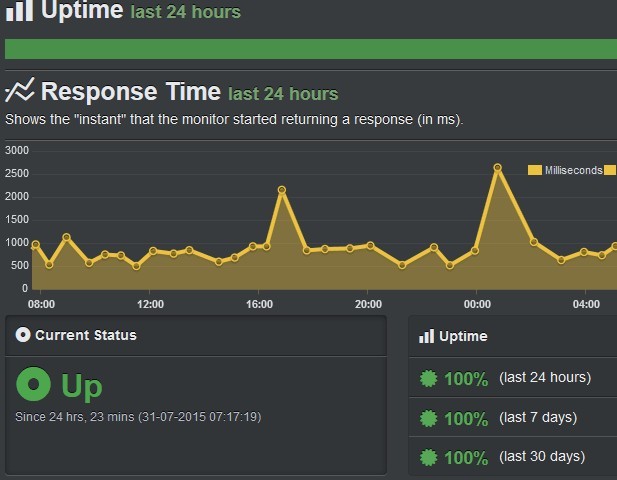 ---
Customer Service 
A2 Hosting's support is available 24/7 every day of the year. Their support is 100% US-based with no outsourcing. The support staffs are responsive, knowledgeable & patient. Support is provided via ticketing, a live chat box and by phone line.
Details: A2 Hosting takes after sales support very seriously.  A2 Hosting is a BBB accredited business. This shows confidence on A2 Hosting's  part. We checked BBB website and they have only  just 8 complaints in last 10 years. All complaints were resolved. Just 8 complaints in 10 years is a very good record.  Worst hosts get at least 10 every year.
---
Data Center
A2 hosting has multiple datacenter locations, and customers can choose the most suitable one to store their data, and get the fastest speed at the same time.
Primary Data Center Location
USA – Southfield, Michigan
Additional Equinix Data Center Options
Europe – Amsterdam
Asia – Singapore.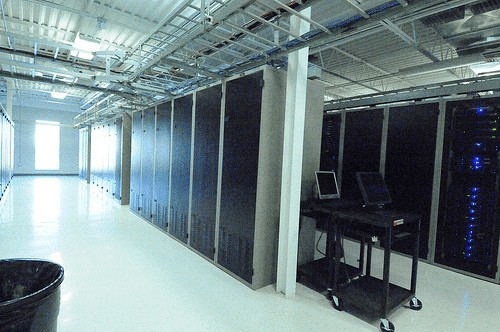 Data center's are equipped with quadruple redundant network, redundant UPS, diesel generator power and 24×7 monitoring supports to ensure high-performance hosting .
Verdict
A2 hosting offers a variety of web hosting packages to ensure you get the very best value for money. We liked the Solid State Drive Speed Boost feature that can boost your SEO score, since page speed of a website is something Google is definitely considering as part of their search ranking algorithm.  A2 Hosting is a very good choice indeed.