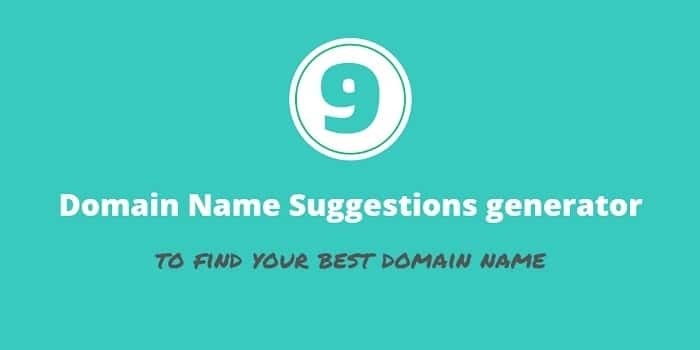 9+ Classy Domain Name Suggestions generator to find your best domain name
Tweet This
Getting the right domain name for your website is essential to the success of your site.
It is the first step in establishing a presence. It is often the hardest part when starting a website because you need a name that people will remember. It has to be catchy, and it has to define your website.
Chances are what you're thinking right now is already taken. But if you're as lucky as Facebook or Twitter in naming a domain name that sells, then you wouldn't have a problem, otherwise, these tools will help you pick a domain name.
#1 DomainTools – Set of domain name search engines
DomainTools is a set of domain name search engines that will help you reveal important information about domain names.
DomainTools has "Whois" search which reveals the records about the party who registered the domain, a "Suggestions" search which helps you find similar domain name.
Domain Search shows you what TLDs of domain name area available and "For Sale" or "At Auction" which lets you find domain names for sale.
#2 Business Name Generator from Shopify.com
This free tool from Shopify takes in your keyword and then mixes with other important words to generate a robust list of available domain names.
This is a very useful tool and has a bit of creative inspiration going and finally gets you a list of domains to match.
#3 NameBounce
NameBounce is a business name generator that finds business names with matching available domain names.
It's easy to use – enter one or two keywords in the search box, select a domain extension, and wait a few seconds to see the name ideas.
There are four filters on the left side of the page. There are search term filters based on the keywords you enter, a maximum length filter, and a maximum syllable filter. You can add the names that you like to the favorites list on the right side.
Overall, NameBounce is a useful tool that will give you a lot of creative inspiration.
#4 DomainsBot – Domain name search engine
DomainsBot is a domain name search engine with advanced search features to conduct a customize and more refined search.
You can set the maximum domain character length to get rid of domain names from the results or exclude those that have a hyphen.
#5 NameBoy – Domain name generator
NameBoy is a domain name generator.
It is a simple tool that asks for your primary and secondary word that describe the topic or niche of your site. Then NameBoy suggests the possible domain names.
There is also a rhyme option to suggest domain names that rhymes with search phrases.
#6 Domainr
Domainr is a web tool that helps explore other TLDs and made your domain name stand out from the crow. Included in Domainr are the searches for top level domains.
#7 BustAName
BustAName is a domain name finder that uses linguistic data to search for domain names.
This web tool also lets you manage/organize and save your searches for later use. It also has a list of words feature which advises you of the similar words to search.
The available domains can be sorted in a number of ways like by the quality, or by length for easier viewing.
#8 Domize
Domize in an Ajax-based search engine to check for domain names.
Domize can be used in your site using widget which you can install on your site to provide a domain name search right off the bat.
Domize also comes with an iPhone app.
#9 Blog Name Generator
Developed around the naming habits of top bloggers, enter your keyword and select your niche to get relevant ideas. Click on the idea you like best to double check availability of the domain and Twitter username.
#10 Business Name Generator
Find available domain name ideas based on the type, style, and benefits offered by your business. This generator uses word lists to return relevant name ideas based on your selections.
#11 Real Username Fixer
You have a perfect domain name but the matching social media username is taken? Never fear the Real Username Fixer is designed to show you close match alternatives like @Ask, @Get, @Try and more.
Do you have domain name tools that aren't in this list? Suggest it in the comments section below.