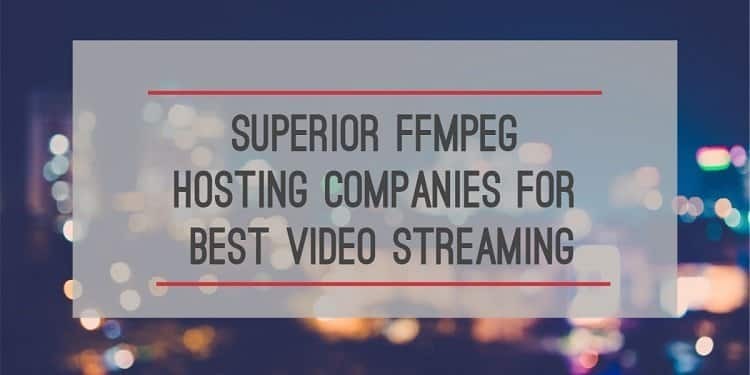 Superior FFMPEG Hosting Companies for Best Video Streaming

Tweet This



FFmpeg is a cross-platform solution to convert streaming audio and video files from one format to another. In the original format, Audio and Video files are huge and consume a lot of storage space. You need to convert it to a format that is faster to load and designed for web pages. FFmpeg converts various video formats such as .Wmv, .Mpg, .Eve and many others to the .Flv video format to stream the video online. FFmpeg can also be used for other audio and video data manipulation. For e.g. change the sampling rate of the audio, change the frame rate of the video, cropping or resizing the video etc.
If you are planning to run a site with video uploads and streaming, you need FFmpeg hosting.
For example, if you want to start a Video website, Youtube Clone or Social Network with Video uploading you need hosting with ffmpeg support. Some popular scripts like PHPMotion, Social Engine, BoonEx Dolphin, Clipshare, ClipBucket, VidiScript, PHpFox, Vshare, Rayzz, OsTube, Joomla Video Plugin, ABKSoft AbleDating, Meeting Dating, HWD MediaShare, iScripts, ShareMixer, PHP Melody etc  require ffmpeg hosting.
Hosting companies like Hostgator & Inmotion hosting, have ffmpeg hosting available on their VPS or dedicated server .
---
List of FFmpeg hosting companies
Hostgator

Hostgator was established in 2002 and is one of the best hosting companies that supports FFmpeg in their VPS hosting plans. Hosgator is well known for their support and uptime record. Tech Support response time is reasonable and staff has sound technical knowledge. And for Video streaming, if you have many videos, and you expect big traffic, then Hostgator VPS solution is also a very good option. Hostgator VPS hosting plans start at $22 per month.
See Hostgator VPS hosting plan details

Inmotion

InMotion Hosting is well known for fast and Reliable Hosting since 2001. Inmotion VPS Hosting is the best option for small businesses that have high traffic websites. And for Video streaming, if you have many videos, and you expect big traffic, then Inmotion VPS solution is very good option. Please note that you have to pay $25 installation fee for installing FFmpeg in the server. VPS hosting plans start at $29 per month.
Inmotion VPS hosting plan details