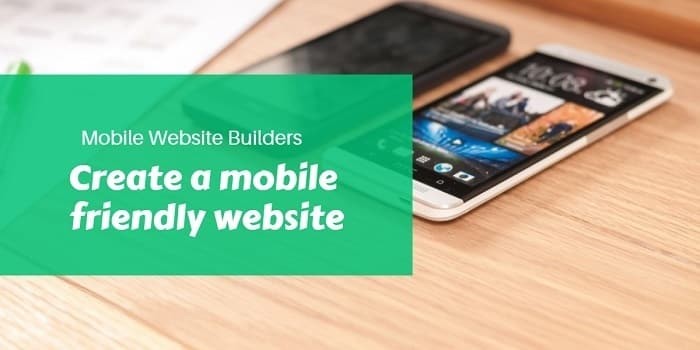 Superior Mobile Website Builders for Mobile Friendly Sites
Tweet This
About 56% of internet users nowadays use smartphones and mobile devices.
People, especially the younger generation, prefer to use mobile devices and smartphones when looking for businesses and services. This means that if you are providing either of the two locally or online, now is the best time to promote your business to a mobile market.
Mobile friendly website vs Apps
There's about 83 million people on the mobile web; there's little chance that you won't get recognized online. Mobile website reach all audiences than apps. Although apps look cool, you'll need to maintain at least three apps for it to be efficient – one for iOS, another for Android, and one for Windows. If you are targeting a business sector, you might want to add Blackberry as well. This makes it hard to maintain and will cost more compared to creating a mobile website that can work on any platform.
If you want to boost your overall traffic, create a mobile website as it can significantly increase your overall audience loyalty as you are accessible almost anytime they want.
Mobile website builders have a lot of useful features that may overwhelm you. Although it can help customize your site, some of it might be a bit confusing to some, other features might not really be helpful at all. So, here are some ways you can determine what is good and what is bad in mobile website builders.
User Interface: It should have ample collection of themes and templates so your site will look different from the others, and it should offer a variety of style, colors, and design. It should also be compatible for use with iOS and Android so that you can edit your page even when on the go.
Features: Basic features let you have fun with your mobile web design like having an About Us section and automatic integration with social media. The best mobile website builders offer integration to analytics software like Google Analytics, QR code creators, image galleries, and the ability to drag and drop items.
Support: Of course, if all else fails, you won't have anyone to turn into except for the ones that made it. Customer support must be available at all times in any means possible.
---
So here are the recommendations based on good features and ratings.
#1 DudaMobile
---
DudaMobile is a mobile website builder that offers two options in creating a mobile website. First, it scans your website, pulls texts,images and other information, so they can create a mobile website in an instant. It also matches the original color of your site so it complements to the main site. This feature will save you from countless hours of doing a mobile version of your site. Your mobile site even updates when you made changes to your main site. The next option lets you build your mobile site from scratch. It has about 15 templates available and it can take you hours of work to create one.
You don't need any coding skills to create a mobile website in DudaMobile. It is fully compatible with iOS, Android, Blackbery, and Windows because it is using HTML5. When fine tuning is necessary, there is an advanced editor that supports HTML and CSS.
DudaMobile's effectiveness is perfect! Expect everything to work the way you want it to be. If you ever get lost on the way, DudaMobile has a FAQ section to help you answer most queries, but if something goes wrong, DudaMobile's support is available through email, chat, and phone.
Create your mobile site in seconds today by visiting DudaMobile.com.
Try DudaMobile for free
#2 QFuse Pro
---
QFuse unifies traditional advertising with mobile website by letting you create ads that integrate with QR code or NFC(Near Field Communication). This feature makes it easier for customers to view your mobile offers. The UI is simple and easy to learn. It has integration with Google Analytics, social media, and lets you have an image gallery.
QFuse helps you create a mobile website from scratch by offering 9 various templates. These templates are your starting layout but you can modify it to suite your needs. QFuse is built with HTML5 which means it is compatible with most mobile devices.
QFuse has near perfect effectiveness but despite that, its mobile advertising feature is superb. If anything goes wrong, the only help you'll get is by reading their FAQ or sending an email.
Sign up to QFuse.com today for Free!
Signup QFuse.com Free
#3 MobDis
---
MobDis is a mobile website builder that lets you start building your mobile website immediately and pay once you are ready to go live. You can make use of most of its features like click-to-call, click-to-map, and can be integrated to a CMS software like WordPress.
The drag-and-drop function lets you place features and edit it based on your needs. The mobile website builder is in HTML5 which means it can work on any platforms, Android, iOS, Blackberry, Windows without the need to install an app. There are over a dozen templates to help you get started building a mobile site and each are tailored for a specific type or business. Templates are also customizable, and you can edit each elements' color, layouts, and patterns. MobiDis also has Free Objects which you can place almost on any space in your mobile website.
MobDis has about 100% effectiveness which means everything will work out as intended. Their support options are FAQ, email, live chat, and toll-free phone.
Expand your mobile marketing tool with Mobdis.com.
Take 14 Day Trial of Mobdis.com
#4 Landr
---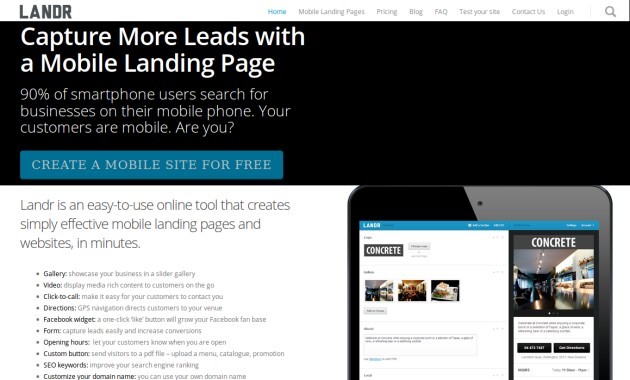 Landr doesn't have the most advanced tools like most website builders in the market because its purpose is to help you build an easy, yet valuable mobile website for your business. The website builder offers three templates that you can play with. The templates lets you build attractive websites that has just about anything you need to make it user friendly. Landr's mobile site creator is pretty basic, but that is what it more useful as it can help you get started right away without the need to learn what tool uses what.
Should you need a more advanced tool, Landr has one. For example, if you are a restaurant and want to cater menus to mobile users, Landr has such tool. However, Landr doesn't have advanced tools like page animations and interactive events.
Landr can be contacted through live chat, email, phone, and there is also a FAQ page for quick help.
Visit landr.co
---
Summary
So here you have some good recommendations for creating mobile friendly sites. Based on features, support and good ratings as well as popularity, we feel Dudamobile is a good choice. Visit Dudamobile