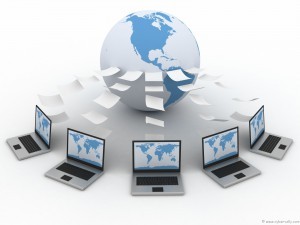 What is VPN?
A VPN (Virtual Private Network) is a network technology that creates a secure network connection between individual users/remote offices and their organization's network over both private networks as well as public networks like the Internet. VPN establishes a secure Internet connection between individual computer and main network. It enables a computer to send and receive data across shared or public networks as if it were directly connected to the private network.
An Internet VPN solution  works as follow:
A remote user log into Internet.
Next, the user initiates a VPN connection to the company VPN server. This connection is made via a VPN client installed on the remote host.
Once the connection has been established, the remote user can communicate with the internal company systems over the Internet just as if it were a local host.
To prevent disclosure of private information, VPN technologies includes various security mechanisms. All the data you're sending and receiving is encrypted and secured from prying eyes. Using a method called tunneling, VPN establish private connections through Internet. In order to gain access to the private network, remote user must be authenticated using  unique identification key and password.
Why you should use VPN?
VPNs allow employees to access securely their company's intranet while traveling outside the office or institutions to connect to their campuses located across the country or around the world. Besides this, VPNs are useful for connecting multiple networks together securely. For example VPN to share servers and other networked resources among multiple offices or stores across the globe.
VPN is not just for your school or business  to get remote access to the main network. Individuals can also take advantage of the great security features provided by VPNs. Since It secures your computer's internet connection, you can send and receive emails or use social networking sites safely and securely. ( Please note that a VPN can't protect you if you from downloading malicious files).
Another coolest features of a VPN service is Privacy. VPN hide your IP address for total anonymous browsing allowing individuals to privately browse from their home, work, or school computers or mobile devices.
VPN services allow you to encrypt your traffic when traveling with your mobile devices so that everything you do is encrypted and private.
VPN provider will unlocks geographical and website restrictions so you will never miss your favorite sites and shows.
Best VPN Providers
When you select a VPN service look for company's feature, server location and connectivity protocols, Speed of the service, Quality of the software, Quality of customer service etc.
Company's Feature
Do they keep logs? The best service provider keeps no logs of your activity. What other policies and features do they implement to support users anonymity and privacy? Check if the providers you're interested in offer anti-malware protection while you're connected. If you are planning to use mobile applications, make sure that your provider offer desktop and mobile solutions.
Server Location
Always Look at the Location of VPN Servers and number of server provided. To get top quality service, choose a VPN service provider who has greater number of servers in your desired location.
Protocols 
VPN uses several protocols to secure the transports of data traffic over a public network. SSL/TLS (sometimes called OpenVPN support,) Point-to-Point Tunneling Protocol (PPTP) , Layer 2 Tunneling Protocol (L2TP), Internet Protocol Security (IPsec) are most popular ones. PPTP is the least secure VPN method offering basic online security with fast speeds. PPTP is built-in to a wide array of desktop and mobile devices and is a good choice if OpenVPN is not available on your device. L2TP/IPsec features 256-bit encryption, but the extra security overhead requires more CPU usage than PPTP. OpenVPN is the premier VPN protocol designed for modern broadband networks, but is not supported by mobile devices. It features 256-bit encryption and is extremely stable and fast over networks.
 Here is a list of Best VPN Providers
Provider
Starting Price
$4.16/mo

Access Hulu, Netflix, BBC iPlayer etc
Bypass Internet Restrictions
Access VoIP based Softwares from anywhere
SSL Based upto 256-bit Encryption
Protection from Unwanted, Unauthorized Access
99.999% Uptime Guaranteed!
26 countries, 300+ Servers and counting
Easy To Use VPN Service
PureVPN for Streaming – Online TV freedom
Unrestricted speed
Efficient, Friendly Support 24/7

 $8.32/mo

VPN that works on your computer, smartphone or tablet.
Connect to more than 50 cities worldwide.
Encrypts and anonymizes your Internet connection
30-Day Money-Back Guarantee

 
 $6.95/mo

No VPN Traffic Logs
US based corporation, Different country IPs
OpenVPN, PPTP & IPSEC/L2TP
Professional support staff

 
 $9.95/mo

Anonymous VPN IP addresses
100's of VPN Servers in over 13 Different Countries
OpenVPN, PPTP & IPSEC/L2TP
30 Days Moneyback Guarantee, 100% Server Uptime Guarantee,24x7x365 Online Support Guarantee