In this article, we will analyze the 7 best WordPress eCommerce plugins for 2020.
Every plugin caters is for different users so that they can choose the best option for their business along with their pros and cons. This will help you to find the best plugin for your eCommerce business. Choose the best plugin that suits your need and which thus, helps you to build the business from scratch and turn it into an online store.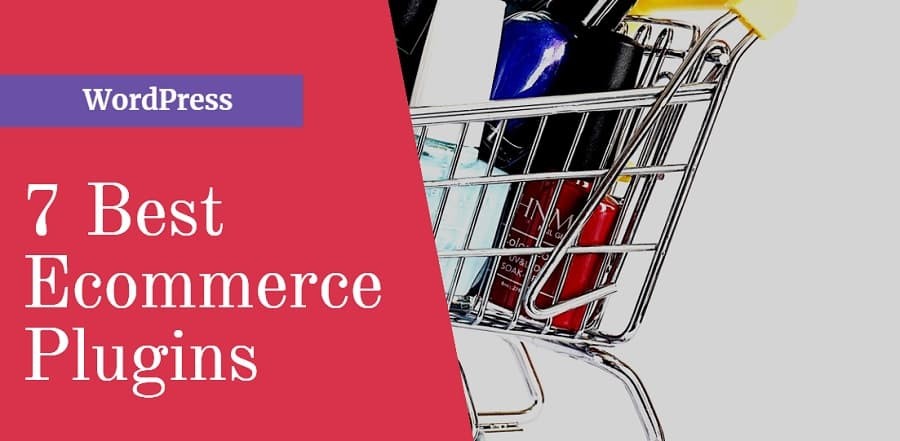 7+ Best WordPress Ecommerce Plugins Compared
Tweet This
A bit about WordPress Plugins: As you know, plugin is a software add-on that is installed within your wordpress blog. Best plugins increase the value by enhancing the functionalities of the program. Plugins will give the feature of the customization of the content for your website. These help to optimize the content that you put online as a creator.
Factors to consider when choosing the best WordPress eCommerce Plugin
The eCommerce industry is getting bigger; you will find numerous WordPress eCommerce plugins that open up a store in front of your website. The great thing about WordPress eCommerce plugins is that they easily integrate with an existing WordPress website.
Specific eCommerce plugins are made to sell the goods digitally like eBooks, photos, music, etc. But there are some platforms that require shipping. There are numerous plugin platforms that are suitable for both of them.
To run a drop-shipping business, you'll need the best eCommerce solution. It is very vital for your business to choose the accurate plugin according to your needs because it's hard to step back from your decision.
Business owners must know what kind of features they want for their business according to the products that they want to sell online.
Here are 6 important factors to consider when choosing a eCommerce plugin:
Ease of use: This is the most significant factor for your business. If you want to add a product or you want to do a task, such as create a coupon, It should provide an easy-to-use interface that makes it simple and easy. In this way, your time is not wasted.
Integrations: The plugin should work well with other useful and related plugins, without causing big issues.
Security: The platform should be secure enough to protect your eCommerce website. It must be PCI compliant and should support SSL/HTTPs protocols
Scalability: Must be flexible enough so that when your business grows, you can scale up without any big issues. Your platform must be expandable so that it can adapt to the change in the future easily.
Payment Gateways:  Before going ahead, it is important that you check the compatibility of the plugin with your favorite payment gateways.
SEO: You cannot ignore SEO. It is important to have an organic ranking. Make sure the plugin has the best in-built SEO features so as to acive optimal rankings and targeted traffic.
List of leading WordPress Ecommerce Plugins
Now that, you have a fair idea of what to look for in an eCommerce plugin, here are the best eCommerce WordPress plugins.
#1 WooCommerce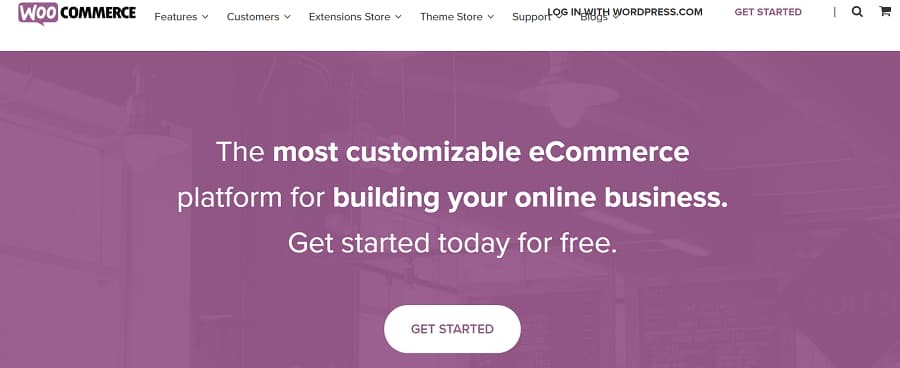 WooCommerce is the king of WordPress eCommerce plugins.
In fact, WooCommerce plugin is owned by WordPress itself(It was owned by WooThemes before). Woocommerce is considered as one of the best solutions when you want a rapid solution for your online store.
It provides lots of features in comparison with any other platform and it can support a large number of products, pages, visitors, etc.
The best part is, getting started with WooCommerce is relatively easy, since there are many WooCommerce compatible Web Hosting companies, which makes installing WooCommerce an easier task. They also provide excellent support as well,
Also plenty of free as well as paid WooCommerce themes and WooCommerce plugins are available, which makes it easy to give a good design to your eCommerce store.
Lately, a new version of WooCommerce-3.6 is released. In the development phase, 2279 pledges from 112 contributors have been made. Find out below a brief on the developments it has made.
Overall loading time is reduced by avoiding the inactive webhooks.
Improvement of 62% is noticed while ordering and filtering.
Page loading time is reduced with a product or category attribute list.
We have gathered some of the interesting facts of WooCommerce. Have a look:
There are 286 official WooCommerce plugin extensions that WooCommerce sells.
Merits of using WooCommerce
Completely free and open-source: Woocommerce is completely free and open-source. It gives the user permission to customize the design and code accordingly. It is based on open collaboration.
Large community: In Woocommerce, you can find a large number of users from all around the world. Woocommerce is the first one to launch an online store.
Third-party integrations: WooCommerce provides the library of premium extensions for different things such as payment shipping, marketing, and bookkeeping, etc. WooCommerce loves to serve the third party, and it easily integrates.
Customization: WooCommerce is a PHP based plugin that gives great access via browser. It provides the option of adding, editing, changes, and managing the content. You are not limited to particular content you have large options to customize accordingly.
Versatility: Woocommerce offers versatile options where you can sell goods, sell the license, sell appointments, memberships, etc. It automatically arranges products, categories, and confirmation, etc.
Professional and customizable:  WooCommerce can be customized with several themes. This plugin is easily accessible and offers features that can be customized easily.
Analytics: It offers several analytic tools to measure analysis and sales.
Flexibility: It offers loads of functionality. It lets you change the content seamlessly. The product types like simple, downloadable and variable can be sold.
De-merits of Using WooCommerce
Response time: There are a number of questions regarding the products that are available on WooCommerce and about the page speed. Unfortunately, there's no definite answer to all such questions as small research conducted on the issues.
Technical maintenance: Woocommerce works like real estate; it always needs maintenance. Plugins will always notify the problems, but you have to manage the conflicts that can occur anytime, and you have to troubleshoot that problem. As with maximum control, it comes to maximum responsibility.
Security: With the use of mobile, there are chances of hacking, and it triggers the security issue in it. As your store starts growing, there are a number of visitors. Hackers also visit the website, and they get to know the vulnerabilities of the system so they can misuse the content. Along with this, there are also chances of payment fraud that can be done by any third party, which can cause major loss.
Long-term cost: Woocommerce is free for the long term value, but Woocommerce is quite expensive for the third party users. There is always a drastic change in the price of Woocommerce, so it can cause the major fund issue to the user.
Regular WooCommerce updates: Many customers are unsatisfied regarding the WooCommerce update. The number of times the WordPress plugin gets updated, but WooCommerce lacks the same.
Adequate knowledge to use: WooCommerce needs adequate knowledge to use. It is tough to make changes by yourself sometimes. Therefore, it is required to know WooCommerce and WordPress efficiently.
Verdict: WooCommerce has a large community of users and developers. That said, WooCommerce is the best choice for any website. It has a lot of themes and addons. It provides outstanding support to multilingual websites.
#2 Big Commerce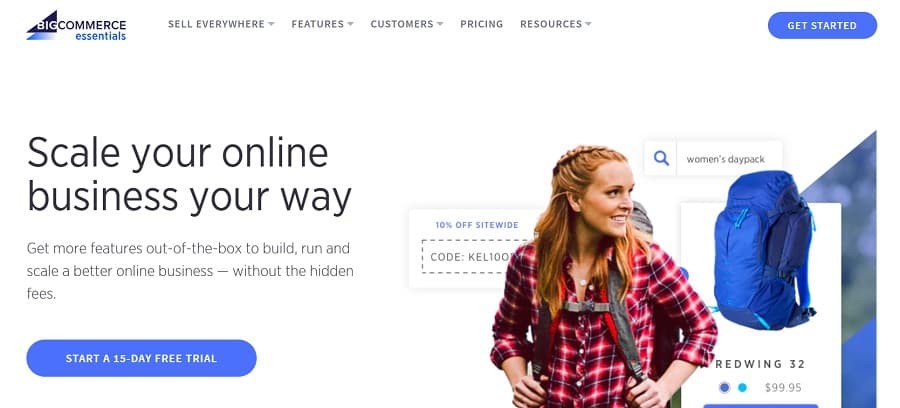 About: Big-commerce is a top platform that permits the creation of an online store.
Bigcommerce provides software as a service(SaaS) platform. It was founded in 2009. Bigcommerce offers a range of customized templates that helps you to design  an estore in a better way. Bigcommerce provides you with a scalable platform so that it can work with new extensions. It is best for a large growing business where you can expect peak traffic.
Stats: According to the statistics, BigCommerce is used by 22,065 websites. It has empowered B2C and B2B eCommerce in more than 2000 mid-market businesses, 60,000 stores, 30 fortune 1000 companies and popular brands, such as Paul Mitchell, Assurant, Sont, Ben Jerry, Toyota, Sony, and Skullcandy.
Its previous version helps businesses to connect to a single BigCommerce store for different WordPress instances. Using its new version i.e. WordPress 3.2.0, the business can practice several regional versions from a single WordPress website of the product catalogue.
Let's take a look at some of the advantages and disadvantages of using BigCommerce as your WordPress eCommerce platform.
Merits of Using BigCommerce
Better SEO tools: Bigcommerce offers a wide variety of SEO tools. It provides better page optimization, SEO friendly templates with the best features.
Unlimited Product Variants:  A possible combination of option values for a particular product is known as a variant or variation.  For example, you might sell a single skirt that comes in 2 sizes (small size and large size) and 2 colors (green and red). Since the skirt has 2 sizes and 2 colors, it means this product has four variants (2 sizes x 2 colors = 4 variants).  There is no limitation to product variants that you can add.
High scalability: It is suitable for small businesses as well as large enterprises. It has high performance and good scalability. The platform can scale irrespective of how small or big your estore is. You can scale up with minimal issues as your business grows and needs more resources.
No fee for transactions: Bigcommerce helps to save lots of money as it does not cost any transaction fee with any of their plans.
Free trial: BigCommerce allows you to test the Software for the time period of 15 days (without purchasing). This platform is certain enough to show its functionality.
All-inclusive:  Creating an eCommerce website demands more than designing. Backup services, web security, and hosting are some of the mandatories.
Includes Hosting: You can get the option to develop a unique domain URL to assist the customers in spotting you seamlessly.
Secure: Anti-malware is there in place to secure your website and the customers from any security breach.
Backups: The backup service will save significant information in case of any attack and crash.
Mobile-friendly: BigCommerce owns a sister application; BigCommerceNext,that permits you to create mobile-friendly eCommerce websites. This version has several critical features that can fit perfectly to the mobile devices.
Linking with Social media channels: Its templates have inbuilt social bars to leading social media platforms, thus making social media marketing more manageable.
Blend with Price Comparison Sites: BigCommerce lets you blend your  eCommerce website with the leading eCommerce platforms, such as Bizrate, eBay, PriceGrabber, Nextag, Beso, PriceGrabber, MySimon, etc. This way you can make more sales.
Templates for every requirement: BigCommerce 100+ free templates and 76 extra templates for sale. This way you will have plenty of options to choose a good design for your estore.
De-merits of Using BigCommerce
Difficult to edit: it is quite complicated to make the change in the themes for someone who is not a developer.
Sales threshold: It has a yearly threshold for number os sales. It will automatically upgrade the plan annually as the limit exceeds.
Not a multilingual store: Bigcommerce does not provide the platform to access multiple languages. You have to do via code
Try BigCommerce Free for 15-days
#3 EDD – Easy Digital Downloads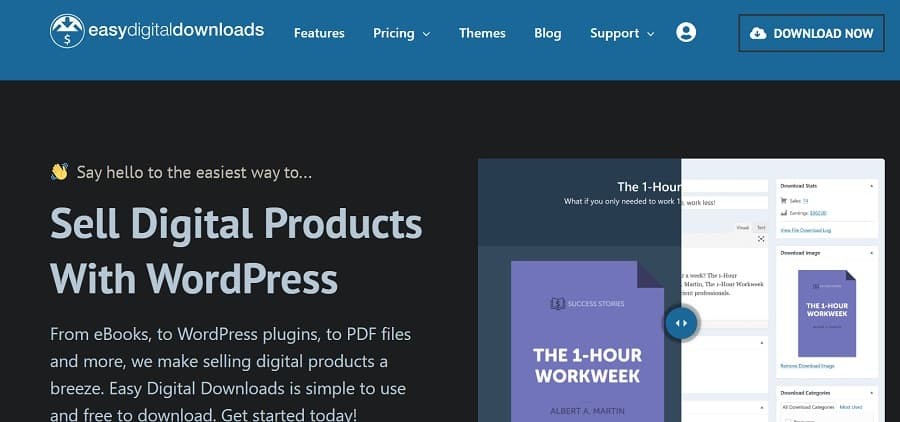 If you are selling digital products (sell music, pdfs, sell ebooks etc), Easy Digital Downloads makes lot of sense.. It is mostly considered to sell items like e-books, pdf, etc.
EDD provides you with access to create an online store in minutes. It has in-built shopping carts and check out the pages as well. The "Add to cart"  button is very useful and gives the option to add a yearly subscription.
Recently, it came up with the updated version – 3.0. We have gathered some of the updates related to the same.
Resolve the errors from the "get_average_refund_time method" that generates a MySQL error.
It has updated the view/edit details from the Customer information section.
3.0 has rectified the issues that show the wrong order status count while filtering the list table.
Updates how product drop-down lists work with bundles.
Timezone compatibility is increased with PHP 5.5 and higher.
Merits of Using Easy Digital Downloads
In-built features: EDD comes packed with a built-in shopping cart, discount and coupon codes, customer management, data collection, and reporting. You'll also get features like refund tracking, affiliation systems, mailing lists, and much more. All these features make this eCommerce plugin quite special.
File downloads: It does not bound its products to limits while distributing products. It allows customers to download their digital files without any restriction.
Easy and smooth sale process: Customers find EDD very easy to use and sale process is much easy.
Complete Shopping cart for marketing digital items: You can setupo a nice shopping cart in minimal time. "Buy Now" and "Add to cart" buttons can be easyly added and the text can be customized easily as well on these buttons.
Very economical: It does not demand any upfront cost. The case will be different when some extra functionalities are required.
Customer management: It helps to create and maintain a record of each customer where you can edit, delete any record of the customer.
De- merits of Using Easy Digital Downloads
Limitations in free Version: While basic version is free, paid plans/add-ons have better features.
Add-ons are paid: Most of the EDD are paid while Woocommerce has some free add-ons.
Sell only on WordPress: – Since EDD is a wordpress plugin, it allows you to sell only on a WordPress website.
#4 MemberPress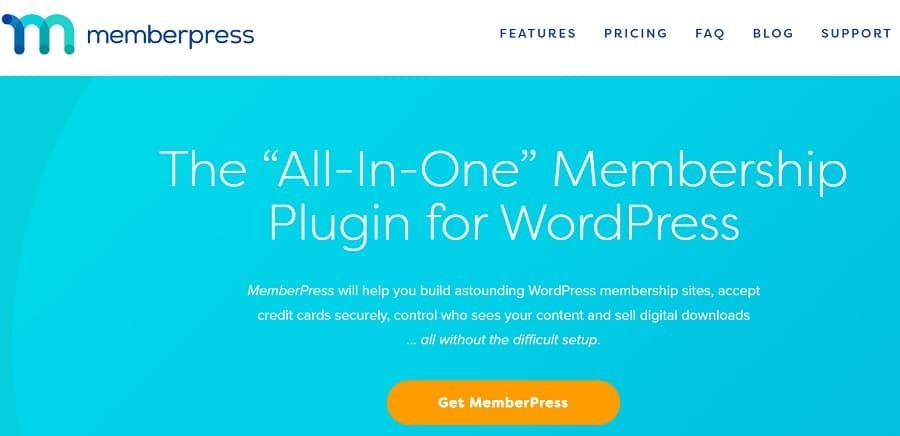 Memberpress lets you create, manage and track membership subscriptions. It grants you to sell subscription-based digital products and services. MemberPress is a WordPress plugin used for creating and managing membership subscriptions, users, and content access.
You can quickly build an efficient membership website for your organization. Since it is a premium plugin, it does not have a free version.
This simple yet powerful plugin can be installed easily on your WordPress website and you can setup payment optiins and access instantly. In contrast to other membership software solutions, it can be integrated with your existing WordPress website and WooCommerce as well.
Let's look at some benefits and drawbacks of using MemberPress.
Merits of Using MemberPress
Ease of use: MemberPress is very user friendly and a beginner can get started quite fast. Initial setup is easy and setting up a membership package is not a complicated task. Page, post, or custom URL or multiple contents can also be assigned to various membership packages at once. You can add  "rules". You setup rules and then assign content to one or multiple packages using the rule.
Custom redirect login: Membership provides the provision of customized URLs for the members who have purchased the package.
Works with any wordpress theme: MemberPress works with any wordpress theme and you can customize it was well.
Beautiful Product/Pricing pages: It allows you to create different pages for your products. You can add/modify pages without knowing any HTML/ CSS.
Flexible coupon creator: Coupons and coupon codes can be created very easily, which can be applied to certain membership types. These coupons can be limited to certain times; it also has an expiration date as well.
Can be set up easily: Setting up the MemberPress eCommerce plugin is very easy. You can set up an account, log in, and thank you pages effortlessly.
Full access control: You can restrict the access of any user for any content, such as pages, files, posts, files, tags and many more.
Integrations: You can easily integrate with mailing services such as Mailchimp, Aweber, Madmimi, and GetResponse. With MemberPress, you can integrate the BluBrry and Amazon Web Services for podcast hosting on your WordPress website.
Content dripping: It allows you to display blocked content on a particular time period. Content dripping is appropriate while providing a snippet for selling the online course.
Payment Gateways: It has many built-in payment options like Stripe and PayPal are one of those.
De-merits of Using MemberPress
Limited subscription: it does not provide the multiple concurrent subscriptions as MemberPress provides limited access.
Confined Payment gateways: MemberPress does not support numerous platforms for payments. It only supports PayPal, Stripe, and Authorize.net.
Limited Integrations: MemberPress does not comply with full integration with many services that are necessary for a stable membership website.
Frontend looks ugly- Frontend of MemberPress does not look good, and it is outdated. There is no WooCommerce support for this plugin.
Memberpress is a beginner-friendly plugin. It provides an ease to the new user, and this can be easily extended with add-ons and themes which permit you to take your eCommerce website in any direction you want.
#5 Shopify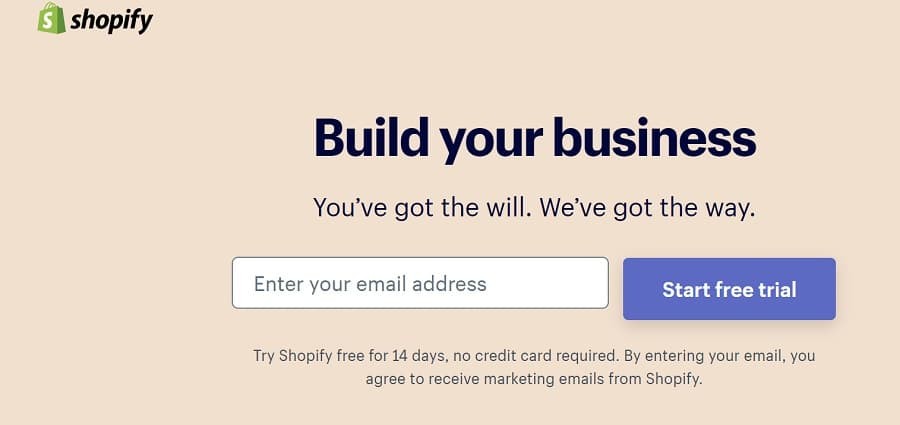 Shopify needs no introduction. It is a highly popular store builder with so many  features and options. Shopify has a wordpres plugin as well that can be hooked to a wordpress website as well.
Shopify plugin is a collection of premium plugins for any shopping website. Shopify plugin is the leading free plugin that easily integrates with WordPress. This is a platform that helps you to create an online store for your business.
Shopify is a fast-growing eCommerce platform that handles everything for you. Shopify gives you access to use a wide range of templates so that you can design accordingly. Shopify is best suited for beginners. Shopify plugin is all in one solution that completely runs hassle-free.
Some Shopify Stats for you (Shopify statistics)
It has attained a market share of 20% and is has achived 2nd rank third in a row of top eCommerce platforms.
The conference held in June 2019 has revealed that almost 8,20,000 businesses are using it.
1,000,000 businesses are running in 175 countries with Shopify.
Shopify is used in 427,676 websites whereas Shopify plus in 5,300+ businesses.
It has received more than 1 billion orders. And, the total sales of $55 billion is noticed.
Merits of Using Shopify
Free themes: Shopify provides a decent selection of designs as it gives 8 free eCommerce different templates so that these themes can be easily transferred into beautiful designs.
Easy to use interface: it gives a clean and modern interface. This interface provides different sets of sales channels such as an online store, Facebook, messenger, buy button, etc.
Importing and exporting products: Shopify allows you to import products from the CSV file. It is quite handy if you want to add the bulk of the options. To import products, you can use the command-line tool or Transporter app.
Multiple currency options: multiple currency options is very useful for merchants from different territories with the payment gateway option.
Cart recovery: It gives the list of people who leave their cart and send them an email. This helps to recover most of the transaction to change the product at the last moment. It saves a lot of time.
App store: Shopify also provides it's app store that is free and paid. There are around 3200 applications available in comparison with any other eCommerce platform. These applications provide various functionality to the tool.
Reporting: Shopify provides a range of reports like sales report, customer report, marketing report, finance report, abandoned cart report, etc.
Mobile friendly: Shopify supports a mobile-friendly support system. There is a new app called Ping which makes it easier to answer the queries. It gives the provision to chat by Facebook messenger.
24/7 service: Shopify supports a tremendous support system that is available 24/7. It is available by chat, email. There are different numbers according to the region.
Security and Speed: This eCommerce platform is integrated with the built-in speed checkout and payment providers. The customers can pay easily with less loading time.
Marketing:  It provides custom meta descriptions, title tags on each category page for SEO. The customized landing pages can be created.
Design: It has several custom-built premium themes and free themes for customizing and integrating the functionalities.
Demerits of Using Shopify
Not a future-ready: Shopify is not fully scalable. As the customer demands are increasing, and this cannot handle millions of the stores.
No email hosting: Shopify does not provide any email hosting. For an email support system, you need to set up the third-party email hosting before replying to your own email account.
Painful Migration to exit: Migrating from Shopify to other online stores is not an  easy journey. It permanently removes the online store.
Verdict: Shopify plugin lets you connect with other Shopify stores and easily make sync with your products. It is compatible with small and large businesses. It offers different features and flexibility to grow the business.
Try Shopify free for 14 days, no credit card required
#6 Magento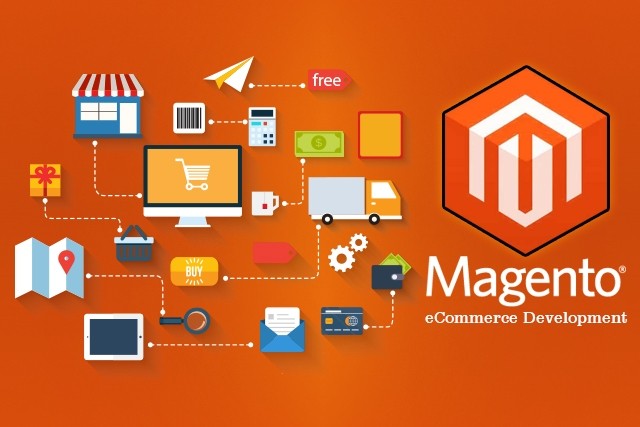 Statistics show that Magento has a share of 1.2% in e-commrce market. And, 1.9% of the CMS market. There is a share of 16% in the popular 10,000 web sites.
Magento 2 WordPress Integration Plugin: To integrate it with the WordPress you need a Magento 2 WordPress Integration plugin Sharing the product layout elements, cart/session data, static blocks, header, footer and navigation menus with functions and shortcodes are some of its features.
The aim of Magento 2 WordPress Integration plugin is not to replace the Magento 2. But, its purpose lies only in creating the most satisfying user experience with the integration of WordPress and Magento.
Let's get in more detail with Magento merits and demerits:
Merits of Magento 
Catalog Management: With Magento, you can integrate hundreds of products in one go. It encompasses the catalogue management that integrates dynamic product attributes, products, and several categories.
Smart Pricing options: It lets you integrate special prices for staff groups, VIPs, retails, and wholesale.
SEO friendly:  You can change the web page URL easily. Changing meta description, adding sitemaps and several other SEO tasks are possible.
Large community: This platform has 3,60,000 active users and 1500+ partners. Here, you can get FAQs, documents, Forums, etc.
Product Alerts: Magento offers two types of alerts with email- price change alerts and in-stock alerts. In case of price alerts; when there is a change in the price, an email alert is sent.  And, when it is about in-stock alert; an alert is sent when the product is back in stock.
Demerits of Magento 
Expensive: Certainly, it is free for the community version. But, the enterprise version is $ 15000+ approximately for a year.
Complex customization: You need a good developer to do decent custimization
Get Magento Today Free automated Install
#7  3D Cart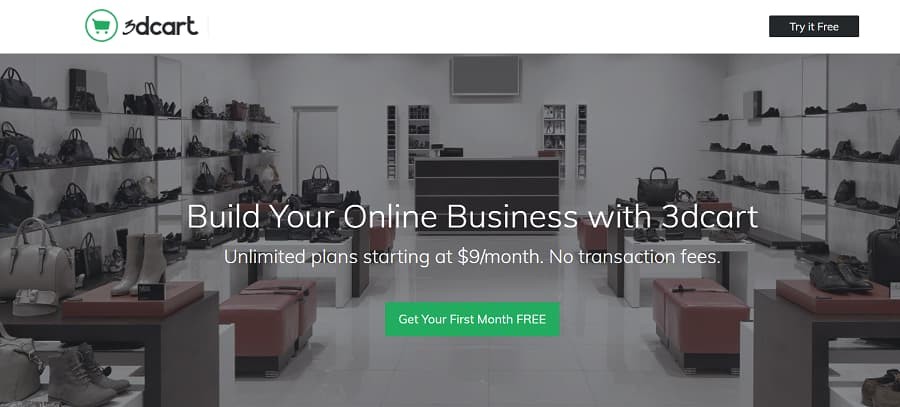 3dcart is an outstanding eCommerce platform for selling genuine digital products and items of any type is possible with 3dcart.
Those who are commencing their new business can adopt a 3dcart eCommerce platform. Those who do not have access to the marketing department can go with it.
It amalgamates a plethora of marketing features that cannot be compared.
With its WordPress online store plugin, integrating the 3dcart to your existing WordPress website is a seamless task. Customizing the WordPress blog in an online store and make selling easy with 3dcart WordPress eCommerce shopping cart plugin.
Merits of 3dcart
Fully-featured Shopping Cart: From associated programs to different shipping addresses to coupons, 3D has covered you. It has all the essential features to manage and run an online business.
0% transaction fee: The shopping carts list does not cost any transaction fees.
Excellent SEO: It gives several optimization tools to assist you so that you can prove yourself on the search engines. A few of the optimization features that it holds are; Meta tags, sitemap generators, blogging platforms and trusted URLs.
Limitless storage space: It came as a rescue when you want to integrate several images with large support space. The research has shown that nowadays, customers like to buy those products that consolidate images.
Easy migration: It has an easy process when it is about migrating an existing platform to the 3dcart platform. Its' support and maintenance team is there to assist you if you stick somewhere.
Reliable and easily accessible payment gateway: 3d cart usually supports 90 payment gateways- Payment by Amazon, PayPal, Authorize.net, and Stripe are one of them.
Demerits of 3d cart
Old admin interface: Its admin interface is still old fashioned. As the users' do not notice the background, if they do, then surely, user-friendliness will get affected.
#8 Ecwid: Add a WordPress E-commerce Shopping Cart to Your Site
Ecwid is a popular e-commerce shopping cart plug-in that offers a secure, powerful. It is so user-friendly that you can setup an online store, all within your WordPress website.
Benefits of Ecwid:
Global Reach and International businesses: You can sell globally with over 40 international payment options with multi-currency support, support for over 50 languages, all this with real-time shipping integration!
Mobile Friendly Stores: Optimize your online store for best mobile experience. Works well in desktop as well. Your Ecwid online store looks great on any smartphone and it adaps well to your customer's screen.
Sell everywhere: Sell on websites or mobile phones or social sites and marketplaces like Google Shopping, Amazon and Shopping.com. Ecwid integratesvery well with social networks , especially Facebook and Tumblr.
Ecwid and Social Commerce: Ecwid is the #1rated e-commerce app on Facebook and has over over 40,000 stores under it's belt. Add an online store to Facebook today for best leads and sales.
How to setup an online store with Ecwid?
This is what you do to setup a Ecwid shoping cart in your wordpres:
1> Sign up for a free Ecwid account
2> Install the plug-in inside your wordpress and activate it. (Details are given after you signup)
3> Start setting up store using Ecwid Dashboard (inside wordpress).
Verdict – And The Best WordPress eCommerce Plugin is…
Above we have discussed ecommerce wordpress plugins along with pros and cons. All these plugins help you to manage, develop and launch a store online.
Simple Store: For a simple store, you can opt for Shopify.  Get Shopify
Big Store: For a bigger store, we strongly recommend WooCommerce. Get WooCommerce with Hosting
We hope that this guide will help you to choose the best eCommerce business. If you have any query, you can ask in the comment section below. Thank you for reading!!
About the Author
Morris Edwards is a web developer & marketing strategist who works with Awebstar, a website design company in Singapore. Apart from this, he loves to write blogs on web design, SEO & internet marketing. Follow him on Facebook and Twitter to get his new articles and updates instantly.