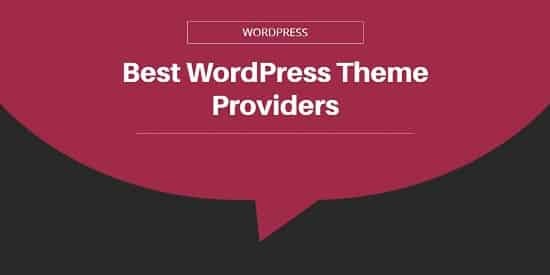 Best WordPress theme providers you should know

Tweet This


There are so many wordpress theme providers for WordPress today that at times you are overwhelmed . So we have come up with a  list of Best Premium wordpress theme providers.

Why go for a Premium Theme when you have free themes?
Custimization: With free themes, you can download, and install it to any site you want without limitations. However, free themes have a catch. First is the level of customization. Free themes doesn't have those template builders or WYSIWYG editors found mostly in premium themes.
Support: Another reason to choose premium themes is that they have a cleaner code with better features. They also come with proper support and documentation to help you just in case something doesn't work. Free themes don't have these.
Go Responsive: Another reason we have to do this is that most new WordPress themes nowadays are crafted to fit to almost any screen size or device. If you have an established wp blog and haven't changed your theme for years, then it's time to upgrade it to a more responsive WordPress theme.. and that too a premium one with good support.
If you are serious about your website and want it to stand out, be unique, and be a cut among the rest, particularly in web design, WordPress premium themes are for you.
Best WordPress theme providers you should know (Click To Tweet)
So, without further adieu, here we have a collection of the world's best WordPress theme providers:

Best WordPress theme providers
---
Elegant Themes is an extremely popular WordPress Theme provider. They have a large collection of quality themes for blogs, eCommerce sites, and even apps. Elegant Themes offer a beautiful and large collection of quality designs at affordable prices. Most of their themes posses a clean and minimalist feel. These are ideal for a wide range of applications from a casual blogger to businesses.
Pros
Large collection of quality themes.
Offers three membership plan. Each meets the need of every WordPress user.
Cons
Images aren't compressed enough, which means it could affect your page loading speed.
Lacks diversity in themes.
Elegant Themes claims to have more than 170,000 customers. There are plenty of themes to choose from and the company offers extensive and direct contact-based support to its users.
Elegant Themes offer three types of subscription:
Personal: $39 per year.
Developer: $89 per year.
Lifetime: $249 one-time.
---
StudioPress is a WordPress theme provider known for its Genesis Framework. It is one of the WordPress theme provider that is said to be structurally sound, secure, and great for SEO. The designs are clean; however, only a few are stunning compared to what other theme providers are offering.
StudioPress has a large community that you can become a part of if you are interested specially when you the Genesis Framework from Studio Press. There are also community-built themes, plugins, and child themes that are built to run on the framework.
Pros
Price includes a lifetime support and updates.
SEO-friendly themes.
Clean designs.
Cons
Doesn't appeal to some.
Very basic functionality.
Not many customization options like changing the default look and color.
Themes cost from $79.95 to $99.99. With every purchase of the theme, you'll get the Genesis Framework. Each and every theme runs on top of the Genesis Framework.
While it may seem expensive, StudioPress offers lifetime support and updates. You can also buy the Genesis Framework itself for $59.95.
Find out why most web owners trust StudioPress
---
WooThemes has become well known for its large collection of themes. The themes are feature-rich, functional and are highly customizable. WooThemes is also known for their flagship product, Canvas and WooCommerce.
The themes are feature-rich, customizable, but they lack a modern touch and fail to push beyond modern design trends.
Pros
Themes are feature-rich and very customizable.
Cons
A large number of themes are no longer supported or updated.
It takes time to setup especially for new users.
The designs aren't that exciting.
There are different pricing terms in WooThemes:
Standard Package offer unlimited domain usage, with two bonus themes and one year in support and updates. The price of a standard package is $99.
Developer package offers unlimited domain usage, with three bonus themes, and one year in support and updates, layered Photoshop PSD. The Developer Package costs at $179.
There is also a club subscription offering Standard and Developer club subscription.
Standard Club Subscription offers a $199 startup fee and $29 a month. This includes access to all WordPress themes, a minimum of one theme per month with regular theme updates, unlimited domain uses.
Developer Club Subscription offers a $299 startup fee with $39 per month, comes with one theme per month with support access and regular theme updates, concurrent domain, and includes access to all WordPress themes.
---
Graph Paper Press offers a wide range of themes that are tailored mostly to the creative types like photographers, videographers, artists, etc. The designs focus mostly on people wanting to showcase their work. The designs make up for content focus thus expect big, bolder images, full screen sliders, and video.
Pros
Great set of themes made for creative types.
Free plugins are included to help you sell digital products directly from your site.
Cons
Graph Paper Press themes are available to buy individually or you can also join their theme club.
You have plenty of membership options to choose from:
Annual membership costs $125 per year. You'll have access to all themes, plugins, and there are new theme launches every month, automatic updates, and forum support.
Forever membership costs $299. It's not forever actually as the theme subscription is good for 10 years plus all access to themes. There are new theme launches monthly, automatic theme updates, complete library with two hours of video and written tutorials.
You can also purchase themes individually, here's a rundown of the costs:
$75 for a single site.
$140 for 2 to 4 sites.
$200 for unlimited number of sites.
You can also get 10 free themes when you subscribe to Graph Paper Press. Subscription is free of charge. The theme aren't advertised as free, but you'll need to scroll through the collection and click on the theme to find the free ones.
If you are not satisfied with the themes, Graph Paper Press offers a 30-day money-back guarantee.
---
Obox Design is known to offer plenty of options in the back end to control the look of the theme. It is not a drag-and-drop type editor but you'll get a number of different templates. These templates have a very granular control of things like changing the theme's colors. You can leave the colors alone, but there are also other options that can't be left alone, and some take a little time to figure out.
There are only 12 responsive themes available in Obox Designs, and most of it are WooCommerce-ready.
Pros
Lifetime support and updates
A number of themes available are e-commerce compatible.
Full control in the backend.
Cons
Only has 12 responsive themes at this time.
Some themes look different, but others look like most of the themes out there.
There are three ways to get a premium theme from Obox Themes:
Single Pack offers two themes. Themes have lifetime support and updates and can be used on as many domains as you like. Single Pack costs at $79.
Developer Pack offers three themes with lifetime support and updates. Themes can be used on as many domains as you like. One advantage of Developer Pack is that you'll get to access Photoshop files, and Obox Mobile Plugin. Developer Pack is offers at $139.
Membership
Membership lets you gain access to all themes. These themes have support and updates for the duration of the membership. You'll also gain access to PhotoShop files and it comes with Obox Mobile Plugin. You are also entitled to unlimited use of all your themes. Membership is priced at $159 startup fee with $19 per month.
---
Organic Themes has some pretty collection of customizable and functional. Most themes have responsive designs that are in trend with the designs of today. Organic Theme's login page and downloading the themes is a piece of cake; though setting up new themes can take a lot of work.
Pros
There are plenty of themes available that cater to a variety of uses.
Cons
Customer service is only catered to US citizens as it is only available during US business hours.
Themes are expensive.
Theme documentation are not that helpful. If not for the forums, we will get lost in solving these issues.
Organic Themes are offered in the following packages:
You can get a theme for $69 and nothing more.
If you want a better deal, the Developer pack is offered at $249 which included 23 themes.
Themes are entitled to unlimited usage for any number of domains you have. Design files are also included with each themes sold.
---
WPZoom theme are clean and well-organized giving you plenty of opportunities to fit anything in the theme. WPZoom is known for its mazazine-styled themes and also have a recipe theme, and some restaurant themes.
Pros
Professional theme that have polished designs.
Big attention to small details.
Content are well-organized specially the magazine-styled themes.
Quick support.
Cons
Expensive themes.
If you cancel the membership, you'll lose all support and updates.
There are three ways to get a theme in WPZoom:
Single
Each theme costs at $75 each. Support and updates are included for twelve months and you are free to use it on multiple domains. The price for their themes are a little expensive, but the benefit is that it isn't restricted to only one domain.
Extended
Extended license is $125. You have the option to pick up a second theme for free and you have access to Photoshop PSD files. You have 12 months of support and updates are also included. Like the single package, you'll also get to use it on multiple domains.
Membership
Membership is $199 per month with $19 monthly. This subscription offer gives you access to 53 themes plus at least one new theme per month. PSD file support and regular theme updates. If you cancel your membership, then updates and support are terminated.
---
Themeforest is known to house the best WP theme developers, so if you are looking for the best WordPress theme with excellent functionality, look at Themeforest themes. Themeforest has more than 2,600 premium WordPress Themes to choose from. Their theme categories ranges from blog, magazines, corporate, retail, business, non-profit, technology, entertainment, ecommerce, buddypress, HTML5 and more.
Pros
Themes are cheap most on average is about $25 to $30 per theme.
Themes comes with PSD file.
Plenty of theme choices.
Cons
Customizing the theme can be different because themes are designed differently by many theme developers around the glob.
The support section is powered by the theme authors than Themeforest.
Sign up for Themeforest Themes
---
So, there you have it. These are some of the best theme providers in the market. If you have the time to check out all of them, you'll find out that not all theme providers can cater to most user's needs. There are some that specializes in one category and others try to be more general but still focuses on one target market.
One thing I've noticed with these theme providers is that most don't offer money-back guarantee. What if you cancel mid way? Most don't give refunds for signup fees and if you have paid the monthly amount for the entire year, you will be refunded but only for the remaining six months. This doesn't include your startup fee, which usually appears in monthly subscription of most theme providers.
One useful subscription model I find in most theme providers is the lifetime membership. This gives you the option to get a lifetime support and access to all the themes, plus other benefits. Elegant Themes, for example, offers lifetime membership at only $249 one-time payment.
Most themes sold are expensive, but this price pays for the benefits you'll be having. Although most themes are offered at a cheaper price, you are restricted to using it to only one domain and doesn't include support and updates. Those with more pricey themes lets you use the theme to unlimited number of domains and have support and updates at your disposal.
One great feature with premium theme is the support and updates. Another benefit of premium themes is that you'll have plenty of customization options. You aren't limited to what you see. You can modify it meet your needs and make it look unique. Some even use the theme just as a base, but most of the elements are already changed.
Which is your favorite when it comes to premium themes? Do leave us a comment.