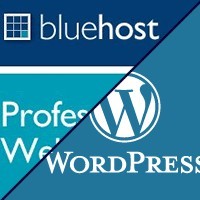 I'm all hands down with BlueHost, there is nothing more to prove from them. Aside from excellent plans and services,
BlueHost also have, the best customer support online that is why they are loved by many. Below is my BlueHost review that focuses on WordPress sites.
BlueHost keeps everything as effortless as possible. You won't be dazzled by a variety of plans that most web hosting providers have, instead, only one plan that comprises of anything you need, specially with WordPress.
BlueHost is a web host offering cPanel service under a professional service for just $5.95 a month. Under that price, BlueHost promises free domain registration, unlimited domain hosting, storage, bandwidth and email accounts.
Other features BlueHost has included site analytics, site builder, website templates; Ruby, PHP and Perl compatibility and MySQL.
Value
For $5.97, a month, you have to commit for 24 to 36 months. If you want to leave early, you can settle for a 1 year contract, but you have to pay $6.95 per month.
The smartest thing is any subscriber can get their money anytime they want because BlueHost has anytime money back guarantee.
Performance
BlueHost is verified to have 99.99% uptime which is the best one you can get. Based on my experiences with BlueHost, I never had problems with their servers, which made them one of the best WordPress hosting provider.
Customer Service
BlueHost has several options you can get in touch with them. They also have a community-driven support which allow fellow subscribers to collaborate and share their experiences and common fixes in BlueHost.
• Phone
• Live Chat
• Postal Mail
• Email
• Support Ticketing System • Community Forum
• Knowledgebase with Video
WordPress Compatibility
BlueHost meets all of WordPress requirements. Installation of your WordPress website is remarkably easy with its One-click installer through SimpleScripts.
Ease of Use
Not familiar with CPanel? Don't worry because CPanel from BlueHost is exceptionally easy to understand and use. It is the most intuitive and user-friendly CPanel that even those without experience with web hosting can easily understand.
What I Like
BlueHost has an excellent customer support also has a lot of choices to select from in case you need help. They have a direct approach to thier customer through phone support, which lets you stay secured of their service. The best feature of BlueHost is their 99.99% uptime, the price, and their anytime money back guarantee.
What You Need To Know
Anytime money-back guarantee has some drawbacks specially when you opt out too early on their service like when you are required to pay for a domain name registration if you want to leave their service.
Summary
BlueHost impressed us with their excellent customer support, a fairly cheap monthly price. It is perfect for individual blog, or personal website especially when you use WordPress since they use a one-click WordPress installer script. What made me decide to go with BlueHost is their customer support. All their staff is extremely knowledgeable about web hosting and honest at what they do.
Visit BlueHost.com.