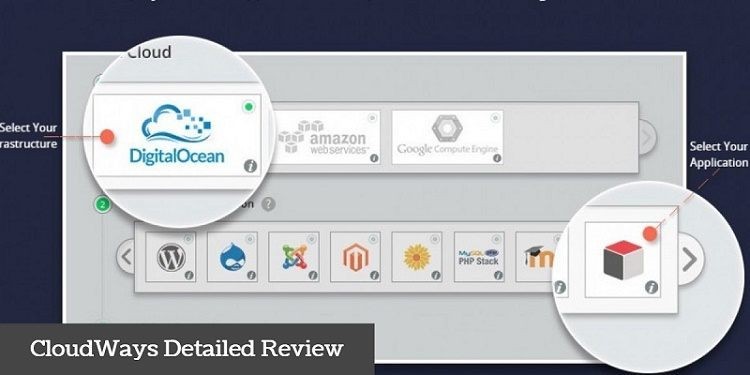 Cloudways Review -Everything You Ever Needed To Know
Tweet This
Cloudways – 1-Click Hosting On Top Of Super Clouds
Cloudways is a one place shop where you can quickly setup a Cloud server using any of 5 super popular Cloud server Providers.. They are
Amazon EC2
Google Compute Engine
DigitalOcean
Linode
Vultr
You can Deploy unlimited applications on top of any of the above 3 cloud service providers in a few clicks.
Why go for Cloud Hosting?
Cloud hosting describes a method of configuring servers in a flexible way to allow for the most affordable, scalable, and reliable web infrastructure – Definiton of Cloud hosting by DigitalOcean
This infographic from Forbes.com  shows why businesses are embracing cloud.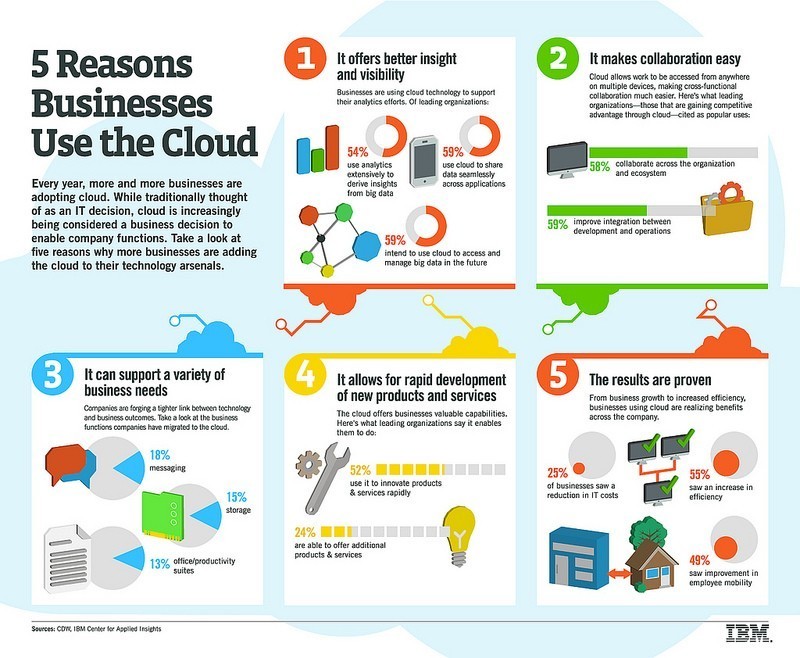 Why Cloudways and what do they offer:
High Performance Managed Cloud Hosting Platform
Offers Platform-as-a-Service (PaaS)
You have 5 Cloud Service providers to choose from to setup a cloud server. Users have the option to setup your cloud server in Amazon EC2 cloud or Digital Ocean or Google Cloud Platform or Linode or Vultr.  You start with choosing one of these providers and then configure your cloud server on it and deploy apps on the selected provider.
1 click interface to install and deploy popular Apps like WordPress, Prestashop, Magento, Joomla, Drupal, Moodle, SugarCRM and PHPStack
Deploy Laravel applications on a Cloudway's cloud hosting. High Performance. 300x faster speed and optimized web performance.
Developer Friendly: 1 Click App or Server Cloning, 1 Click Backup or restore,  Staging Areas for your Apps, SFTP & SSH Access
Proprietary formula optimized for speed. Built on a stack of NgInx, , memcache, varnish.
Varnish cache for wordpress for Supreme Performance:(varnish cache hosting) All Cloudways servers come with Varnish cache as a part of their optimization stack. Varnish is basically advanced Caching For Faster Websites. Especially designed for dynamic websites and blogs, Varnish can boost content delivery significantly.
"Click&Go" interface allows you to configure your server exactly the way you want it. Easy and trouble free way of setting up a cloud server. If you try to do this directly in any of these 3 providers, it does require some learning curve.  (Of course, easy for a techie who is well versed, but for a small business owner , this kind of control panel is a real find)
Dedicated Cloud Servers – Each Cloud server is a dedicated one
Automated firmware and OS Patches
Unlimited Domains
Elastic Search avaialble
Varnish Ready Hosting – Advanced Caching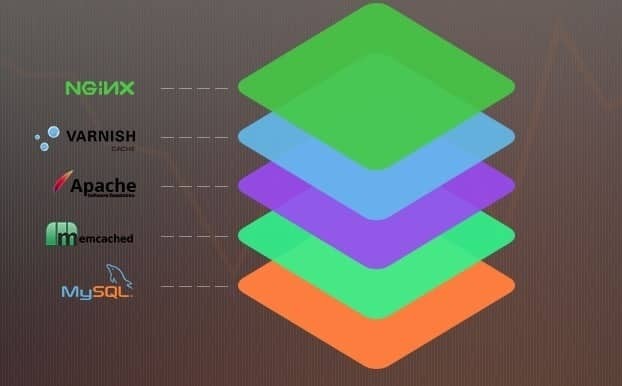 The super popular Varnish Cache comes pre-configured as part of every Cloudways cloud server. It uses a proprietary VMAN Formula that gives high performance.  Sudden spikes in traffic are handled very well. It has several layers of caching.  VMAN involves following 5 layers as shown in picture above
Nginx – This Web Server is used for serving your static content
Varnish – The famous Varnish is part of Caching layer to speed up content delivery.
MemCached – Another Layer of caching – mainly for db queries
Apache – is your web server
MySQL
Cloudways claim that this combination of 5 layers can cut down load speed by 50%.
You can manage Varnish from your control panel. You can Disable Varnish or Purge Varnish, if needed.
How to integrate Varnish with WooCommerce for Superior performance and Speed
WooCommerce is an excellent and easier way to start an ecommerce store using WordPress. But WooCommerce is resource hungry and as your product inventory goes up, it could result in longer load times and poor performance.
Now adding Varnish caching to WooCommerce can really speed up your store upto 100%.   But the setup and steps involved to make WooCommerce and Varnish compatible is complex and not straight forward, especially for store owners, who are not so tech-savvy.
To resolve this issue,  Cloudways has come up with a 1-Click install of Woocommerce with WordPress that also integrates Varnish. This takes away the headache of set up and the tweaks for making Varnish compatible with Woocommerce and this setup is fully optimized with Nginx, Varnish, Apache, and Memcached
PageSpeed and performance of WooCommerce with Varnish
I installed WooCommerce in my DigitalOcean Cloud and then took a Page Speed test to evaluate the performance of this WooCommerce store.
Prior to the test,  I added Dummy Product data to the empty store to fill in with products, as suggested in WooThemes Blog.
Then I took a PageSpeed score of this app from PingDom and I got a pagespeed of  376ms, which was impressive. Now, I do agree this is  not a full fledged store with many products, but a pagespeed of 376ms is pretty good.
Note: This WooCommerce store was setup on top of a DigitalOcean Cloud.
App Cloning 
Cloudways lets you clone your App. The cool thing is, I can clone my app to same server or to another Server in a different cloud provider. In doing so, I can copy the entire App(files, db everything ) with minimal effort – 1 click.
Why Clone An App?  You can use cloning to create seperate environments (Development, Test or QA , Production or Live area)
The WooCommerce App I created above was in my Digital Ocean cloud.
So I decided to clone it to my other Amazon EC2 cloud.
Idea was that:
I can see how it clones
And then test page speed/performance  of the Cloned App in Amazon Ec2.
How to Clone An  App
Here are the steps I took to clone the App to another Server:
Open your cloud Server and then Select your App from "My Applications". Then  Click on "Clone Application"
This is where I choose where to clone my App to. I chose my Amazon EC2 server.
Now I can see the status of App Clone creation process…
And now Final Clone App ready in Amazon cloud.
Performance: I then took a Speed Test of this Cloned App. Here's the result.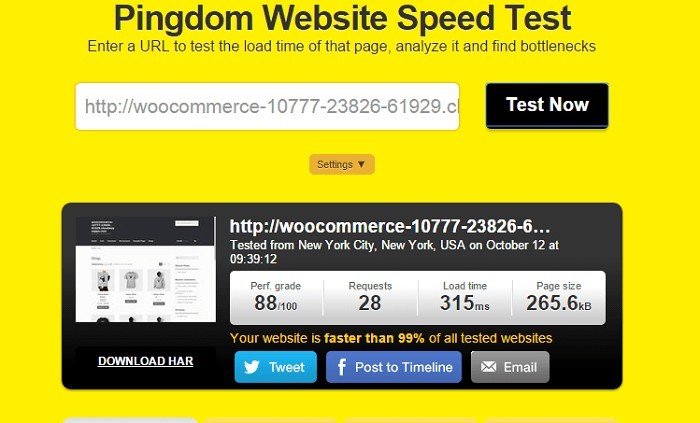 This Cloned WooCommerce App(in Amazon cloud)  gave a slight improved speed when compared to my WooCommerce App in . DigitalOcean, from which I cloned.  An improvement by  61 ms.
Cloned App in Google Cloud;
I also cloned the App to my other Google Cloud server and here's the page speed report:
So basically a few milliseconds page speed difference here and there for the cloned Apps across all the 3 cloud servers.
Cloudways Cpanel or Control Panel
What I really liked here is the user-friendliness of the control panel. You can quickly setup your server. I have explained how easy was it to setup a cloud server from Cloudways control panel.
Cloudways Control panel is 100% custom built by Cloudways. Note: Cloudways does not provide email hosting, but it help you set up with an email service provider
CloudWays Pricing and Trial Period
Since Cloudways is offering you 3 cloud providers to choose from, the pricing as well as trial period varies for each provider. Once you choose your provider, server size , bandwidth, optional add-ons etc the cost for the selected configuration is displayed so that you know exactly how much it is going to cost you. This is also a good thing, because you can scale up as your site audience grows.
Here's a base comparison.
| | | |
| --- | --- | --- |
| Cloud provider | Trial Period | Price Range(based on server size and bandwidth) |
| DigitalOcean | 14 days | Starting from $5 |
| Amazon Web Services | 3 days | Starting from $34 |
| Google Compute Engine | 3 days | Starting from $31 |
As you can see here, for Amazon and Google cloud platforms, trial period is limited to 3 days.
Note about DigitalOcean platform:
The base plan for $5(512 MB Server size) is only useful for a single app test website with minimal traffic. For a production or live app (like a wp blog), Cloudways suggests a 1 GB server size configuration, which costs $15.
Also I noticed that for DigitalOcean, while you can choose server sizes, there is no option for selecting bandwidth. AWS and GCE has options to select bandwidth.
Premium Addons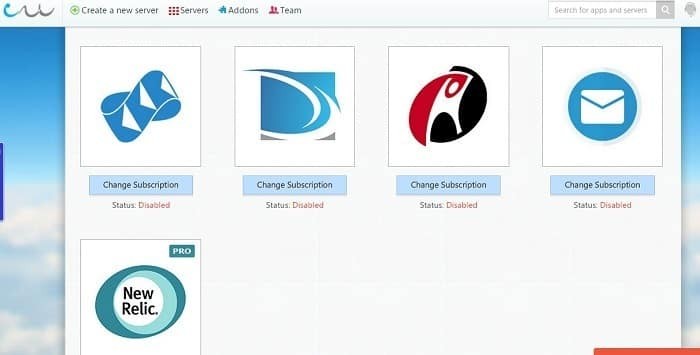 Cloudways also has a set of premium add-ons. Here they are:
| | | |
| --- | --- | --- |
| Add on | Description | Cost |
| SendGrid SMTP | You can use SendGrid add-on for transactional email delivery and management service | Starts from $1 for 1000 emails |
| DNSMadeEasy | You can use DNS services via our DNSMadeEasy add-on. | Starts from: Upto 5 Domains($ 2.50 /month) |
| Rackspace Email | For email hosting, you can subscribe to Rackspace Email add-on. | Starts from: $2 per month for 1 email |
| SMTP Addon | Use the free SMTP addon to setup outgoing email delivery via popular providers or your own setup | Free |
| NewRelic Pro | You can use NewRelic Pro add-on for monitoring your application(s) | $ 139.00 /month per server |
Cloudways Support
Cloudways provides support using:
Live Chat: Found Live chat support helpful. I tried live chat at around 9:00 AM EST and response was immediate. No waiting period.
Ticket System: Standard e-ticketing system. Response via email.
Knowledgebase: I found Cloudways Knowledgebase vast and has useful tutorials for most of the tasks that you hay have doubts or questions about. In addition, inside the control panel, under each section in Application or Server management area, you can see relevant links to the respective Knowledgebase article.

Cloudways Knowledge base has useful articles and tutorials with complete instructions and screenshots, for most of commonly asked questions or tasks
Note: Cloudways does not have phone support.
Cloudways System Status Update Page
Server Issues are reported in this page. I found the system status update area very transparent. I noticed minimal issues reported here. Though one data center issue was reported and it was displayed in status page . I also received an automatic email notification about this  as well.
Cloudways Managed WordPress Review: Best Cloud Hosting for WordPress
We explained above how a Managed WordPress account can be setup in the cloud using 1-click app feature of Cloudways Control Panel.
Since it is Managed, you do not have to worry about cloud server related issues.And you can scale your wordpress account.
Cloudways Managed WordPress implements advanced cache system and it also uses Breeze, a custom developed Cloudways cache systen along with CloudwaysCDN for fast performance.
Also your ecommerce store that uses WooCommerce also gets powerful Varnish caching to which can speed up your store upto 100%. As explained above, Cloudways has a 1-Click install for Woocommerce (that will also integrate Varnish). This makes sure WooCommerce is fully optimized with Nginx, Varnish, Apache, and Memcached.
Cloudways Competitors (Cloudways Alternative)
Cloudways has always been a Cloud Hosting Specialist and it is ofren compared with other Web Hosts like SiteGround for it's Managed WordPress Hosting.
Cloudways vs SiteGround
SiteGround is a high performance web host and can sure deliver you a fast wordpress managed account. Cost is also less when compared to Cloudways. Siteground has email hosting and it uses he standard cPanel(slightly customized version).
However performance wise, Cloudways have an edge over Siteground due to more dedicated resources. But Cloudways do not have email hosting and its control panel is customized 100%.
If you are looking for high performance Managed WordPress Hosting, then Cloudways is a very good choice.
However, if you need all in one account (email hosting, cpanel hosting, DNS Manager) Managed WordPress Hosting, then Siteground is a very good alternative to Cloudways. Support is also very good.
Summary
After my evaluation, I found Cloudways to be a very good performer, both in terms of server performance as well as support. Team Management is a set of young folks and are very experienced.
What I also liked about Cloudways was the easiness of setting up a Cloud Server and then Apps within it, with simple Clicks from a control panel. And performance and features (especially Varnish) were more than impressive.
While this review mostly focused on WordPress Managed Hosting , Cloudways also can be used for Drupal Managed Hosting, Magento Managed Hosting and for other Apps available in Cloudways App List.
Why don't you take a trial? No credit card is necessary and you can quickly setup a server and your favorite app in no time. If you don't like it, you have nothing to lose.
Special Offer: 20% Off for 2 months! : Use this special coupon: FBWH20OFF and take 20% Off for first 2 months! Click following button and use above coupon code to claim the offer.
If you found this post useful, Please share. Also please share your thoughts below
Review Summary and Rating
5 / 5