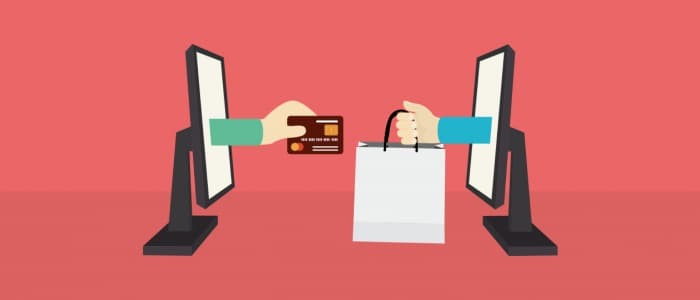 7 Best eCommerce Platforms for Small Business Owners

Tweet This


No small business in the world would want to be left behind. Every small business naturally is looking to progress. And one of the best ways of doing this is the online realm. With the digital technology today, the internet and smart devices, people have moved to online shopping and its overall trend is going to increase in the days to come.

Thus, eCommerce stores have become essential in any small business development strategy. An eCommerce development company could cater to the specific requirements of any business, building highly interactive and effective solutions. There are however some people who are still not aware of what eCommerce is really all about.

The eCommerce Industry

eCommerce, or electronic commerce is the purchase and sale of products and service, or transmissions of money and information done mainly on the internet. An eCommerce software provides a front-end aspect of an online business to consumers. The popularity of electronic commerce has significantly increased in the past decades, and is slowly replacing the traditional physical stores.

The Popular eCommerce Platform

Why has eCommerce become very popular? As the internet becomes more involved in people's daily lives, eCommerce has seen explosive growth. One of the best benefits of it is the 24/7 and 365 days access. Since eCommerce websites could run at all times, they could boost their sales considerably. Robust features are what an eCommerce shop needs to run smoothly, and eCommerce platforms would provide them, while at the same time integrate common business tools, enabling centralized operations for a brand.

An ideal eCommerce platform should reflect the unique needs of any online shop. When you're starting out a small business, it is important to choose the right platform that could best deliver your goals and profitability requirements.
The Best eCommerce Platforms for your Small Enterprise
1. Magento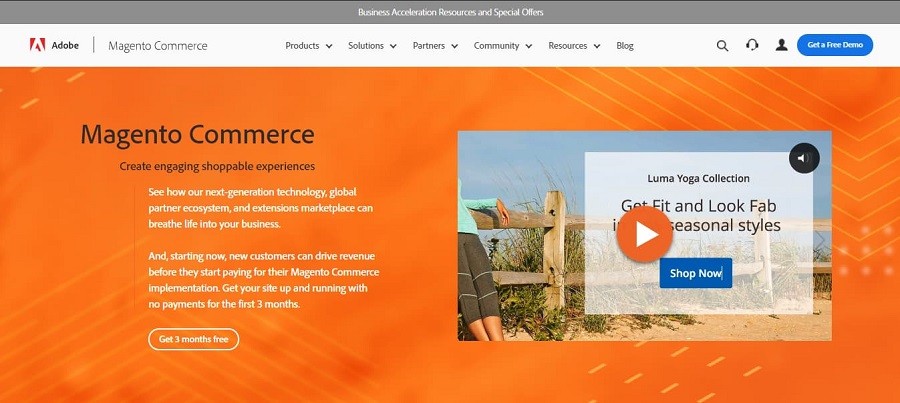 PHP-written, it's an open-source platform. It has become one of the most popular and in demand eCommerce platforms nowadays due to its scalability and reliability. A lot of prominent brands have been built on the Magento platform. A Magento development company could deliver the right solutions perfect for your brand.
Moreover, it's also the most heavily used eCommerce software that's free, used by over 20,000 merchants all over the world. There is a paid tier for organization users, but at the basic level, the software is free to use. There are hundreds of thousands of themes and extensions to choose from.
Strengths:
One-click selling applications
Robust and rich SEO
Highly scalable and customizable
Many users and communities
Flexible software
Weaknesses:
You must have development skills, otherwise it's best to hire Magento developers
Virtually no support
Expensive themes
Need ample space and memory for good performance
2. WooCommerce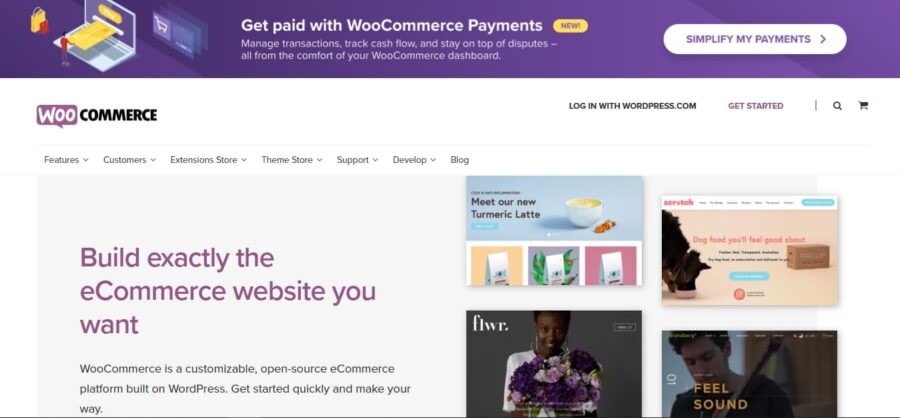 Another thoroughly customizable and open-source platform for business around the globe. Create an online shop with powerful out-of-the-box storage directly with the free plugin. It's a WordPress plugin, thus you should install WordPress on the host and install the WooCommerce plugin on your website.
The platform's rise to popularity has become more significant due to the open-source and independent base product. Additionally, it has more than one thousand plugins, with thousands of add-ons with for fixed prices. It powers over 28 percent of all online shops with millions of downloads, it's now the most popular platform on the web.
Strengths:
Free plugin to download and install. Most shops don't require anything more than the plugin.
Connects to all major payment gateways, with PayPal and Stripe by default. Payments could be accepted via Google Pay, Wordpay and Amazon Pay as well.
The theme requires working hard beside content addition. The theme could be acquired from the official store.
Use of third-party websites, like ThemeForest since it has the biggest WooCommerce themes repository.
Very popular, thus has great available support.
Weaknesses:
Troubleshooters need to deal with the defect game.
Good hosting could be costly.
Require more extensions for simple stuff.
3. OpenCart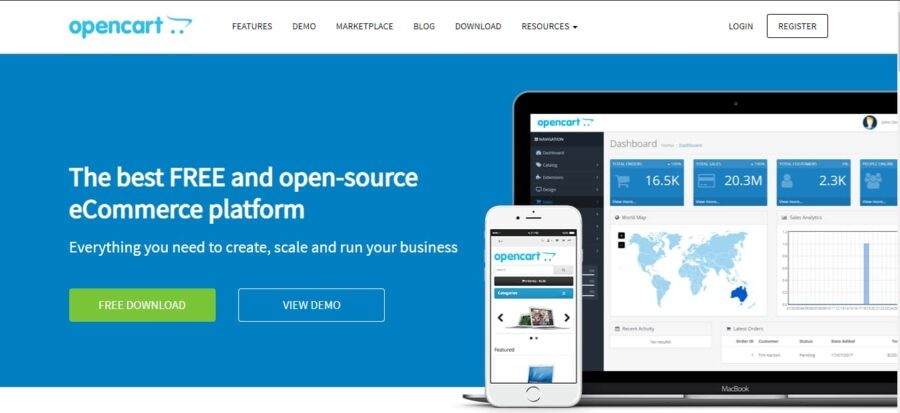 A complete eCommerce platform that lets you launch your online shop and manage products. Furthermore, customers use the cart to purchase products and process their orders. OpenCart basically offers all the standard functionality you need of an online shop.
It's based on PHP using the components of HTML and MySQL database. The platform has support for different languages and currencies too. If you're familiar with MySQL and PHP, developing and customizing extensions is a breeze.
Everything about the main script is free. Furthermore, you have a permission to modify it as well. Interestingly, there's a lifetime free support as well as free software updates.
Strengths:
Get a complete view of what's relevant with sales, customers, total orders, and more widgets.
Set advanced access to advance user groups and user privileges.
Manage numerous store from the admin interface.
Comes with a built-in affiliate system, in which affiliates could promote particular products then pay for them.
Offers coupons, discounts, and specials to attract users and boost sales.
Allows you to set up your own backup and restore it in case of an emergency.
Weaknesses:
By default, not SEO-ready.
Few customization options.
Depends on more plugins for good performance.
4. Shopify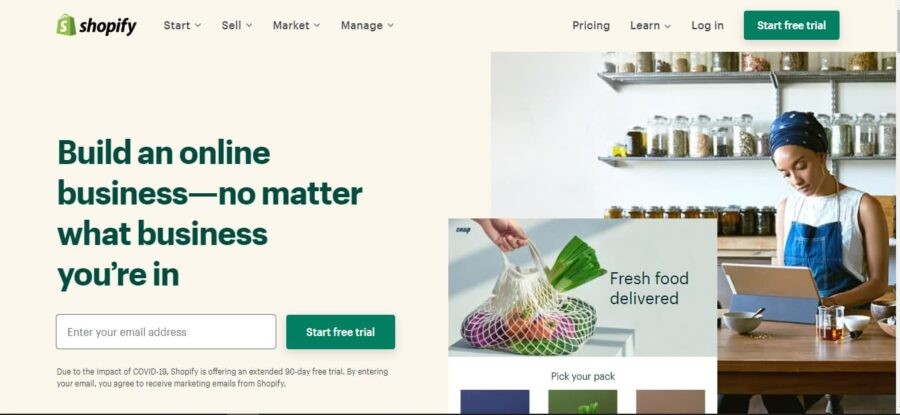 An eCommerce platform that's based in Canada. It's been helping online businesses all over the world with its sharp focus on trending mobile shopping and social commerce. It always has kept pace with the evolving trends and technologies.
For the most professional-looking themes, then Shopify is for you. Truth is, with over one hundred themes, both free and paid, there is no other platform to offer a better theme than Shopify. The available designs are contemporary, impressive and could cover any business niche.
Strengths:
Fastest load time and super easy setup.
Shopify theme is very useful in real-world scenarios.
One-click on available applications.
Enables multiple social sales and channels.
Plenty of certified partners to help you.
Weaknesses:
Couldn't customize the checkout process.
Bad SEO evaluation in continuous studies.
Need a developer for advanced features.
Apps could be expensive.
5. PrestaShop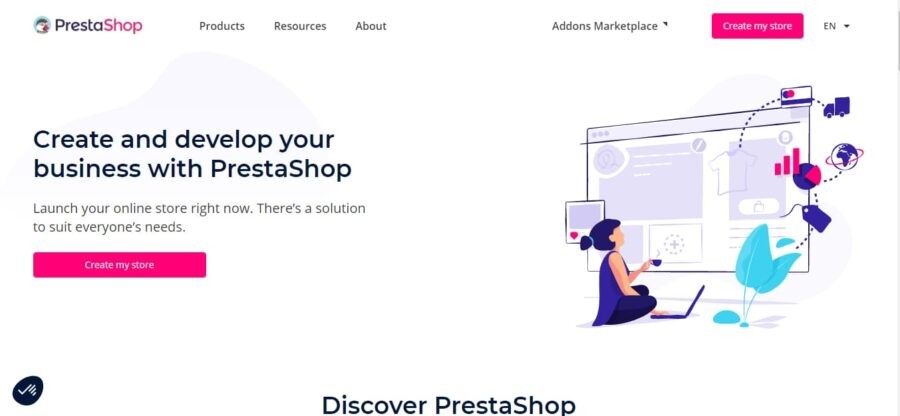 PrestaShop, established in 2007 is open source. It's also a cloud-hosted platform that offer the best value overall. The software could be downloaded for free or opt for the paid PrestaShop Ready, which costs $24.90 per month.
You have to pay for web hosting, the SSL certificate and other modules with the free downloadable version. You also have to hire a developer if you have no heavy tech skills in CSS, HTML or PHP. This nonetheless allows a broad integration with a payment gateway, accounting, open-code courier, ERP, warehouse, and more.
Strengths:
Flexible and free.
Tons of apps and strong SEO.
Big and ready support communities.
Options for the self and the host.
Weaknesses:
Limited with third-party Automation Integration.
Need to tweak developer skills.
Apps could be expensive.
Hosted version does not have multichannel functions.
6. BigCommerce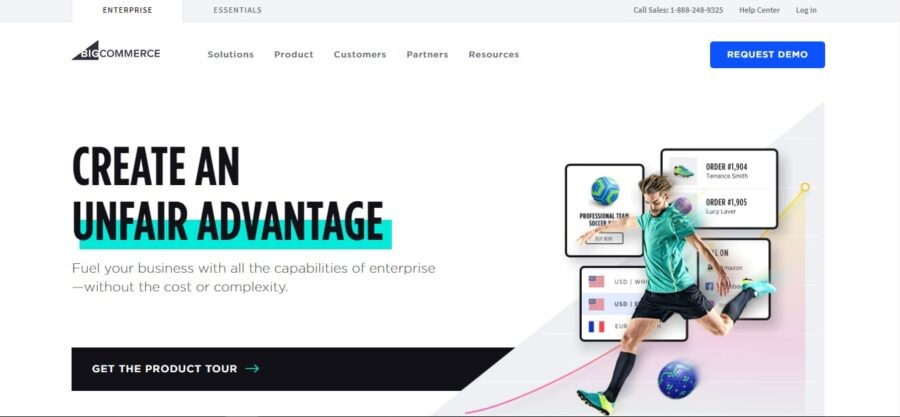 It has the cleanest dashboard as well as clear instructions to get your store up and running within minutes. The dashboard in fact looks surprisingly the same with Shopify, which involves store optimization, credit cards acceptance, and more. Since its inception, it has over 55,000 online shops to its credit.
It's considered as one of the most prominent software providers today. It has helped business organizations of all sizes launch their online shops. For business owners who lack basic skills in coding, the huge list of built-in features is pretty straightforward.
Strengths:
A visual store builder offering live chat support 24/7.
Scalable and flexible with a robust SEO performance.
Ensure multilevel DDOS and hosting security.
Accepts payments via PayPal, Amazon, Apple Pay, Stripe and so on.
Email marketing encourages return visits.
Weaknesses:
Pay more for high volume shops.
Inconsistent loading speed.
7. VirtueMart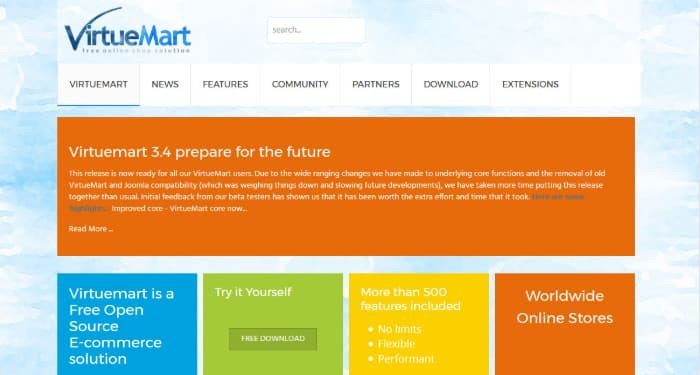 Previously known as mambo-phpShop, VirtueMart is an open-source platform designed as a Mambo or Joomla extension. Written in PHP, the it also requires a MySQL database environment for storing. For low-level traffic sites, it's the best choice.
Free to download since it's released  under the GNU General Public License. All it takes is to download the latest Joomla distribution that offers core frameworks and systems for easy use of a full shopping cart solution with a dynamic website.
Strengths:
Boosting VirtueMart functionality is very easy with components, templates, and plugins.
Easy for both beginners and experts, with its built-in features.
Automatic installation for VirtueMart and Joomla Extensions.
Theme has over 3500 extensions.
Offers many options.
More extensive content options.
Weaknesses:
Slow development and lack of advanced functions.
Small community, lesser programmers, and less forum support.
Very average inventory and invoice systems.
Slow new functionality development due to a small team of programmers.
Conclusion
When it comes to choosing the best eCommerce platform for your small business, you should do an extensive research, based on the functionality of each, the strengths, weaknesses, charges, services and more. Remember that the best platform is one that could deliver your outcomes and objectives successfully, and not one that's popular.
The key is to find out which among the many eCommerce platforms available today could deliver the right solutions for your small online business. It doesn't have to be the most popular, or even the free one, but it should be one that best fits your business needs.
About Author

Henrik Adams is an experienced Magento Developer, who worked with one of the leading Magento Development Company in India — Sparsh Technologies. He likes to write about eCommerce development, web development, marketing, sales, and more about current trends.