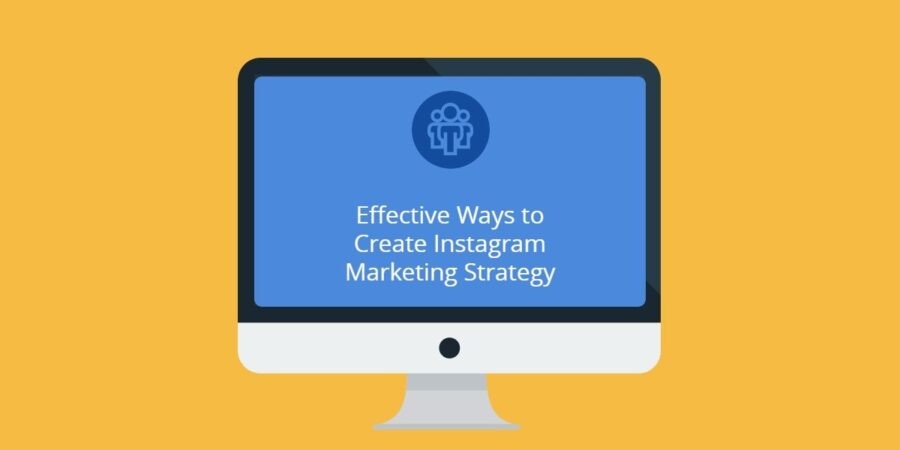 Effective Ways to Create Instagram Marketing Strategy

Tweet This


Today, the social network Instagram is experiencing a genuine flourishing of popularity on a global scale. Instagram postings get more user attention than posts on Facebook; they get a lot more photos, comments, and sharing, but also video reviews.

On the other hand, a large number of companies are continually casual when it comes to Instagram's promotion potential, leaving a vast advertising resource completely unused.

What does that mean for you?

It means that it's the right moment to use Instagram to popularize your brand, attract new customers, increase profits and eliminate competition. Exactly in that order.

However, be aware: Instagram without a plan becomes instant disgrace and a Wall of Shame.

Let's clear out a few things straight away.
Instamania is a result of the fact that it is a social network that we use free of charge via mobile phones as devices that most often go to the Internet. This means that your brand can quickly and easily be found in each client's pocket.
It's been a long time when it was only necessary to make a selfie and put it on Instagram to start the pouring of likes.  However, it was just at the beginning. Here we are talking about the business use of Instagram, the marketing of your business, your existence. A considerable number of people can see everything you publish. If they like you, you will reach the stars; if not, they'll throw you in a well.
Therefore, the performance of the brand on Instagram must be planned. Improvisation, inconsistency, losing sight of your audience and its needs and wishes will probably not be a success.
So, let's start from the beginning.
Optimize Your Profile
Note that the only information that appears on your Instagram profile is a link to your website and a short biography.
Depending on the action, promotion, and the like that you conduct at a given moment, you can freely change the link because it is clickable. This way, you will save your followers' time and prevent the possibility of them wandering around the website.
As for the section on how to present a biography, use it to say what you are doing, what are your values and what people can expect on your Instagram. Also, list the branded hashtags that you will use and which fans can follow.
As a profile picture, of course, place your logo by which you are recognized. Consider that the image will be cropped into a circle and make sure it is clear what is on it.
Set your Instagram goals
All the time and resources that you invest in the performance of your company on Instagram must be guided by the goal that you want to achieve. Depending on what you do, it can be:
Increase in sales
Directing traffic to your website
Increase brand popularity
Enhancing customer satisfaction
Attracting talented people
Make contact with influencers.
Whatever you set as your goal, make sure it is:
Precisely defined – set yourself clear definitions to avoid curling, wandering and wasting time on irrelevant things.
Measurable– Ensure that you can track how many steps have been made on the way to the destination.
Reachable – Aim for goals that are challenging, but possible and feasible. Do not try to conquer the world overnight.
Realistic – Be honest with yourself and realize what you and your team are willing to do. Remember to include potential problems in your account.
Time-limited – Always set deadlines. To say "we will accomplish something one day," usually means never, and this entails the demolition of everything that you built.
This technique of setting up smart targets or S.M.A.R.T. method is your great ally in promoting your brand on Instagram.
Boost Your Posts
If you want to keep high reach and engagement on Instagram this year, you'll want to get familiar with Instagram advertising.
Managing an Instagram ad campaign isn't that hard. However, it can be scary to many influencers and small businesses who have no prior experience.
The plus point is that today you can boost your everyday posts to your followers without setting up a specific targeting or Instagram ad.
Not sure where to start? You can always ask for help from experts in the field. If you are, for instance, in real estate business and you'd rather be on your business than in it, you could consult with professionals such as the Chronicle Republic, who will help you build a strategy and also execute it.
Bottom line, if you don't place your company on a healthy foundation from the start on Instagram, you are at high risk of failure. Perhaps you are already deeply embedded in the waters of Instagram, but have you taken the wrong course? Do not worry. You can always start using the right strategy and quick profit.
You are a professional in your business, and that must be your performance not only on Instagram but the Internet as a whole. It's the only way to indeed get away with the competition.