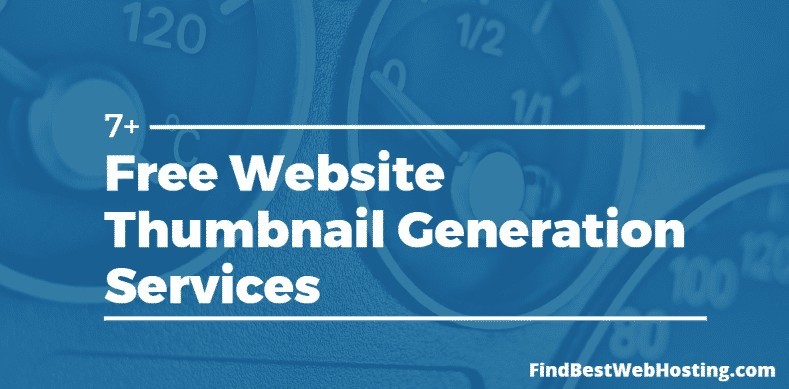 7+ Free Website Thumbnail Generation Services

Tweet This


Taking screenshots of your website is probably the most commonly done task to promote or showcase your website. This gives your visitors an idea of what your website is all about before they visit it. This is a time saving decision for both the website owner and the visitor and it also incorporates trust.

Here are the 7+ free website thumbnail generation services popular on the web today:
websnapr 2.0
Websnapr lets you capture screenshots of your website by just giving your site's URL. The free version creates a micro (90×70) and small(202×152) thumbnails of the website. There is also a paid version called websnapr Professional services which is perfect for web directories, blogs, portals and for every professional websites. The professional service offers no setup fees, no advertisement or branding, and is in a dedicated high performance server cluster.
---
ShrinkTheWeb
ShrinkTheWeb lets you capture, crop, shrink, save, upload and display your website all in just a single line of code. The service offers fully automated website previews, fast capture times, easy to install and integrate. There are also exclusive PRO features that lets you convert URL to PDF, Custom size previews, full-length previews, private labeling service and inside page previews.
---
Page2Images
Page2Images is a simple webpage thumbnail generation tool that lets you capture not just your website's desktop version, but the mobile version as well. The service is HTML5, CSS3, Flash and JavaScript friendly.
---
Thumbalizr
Thumbalizr lets you create a thumbnail screenshot of a screen or webpage by just entering the URL. This is a free service which also lets you use its API to your website. If you need the basic API key, you would have to register first. Otherwise, the service is free. There are also premium services which lets you get the full API key with plenty of features made for hardcore web designers.
---
WebShrinker
WebShrinker captures screenshot thumbnails of your website by just entering your site's URL. The service works with any webpage that doesn't require username or password to view, captures full page screenshot of the website, and error conditions are handled automatically.
---
WebThumb
WebThumb offers white-label web service API for generating web thumbnails and full size screenshot of the website. Generating a snapshot of your website is free with sizes from 600×480 to 1024×768. You can register and get access to the API with free 100 credits per month. One thumbnail costs 1 credit and additional features will cost additional credits. If you need more than 100 credits, you can buy credits for as low as $1.00 per 1,000 credits.
---
Create Your Own
You can also create your own website thumbnail service and use it for as many times as you want. Using IECapt, a command line utility for capturing a webpage, you can make your own web page thumbnail generation service. This tool captures an Internet Explorer's rendering of a webpage into BMP, JPEG or PNG image file. There is also CutyCapt, a QT and WebKit-based cross platform alternative to IECapt.
Create your own website screenshot in IECAPT.