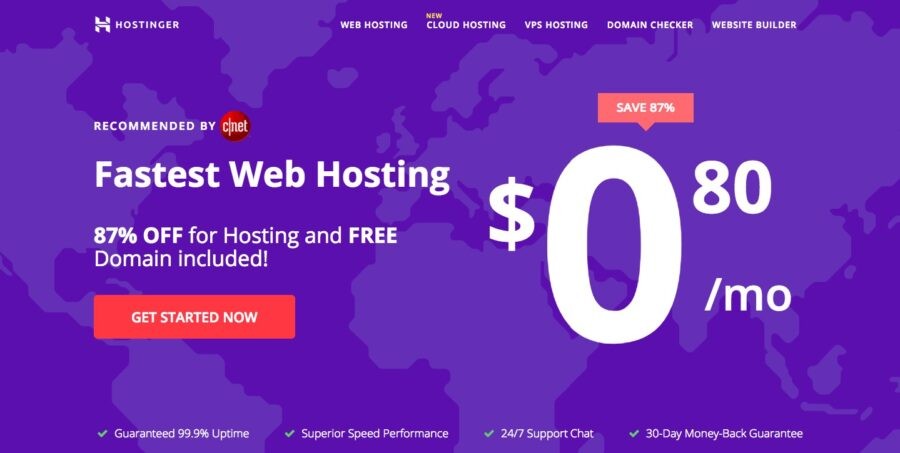 Hostinger Review: The Best Affordable Web Hosting

Tweet This



Website: Hostinger.com
For many years, Hostinger is well-known for its free web hosting services.
Although this policy has changed several years back, the Lithuania-based company still gains much popularity among internet users, mainly due to their cheap prices.
Initially established in 2004 by the name of Hosting Media, Hostinger has become an international web hosting powerhouse with more than 29 million users worldwide. The company is now available in 40 different languages and has 3 major offices in Lithuania, Indonesia, and Brazil.
When I access the Hostinger website, "affordable" is the first impression that pops up in mind. I wonder, can a web hosting unlimited provider be this cheap? Let's find out.
Unbeatable yet Unlimited: Shared Hosting Plans
Hostinger has existed in the tech scene for more than ten years and had no major financial backup from any conglomerates.
The company survived by bootstrapping all the way until becoming one of the best web hosting services the world has ever seen. Yet, Hostinger still manages to provide hosting plans at very low prices.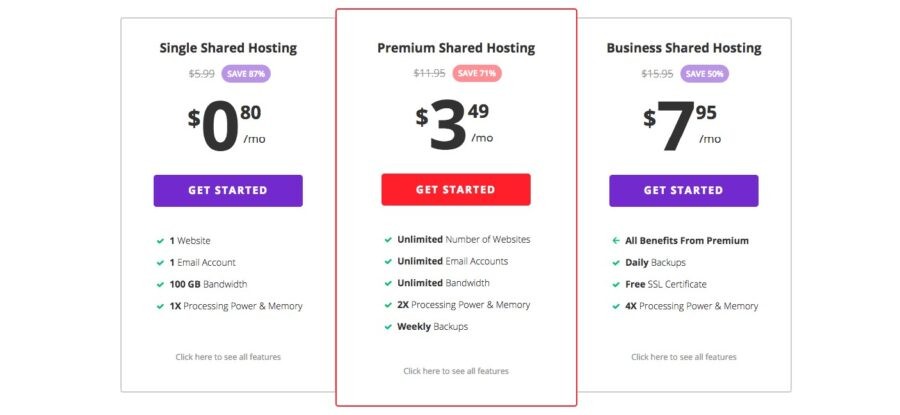 Their entry plan starts from USD 0.80 per month. Yes, you heard that right. I was surprised when I heard it at first, especially after I scrolled down the feature list.
This Single Shared Hosting plan is actually quite decent for you to start your simple website.
Although it only allows you to create one website with 1 email account and 10GB SSD disk space, the plan includes 100GB bandwidth. In my opinion, a simple website will do just fine using the resource.
If your website is stepping up and the previous plan isn't likely to unleash its true power, you can upgrade to Premium Shared Hosting.
The plan offers much better improvements including unlimited SSD disk space, unlimited bandwidth, unlimited MySQL accounts, and unlimited email accounts. The number of websites that you can create is also unlimited. Your creative inventions in the online world start from here.
Hostinger offers this plan at the price of USD 3.49 per month.
Ready to see your website fully maximized?
Your true Hostinger experience is made real by Business Shared Hosting. Simply, it is THAT great. I don't think I can spend my USD 7.95 per month better elsewhere.
With the money, I can get full unlimited shared hosting plan including all unlimited features as mentioned above. What is more, free SSL, daily backups, and free domain registration will also available for you.
Full shared hosting plan comparison can be seen here: https://www.hostinger.com/web-hosting
Stepping Up: Virtual Private Server Hostinger
Take your website to the next level. Virtual Private Server Hosting offers plenty of accessibilities that are not carried out by shared hosting plans.
First of all, you have the freedom to choose what specifications you would want to order. In Hostinger, there are six different packages that you can choose according to your needs.
It ranges from 1GB of RAM with 2.4GHz CPU power, 20GB storage, and 1000GB bandwidth.
The entry-level plan is available at USD 4.99 per month. Bigger websites require more sufficient resources, right? You can choose other packages as well until the most powerful one with 8GB of RAM, 14.4GHz CPU power, 160GB storage, and 600GB available bandwidth.
For all the luxury, you can buy at USD 65.56 price tag per month.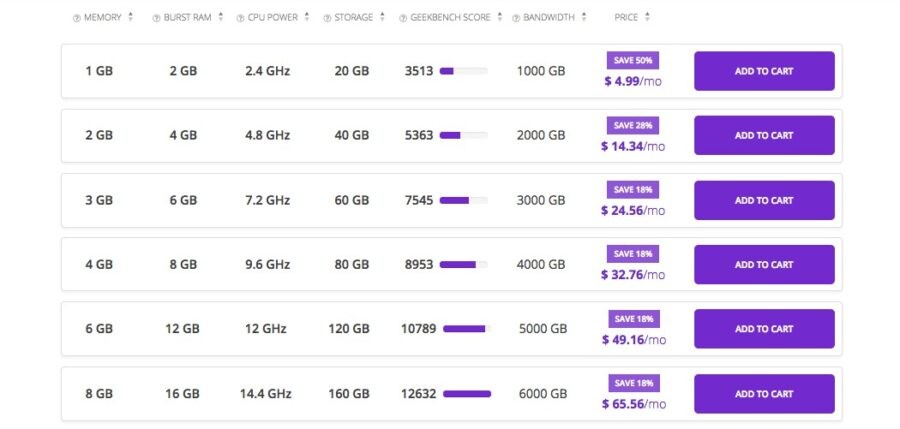 In case you are wondering, Hostinger's VPS Hosting plan is packed with dedicated IP address, full-root access, SSD disk drives, 100MB/s network speed, and already supports IPv6.
You do not have to worry about stability nor its maximum potentials. The VPS Hosting plans offered by Hostinger allows you to freedom whatever website, no matter big or small, that you desire.
Choosing an operating system on Hostinger is never a big deal.
There are six well-known, widely-used operating systems to choose from for your convenience: CentOS, Ubuntu, Scientific, Fedora, Open Suse, and Debian.
These templates are Linux-based and ready for use right from the very start. All can be installed in a couple of clicks!
Note that Virtual Private Server hosting requires advanced technical skills in order to set up and maximize its full potentials. Beginners are not really recommended to use the plan since the settings are rather complex.
Sky's the Limit: Hostinger's Cloud Hosting
The power of cloud computing has finally arrived at Hostinger! It's finally made available and simplified so that you can start creating your website with no hassle at all as if you are using shared hosting plans. But no, it is not your typical, ordinary shared hosting. It's powered by cloud technology this time.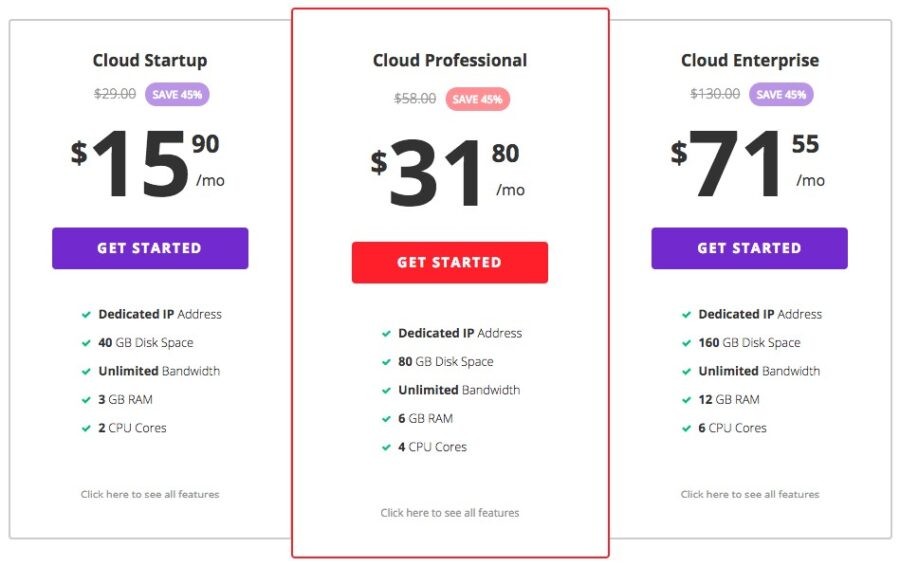 As you can see, there's no limit in the unlimited. Hostinger's Cloud Hosting service offers you just that: everything is unlimited.
Bandwidth capacity, the number of websites and the number of email accounts are unlimited so you can treat this plan as a home for your whole package of different websites.
There are three plans offered in the line of services: Startup, Professional, and Enterprise. Each of them offers a different experience, while also serves different kinds of needs.
Cloud Startup plan starts from USD 15.90 per month. It grants 40GB disk space, 3GB of RAM, and 2 CPU cores. Twice the price at USD 31.80 Hostinger has Cloud Professional plan which allows you to have 80GB disk space, 6GB of RAM, and 4 CPU cores.
That is not everything, though. At USD 71.55 per month, everything you ask for in a shared hosting plan is here. It fills the gap in your needs with 160GB disk space, 12GB of RAM, and 6 CPU cores.
Looking at the specification, there is no doubt that the plans will enhance your website's performance significantly.
I'd say, this is an upgraded version of shared hosting plans. Looking at the list of features and what the plans are capable of, this cloud hosting services are more suitable for users who want to experience better website performance but reluctant in choosing virtual private servers.
It's fast, it's powerful, yet it's simple enough to be used by less-experienced users.
Full feature comparison can be seen here: https://www.hostinger.com/cloud-hosting
cPanel: Your Unsung Hero
At the current price range, the technical specifications made available by Hostinger above are exquisite. Well, price and specifications are one thing. Another thing that's also important is how clients can create & manage their websites at ease.
For that matter, hosting panel is key. Hosting panel provides various features that will help you manage your website more thoroughly.
Instead of the standard cPanel, Hostinger uses hPanel to help users manage their shared hosting plans. Although it's out of the ordinary, I know, this hPanel thing really makes Hostinger truly unique.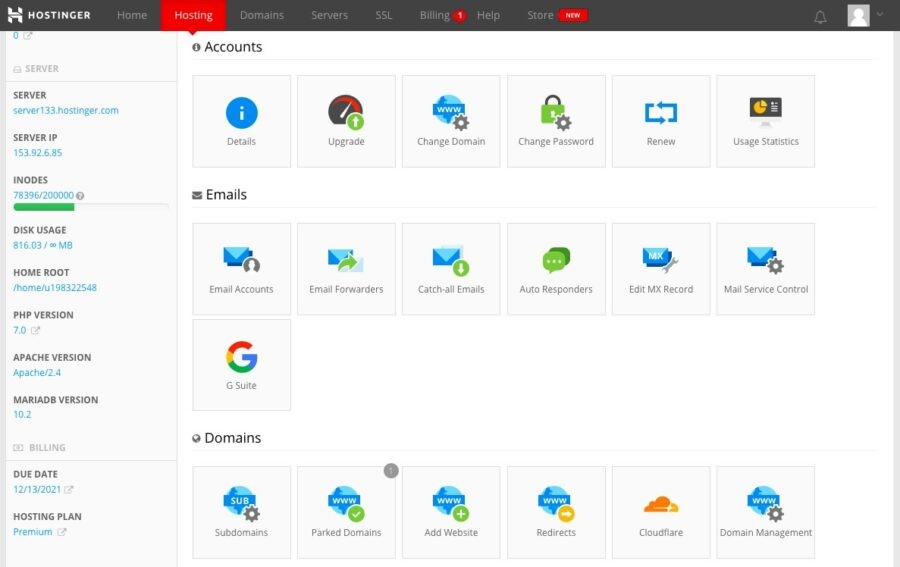 There are several categories to choose from: Accounts, Emails, Domains, Website, Files, Databases Advanced, and Others. It will help you to customize your website functionalities in any way you want to be.
You can upgrade plans, setup emails, renew domain names, create a database, access website builder, import website, and so on. All range of your website's functionalities can be found here.
Blazing Fast Support
When choosing a cheap web hosting service, technical support is a very important matter to consider. Obviously, it is almost impossible to master everything technical about the web and how a website works, right?
In case of anything emergency, we need people whom we can rely on. Let's say your website is suddenly inaccessible for unknown reasons in the middle of the night and you have no idea on where to start.
Instead of looking at online guides that might take some more time to understand the problems completely, you can always turn your head on the technical support team.
Hostinger provides 24/7 technical support team who are always ready to assist your problems any time of day. It is proven very useful, especially during an emergency, and saves the day.
Unlike the outdated, conventional support system that employs a ticket system to report and solve problems, Hostinger is ahead of the pack by using Intercom. From my experience, the app really helps users because we can directly reach the support guys in real time.
Your problems will be handled professionally and you do not need to worry about anything at all. The conversations are kept on the chat window so you won't lose tracks on where the conversation left off the last time.
And it's fast. You won't need to wait for too long to get dispatched to any support staff. Your problems will be handled right at the time and solutions for your problems may come very quick, some in a few minutes, while difficult problems will be concluded in a few hours at most.
Final Verdict
In Hostinger, I can always get my money back, even if I have made the payment upfront. How cool is that? Men behind Hostinger seem so sure about their service quality that they include this policy for the users.
You can reach the Hostinger team to ask for a refund if you are not satisfied with their service. As long as I make the claim in the span of thirty days, I can fully get my money back. It's easy and hassle-free!
Despite all the greats, Hostinger's cheap web hosting services still has a few drawbacks to consider. One thing for sure is that the live chat feature is not available for non-users. It may be a bit difficult for soon-to-be users to inquire further information regarding their services. For now, Intercom-powered live chat is only accessible for registered users.
Next is the price. Note that the price may vary according to how long you are committing the contract. The longer duration will allow you to buy a hosting plan at a cheaper price.
Additionally, you have to pay more if you want to renew the plan you have been subscribing to. This is a bit disappointing since users won't get the same price as the first order. I know that it may be caused by their business model, but wouldn't be great if we as users can get the same price as our new order, right?
All in all, Hostinger's web hosting service is packed with great features and functionalities your website may need in order to maximize its full potentials. It is easy to use, even for beginners.