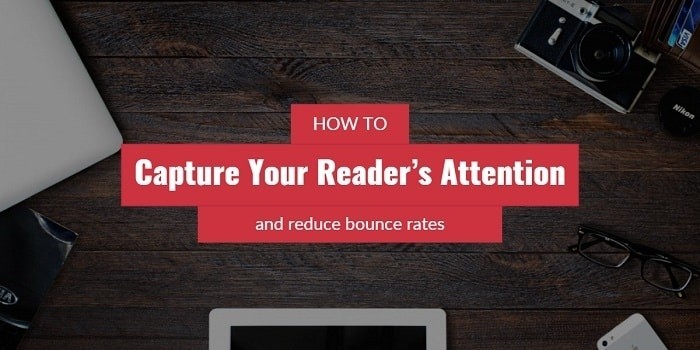 How to Capture Your Reader's Attention and reduce bounce rates

Tweet This


Getting the attention of your reader is the reason you have a blog or website. It is the most important part of online marketing. It doesn't matter if you write as good as Shakespeare or it is very inspiring that it could shake worlds. If you do not catch their attention, you're better off not writing anything at all.
You need to get your prospect's attention before you can turn them into a reader.
10 Seconds
According to Microsoft Research, the first 10 seconds is the most crucial part in catching your reader's attention. These are the moments when your visitor makes a decision whether go ahead and browse through your website for additional information or leave and proceed elsewhere. Since time is very critical, it is essential to let them know why they want to stay in your website in just 10 seconds.
Write For Your Target Market
Keep all your content focused on your target market. If your content sways off to the topic or target market that you are pursuing, then you won't get your reader's attention and may have lose some.
Your Headline Counts
Before anyone reads the actual context of your post, the title is what they are going to see first. Most bloggers spend most of their time writing a good blog title than crafting a blog itself.
Your headline is the most important aspect of your blog or website. Headlines encourages readers to ask questions, and even wants them to act. It is the reason your readers gain interest in reading the content in your blog post or website.
Headlines grab attention. Try searching for any topic in search engines like Google and you'll see why a good title is important.
KISS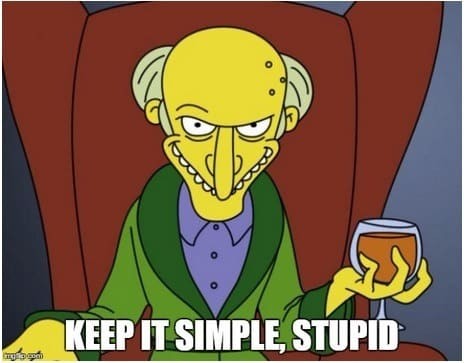 KISS (Keep It Simple Stupid) should be the rule of every content. Present your content in an easy to understand format where the reader doesn't need to scan through a dictionary to understand what you are trying to say. Your content isn't a contest whether you have the most concise vocabulary in the world, because if you do that you won't attract readers.
Write a content in a way that gets the message directly and is easy to understand that the audience can absorb and learn from.
Related Article:  Top traits of high quality landing pages that can improve conversion rates
Use images
Who would want to read anything in pure text form nowadays? Articles with images attract more views compared to those in pure text. A large, clear image draws the reader by itself. Take your time to choose an image that matches the topic. For example, if you are writing an article about vacation, include beautiful images of the beach so they'll be secluded in your blog post or article.
Use Multimedia
If needed, you can add multimedia to your content like an audio or a video. Don't overdo this part as the more multimedia you add, the slower your page will load; thus ruining the purpose of catching your reader's attention.
Balance Text and White Space
How your page looks is important to your readers. If you present them with one chunk of text, readers will get tired easily and give up reading your entire content. So, balance text and white space so readers have the time to skim through content to make it readable and appear shorter.
Write in An Easily Scannable Format
From your title down to the last paragraph, ensure that the text should be easy to scan on a computer and a mobile device. Most readers usually skim to the content before reading it entirely so as to give them an idea if that is what they are looking for. Help them out by doing the following:
Use sentences that are concise and up to the point.
Keep paragraphs short. Separate chunks of paragraphs into sections, use sub-headings if necessary.
Add bullet points and numbered lists to help the readers scan through your post easily.
Use bold text for the headings and subheadings to make it stand out.
Add captions to images where it makes sense.
Image should enhance the text, not the other way around.
Use charts or infographics whenever possible.
Stop Writing Fluffs and Fillers
You only have a few seconds to capture your reader's attention so don't take your chances on jokes, industry terms and visuals that are often lost on people. These fluffs and fillers only tends to confuse the audience and remember that you only have a few seconds to lose them. Stick to the topic and write in a concise, no nonsense manner.
Drive Them To Your Direction
When creating a blog or content, you might be focused on writing about your business and hoping that they'll get what you are trying to say. Oftentimes, they don't. To solve this, you need to perceive what you perceive. Use storytelling methods to describe what you want to say in the post. Make them see what you see, hear what you hear, smell what you smell. Use personal experiences, histories, or anything that will put your prospects in the right position and understand your message.
Be Personal
When you make it personal, you make it important. A content that has a personal touch can grab attention which brings clarity and help it slip right into your client's awareness. Because it imposes a personal attitude, you are making it important; thus immediately grabbing their attention.
Have Your Own Voice
Your voice is what makes your blog or website your own. Don't be afraid to show your personality and take a stance in your every post. This ensures a lively post and makes it worth reading. Most trending posts are made from the voice of the authors who speaks for themselves and are making a statement.
Use Emotion
Other than making your content personal, use emotions that will bring clarity to your content. Emotions give clients a reason to talk about you and your business and emotional messages instantly grabs your reader's attention.
Stay Current
Some of your content should stay focused on the current events and news rather than rehashing information. It is a good to provide tips on technology for example, but it is better and more engaging if you publish a post telling how Taylor Swift can help with the changes of technology today.
Capturing Their Attention Is Just the Beginning
So you managed to grab their attention, now what?
What you are presenting to them and what you want to offer is the next step. This is the time where you can sell or promote products by creating a good Call to Action.
Create a Call to Action
Ensure that every blog post has a specific objective in mind. Why did you create that post? Is it to promote a product? Allow others to share your content, attract signups? Add your purpose in the CTA or Call To Action. Also, direct your readers to do what you want them to do via the CTA.
A great CTA makes your product irresistible to buyers. It gives them the urge to do more than just reading your content or blog post. It creates an urgency or limited possibilities that must be acted on right now. It creates a sense of well-being and offers a solution to a known or perceive a problem.
A great CTA has the following characteristics:
Triggers emotional reaction.
It clearly tells someone how to make a purchase
It creates an urgency to purchase immediately.
It provides incentives or added details that make it impossible to refuse.
Get Analytical
Use analytics software like Google Analytics to determine which content is successful, and which one isn't. Consider the amount of time your readers are engaged in the content and what occurred afterward. If they immediately leave your website then it may be misleading or there are parts that tell it isn't what they are looking for. If they have taken action like signing up to your newsletter or buying a product then you have done the right thing.
Related Article:  10 Landing Page Themes Everyone In The Web/App Development Industry Should Be Using.
Conclusion
It only takes 10 seconds for your visitors to decide whether they would want to continue reading your post or go somewhere else. So make the most out of your content by using the tips above that will make them crave for more.
The key to an engaging, attention grabbing content is to keep things simple. Write in a way that your readers would want to read them so stay away from the jargon or vocabularies that would make it harder for them to read. Also write in a format that it is easily skimmable. Most visitors skim first before reading the entire content, so help them by formatting it in a manner that it is easily skimmable.
Grabbing their attention is just the beginning, what you want to do with help you retain visitors that will be urging for more. So after each content, create a compelling Call To Action (CTA). When created properly, it makes your product or service irresistible to buyers. It gives them the urgency to act right now.
And finally, test, test, and test some more. Use analytics software to find out if they like your post or not, then tweak what it necessary. An attention grabbing content takes more than just one post to work. It takes a lot of patience and practice to be very effective.
Tip:  Using a landing page builder like InstaPage can help you create highly converting pages and capture reader's attention as well.