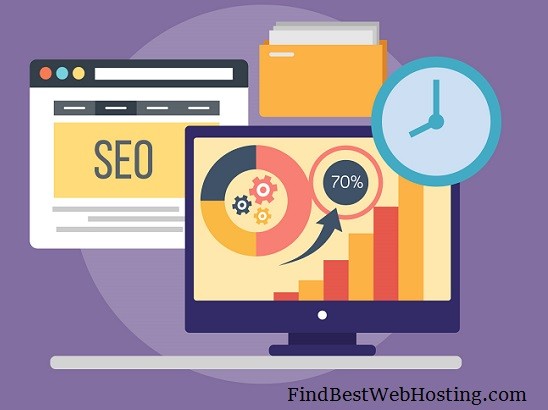 It is obvious…

You know how bad links pointing to your website may affect all your link building efforts.

Unfortunately, there are some manipulative people who take advantage of this, especially those competitors who want to drag their competition down the ranks for an easy win.


With Google's campaign towards a better Internet experience, we all know how penalties are dealt with, and this is heavily weighed on links as well.

Once Google notices that your site is aggressively spamming, you will be penalized. Getting deindexed, losing your traffic — these are just a few reasons to combat negative SEO on your website.

Competitors who play dirty would go to lengths of discrediting your website with spammy links; either posting your links in bulk in a malicious website, or by using malicious anchor texts that will not look god on your link profile.

You might not figure out who did this to your website, but if you're patient and diligent enough, you can stand a chance against these malicious links. Let's get it on!
1. Develop the habit of regularly performing link audits
If you're completely new to SEO, you might have not encountered this practice.
You can only perform link audits if you have the right SEO tools for it. With these link audit tools, you can monitor your link growth over time. What is the telltale sign of malicious link building?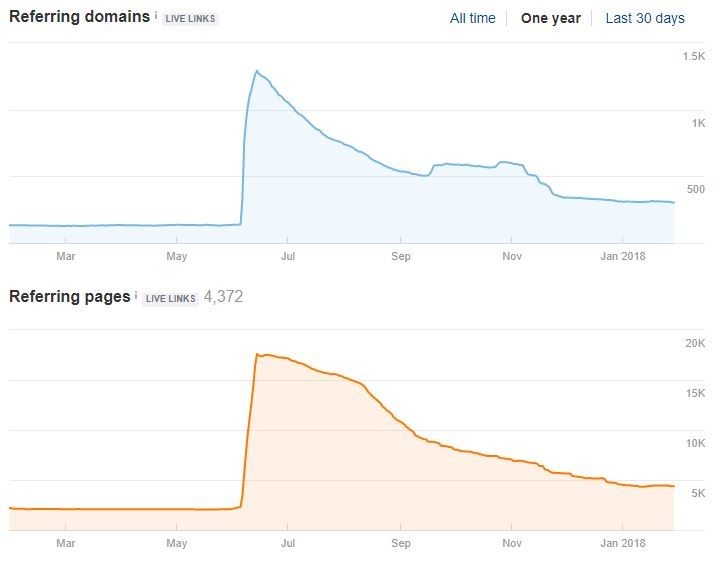 This is a data we pulled out from our tool, Ahrefs. This reflects that this particular website received a sudden influx of backlinks starting June. Before you suspect a malicious attack, please consider these things:
Any link building activity done in the past? Have you been aggressively building links yourself?
Any activity that resulted in an influx of links? For example, web design companies oftentimes have footer links as attribution to their work. On the other hand, this can be brought about viral content earning links from your campaign
After sorting that out, dig deeper and check your links. Are you getting more than one link from a website?
Are your referring domains lower than expected? Then jump right in and look at per link level.
You may not feel the immediate effect of the attack, it will eat away your traffic, until you see yourself ranking in the nether pages of Google.
If you're already hit by bad links, how do you make the bad links go away? There are two options:
Google recommends contacting the site owner to remove the links. As this doesn't yield too much success, we switch to another technique.
If there's nothing else you can do, Disavow. To learn more about link disavowal, Moz has a fantastic guide on using disavow on these bad links.
Caveat: Google's Penguin is on a roll, real-time. Meaning, you might see your efforts on disavowing or link pruning almost immediately.
This also means that as your competitors send in waves of bad links to your site, you will see how fast it can drag you to the ground.
2. Site Speed Going Sluggish?
We're sure you're all aware on how Google prioritizes site speed as well. Page speed optimization is today's craze. You've optimized your website, but did you know that external factors can also slow down your website, too?
Dirty players can slow you down through forceful crawling. This means that there's a heavy influx of traffic going to your website, dealing a heavy load on your server.
Eventually, your site might crash. If you think you're affected by forceful crawling, contact your site admin or your web host to see where the server load is from.
You can report that incident and they can take care of it for you, or you can look for ways on how to block unwanted server load.
3. Check your Google My Business Account
With thousands of competitors here and abroad, one of your chances to get a client if they were conveniently located near you.
With search queries going personal, you will want to target searches that include the phrase, "near me."
You'll start dabbling in the arts of local SEO, and you'll work on continuously getting good reviews, getting your NAPs in place, and more.
However, even your competitors can attack your local SEO efforts as well. It's fairly easy to leave a negative review; same goes for your social media profiles.
Remember, SEO isn't just the technical aspect, but it's also what you see on the SERPs, and having a barrage of negative reviews under your belt is bad news.
Suggestion: flag and report fake reviews, especially if you know for yourself that you haven't had that person as a customer or if you haven't made a PR blunder that caused this mishap.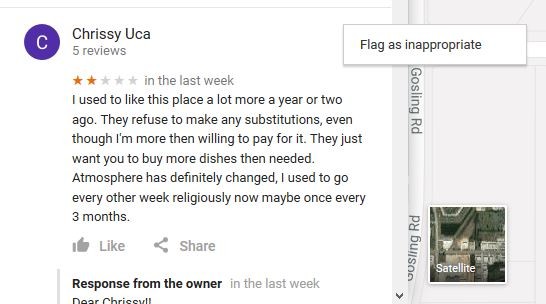 You can easily report fake reviews in Google Maps. Just click next to the review and select "Flag as Inappropriate". Google will take you to a new page where you can report the review.
4. Use HTTPS to secure your website
Using HTTPS is actually a ranking signal, but aside from that, the benefits of switching from http to https is commendable.
Ecommerce sites especially can benefit from this change, as personal information is transmitted through its servers' day by day.
Protecting your website against unwanted threats will not only improve your SEO, but it will also gain more authority and trust from its buyers.
5. Do a quick self-check
A quick self-check in the SERPs can help you go a long way in monitoring your rankings. A severe drop in rankings may be a result of negative SEO, but there are instances that it's just a frustrated former employee or someone who accidentally fooled around the configuration of your site.
A quick site:(URL OF YOUR WEBSITE) will let you know if your pages are currently indexed on Google.
Conclusion
You can't stop shady competitors from doing negative SEO on your site.
However, you have the tools to fight against these negative efforts. Good thing is, it's fairly easy to detect that you're experiencing negative SEO by doing regular checks on your site.
It's a matter of isolating the problem one by one to pinpoint the culprit and devise a solution to resolve the problem.
What are you waiting for? Check out your website to see if you've been hit!
Kenneth Sytian is the head honcho of Sytian Productions Web Design Philippines. His no-nonsense approach to design coupled with his vast creativity is a winning combination for his clients.