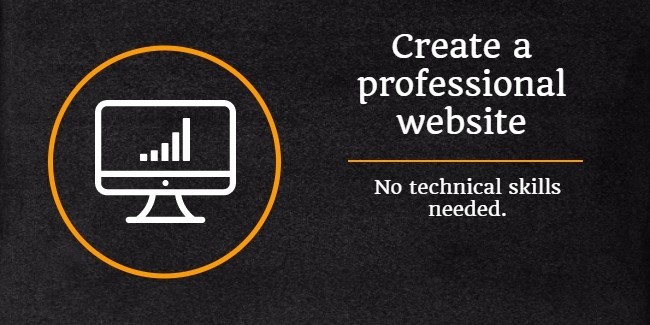 How to create a professional website in less time and without any technical skills

Tweet This


Probably you have heard about  DIY Website Builders. It basically lets you create a professional website without having any technical skills.
The main advantage of an online website builder is that it is quick and easy to use, and often does not require prior experience – Wikpedia.org
A website builder is the smartest and fastest way to design and create a professional looking website in just a few hours. It is a powerful tool, yet simplistic. Tweet this
These online tools have an editor tool using which you can select a good template/design/theme for your website, then add descriptions and title for each web page. You can also add images from a image library to  make it more attractive.
Some tools also have an e commerce website builder. You can quickly create your online store in very less time. These tools also have inbuilt modules for shipping calculations as well as tax calculations etc.
These tools are best suited for business folks who wants to setup an online store or professional website themselves.
Here we present a list of best Website builders..
---
Wix is a popular online site builder. With it's top quality web designs and with an easy drag and drop feature, you can create your dream website with minimal technical skills.
Today mobile friendly websites are a must. Wix creates websites that are mobile optimized. It also includes hosting and you can purchase your favorite domain name(or point your domain to wix website).
The Site builder comes with a huge set of templates or designs that may fit your site category. And in addition it has a good set of premium image collection, which you can use to include in your website.
And combine this with a 24/7 full support, you have an all-in-one solution for your website.
Cost: Affordable. Plans start at just $6.95 per month.
Create Your Stunning Website today with Wix Site Builder
You can create almost any kind of website using Wix. Wix has templates for many popular industries and professional categories.
For example:
Create Your Stunning Website today with Wix Site Builder
Here is a full list of Wix Site Builder categories. Click on any item in following list to get started instantly.
---
BoldGrid
BoldGrid is a powerful drag-and-drop website builder for WordPress. This is good news for WordPress fans, who want to use wordpress as blogging platform and at same time design the blog they way like.
Please note that, WordPress is not just meant for blogs. You can create good looking functional websites using wordpress. And add in BoldGrid, you have a do it yourself website builder tool for wordpress.

BoldGrid has beautiful templates for different categories
BoldGrid has an easy drag-and-drop editor, which can be used to quickly build stunning mobile friendly websites. It comes with a wide range of stunning templates. And best part, it built on top of wordpress, the most popular CMS platform.
Create your website with BoldGrid (and get a free domain)
Links:
---