Best CDN providers for high traffic websites

Tweet This



What is a CDN? A brief Intro
A CDN or Content Delivery network is a group of geographically distributed servers that serves one purpose. It is meant to provide a more efficient delivery of content to a large number of users. CDN is an interconnected system of computers that the internet provides the web content rapidly to multiple user by duplicating the content to various servers and directing the content to users on proximity.
It is used by internet service providers to deliver static or dynamic pages and it is perfect for audio streaming video streaming, and IPTV programming. Before, files in high demand on the internet were downloaded from different servers using mirror links.
A CDN takes a similar approach especially with photos, videos, and other content, but it streamlines the process because it is happening automatically and behind the scenes. Using such approach, it speeds up the download times and makes sure the transactions are made seamlessly.
Aside from speeding up page loading and download times, it also delivers valuable information that can discover trends which will lead to advertising sales. Lastly, blogs and website owners looking for a better platform should consider using CDN cause it offers a single platform which can work across regions at a reasonable price.
Reference: https://en.wikipedia.org/wiki/Content_delivery_network
---
What to Look for in a Superior CDN
Performance. If you have a CDN, expect that it will dramatically speed up your website. This will be achieved by low-latency connections and servers which can handle simultaneous connections at a time. It's best if CDNs use solid state drives for optimal performance.
Available Services. The best CDN lets you control the functionality of your CDN from your computer. It should be intuitive, easy-to-use, and user-friendly. Test one out for reliability by streaming a video and demand, store frequently access files, and run multiple web-acceleration platforms. During the test, each services shouldn't show any interference with one another.
Customer Support. A good CDN should be able to provide reliable support 24/7 through toll-free phone, email, or live chat.
List of Best CDN Providers
---
MaxCDN
MaxCDN is one of the largest and most trusted CDN in the market. One of its greatest strengths is how simple it is to integrate this CDN to WordPress. This CDN is small compared to most of its competitors as most of its servers are located in the United States.
However, this is what makes MaxCDN fast as it targets the node that are the closest to its customers. If most of your audience is based in the United States, then MaxCDN has a greater advantage to your site.
You'll get a big boost to your site as soon as the contract is complete. MaxCDN offers a pay-as-you-go scheme so no need for a lengthy commitment. However, should you need a better plan, you can also sign up for a negotiable custom contract.
There is no additional cost for a per page request as the data charge covers everything. This makes it great for startups due to its low initial investment. Unlike most CDNs, the service offers PayPal as a payment method which makes payment a lot simpler. High traffic sites like BSA(BuySellAds.com), JQuery, StumbleUpon use MaxCDN to speed up their sites.
MaxCDN can be integrated with popular CMS's like WordPress, Drupal, Joomla and eCommerce sofware Magento. In fact, a good number of high traffic Wordpress blogs use MaxCDN  to speed up their blogs.
Gaming Arena is another area where you can expect exploding traffic. Here also MaxCDN plays a good role of delivering games at high speed and without any interruptions.
Try MaxCDN with 30 day money back guarantee
---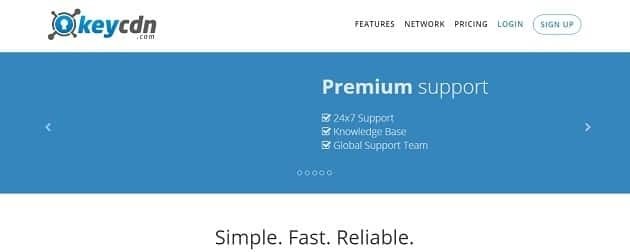 KeyCDN is a global content delivery network based out of Switzerland, which allows you to instantly accelerate you content. They are different from other providers in that they offer the lowest price globally at $0.04/GB, over 20 POPs, free origin shield, free secure token, free SSL, and much more.
They are also one of the 1st CDN's to launch HTTP/2 support and focus on making the barrier to entry minimal with an easy pay-as-you-go program. WordPress powers over 24% of all website and because of that, KeyCDN has worked hard at developing a strong tie to the WordPress community, as well as their other 20+ CMS integrations.
They have three WP performance plugins available; Optimus Image Optimizer, Cache Enabler, and CDN Enabler which are all designed to help speed up your WordPress site.  Here's a detailed review of KeyCDN
---
CacheFly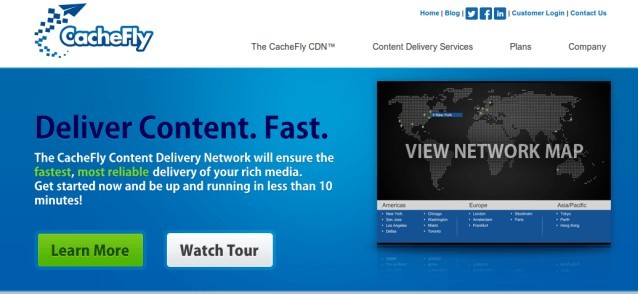 CacheFly is one of the fastest CDN available. It promises to accelerate your website for up to 10x. CacheFly was launched in 2002 and houses some of the biggest names in the industry like Adobe, LG, Virgin Gaming, Toyota, Cartoon Network, and Bank of America.
CacheFly is a pay-as-you-go service. You don't need to be tied in a contract, so you'll never be tied to a penalty and expenses will only incur if you use their service. It supports all video formats and their servers are well-equipped for bursts, and for handling webinars and live events.
Their services are also multi-CDN compatible if you plan to add more CDNs in the future.
Take the speed test. Visit CacheFly.com
---
Amazon CloudFront
Amazon CloudFront is a web service for content delivery. The service sprang out when Amazon discovered that most clients were using Amazon Web Services, not as a backup solution but as a means of delivery. Amazon CloudFront has some of the top clients like PBS and Sega. CloudFront is known to be best for bloggers and startups due to its reasonable price.
Your website can get accelerated almost instantly after you've signup for Amazon Cloudfront. If you are using Amazon S3 cloud storage, this service will integrate seamlessly without any setup. The service offers pay-as-you-go, so you can decide to use or not to use it anytime you want without cancellation fees.
The service is capable of handling video streaming and file/software distribution. The service has a trade secret for delivering dynamic content but still falls short from its competitors.
Visit Amazon CloudFront
---
HighWinds CDN
HighWinds has been in the business for about a decade. They are one of the top dogs when it comes to CDNs. HighWinds owns a network backbone. Many of its servers look straight down to the throat of information superhighway – a global strategic penetration that no CDN has done, yet.
What is unique about this CDN is that you can negotiate for a needs-based contract rather than relying on a fixed rate. Which means that even though you are a blogger or a business startup, you can still obtain HighWinds CDN at a fairly negotiated price. As soon as the deal is set, your website will be populated with HighWinds servers therefore, be able to reach more people faster.
Pricing will be based on a per-gigabyte throughput or on a 95th-percentile fees. Simple spikes in your site won't account for overage fees. Learn why HighWinds CDN is the fastest CDN service at HighWinds.com.
Visit HighWinds CDN
---
BitGravity
BitGravity is one of the first content delivery network in the world. This CDN is made for serving HD video streaming. But this isn't just what the company is all good at. It is a well rounded service that even companies like DirecTV, Huffington Post, The Internal Revenue Service, and ShowTime have entrust their business on.
BitGravity does not offer pay-as-you-go service. It is a 12-month contract and additional charges may apply if you need more services. Moreover, you may need to talk to a representative to finalize your agreement. BitGravity supports most high-quality video streaming services including http, rtmp, and rstp.
The company also provides content distribution to small businesses like static object delivery, game publishing, and software distribution.
Visit BitGravity
---
Summary:
So there you go. You now have a handful of Best CDN recommendations. Based on performance, avalability and good support, we strongly recommend MaxCDN. It is also one of the most popular CDNs .
Visit MaxCDN today.
If you have already used a CDN provider, please share your experience by commenting below.Thank you.