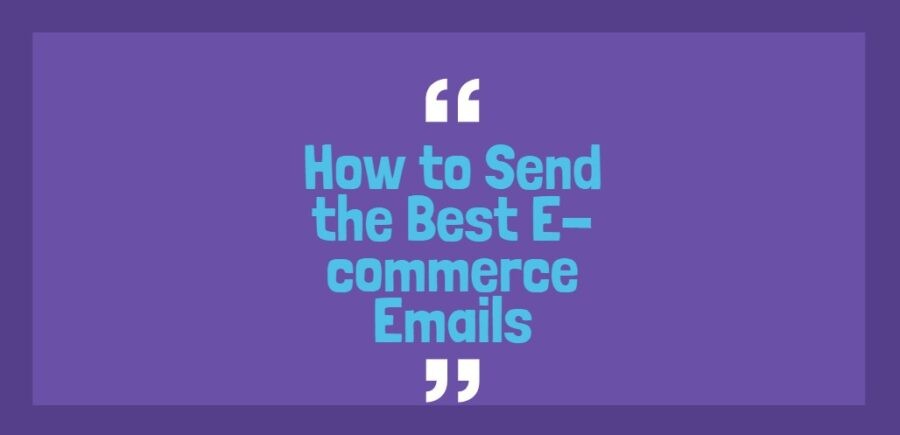 How to Send the Best E-commerce Emails from A to ROI

Tweet This


The holiday shopping fever is still here, and there are no signs that this increased in online shopping behavior will falter anytime soon.

We expect this behavior will carry on for years to come, as 51% of Americans prefer to shop online — and this number keeps increasing.

However, the competition gets tougher and tougher as larger companies are starting to push their products online. With this situation, one thing is essential — acquiring and retaining customers through email marketing.

But, how do you make the most of email marketing to drive conversions to your website?

It's best to learn by example; we have prepared 5 types of emails for different sectors of ecommerce email marketing.

Through these examples, you will learn what to do or what not to do in some cases during acquisition, customer retention and re-engagement, instances of cart abandonment, and sending promotions and discounts.
Acquisition
A few years ago, we saw the influx of articles declaring that "email is dead" — on the contrary, email marketing is very much alive.
It is one of the preferred marketing tools to drive customers to your website.
Once a user subscribes, it's only proper to give them a warm welcome as "thanks" for their sign up. At an average, a boost of 320% more revenue is attributed to welcome emails on a per email basis than other promotional emails.
Acquiring a subscriber means a lot for your business; make them feel welcome! It should be simple, and it should remind the subscriber why they signed up in the first place — membership benefits.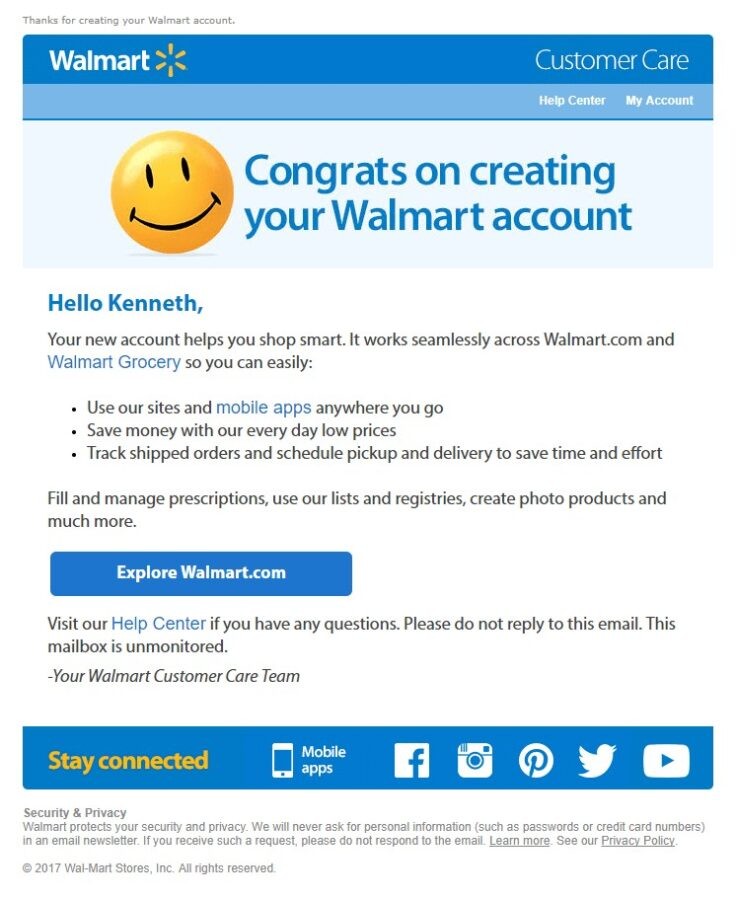 Walmart prefers to be friendly with their welcome email with a touch of personalization. It's a quick email that lets their users know what they can do with their Walmart account, and a CTA that brings them back to the website.
Walmart's simple newsletter that gives you everything you need to know to get started, without overwhelming the users with too many texts or images.
However, Walmart makes it more personal — marketers see an average increase of 20% in sales when using personalized experiences. Start being more personal with your welcome email, and from that point forward, proceed to come up with personalized emails to continuously engage your subscriber.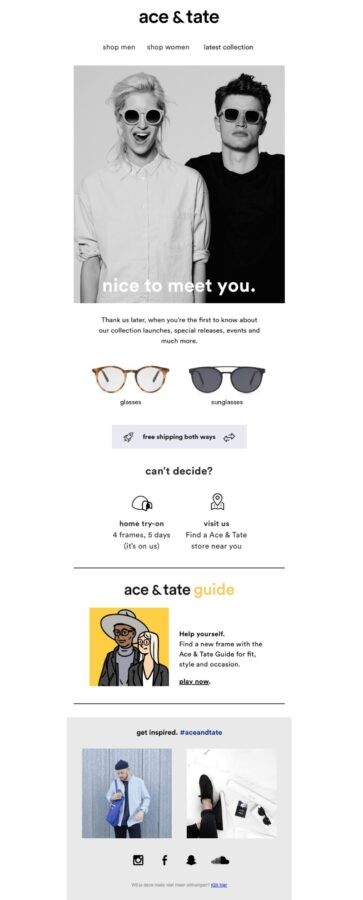 It is a refreshing take on the usual business-like or friendly emails.
Ace and Tate's modern style will undoubtedly appeal to its audience.
Similar to the previous two emails, it briefly explains the benefits of signing up for the newsletter, but what separates Ace & Tate from the two is its inclusion of their Instagram feed — an example of social proof in marketing.
Seeing many people using their products will help establish a trust that it is an excellent brand to follow and patronize.
This, along with product reviews, is deemed more effective as nearly 63% of consumers say they are more likely to purchase from a site if it has product ratings and reviews.
Now you got their attention, what should you do once the customer proceeds through the buying process?
Instances of cart abandonment
Cart abandonment has been a perennial dilemma for ecommerce owners and marketers alike. Interestingly, a simple come-hither to with an email can make a big difference for your business.
A case study on Movies Unlimited proves that a well-executed abandonment email campaign is what it takes to reel in those customers.
Ready to look for some inspiration for your cart abandonment email campaign?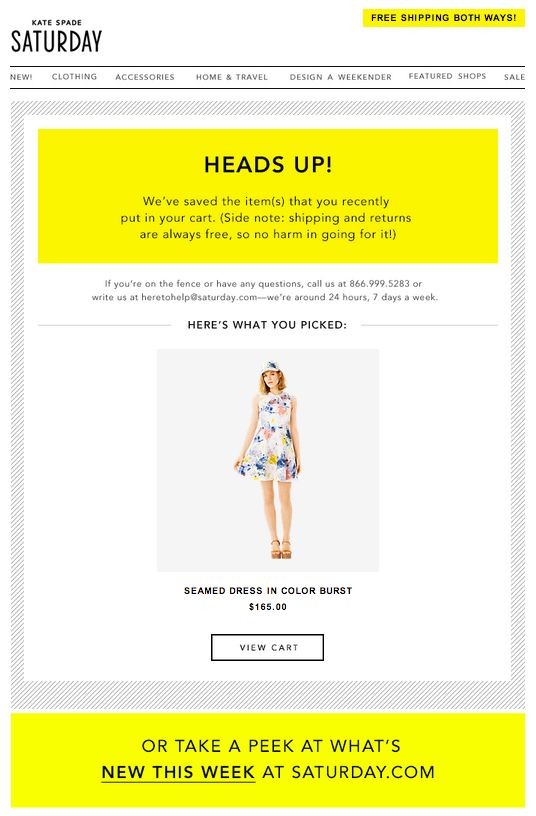 This cart abandonment email says a lot in just a few amounts of effort.
The header is concise, and it immediately aims to eliminate worries of shipping fees, as Walker Sands pinpointed that most shoppers love to get free shipping, above any incentive.
Moreover, it gives their users a way to contact them for any concerns.
To help users remember whatever they left behind, they don't just indicate the name of the item; a photo of the item is included, along with the name and the price of the item that they left in the cart.
Aside from that, the CTA at the bottom encourages its users to choose another product should they desire to select something new.
Moreover, a reminder that they offer free shipping also helps — according to a research done by UPS, the majority of online shoppers would add items to their cart so they can qualify for free shipping.
Customer retention and re-engagement
Majority of companies agree that customer retention is more cost effective than acquisition. To make the most out of your marketing strategy, incorporate an email marketing strategy for customer retention.
Email marketing techniques like welcome emails, cart recovery, loyalty and rewards, and post-purchase emails help in driving customers back to your website.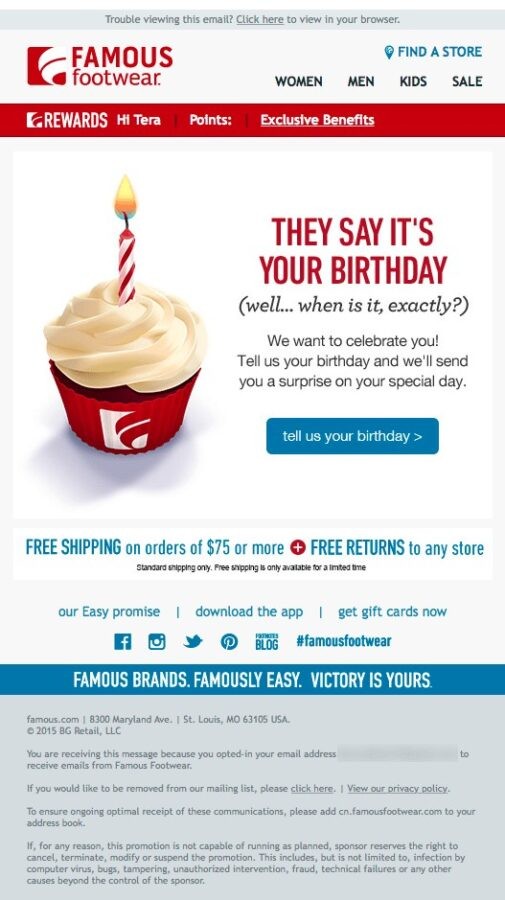 Birthday perks make your customers feel special.
A positive experience helps in influencing a customer's decision in purchasing from the same store again.
Birthday promotions are just one of the good examples of customer retention. Retention is an efficient way to gain more revenue — a 5% increase in customer retention can increase a company's profitability by 75%.
Sending promotions and discounts
Consumers LOVE promotions! In a research conducted on how often consumers want to receive email promotions, 86% of the consumers would love to receive monthly promotions.
Meanwhile, 15% of the respondents mentioned that they love receiving these every day. Promotions and discounts encourage consumers to make a purchase.

Wouldn't it be a pleasant surprise to receive something special after just signing up for a membership?
Making your new customers feel extra special can positively reflect on your brand and your ROI.
Customers who have a positive experience with a brand are more likely to share their experience with other people.
Email marketing may seem to be an easy way to get and keep your customers happy, but poor execution of this campaign may harm your business more than it can do good.
Learn what you can from these successful campaigns, and try to adapt their techniques to form your own.
Author Bio:
Sarah McGuire is a Digital Strategist for Local SEO Search Inc. Toronto Leading SEO Company. She takes an in-depth, hands-on approach to startup social business strategy. She has experience in digital marketing, social media, content strategy, and marketing communications.