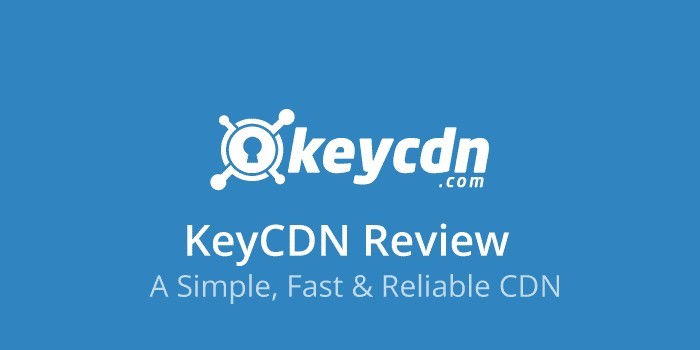 KeyCDN Review – Simple, Fast & Reliable CDN

Tweet This


In a previous post we went over the best Content Delivery Networks (CDNs) and compared the different providers and an overview of their features. Today we want to dive deeper into one of the providers, KeyCDN, who is known for being a simple, fast, and a reliable CDN. We highly recommend taking a look at them if you want to speed up your website.
KeyCDN Review
KeyCDN is a privately funded Swiss company headquartered in Winterthur, Switzerland. They are not a federated CDN or reseller. They focus on speed, scalability and reliability while working with different infrastructure partners to keep the cost as low as possible for customers. KeyCDN currently has the lowest global price at $0.04/GB out of any CDN provider in the market.
Besides just content delivery they also offer a variety of other solutions such as video streaming, CDN hosting, Ad serving, software distribution, and game & app delivery. They also focus a lot of their time on improving the WordPress community. As we know WordPress now powers over 25% of the internet and KeyCDN has embraced this by developing and maintaining three WP performance plugins:
Optimus

: WordPress lossless image optimization plugin with WebP support.

WordPress Cache Enabler

: A free fast and simple disk caching plugin with minification + WebP support.

WordPress CDN Enabler

: Deploy your CDN in WordPress in minutes with this free plugin.
KeyCDN Features
For the price KeyCDN boasts quite a few features! In fact they offer some features that a lot of the enterprise CDN providers have yet to implement.
Primary Features
Pricing:

Lowest global price at only $0.04/GB. For most website owners you are only talking a couple dollars or less per month!

Pay-As-You-Go:

Besides the amazing price, they are also pay-as-you-go. No monthly commitments.

Zones:

5 free zones are included, this is more than most CDN providers include.
POPs:

They currently have 24 POPs, with the most recent one launching in South America. It should also be noted that most other CDN providers charge extra for Australia and Asian countries. With KeyCDN every POP is included for all customers.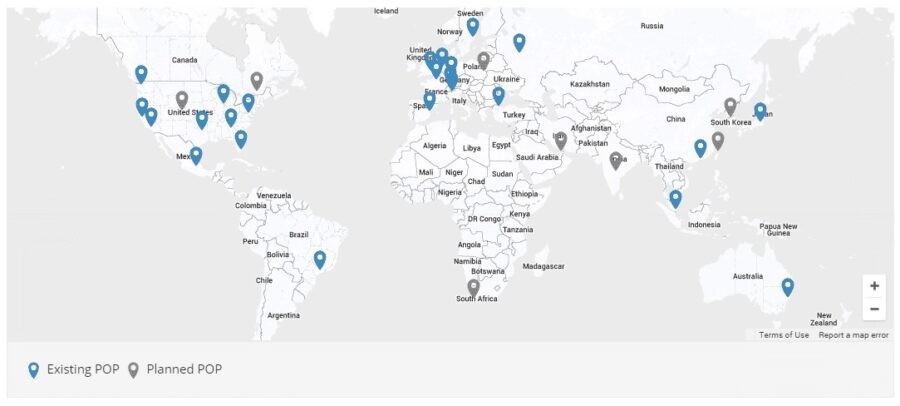 Security:

Free DDoS protection, free secure tokens, hotlink protection, free shared and custom SSL certificates with Let's Encrypt, two-factor authentication, and account access rules.
Performance:

Highly optimized TCP stack and 100% SSD coverage with HTTP/2 support.

Compatibility:

KeyCDN has over 20 CMS integrations, so no matter what platform you are using, you can turbocharge it!

WordPress

Drupal

Joomla

Typo3

PrestaShop

Magento

Craft

Kirby

OpenCart

vBulletin

PyroCMS

b2evolution

Perch

IPBoard

SocialEngine

Xenforo

Odoo

X-Cart

Github pages

concrete5

MODX

Kentico
Advanced Features
Gzip compression

Live tail on your logs + log forwarding to 3rd party services

Custom expire headers

OCSP stapling

Cross-Origin Resource Sharing (CORS)

Origin shield (free)

HLS and HTTP streaming support

Real-time reporting

Cache query strings

Override origin cache-control headers

Override origin expire headers
You might have noticed us mentioning the word free alot. Well, the fact is KeyCDN does offer a lot of their features for free! The value is incredible.
KeyCDN Dashboard
The KeyCDN dashboard is clean, beautiful and responsive. Here is a view on a desktop.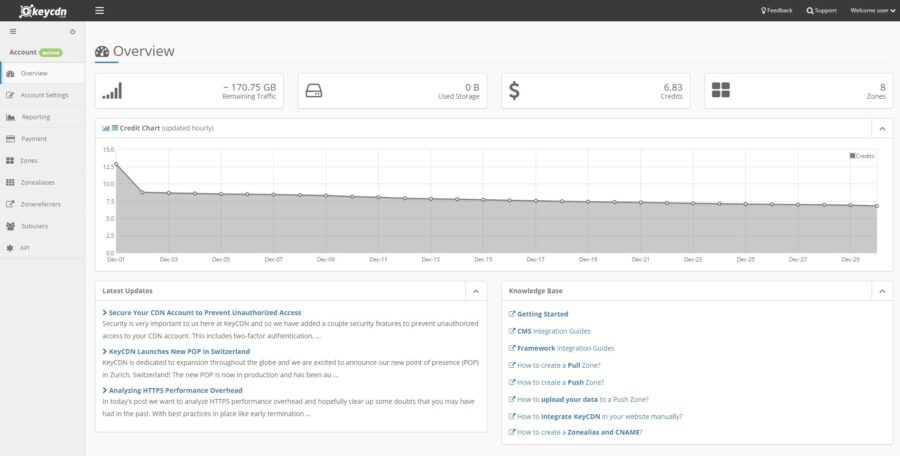 Here is the view on a mobile device.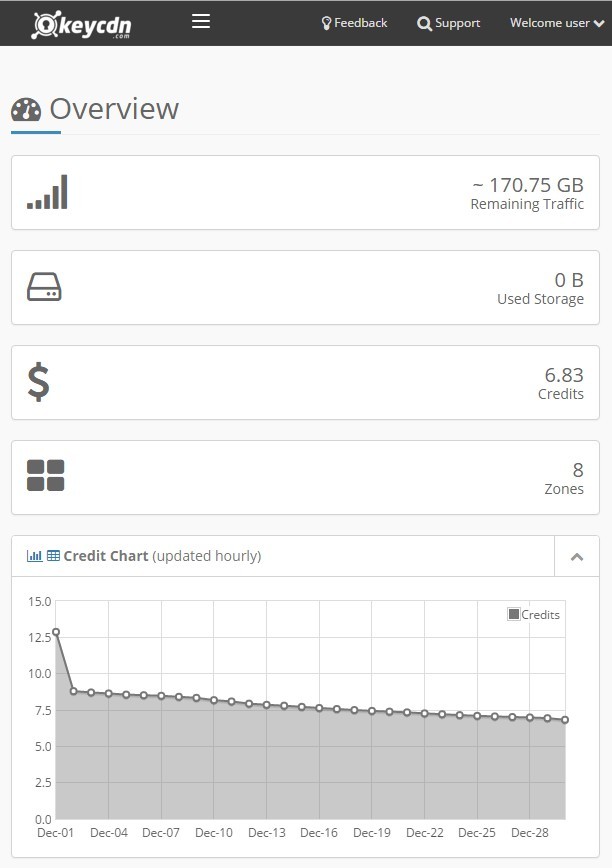 They have five different reporting views, analytics, geo stats, top files, real-time logs, and real-time stats.

And there are many many more screens we could show you! Here is a quick speed test from CloudHarmony. As you can see KeyCDN did very well.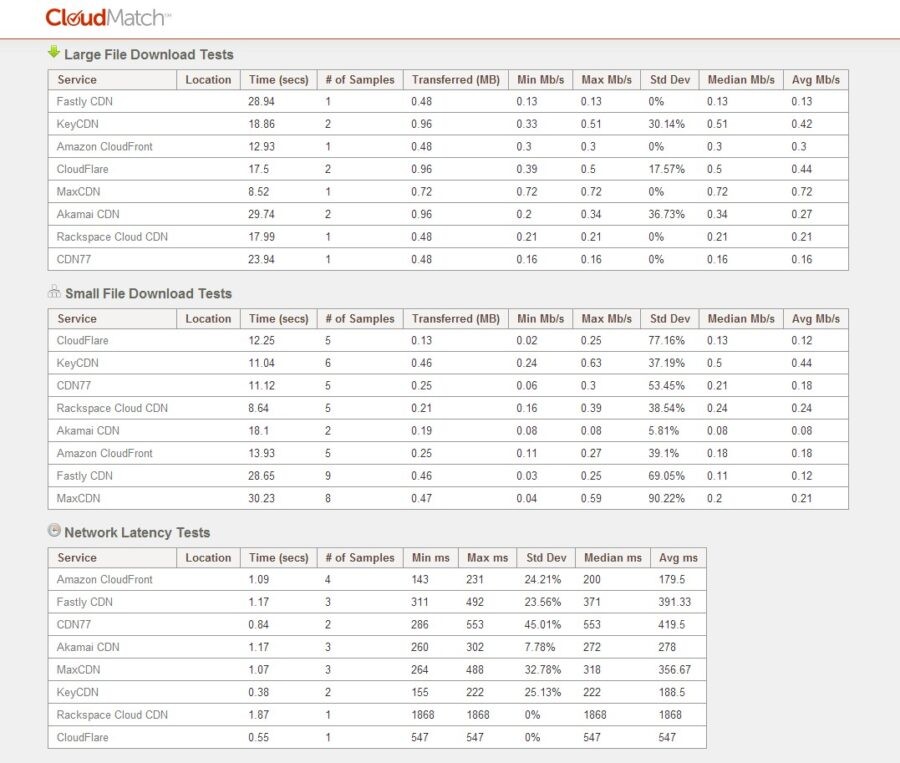 Summary
As you can see KeyCDN offers incredible value and features for the price. If you are looking for a new CDN provider and a way to speed up your website, we recommend trying out KeyCDN. Some users have reported speed gains of up to 50%! They have a free 30 day trial so you have nothing to lose.