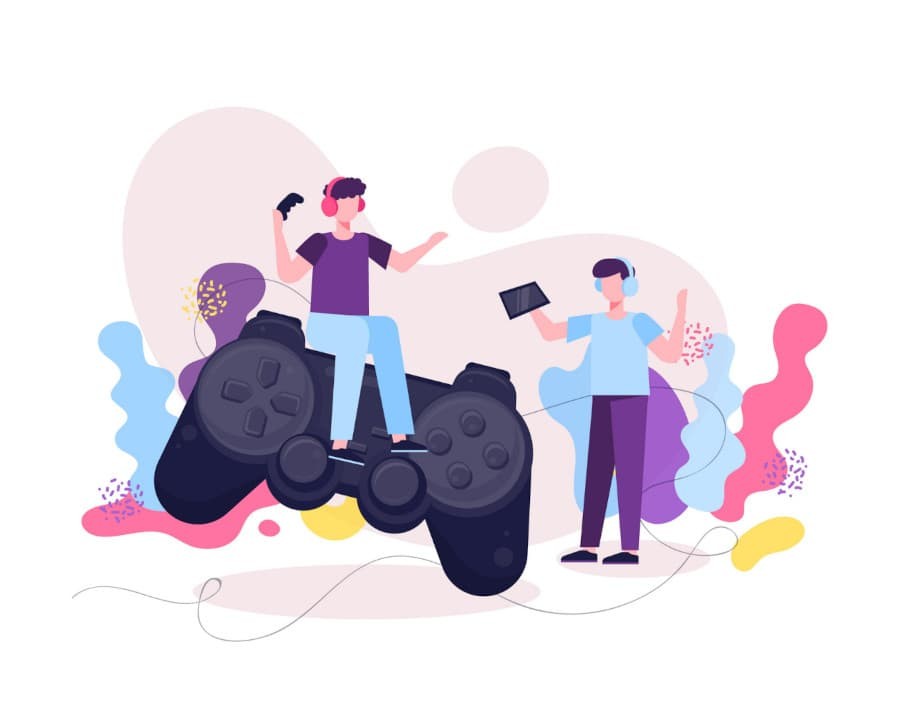 The gaming industry is growing at an astonishing rate.
According to statistics, the global gaming market was valued at $162.32 billion in 2020. By 2026, its value is expected to reach $295.63 billion.
If you plan to start a gaming website, now is the right time to do so.
Here are a few tried and tested gaming website development tactics that will help you.
Create a Website Development Plan
Similar to video games themselves, gaming websites come in various shapes and sizes. That is why you first need to choose your niche.
If you are passionate about gaming, consider launching a blog or a dedicated gaming forum.
Websites are also vital for game developers and publishers planning to promote their latest products.
If you are a game streamer, a personal website helps you build a brand and increase credibility.
You can also start an online retail website and sell products to the gaming industry.
These website types vary in terms of their content and purpose. The website type further determines its domain name, design, content, marketing, and audiences.
Choose and Register your Site's Domain Name
Once you determine your website type and goals, it is time to choose a name for it.
Now, let's take a look at some of the top gaming websites, including:
Gematsu
Destructoid
PC Gamer
GameFAQs
Rock, Paper, Shotgun
GameSpot
Some of these names, such as PC Gamer or GameFAQs, are descriptive. They inform users about the type of content they can find on a website before they click on it. Others, such as Destructoid, have more abstract names.
While there are no strict website naming rules, make sure your name is concise, unique, informative, and memorable.
Once you pick your website name, it is time to register your domain. Google ranks all TLDs the same. Now, .com is still the most widely used and reliable domain name. However, even some country-code TLDs (ccTLDs) can make sense for your gaming website. While .tv could be ideal for live streaming platforms (Twitch.tv.), .me works for personal websites.
Sign Up for a Web Hosting Plan
If you are a game developer or publisher, you will need two hosting plans. One is for your gaming website, and another for the server you want to host.
For a website, you can choose either shared or private hosting plans. Always consider the hosting vendor's reputation since it directly impacts your site's security and performance.
When choosing a hosting plan for your game server, shared hosting does not cut it. With a private server, you have full access to it and configure it any way you want.
Set Up a Gaming Server
The goal is to create a server infrastructure that aligns with your game needs with server functionalities. That is particularly important for developers planning to build multiplayer games on the cloud. Such games include various components and resources. The goal is to provide seamless user experiences without any lags.
In a case study on Google cloud gaming, SuperAdmins highlighted the importance of severs for cloud game performance. They explained how they designed the infrastructure for Awakening of Heroes, an online multiplayer game. They built servers on three continents – the USA, Asia, and Europe. Users from different continents are grouped based on their location and sent to the appropriate server.
Most importantly, the server infrastructure needed to be dynamic and scalable. That way, developers can add new servers when and where necessary.
Pick the Right Platform for your Gaming Website
Once you register your domain name and choose a hosting plan, your next move is picking a platform for your gaming website.
No matter if you are creating a personal blog or a website for your latest game, using a Content Management System (CMS) is your safest bet. While WordPress is often associated with blogging, it can support a wide range of projects.
According to statistics, WordPress has a 60.8% CMS market share. Moreover, it powers 15% of the world's top websites.
Now, there are two types of WordPress platforms. WordPress.com is a blog hosting platform, while WordPress.org is the self-hosted version of WP. Go with the latter option since it provides you with more freedom, control, and access to all WordPress features.
Content Management Systems, such as WordPress, give you the flexibility you need to create a gaming website. That includes personal websites, gaming news sites, blogs, and so forth. Plus, setting up a website via a CMS is quite simple.
WordPress Plugins for Increasing Gaming Website Performance
WordPress offers a wide range of plugins that increase the overall performance and functionality of your site. Here are some of them:
WPForms Lite offers drag-and-drop features that allow you to create user-friendly contact forms.
MonsterInsights lets you install Google Analytics in WordPress. You can track website analytics and make data-driven content decisions in the future.
SeedPod Lite is a page builder plugin. It helps you create and customize website pages without any HTML knowledge.
Smash Baloon lets you implement social network feeds directly into WP.
Customize your Gaming Website
Once you build your WordPress, it is time to optimize and design your website to make it visually appealing.
Choose what Pages to Include
Start by building website architecture.
Ask yourself which pages you will include, apart from your homepage.
For example, your website should have an About Us page, where you should represent your team. If you are a blogger or a game streamer, an About Me page helps you showcase your industry experience and humanize your online presence.
No matter if you are running a personal or corporate website, it is essential to have a blog. That is where you need to create high-quality content to build trust with your target audience. Blogging also increases user engagement, social shares, and external links. These are vital factors indicating site authority and boosting your organic rankings.
Therefore, keep your content data-driven, fresh, and insightful. Diversify your content writing tactics. In addition to traditional articles, you can also create lists of popular games or gaming gear, comprehensive guides, case studies, whitepapers, eBooks, etc. Measure your analytics to determine which content resonates with your audiences the best.
Create a Smashing Website Design
One of the best things about WordPress is that it offers a wide range of themes. When searching through its comprehensive repository of themes, you will come across multiple gaming-related ones.
However, most gaming-related themes have compatibility issues that may prevent you from adding new features to your website. Fortunately, you are not limited to them. You can choose a more flexible theme that delivers more functionality.
That way, you will be able to change themes and add new features in the future.
Pick the Right Plugins
Another benefit of WordPress is that it offers over 58,000 free plugins on its official repository.
Sure, do not let plugins overwhelm you. Installing too many plugins may slow down your website and compromise its performance. That is why you should choose only those plugins you need.
For starters, ask yourself what kind of gaming features you want to add to your gaming website.
If you write reviews of games, gaming hardware, consoles, cloud games, the WP Product Review Lite plugin can help you. It allows you to manage and show gaming reviews. With it, you can display software/hardware pros and cons, upload product images, add ratings, etc.
Creating Forums on your Website
There are many types of forums, including discussion boards or Q&A platforms. It allows your visitors to connect with you and like-minded people and feel like a part of your website.
To increase the functionality of your forum, you can use WP plugins such as BuddyPress.
Embedding Live Streaming Functionalities
If you are a streamer or a game commentator, you will probably want to embed Twitch and Esports video streaming into your gaming website. With the right WP plugins, you can do that effortlessly.
For example, the Twitch TV Easy Embed allows you to embed Twitch.tv streams into WordPress and customize their appearance.
Selling Gaming-Related Products
If you plan to sell gaming gear, walkthrough guides, courses, or custom clothing items, WordPress plugins allow you to add ecommerce functionalities to your website. That is where WooCommerce shines.
According to recent statistics, WooCommerce powers 28.19% of all online stores, while 93.7% of all WordPress ecommerce sites use it.
Adding Simple Games to your Site
If you want to enhance user engagement, why not give them something fun to do? For example, you can add simple games to your site. With plugins, such as Dinosaur Game or Word Search Puzzles Game, you can easily add some of your visitors' favorite games to your site.
Ready to Build Your Gaming Website?
Whether you are building a personal blog or a website to promote your games, you need to approach the process strategically.
Every website element, from domain names to servers, impacts the performance and branding of your site.
I hope these insights will help you!
What gaming website type do you want to build? Please, share your thoughts and experiences with us!