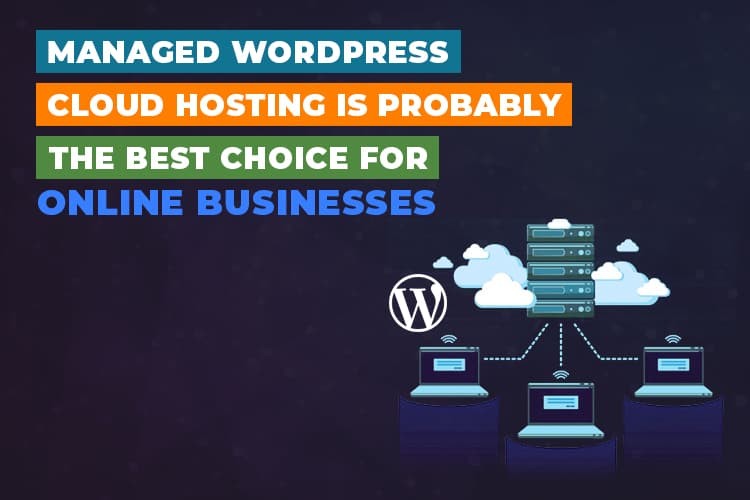 7 Good Reasons to choose a Managed Cloud WordPress Host

Tweet This


Managed WordPress Cloud Hosting is a kind of cloud hosting that is optimized particularly for WordPress websites.  Managed WordPress Cloud Hosting is well-suited for enterprise-level as well as large businesses because of its greater reliability, security, and high performance.

In this article, we list advantages and disadvantages of using a WordPress Cloud host. Some of the most potential benefits of the Managed WordPress Cloud Hosting are as follow:
1.  Superior Support
The WordPress Cloud is an ideal option for WordPress platforms. It is one of the most reliable and expert support team that would make your hosting experience more optimized. Using this hosting you will get all of the features and technologies compatible with WordPress websites.
2. High-Performance
The other reason why you should select the managed cloud hosting provider to operate your website is its environments that are typically made to work in WordPress. It is a more effective option as compared with the shared hosting that would not allow you to achieve the required speed for your website. For the sites with heavy traffic, it is recommended to choose the WordPress Cloud to effectively managing the load on the site using advanced and highly supportive features. So, it can be said that this hosting is the best option when it comes to managing WordPress sites.
3. Automatic Backups
One of the best things about the WordPress Cloud host is that it offers automatic backups and recovery of your data that would keep your information secure in case of any disaster happens. Working on digital platforms, you should be ready for any situation. Manual backups and recoveries are very time consuming and required more efforts but if you are using the WordPress host automatic backups are included in the hosting plans without any additional cost.
Related Article: 9+ [Awesome] Managed WordPress Hosting Providers
4. Developer-Friendly
WordPress Cloud host is one of the most developer's friendly platform. It offers you many additional features for developers that may not get in other types of hosting like shared hosting.
This includes features such as Composer, Git, Sequel Pro, HeidiSQL and SSH access. Usually shared hosts would not give you any SSH access, means you may not able to use any of these features.
These added features in this hosting will allow you to run many PHP versions among sites and staging sites. If you want, you can also change the engine at one-click.
5. Premium DNS
Most of the times, you have to separate sign up for the premium DNS but with this hosting service, you will get the premium DNS.
When you add any address on your browser this essentially gets back to an IP address, although you may never see it. The DNS servers perform the whole plotting for you.
It is very much similar to web hosting; you have to choose the DNS hosting carefully because some DNS providers offer slower services. Amazon has one of the largest networks in the world. By going with a fast DNS provider, you will ensure faster DNS lookup times.
6. Security
Security is something you should never compromise on if you are doing an online business. there are many of the service providers in the market that provide support if your website is attacked or hacked by someone. T
hey have separate systems to protect your resources from viruses and malware. In case your website is infected because of some malware, their support team will do an automatic cleanup and make sure that you are out of danger and your devices are safe and protected.
Beyond the server-level security, your account is also very important. To improve your security protection, you should use the two-factor authentication, no matter which hosting service you are using. when someone gets unauthorized access to the account, they can harm you in many ways such as they can change your passwords, change DNS information, delete your websites, and many more.
When it comes to security, then WordPress cloud host is the best option because of its higher security support for the clients.
7. Scalability
We all know that when it comes to hosting your website the scalability of the resources and data is the hardest thing so far. You have to consume a lot of time and efforts for scaling the resources. The expert team will perform most of the scalability and monitoring of the resources so you don't have to worry about the system performance and optimization of the servers.
Disadvantages of a Managed WordPress Host
With all of the advantages, the managed WordPress host also has some disadvantages that are as follow:
Managed WordPress is more expensive as compared with the shared hosting, so you may get out of budget when going for this hosting.
This solution is more compatible with hosting WordPress sites, the sites of another platform may not be as effective as in the WordPress platforms.
This hosting typically imposes harsher visitor caps and website limits.
To guarantee higher performance, some service providers put limitations on the use of some plugins.
Wrapping Up
In this article, I have shared with you some of the advantages and disadvantages of WordPress cloud, so you can make better hosting choices depending on your needs.
I hope the information shared in this article is helpful and useful for you. You can also share your thoughts about the article in the comments section.