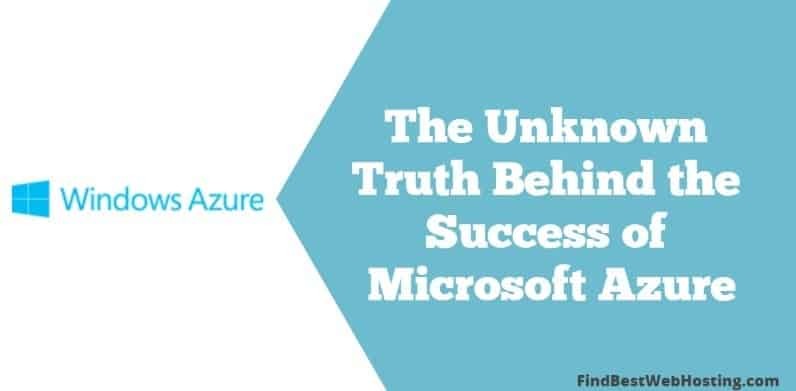 The Unknown Truth Behind the Success of Microsoft Azure
Tweet This
If you are not aware, Microsoft Azure is a hybrid cloud platform. This means you can either run your website on-premises, cloud or hybrid cloud. Moreover, you can easily transfer data from on-premises to the cloud or vice versa.
Powerful open and comprehensive cloud platform
Microsoft Azure is a powerful open and comprehensive cloud platform to host your websites. You will get 100% uptime with servers hosted in Microsoft data centres. Moreover, the servers are protected from various kinds of attacks such as Denial of Service, Brute Force and SQL injection.
Support for various open source platforms
Microsoft Azure provides support for various open source platforms which includes Linux, Java, Node.js, Python and Ruby. This is the real truth behind the emerging success of Azure.
Affordable
Microsoft Azure is very much affordable for all level of users. Recently, Microsoft has lowered the prices of compute, storage and bandwidth by 50% to compete with other cloud platforms such as Amazon Web Services.
Global network of Microsoft managed data centres
If you believe that Microsoft has only one data center in Redmond for hosting Azure based sites, you are wrong. Microsoft Azure runs on a global network of Microsoft managed data centres in 19 regions worldwide. Moreover, Microsoft Azure is available in 140 countries, which is more than AWS and Google. Microsoft is in the process of adding more regions to cater to the demands of growing number of Azure users.
Industry leader in both IaaS and PaaS
According to Gartner's Magic Quadrant, Microsoft Azure is an industry leader in both IaaS and PaaS. Microsoft has so far rolled out over 300 platform enhancements in the past 12 months.
From the above discussion, you can imagine how active the Azure product team is working on to produce and rich and compelling cloud platform for the future generation.
Cost Effective
The big benefit of Microsoft Azure is that you need not have to pay any upfront cost initially. You need to pay a fixed cost and you will be charged extra only if you consume more resources based on the traffic generated by your site.
TechRepublic has published an article which states top 10 reasons to make use of Azure for your cloud apps. This includes Familiarity of Windows, 64-bit Windows VMs, Azure SDK, scalability, flexibility, cost benefits, pricing model, same support resources via MSDN and TechNet. Some of the other popular reasons for the adoption of Azure are Interoperability, Security and the ability for hosting providers to expand their base without infrastructure.
We hope your doubts about Microsoft Azure are cleared.