Moosend vs MailerLite: Features Comparison in Detail
Tweet This
Email marketing is one of the most effective digital marketing channels in the modern era that we live in.In fact, there isn't a more direct medium with which you can approach and engage your customers.This is illustrated by the fact that 81% of small and medium-sized businesses rely on email as their primary customer acquisition channel, while 80% rely on it for customer retention. 
Just to put things in perspective, email marketing is so profitable that for every $1 you spend you get approximately $42 in return.

Therefore, you understand that in the highly competitive marketing scene of today, you need the best email marketing platform in order to achieve the maximum growth of your business.
But choosing the platform that best suits your needs when there are hundreds of seemingly similar products is surely tedious.
Moosend and Mailerlite: For example, if you have heard of Moosend and Mailerlite , some things immediately come to your mind. Both of them have loyal customers and they are on the affordable side. They also have similar features. But how does one differ from the other? Are they indeed that similar?
Let's explore each one independently and then compare them with each other to get a better idea.
Overview of Moosend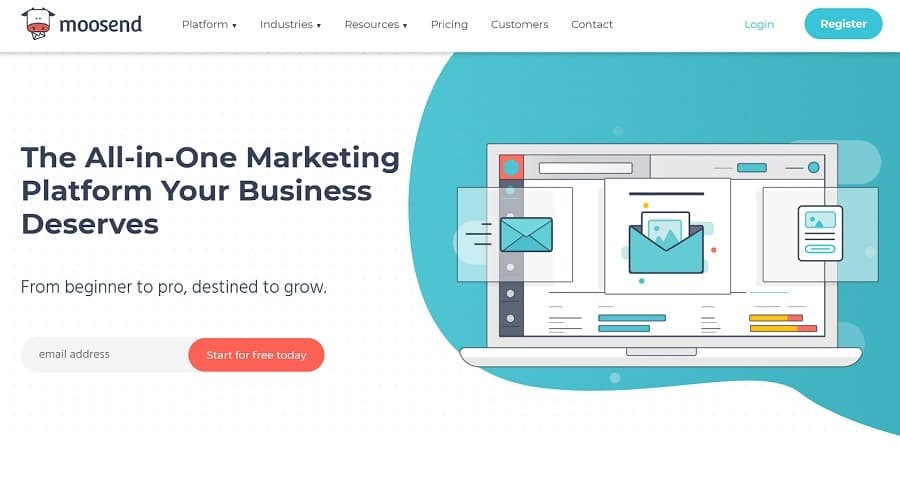 Moosend is an all-in-one marketing platform capable of stepping up your marketing game regardless of the size of your business.
With it, you can create striking and responsive newsletters as well as simplify your marketing tasks with the push of a button, thanks to its state-of-the-art marketing automation capabilities.
The platform allows you to engage your subscribers meaningfully through highly personalized emails that drive impressive click rates.
Moreover, you can manage and segment your list with a plethora of filtering options, thus engaging your customers on a deeper level and establishing brand loyalty.
Moosend also enables you to create high-converting landing pages and boost lead generation through its amazing subscription forms .
All these at a price that matches the needs and growth of your business.
Overview of Mailerlite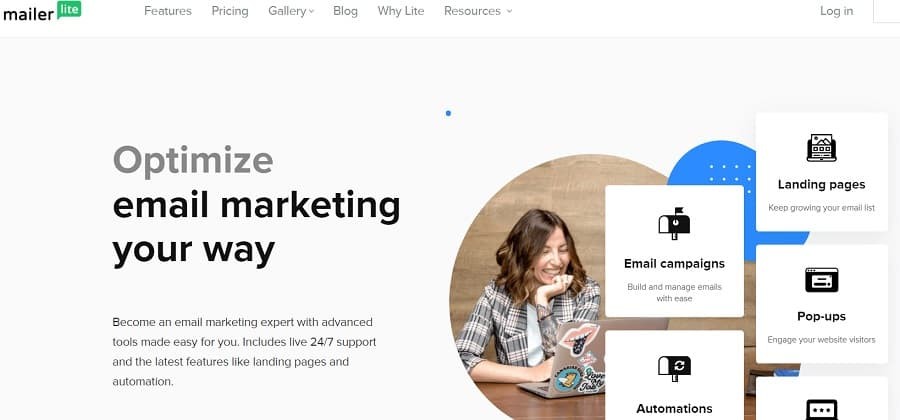 Mailerlite is an email marketing service provider focusing on simplicity and impressive email designs.
You can easily create your marketing campaigns, track their results as well as manage your subscribers and unsubscribers.
Moreover, you have the chance to create beautiful landing pages and pop-ups with the easy-to-use landing page and subscription form builders.
To assist customers, Mailerlite offers a lot of educational content in the form of webinars, product tutorials, and others.
Though it doesn't have a dedicated CRM application, with the use of third-party integrations, you can fulfill mostly everything you require easily.
Which one is better? Moosend or Mailerlite?
On the surface, these two platforms may look the same, but in reality, there are some distinct differences between them.
Moosend is really powerful in terms of marketing automation capabilities, while Mailerlite is thinner, focusing on simpler marketing automation.
Mailerlite is ideal for freelancers and small businesses preferring a clean and on-point platform that does the job, whereas Moosend appeals to bloggers, agencies, and businesses of all sizes that require a trustworthy platform able to cater for every need they have and will have along the way.

Now let's do a side by side comparison in detail.
Interface: Moosend vs Mailerlite
Moosend : It has an intuitive and easy to use interface that is straightforward for both beginner and experienced marketers. It has modern graphics and neat design, thus allowing the user to navigate it effortlessly.
Mailerlite : The basic principle behind the company is simplicity. This is illustrated in their platform which, despite lacking modern elements, manages to provide a clean and simple interface that some people will appreciate.
List management: Moosend vs Mailerlite
Moosend : It's a piece of cake to import your subscribers either via Google contacts, excel sheets, CSV files, or directly by copying and pasting contacts. There are over 20 criteria and as many sub-criteria that you can segment your list with, thus achieving absolute personalization of your email list. The unique feature of the platform is real-time tracking, which in essence groups your contacts based on their website behavior.
Mailerlite : It is equally as easy to import contacts as with Moosend. The difference is in the way contacts are managed. Mailerlite uses segments and groups, something which can be confusing since it looks like the same thing but it isn't. The platform also lacks the filtering options offered by its counterpart.
Marketing Automation: Moosend vs Mailerlite
Moosend has a robust automation builder allowing you to build automation workflows from scratch and boost customer engagement through captivating drip campaigns. It comes with 18 pre-made automation ' recipes ' that can turn a beginner into a professional marketer, while simultaneously saving a lot of time.
On the other hand, Mailerlite's practical automation workflow builder comes with no pre-made templates. While sophisticated and efficient, it can't match Moosend's arsenal of advanced automations, such as weather-based recommendations to give an example.
Email templates: Moosend vs Mailerlite
Moosend offers 70+ free email newsletter templates to choose from. They are responsive and optimized for all platforms. There is a preview option too, which is very handy.
Mailerlite is equipped with 50+ email templates for your campaigns. Like Moosend's, they are well-designed and responsive. Both platforms feature drag-and-drop editors .
Reports and Analytics: Moosend vs Mailerlite
Data and insights about content, customer behavior, etc are essential for successful marketing campaigns.
Moosend's powerful analytics have the ability of real-time reporting. Another unique feature is that you're able to see which countries have the highest engagement and consequently target your audiences more effectively. All the data is summed into digestible and attractive visualizations.
Mailerlite hasn't got a dedicated area for reports, but you can see them in your campaign ort subscribers. It offers click-mapping and you can also add Google Analytics. Compared to Moosend, only basic reporting is covered.
Support: Moosend vs Mailerlite
Moosend : You can reach Moosend's support via phone, live chat, or email. Its support team has an impressive response time. There are also a lot of useful video tutorials and webinars that help solve every possible obstacle one may encounter.
Mailerlite : It has quick and responsive customer support. In-depth video tutorials and guides assist more than expected. However, they lack dedicated Account Managers, so you can only use Live Chat or their ticketing system.
Pricing: Moosend vs Mailerlite
As mentioned before, both platforms are in the affordable price range for what they offer. Also, the available plans are similarly structured, but they have their differences.
Moosend : It offers a free forever plan with access to almost all the features for up to 1000 subscribers, without having the branded logo. Paid plans start at $8 per month and you get landing pages, transactional emails, access to the SMTP server, and more.
Mailerlite : It also offers a free plan for up to 1000 subscribers, but the branded logo is included and you don't get unlimited emails. The paid plan starts at $10 and you enjoy newsletter templates, landing pages, and subscription forms. The drawback here is the fact that you have to pay an extra $160 for 'premium' services such as dedicated IP, priority support,   and unlimited landing pages.
Conclusion
After exploring these two platforms and their differences, it is clear that Moosend is ideal for those who take email marketing and marketing automation seriously, without having to spend a fortune.
However, if you want a simple and efficient email marketing platform with great usability, which doesn't delve deep into automation though, then Mailerlite is the right choice for you.