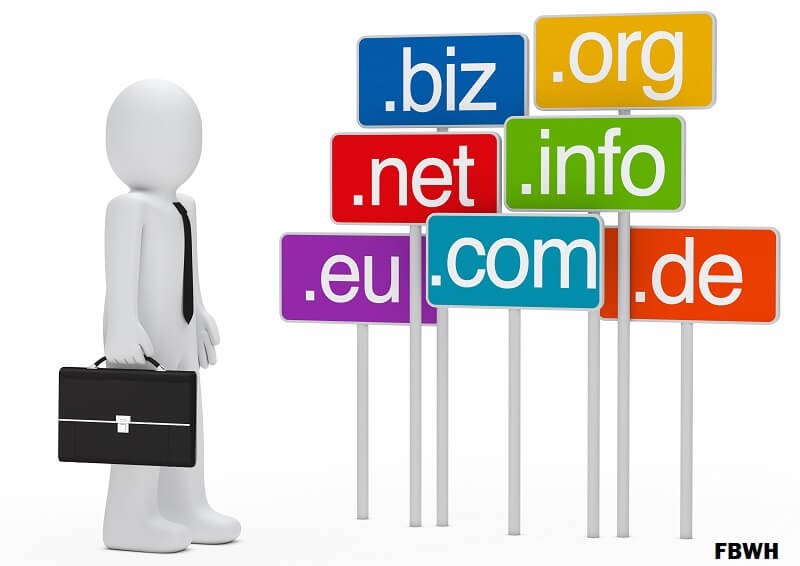 What is Multiple Domain Web Hosting? Insider's Guide

Tweet This


It's normal these days to hear about multiple domain web hosting.

The necessity of multiple domains has found a lot of favor among different web hosting companies that are promoting it among  everyone.
What is Multi domain hosting?
Multi domain hosting means  hosting multiple websites on your hosting account.
Basically, under one hosting account, you can host multiple websites! That's what this means.
A lot of reasons can be cited for the popularity of multiple domains and multi site hosting and any web hosting company that want to compete in the market today is encouraging the use of multiple domains when compared to a single web hosting account.
So to answer the common question, Can I have multiple domain names for one website? Can I host multiple domains on one account?
Answer is Yes.
Why is there a need for multiple  domains?
There are numerous reasons to opt for multiple domains.
Multiple Projects under one account
The most important of the lot is that a person may have multiple projects running on the web under multiple corresponding domain names. Usually such people prefer hosting all these different web-hosting accounts to manage their web sites in a better manner.
The uses of a single primary hosting account let the user view the statistics and manage the different mail server from a single mail client. There is an added benefit of exchanging emails from one domain to another easily as it is done internally.
Webmasters or website designers may have this kind of account to host multiple projects under same account.
Multiple business domains names with different  Internet extensions
There are different Internet extensions like .net and .com. Multiple domains make sure that all such Internet extensions are registered under one person.
This helps to remove spammer who may get hold of a .net extension when a .com extension of the same name is registered under some company.
Most smart business owners, when they register their main domain name, they also usually register additional extensions as well(if they could afford). For example, a small business mybusiness.com can have additional domians names like mybusiness.net, mybusiness.biz and so on.
Misspelled Domains under one account
Certain companies ensure that they obtain domains with similar names and even misspellings.
One of the most popular cases in this direction was when the misspelling of a popular web search engine and portal was taking a person to webpage containing explicit material.
That website now owns this misspelled domain and obviously paid a good price for that. The control panel comes in handy when multiple domains need to be redirected to a single location.
Some web hosting clients setup exact similar sites for each domain to monitor the traffic associated with each extension. This way they are able to track with extension is popular when compared to others.
Multiple domains for different countries. Multiple websites targeting different countries
If your business or website has international clients or have international audience, then it would be wise to register a few of those country code domains. These are called Country code top-level domains (ccTLDs)
For example .uk, .au, or .in.
.fr for France
.uk for for UK
.au for for Australia
.in for for India
.ie for Ireland
You can create separate websites and tailor content for that country audience.
Note: Country level domains have another advantage. Some domain names get a nice touch when a country level domain is added.
For example, visual.ly, is a popular website where you can create visual content like infographics, ebooks etc online. In reality, .ly is the Internet country code top-level domain (ccTLD) for Libya!
Some country level domains are used as URL shortners for social media.  For example, http://bit.ly, is a URL shortner, where you can enter a long website address and it gives you back a short url or website address. For example, https://bit.ly/2AkMDEc, points to this article you are reading!
How do I host multiple websites on one domain? How to host multiple websites on one hosting account?
For this to work, your web hosting plan should support multi domain hosting (or unlimited hosting ).
Now:
To explain this first you need to understand, what is an addon domain.
What is an addon domain?
Addon domains are the domains/independent websites added under the main domain of the web hosting account.
You see, when you signup for a new hosting account, you are asked for a domain name. This becomes the main domain or primary domain for the account. All the domains you add under this account are called "Addon Domains".
Basically, an addon domain is a domain name that you add as an additional domain from your control panel.
When you login to your control panel, there should be a section for "Addon Domains".
You add each of your domain names under this "Addon Domains" section.
Advantage of addon domains are that all your multiple domains can share the same control panel and you can create email addresses, FTP accounts, databases etc for each of your domains, exactly the same way you would do to your primary domain on the hosting account.
See a detailed tutorial here
What is unlimited web hosting? What is unlimited domains in Web hosting?
This is a special type of Multi domain hosting plan offered by some popular web hosting companies.
This permits you, the account owner, to host any(no limit) number of domains or websites under one hosting account. Hence the word "unlimited websites hosting". This means you can have all your domains under with one web host and under one account.
This plan makes a lot of sense to folks who own multiple domains. In addition to saving money, it also makes it much easier to manage each of the domains and websites.
We have a section below with a list of web hosts who offers unlimited web hosting plans.
How do I be a part of multiple domains? What is the best way to host multiple websites?
Most reliable companies offer different web hosting packages to cater customer needs. The basic account usually is meant for just one account only.
But there could be other web hosting packages for multiple domains, which are kind of a bargain if you plan to host multiple websites under one account.
Let us see examples below.
Examples of  Multiple Domain Web Hosting Companies
Examples:
#1 BlueHost Basic account permits only one website whereas plus and prime plans allow unlimited hosting.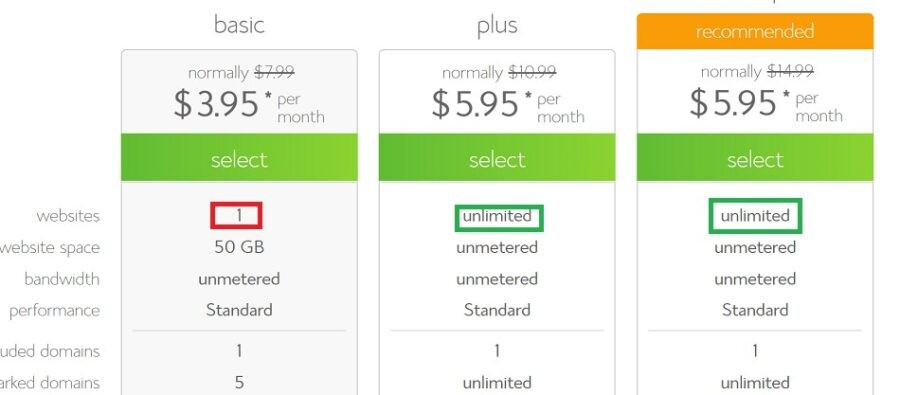 Bluehost is one of the most popular and reliable web hosting companies and it is offering multiple domain hosting for a discount price.
So, Can I host multiple websites on Bluehost? Yes. You can
Signup for BlueHost Multiple Domain Hosting
#2 Hostgator: It's Hatchling Plan only permits one webiste hosting only whereas Baby Plan and Business Plan allows multiple websites and domains under same account.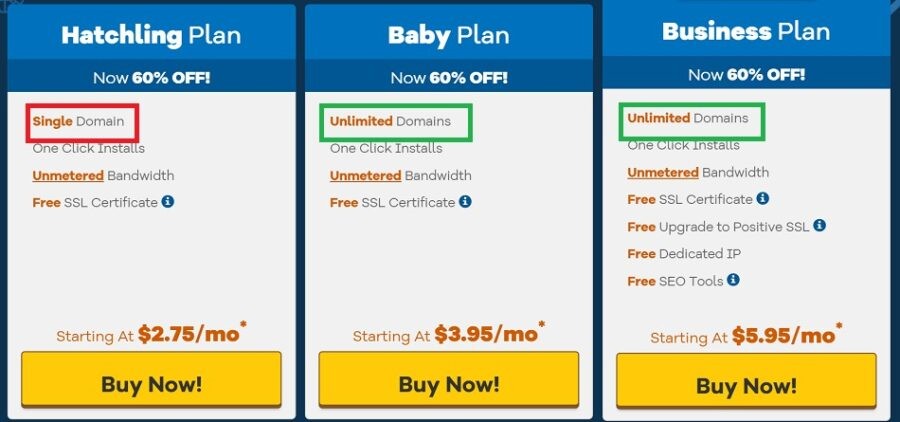 Signup for HostGator Multiple Domain Hosting
#3: InterServer: InterServer is another reliable web host providing multiple domain hosting for affordable price. Check them out here.
Tip: Also visit Unlimited Web Hosting to see more options for multiple Domain options.
Summary
Multiple domain hosting are catching the fancy of many people these days and it is easier to get one. Many we hosting companies are part of it already but at times there is an upper limit to the number of domains that you can get registered.
This is not one of the major concerns for someone who is new to the multiple domain area. The best part is that most web hosting companies give the flexibility to their clients to move to multiple domains with ease.