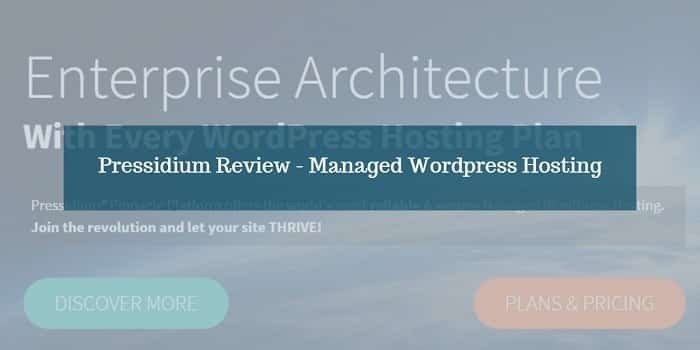 Pressidium Review – Managed WordPress Hosting
Tweet This
A Premium Managed WordPress Hosting Platform for Everyone
Review By: Tom George, Senior Editor, findbestwebhosting.com
[toc]
I constantly do online research on Superior Managed WordPress Hosting companies and not long ago, I heard about Pressidium and it's Enterprise Architecture. The more I learned about it, the more respect I had it for Pressidium's Pinnacle Platform and I did not hesitate  much to add it to my favorites list.
For evaluation purpose,  I signed up for a Personal account (Personal plan – costs $24.9 per month) .
---
Why Pressidium and why should I care?
"Cloud Hosting" marketing Bubble and facts:  Cloud hosting by rule of thumb will not provide high-availability, replicated, load balanced delivery of content. Thus a virtual server from a cloud provider (the likes of Amazon, Digital Ocean, Linode, Vultr, Google, Rackspace etc) is just a single virtual machine on a single physical host. If that physical host (hypervisor) should fail then your site will go down and content may be lost. So, for example, if you have an instance on Amazon cloud and if the physical server goes down then your instance and site will also go down.
To avoid the above situation, the infrastructure should be designed to be highly-available (clustered & load-balanced).
Pressidium Pinnacle Platform Advantage: This is one of the unique advantages of Pressidium's Pinnacle platform, as every single component is fault-tolerant, with no single point of failure, highly-available, redundant, horizontally scalable and load-balanced so that your content is delivered simultaneously by all nodes in the cluster. If any single node should fail, it's business as usual as your site is being served and delivered by the remaining healthy ones.
Every Pressidium hosting plan will have enterprise-grade architecture (HA, FT, LB, Security &  Scalability). By contrast it would cost anyone $$$$ /mo to build on their own, especially on platforms like Amazon, Rackspace, Google etc.
Click here to learn more about Pressidium's Enterprise Architecture
Best features of Pressidium Enterprise Architecture platform:
Fully managed, scalable and secure WordPress host
Highly-available.  Clustered & load-balanced
Every single component is fault-tolerant, with no single point of failure
Horizontally and vertically scalable, without any service disruption
WordPress as an integrated hybrid SaaS(Software-as-a-Service) and PaaS(Platform-as-a-Service) solution
WebScale technologies tailored and optimized for WordPress hosting.
Reliable and best uptime record
Setup Staging Areas
Git Support
Free Migrations
CDN available(costs $10 extra)
Blog deployment in less than 45 seconds
Enterprise-class highly available architecture on every layer
Automatic scalability
Architecture for slashdot effect protection
Managed DevOps; Full server, network, security & platform management
---
Speed and performance
This is the first question that comes to my mind, when we talk about a Premium Managed Web Host.
Smart in-built Cache Technology: To give best performance and speed, Pressidium has come up with a highly complex adaptive caching technology which has five caching layers and highly available, load-balanced auto-scaled architecture. This means you do not need any caching plugin with Pressidium and you site speed rocks.
While most of the best WordPress Hosts recommend popular Caching plugins like W3TC(and of course, the painful tweaks), Pressidium does not recommend using any cache plugin. In fact, it has come up with a list of banned plugins that can affect performance of your blog and this list includes many caching plugins.
This cache technology accelerates content delivery thus tremendously cutting down page load times. This is accomplished by:
Serving cached content rather than waiting for content to be computed Caching frequently accessed static content (ie  images, css etc)
Pressidium Cache Technology is also smart enough to detect any changes you make to your content and clear your site's cache automatically
You also have the option to clear your site's cache manually with one click.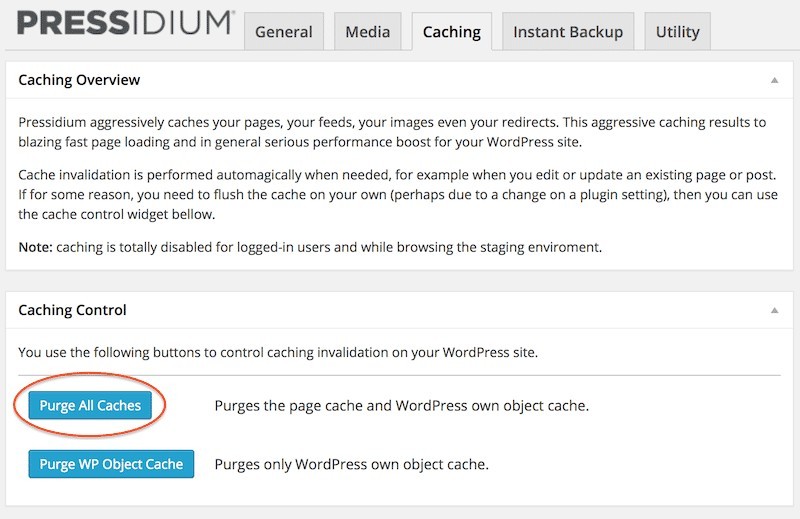 Click here to learn more details about Pressidium Cache
Image Optimization aka "Image Smacking":
Pressidium has developed its own proprietary image optimization service to optimize all media and images uploaded to your blog's media library. This way images load faster. When you upload your images, you can see a column called "Image smacking" that tells you how much each image was optimized.

---
Reliability and Uptime
Pressidium's Pinnacle Platform is designed to have no single-point-of-failure and is fault tolerant. This ensures that your blog will be up all the time.
To ensure this, Pressidium has farms of duplicated resources and all layers are redundant and duplicated. Scaling your WordPress environment is an issue always with normal hosts . But Pressidium handles this very well. New clusters are being deployed to its cloud regularly to meet demands.
All this ensures that Pressidium servers can handle millions of requests every day.
Scale Automatically without service disruption:   Pressidium's cloud platform is designed in such a way that you can scale horizontal or vertically, at any time, without causing any disruption of service, whether it is about capacity, computing power, storage or database.
---
Security
One of it's best features, Pressidium's State-of-the-art security layer involves:
End-to-end security
Protection against DoS(Denial of Service)
Multiple load balanced & highly available network firewalls
Web application firewalls (WAF)
Systematically apply latest security patches
Proactively scan, detect and block malware and vulnerabilities.
These all work together collectively to defend your website against attacks and malicious activity.
And, despite all these strong secure measures, in case your site security is compromised, Pressidium will fix it for free.
Login attempts and protection:   To thwart  brute force attack attempts and to  protect customers, Pressidium pre-installs "Limit Login Attempts" plugin in every WordPress site. This plugin limits the number of login attempts from a single IP address to three within twenty minutes.
You will get locked and have to wait for twenty minutes, if you type the wrong password three times. But if you had such an issue Pressidium support will reset the restriction upon ticket creation.
Disabled PhP Functions:  Pressidium have disabled certain PHP functions in order to protect from well-known attack methods used nowadays by most exploits/rootkits.
Click here to see which PhP functions are disabled by Pressidium
---
Managed (Responsible) Auto-Updates
While Pressidium platform manages rolling out any updates of the core WordPress software, prior to the update process, thorough tests are performed, making sure it wont break your blog. You know what I am talking about.. core updates and the white screen of death..
I called this "responsible" update because several checks are done prior to a core update.
2 Weeks Grace Period: All major releases are updated after 2 weeks, giving you sufficient time to test your blog. Security releases are done within 24 hours.
Let us see how Pressidiums's automated Core Update procedure runs.
Here are the steps involved for each blog upgrade:
Make sure that blog is working properly
Take instant backup of blog prior to upgrading
Upgrade blog's core files to the latest official stable release
After upgrade procedure, load blog and perform integrity checks. Proprietary tools like "white screen of death detection", are used for problem detection
If integrity tests are successful, then good.
Else if integrity tests fail, then a rollback is performed and the blog is brought back to the stage it was before prior to the upgrade process. Then a support ticket is created with error details so that Support team can handle the issue.
Note: You can exclude your blog from auto-updates and you can perform a manual update as well. This is done in the Admin Dashboard of your blog.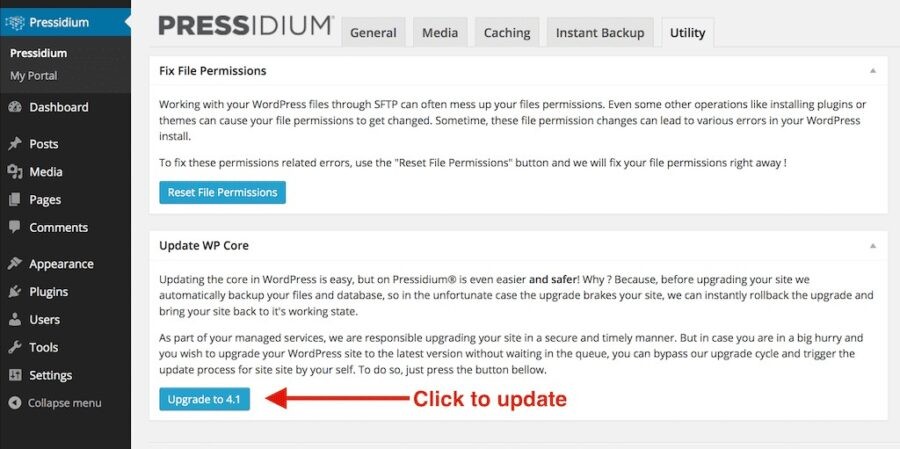 ---
Pressidium Portal (Control Panel)
Pressidium's control panel is custom built and this is where you create your blogs, do migrations(Free), setup staging areas, Billing, Support Area and so on. Once you complete signup, you can access this area. See screenshot below: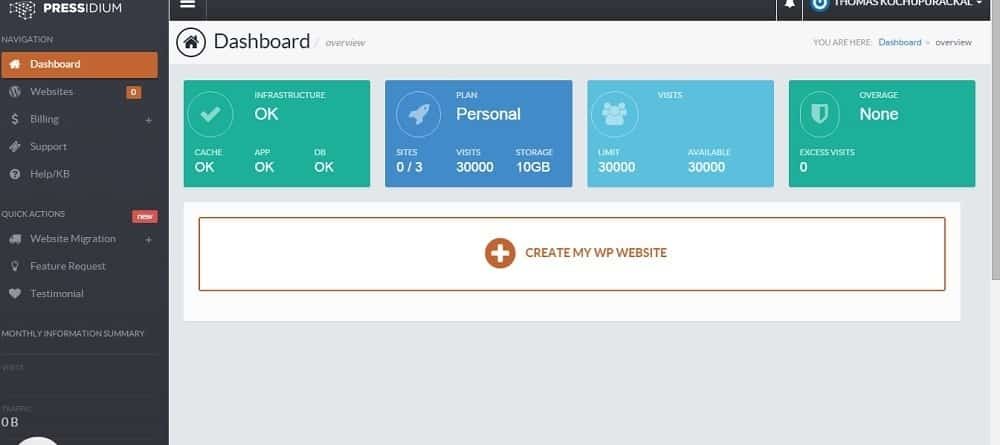 A close look at the menu bar:

Free Migrations:
Pressidium does free migration for you. All plans are eligible for free migrations.
Note: The number of migrations are limited and it depends on the plan you have signed up. For example: For my personal plan, max of 3 migrations are permitted, for a Professional plan – 10 migrations and for business plan – 25 migrations.
One good thing to note here is that, while performing the migration process, your website and blog is also fully optimized and any glitches or performance issues are fixed as well.
To start the migration process, create a support ticket and enter your existing Hosting Credentials, DNS Service  Credentials and domain details and they will do the rest.

DIY Migration: You also have a DIY option in the Dashboard. 5 steps are involved. For DIY, you are expected to use the Wordress Duplicator plugin
Full details of the migration process
Pressidium Plugin and other Pre-installed Plugins(must use plugins)
Every WordPress site created in Pressidium will have 3 must-use plugins that  comes pre-installed and you cannot remove it.
Limit Login Attempts This plugin blocks brute-force attacks. Discussed above.
Enforce Strong Password This plugin forces users to enter something strong when updating their passwords.
Pressidium Plugin 


This is a custom plugin from the Pressidium Team. You can access it from your WordPress Admin Dashboard on left side menu bar. It can be used for general settings or management of following five:
General: This is where you have your DNS as well as STP settings. Note: To setup your domain name, you need to setup a CNAME record with your DNS provider. See screenshot below.
Media: This is where you can enable or disable "Image Smacking". Details are already covered above. 
Instant Backups: You can take instant backups(or restores) here. Also site backups are taken by Pressidium on a daily basis. Also before you push your staging site to production, a backup is performed. Also prior to doing wordpress core updates, backups are performed(this is discussed later in this article).
Cache: Cache settings already discussed above.
Utility:  is used for setting File permissions. This will be helpful if you are using SFTP, which can often messup file permission and thus result in WordPress errors. Solution is to reset file permissions.  Utility section has  a "Reset File Permissions" button, which will fix any permission related error. 

Summary
To sum up, Pressidium, though a new player, is versatile and is a top choice for medium to high traffic wordpress blogs or ecommerce stores using WooCommerce.  Management team comprises of experienced professionals. And that combined with a solid support team, makes Pressidium more than promising.