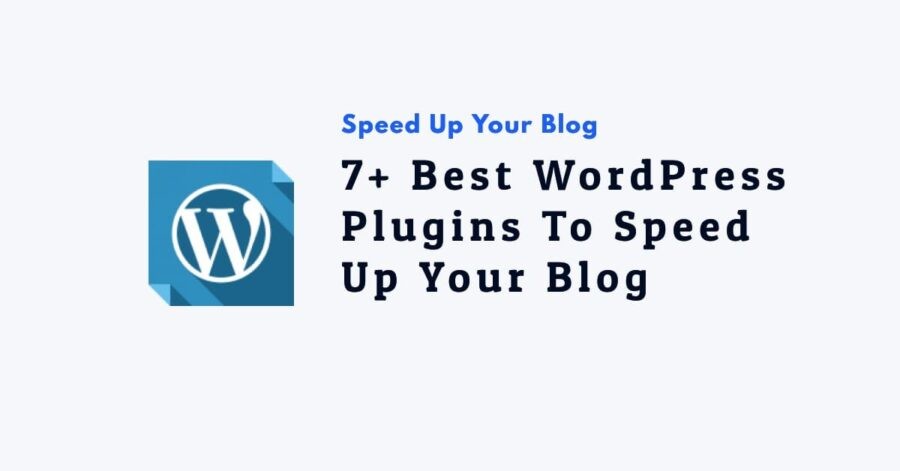 7+ Best WordPress Plugins To Speed Up Your Blog
Tweet This
One of the main reasons users leave a website is when pages take too long to load. When a website loads slowly, user experience is not the only thing that's affected. Like a domino, things will fall one by one, including SERPs rankings, site traffic, and ultimately, conversion rates.
For that reason, you must make sure that your website is optimized for speed and performance. WordPress plugins can help you with that.

Why Plugins to boost site speed?
A plugin is a kind of software that can be added to any WordPress website with the goal of adding new features or enhancing certain functionalities.
With the use of a plugin for speed, you can encourage your visitors to check out more pages on your website. And when your users stay longer on your site, you engage them better and you have a higher chance of converting prospects into actual customers.
Additionally, Google prioritizes faster websites and ranks them higher in their search results pages so you get more traffic.
Now that you know what plugins are and what they can do to help boost your website speed, here are some of the best plugins that you can try.
Here are 7+ Plugins to Boost Your Site Speed
1. WP Rocket
One of the best WordPress caching plugins that you can have right now is the WP Rocket. It is recommended for beginners who are still getting familiar with the technical terms that are used for caching options. It's also easy to use as with just one click, the plugin's crawler fetches the pages to build up the cache and turns on applicable caching settings, including cache pre-loading, page cache, and gzip compression.
It also comes with features that you can opt to turn on for enhanced performance. Some of these features include image lazy loading, DNS prefetching, CDN support, and others. It even allows you to host code for Google Analytics on your website. You might find that with WP Rocket, you could even uninstall a few other plugins that you have as it does their functions well, too.
2. WP Smush
Images play a big part in making a website more attractive and engaging. The problem is, images, especially those with higher resolutions (and have bigger file sizes) tend to make webpage loading slower. WP Smush is an excellent plugin that is known in the industry for its efficiency in compressing image size without affecting the quality. It originated from the Yahoo Smush.it service that deletes unnecessary bytes from image files to optimize them.
WP Smush can handle the most common image formats including GIF, JPEG, and PNG. What it does is strip any unused color from the images as well as the metadata from JPEG images and runs existing images through it.
WP Smush is compatible with other plugins and efficiently compresses all the images in the directory. It is also a great choice if you always add multiple images at a time as it can optimize up to 50 images in one go.
3. Gonzales
Gonzales is one of the premium WordPress plugins that are worth paying for. You see, the plugins that you add to your website come with their own files. These files also load each time you open your website and may contribute to the load time of your website. Now some of these files aren't needed for every page but they still load so they can slow down a page's loading time.
Gonzales works efficiently by removing any CSS and JavaScript files that it deems unnecessary so they won't load where they are not needed. This improves the speed of your website significantly.
4. WP-Optimize
id you know that every time you post something on your WordPress site, a revision for the same post is made? Imagine if you edit that post several times. There'll be multiple copies of the same post saved as revisions. On top of that, these posts could possibly get unapproved comments and even receive spam messages. All of these put together could lead to database inefficiency.
WP-Optimize is the plugin to get to fix this issue. It cleans up all the revisions as well as spam, unapproved comments, and any other unnecessary elements in your database to reduce bloat and make your website load faster. Additionally, this plugin offers other features including image compression and caching so it's actually considered a multipurpose plugin and one that every WordPress user must try.
5. W3 Total Cache
This plugin for improving speed is popular for a reason. It's a lot more than just an ordinary caching plugin as it offers an array of caching methods and options that you can use to optimize your website, like browser caching, object caching, database caching, limited minification support, and gzip compression, among others. And another good thing about it is that it's absolutely free to use.
The only caveat is that W3 Total Cache is a little intimidating and not exactly beginner-friendly. It's a little more complex than most to set up and to uninstall if needed. So this one is more appropriate for more advanced users. But with what it offers, it's definitely worth the try and if you're ready to do so, there are a lot of tutorials that will guide you on how to use it so you don't need to go about it blindly.
6. WP-DBManager
Database manager plugins like the WP-DBManager can significantly improve the speed of your WordPress website. This plugin is able to do it by optimizing the database. It is able to accomplish this by backing up the database, repairing what needs fixing, deleting what's unnecessary, restoring what's needed, empties tables, and more.
7. Perfmatters
As you probably know, WordPress enables some options that are not exactly necessary for your site, and unfortunately, those slow your website down. Those options are what Perfmatters deals with.
Also, Perfmatters disables HTTP requests that are not needed and that slow down your page loading time. The plugin also offers certain features like local Google Analytics script hosting, DNS prefetch, and preconnect, all of which help boost your website's performance.
Even if you already have a caching plugin installed, you might still want to add Perfmatters as they work with other caching plugins and the extra features they offer are great to have.
8. NitroPack
If you are looking for a plugin that works like a speed optimization in itself, then go for NitroPack because that is exactly what it is. This platform aims to make the process of enhancing your website's speed much simpler. In place of multiple plugins and the need to choose what to optimize manually, Nitropack does it all for you automatically.
All you need to do is to add your WordPress website and make sure you install the connector plugin. NitroPack will begin optimizing your website. It will perform different caching types, a global CDN, compression, image optimization, minification, and more. Note that it runs all these optimization processes by their servers so you won't have to use yours.
When Should You Use These WordPress Plugins?
It can't be denied that WordPress plugins bring to the table so many benefits. Perhaps that's why some forget that they may also be a weakness. How do you know that it's appropriate to use them, then?
Before you use one, ask yourself "Will this be able to address a specific problem or provide a function that I really need?" Don't use one just because others are using it or that you just want to have something new.
Now let's say you do have a need for a migration plugin or a plugin to speed up your loading time like the ones mentioned above. Then you have to make sure that you're choosing plugins that are from reputable sources to minimize the risk of you getting a bad one.
Check the safety of the plugin as well as the reliability of the developer who made it. Perform a thorough research to know more about it and its sources before you proceed. Some telltale signs that tell you you should not install the plugin are when:
There are not enough downloads
They're not compatible with WordPress' latest version
They're not getting enough or recent updates
They have low ratings
There's not enough documentation
There's no support
They're too bloated
They're not compatible with other plugins
The code appears suspicious
Final Thoughts
Speed is indeed an important factor that could greatly affect your website's performance. If you want to speed up loading time to get more traffic, engage your visitors, and ultimately boost conversion, plugins are a great way to make dramatic changes.
Make sure that you choose plugins that really meet your needs keeping in mind that when it comes to plugins, less is more. Anyway, with the right one, you won't have a need for many others, so choosing the best one for you is really a crucial step. This is especially important if you're starting or running an e-commerce website.
So which of these plugins do you think you'll use?