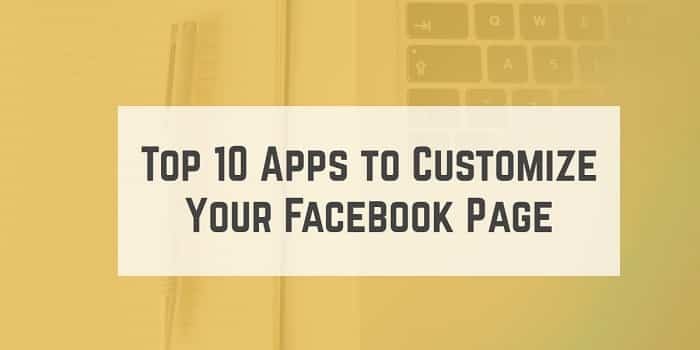 Top 10 Apps to Customize Your Facebook Page

Tweet This


Facebook has the most number of active users per day. With more than 800 million active users around the world, it is a great place to promote a product or service. This is why you need an active Facebook page to let your fans know about your brand and your business.

The biggest mistake brands commit when creating Facebook pages is using the default tabs and content. Their page look boring and they post nothing but self-promotions.

You can learn from these mistakes by starting at the appearance of your Facebook page. Do you know that there are Apps in Facebook that can customize your page? In this guide, I'll show you the best apps to use in your Facebook page and how to use it effectively.

Customize Tabs

TabMaker – TabMaker is a free tool to help in creating custom tags for your page. It is a What You See is What You Get (WYSIWYG) editor which makes it perfect even for non-tech savvy Facebook users. You can also add free or paid apps into your tabs.

Social Candy – Social Candy is your all-in-one tool to help create professional customized Facebook page even if you don't have technical skills. You can use Social Candy for free or take advantage of numerous features offered in paid subscriptions.

Video Players

Video Premiere – Video Premiere is a video app that focuses on showing the latest release of your video by displaying a large format of YouTube video in your page. Video Premiere also includes functional tools like a customizable header, sharing management, and on-page comments. Before you can start using Video Premier, you need to subscribe to North Social first and pay for the service starting at $19.99 per month.

YouTube Tab – YouTube tab lets you add a YouTube tab in your Facebook fan page with just a few clicks. It is a paid subscription app, but the good thing about it is that you'll only pay $10 per year. It is a very versatile tab because you can customize this app to suit your needs. It is one of the best video players in Facebook since it is known to be used by high-profile brands like DC Shoes, and Peugeot.

Blogs and RSS Feeds

Blog Tab – Blog Tab is a free app from the makers of YouTube Tab, TabFusion. It lets you include your favorite blog in your tab page by providing the XML or RSS feed.

RSS Graffiti – RSS Graffiti syndicates RSS feeds to your Facebook wall. It can support multiple feeds and multiple walls of your choosing.

ECommerce
Before, the only way to sell products in Facebook is redirect users to a different site to make purchases. It can be annoying and confusing to some customers. Now, you can have Ecommerce inside Facebook by just installing any of these apps:

BigCommerce SocialShop2 – BigCommerce Social Shop2 lets you sell products in a variety of social media platforms, not just Facebook. You can get a complete store in your Facebook fan page through a point-and-click installation. Banner display can be customized, and it also includes real-time product search, and complete orders and return all in your Facebook page.

Payvment – Payvment is an Ecommerce Facebook app which lets you start a Facebook store for free. The free version has the basic functions of a social Ecommerce platform like CSV catalog, social sharing, and setting up of featured items, automated inventory control, etc. Payvment has 2 paid plans which contains advanced features like automate promotions to your fans, and full analytics.