Are you struggling with content marketing? Here are some of the mostly used content marketing strategies that have gained popularity because readers love the outcome!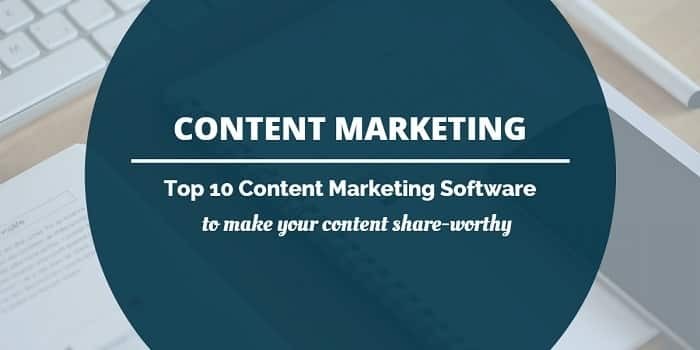 Top 10 Content Marketing Software to make your content share-worthy

Tweet This


When you post videos, share pictures, post a blog, or starting a webinar for the benefit of your product or service you are doing content marketing. Content marketing is a valuable tool. When people consume your marketing campaign, your website benefits from the exposure and traffic that it will have specially if the content is worth sharing.

There are many types of content marketing so we're not going to discuss it all. The idea of this post is to give you the highlights of what  content marketing is and what are the tools of the trade that are readily available online.

Here are some of the mostly used content marketing strategies that have gained popularity because readers love to see these:
Best Content Marketing Strategies
Videos Most get bored easily when reading articles and blog posts. A video post when creatively crafted will never be boring. Videos are largely untapped form of content marketing because people think that it is expensive due to the fact that professional video equipment are expensive. However, most videos that go viral are amateur videos.
E-Books The main benefits of this content marketing strategy is that you establish your reputation online. You want to be an industry leader and expert to whom your readers will trust you to solve their problems. When you publish an ebook to your readers, you have proved to them that you are an expert and this ebook solidifies your authority in the industry.
Infographics Infographics are long, vertical graphics that usually contain statistics, graphs, and other information. It simplifies a complicated subject matter by presenting it to readers into small chunks of information which is easier to read than a blog post or article.
Blog If your business website doesn't have a blog, then its time to create one. Blogging on a frequent basis is relatively easy and inexpensive but yields high results. Almost 80% of businesses that started blogging conclude that blogging helps in their marketing efforts and a is a useful asset to their online business.
Best Content Marketing Tools
In order to have an effective content marketing strategy, most of these strategies must be done on schedule and in a consistent basis or it won't work.
Managing your content assets are essential to the success of your content marketing program. The good news is that there are content marketing tools online that will help you with the planning phase.
All you have to do is plan your content strategy and these tools will help you implement them.
A content marketing software can help increase web traffic and engagement, help you better understand your prospects and customers, know what is working and what isn't, increase referrals and customer loyalty, and most of all increase sales and ROI.
Enough said….  Let us take a look at the top 10 content marketing tools available.
#1. GatherContent
GatherContent is a simple site mapping tool which makes it easy to organize content for your website. It features an easy to use drag and drop interface which lets you quickly organize and arrange your content with just a click of the mouse.
GatherContent is an in-the-cloud content collaboration tool which helps your content strategy all in one place rather than relying on multiple versions of the docs being passed back and forth.
Check out GatherContent.
#2. Compendium
Compendium lets you plan and organize all the content needed to maintain consistency in your brand. This content marketing tool makes it easy for you to create a content from both the inside and outside of your scope.
You can plan your content in a calendar-based setting, map your audiences, organize your content, schedule you messaging, and many more.
You can publish each of your campaign where your customers will surely be able to see and keep track of it with their built in reporting and tracking features that are displayed on the dashboard.
Visit Compendium.
#3. DivvyHQ
DivvyHQ simplifies the managing of your content by using a cloud-based application which helps minimize the headache in content marketing. This tool has a useful feature called Parking Lot where you can store all the ideas or anything you can think of, so you can return to it whenever you need a content.
This tool also allows you to have multiple calendars in which you can connect to give you a broad idea of what your content requires.
Visit DivvyHQ.
#4. Kapost
Kapost is a platform built specifically for content marketers. The tool lets you handle multiple contributors and has an online payment system. Kapost can help you with the distribution and analysis of your content.
Check out Kapost.
#5. WordPress Editorial Calendar
WordPress is filled with plugins that it has everything you need. So, if you need a content marketing tool for your WordPress blog or website, then just do a quick search for a content marketing plugin and you'll get what you're looking for.
For instance, a plugin called Editorial Calendar lets you set up all your posts in an easy-to-use calendar format. It's familiar calendar interface makes it easy for you to glance at your scheduled content and organize it by dragging and dropping your posts if you need to.
It's not as full featured as most content marketing tools out there, but if you are overwhelmed with these tools and just needs a simple one that works right out of the box to help you schedule and organize your content, then this is perfect.
Get WordPress.
#6. CoSchedule
CoShcedule is dubbed as "The Social Media Editorial Calendar for WordPress". This is another WordPress plugin that is easy to use, and comes with social media integration out of the box.
You can use CoScheule for collaboration, scheduling posts, and crating and scheduling social media posts. If you rely heavily on social media then this tool can help with that.
Get started for free! Visit CoSchedule.
#7.Strides
Strides is a content marketing software designed to support light project management. This tool lets you add deadlines, assign and upload files and has a calendar view so you can keep track of your content at a glance.
Visit Strides.
#8. Proofhub
Proofhub is a web-based project management software that lets you plan, organize and deliver your content marketing in one place. This tools allows you to create groups and divide it into separate groups or companies; thus, helps you in organizing which content to post and who or where will it be posted.
It syncs with your calendar software like Outlook, iCal and Google Calendar and allows you to share files similar to what Dropbox and Google Drive can do. What is great about Proofhub is that it automatically sends out email notifications whenever a change occurs in your project, a task milestone is completed, or anything worth your attention.
You can set these notifications on and off and choose only what you need to be notified for.
Visit ProofHub.
#9. BrightPod
BrightPod is a project management tool designed for managing your content. BrightPod is a cloud-based collaboration app, so there is nothing to download. All you need to do is signup, signin and then setup your project. You can make as many projects as you like and assign tasks to your team.
Brightpod also keeps track of the activities and comes with a calendar so you can schedule tasks with ease.
Visit BrightPod.
#10. DoBamBam
DoBamBam is an online project management tool that focuses on the features to simplify tasks to even the most complicated projects. This tool has everything you need in one integrated platform.
DoBamBam is known for its extensive customization options which lets you allow users to adjust the layout of their style of work or add features and functionalities to their workflow.
Visit DoBamBam.
So, what do you think? Please do share your comments, personal experiences with any of these tools and suggestions below. That will help other readers as well. Thanks