So whether you are just starting your business, have an established business already or is in an organization, you need to have the tools that will help you collaborate effectively.
Look:
If you are tired of email after email of tasks to your team that they forget once a new mail arrives, daily updates that your team seems to not following what you, spreadsheets, to-do's and calendar that seem pointless then these project management and collaboration tools is your all-in-one solution.
Let us take a look at these project management and collaboration tools.
Zoho
Zoho is cloud-based solution that is more than just a CRM. It offers a suite of online productivity and collaboration applications.
With Zoho, you can manage and track multiple projects at the same time, right in your web browser.
Create documents with Zoho Office. Setup meetings and have secure group chats and discussions in real time and view projects in one page.
What's great about Zoho is that it integrates with Google Drive which means that you can share and collaborate documents, view projects, plan projects and generate reports – all in one place.
Here's the kicker:
Zoho is free for up to 10 users. It has all the basic tools for creating and setting up projects to a small team. For more features like sales forecasting, mass email, product customization, etc. Zoho's paid subscription starts at $12 per user per month.
Trello
Trello is an online project collaboration system that uses a card-based system for keeping things as simple and as easy as possible. It organizes your projects into cards and boards and in one glance,
Trello tells you what has been worked on, who is working with it and where something is in the process.
Trello is simple and easy to use. It's intuitive flow makes it easy for anyone to grasp this tool immediately. The way it allows to collaborate across teams makes it easy for everyone to be on the same page at the same time.
And:
Trello is free and comes with all the basic features you need for project management and team collaboration. If you need app integration, team overview and improved security, Trello offers a monthly package for $8.33 per user per month.
Productive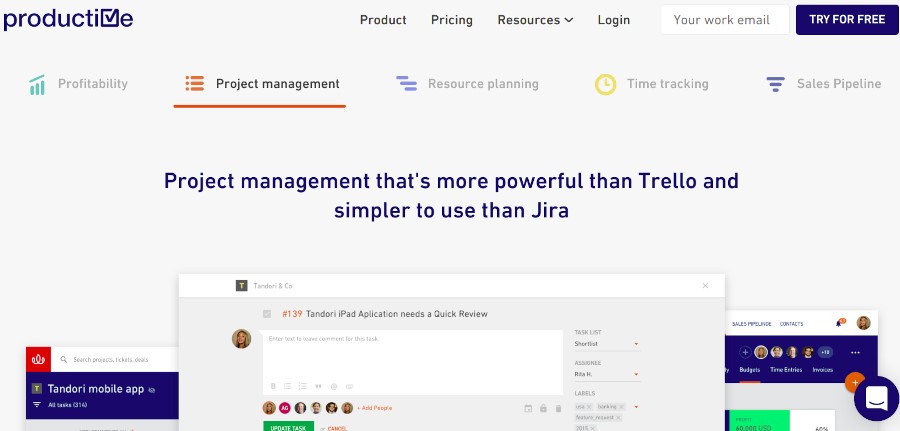 Productive is an online project management tool that helps you streamline your project management workflow by setting up and delivering each billable and non-billable service.
With Productive you can collaborate with teammates on tasks in real time, customize each project, and invite clients aboard to save time on getting feedback.
Streamlining your project management workflow in Productive helps you centralize project communications and get quicker project delivery through project templates.
You can visualize progress and project data with custom fields. Productive helps you get faster feedback both from clients and stakeholders.
Productive starts from $12.5 per user per month, you get access to the sales pipeline, resource planning, budgeting, time tracking, project management, and invoicing features. Integrate with accounting tools QuickBooks, Xero, and Exact. Access basic reporting and client access.
Apart from the Standard pricing, you can access two other pricing packages – Premium and Enterprise, for teams in need of extra customization for their workflows.
ActiveCollab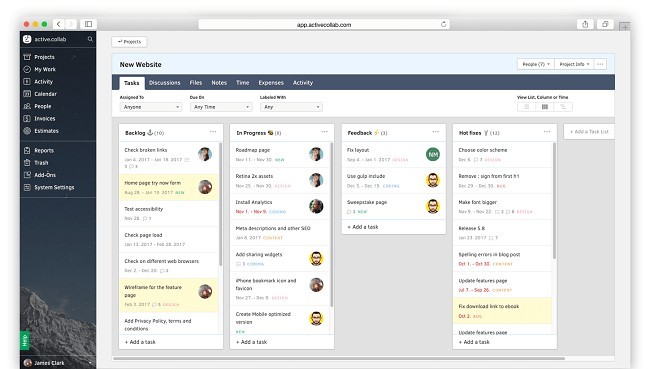 ActiveCollab is a simple and yet powerful marketing project management software that helps your team stay organized and produce best possible results within desired budget and timelines.
Besides features like time-tracking and task management, it allows your team to give their feedback directly on their tasks and collaborate with ease.
With ActiveCollab you can easily delegate your tasks to the rest of the team and help your team stay on the track by having a clear overview of every single step they make during the project development
But wait – there's more..
Also, it enables you to involve your client into the project, provide him with an insight into all the stages of the project and let him invoice once the project is completed.
VivifyScrum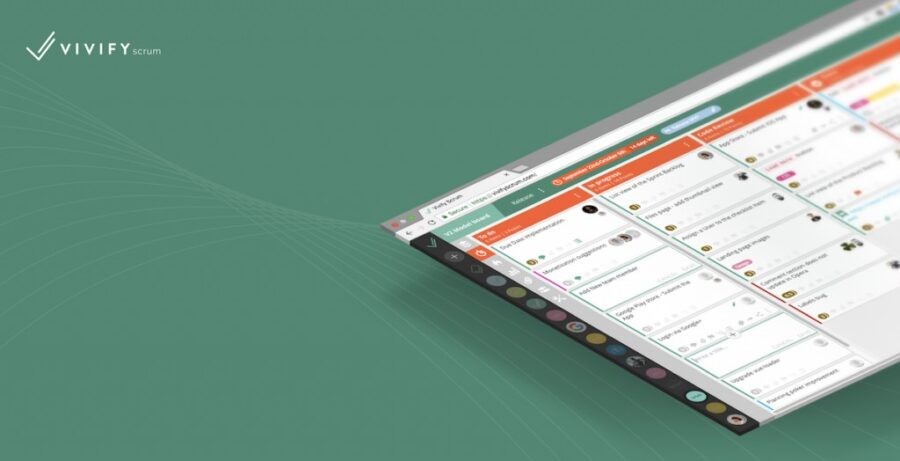 VivifyScrum is a project management tool for agile teams that use Scrum and/or Kanban.
It first came out 2014 and in 2017, it underwent a major overhaul, adding a number functionalities and features.
In VivifyScrum, users create Scrum boards or Kanban boards that feature customizable columns, helping visualize the flow of work from an idea to a completed task.
Board owners create customizable boards and invite their team members to collaborate on tasks that are presented by cards. The tasks are also fully customizable and provide a number of ways in which they can be defined, valued and monitored.
The tasks are then moved across the columns until they are completed. They can also feature subitems, allowing for more complex work to be performed with clear structuring.
Boards can be customized even further, for example, by indicating the Workdays various team members will work, thus allowing for more precise and insightful statistics.
Board owners can also make Item Progress Bars visible on individual tasks, gaining additional insight into how individual tasks are being handled.
VivifyScrum also allows Scrum teams to schedule events such as Daily Scrum, Sprint Review and Sprint Retrospective.
In addition to enabling and supporting team collaboration, VivifyScrum also provides analytics for teams and project managers, giving insight into task completion statistics, current and historic performance of entire teams and individual team members. VivifyScrum also boasts the Planning Poker feature used by teams for task estimation.
VivifyScrum integrates with a number of outside resources and software solutions, such as GitHub, GitLab, BitBucket and Slack.
VivifyScrum is available as a web application and as a downloadable app for Windows, Linux, MacOS and iOS. VivifyScrum's Free Plan allows for an unlimited number of boards, items and users, providing all the basic functionalities.
Premium Plan introduces some advanced features and it is priced at $8 per user per month.
Yammer
Yammer is a social network for businesses made by Microsoft.
It gives you a platform for you to communicate with your colleagues and collaborate projects with them. Since it works as a Social Network like Facebook, employees would simply have to enter their email address to use it.
Yammer can be used in your web or mobile browser to chat and share documents to one another.
Yammer's pricing model starts at $3 per month per user. If you need more features Yammer comes with Office 365 for Business and starts at $5 per user per month.
Mintent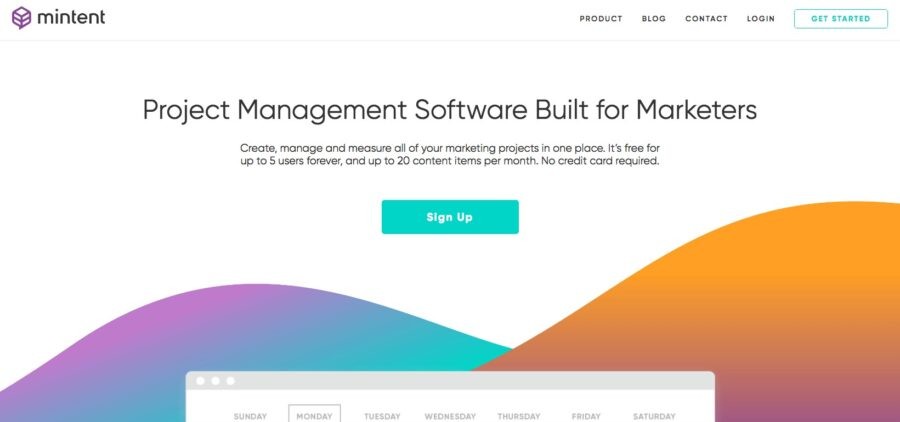 Mintent is a content creation and project management platform designed specifically for marketers. The platform helps businesses deliver content for different areas of their buyer cycle. It was created to limit mass spreadsheets, lost files and large email chains in the content creation process.
Creative users get a more structured approach to projects by accessing briefs, buyer cycle info and overall themes to make content product easier. Other features from Mintent include custom workflows for easier assignment and an editorial content calendar that gives an overview of everything being worked on or published.
With their recent acquisition of gShift, they have added new analytics features. These features include trackable links, which provide real time content engagement and analytics for both on and off-line content, and an SEO platform. Using the SEO platform, customers are able to track keyword and content-level metrics for brands and their competitors across all devices and locations.
The best part is that it's free to use for teams that have 5 users or less. They also have enterprise pricing for larger teams.
GoVisually
GoVisually is a design collaboration tool made for the creatives.
The software was built with the teams in mind which aims to make reviewing and sharing concepts as simple yet highly effective.
GoVisually allows for instant collaboration. You can manage multiple revisions, track comments and use annotation tools to mark the changes required.
But wait – there's more..
GoVisually uses a drag and drop interface and has a threaded conversation feature. Anyone can start with GoVisually and everyone can join and contribute with the project.
GoVisually starts at $15 per month. With this, you can manage up to 20 projects with unlimited number of collaborators and designs.
If you need more than that, GoVisually has can get you up to unlimited projects for $150 per month.
ConceptBoard
Conceptboard is like your online whiteboard.
You can start a session right away then invite others to collaborate on your project. This tool also allows you to use audio and video collaboration similar to Google Hangouts and interact at a more personal level.
These sessions can also be shared in social media sites like Facebook, Google+ and Twitter.
ConceptBoard comes complete with live location option so you can know where all your members are located on the board and what part they are in.
This tool works with collaborating with MS Word files, PDF files, photos, etc. It can also integrate with Google Drive.
Conceptboard is available in Cloud and On-Premise version. Plans start from $28.50 per month starting with 3 users. Additional users cost $9.50 per month.
Nifty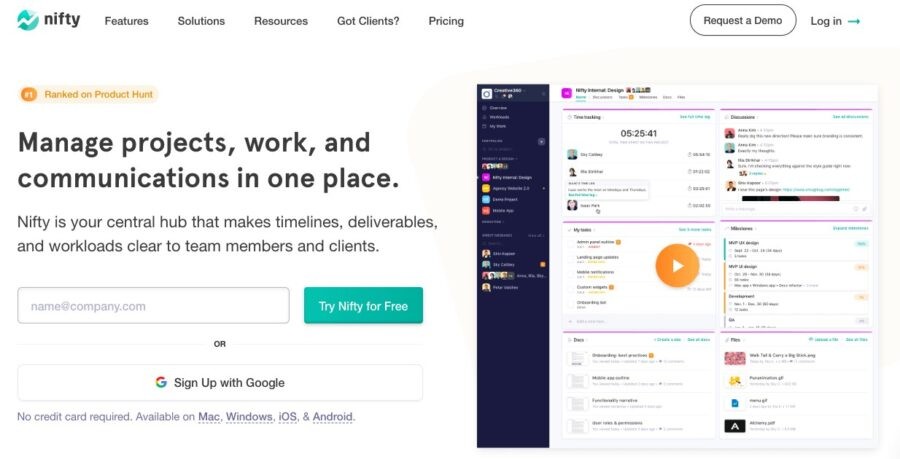 Nifty takes project planning, tracking, and communication and puts it all in one tab. It optimizes your workflow by allowing you to keep a close eye on all of your projects and team workloads. By combining project management and team communication, you save yourself and your team valuable time, otherwise spent communicating via several different channels.
Key features are automated project status reporting based on task completion, built-in time tracker, in-tool team chat and Zoom integration for video calls within the tool itself. Besides that, you can choose between a Kanban Board and Task List view for your tasks, discuss projects within the tasks and share files.
Another nifty feature is the possibility to include your clients in project workflows, to ease the communication between them and the rest of your team.
Nifty is free for teams up to ten people and offers Pro ($99), Business ($149) and Enterprise (custom quote) solutions. If you buy a yearly plan, you get two months for free.
Google Apps
If you've been using Google services like Google Drive and Gmail, then you've been using a few of the many collaboration tool that is available in Google.
Google Apps is an online productivity tool that offers an inexpensive method to collaborate on projects. You can create documents and store it in Drive, the invite people to collaborate in it.
You can schedule projects and attach time-sensitive files and get reminders in Calendar. Then with hangouts, you can setup a video conference on demand.
Although these are available for free, a full featured suite made for businesses and project collaboration is highly recommended. Google Apps is available for as low as $5 per user per month or $50 per user per year.
Week Plan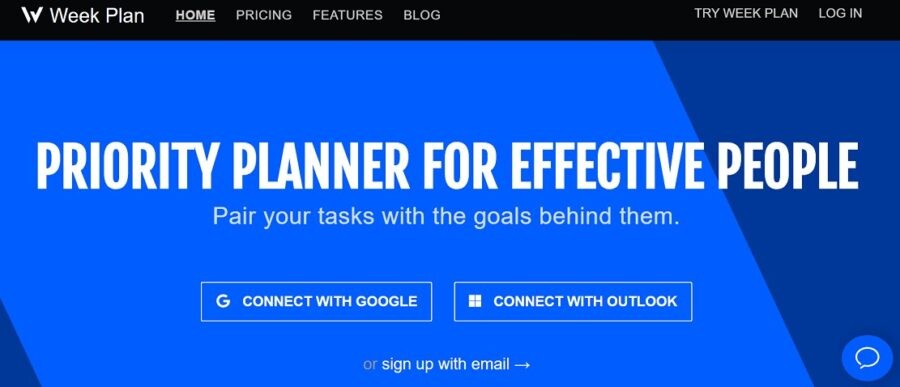 Week Plan is an effective and productive online tool that organizes your project goals and tasks so that you can get more done at the end of the week. It arranges your tasks in accordance with the roles, significance, and urgency to ensure that you keep an eye on your high priority tasks and get your weekly goals effectively.
After setting the roles and goals, you can easily manage your tasks all over the week based on these jobs. The Pomodoro technique of this app lets you estimate the time a task would take to finish and the 25-minute sprints force you to keep alert before the timer hits 0.
Week Plan gives you the option to switch between a Day/Quadrant planner and a Monthly Planner. In the Monthly planner, you can see the tasks and goals for a specific month whereas, in the Quadrant view, you can arrange your goals based on the four quadrants of priority and urgency.
Cogitorama is also a unique feature of this tool by which you can easily write down keywords that illustrate your thoughts and reflections. This tool also has a detailed analytics as well by which you can track the progress of all your projects.
Teambox (RedBooth)
Teambox (RedBooth) is a place for your shared tasks, discussions and files.
This online tool lets you easily organize your teams and projects and see the progress and milestones in the workload view, milestone calendar and streamlined charting.
Teambox is a useful project management tool that is well suited for small and medium-sized businesses that want to handle projects without that steep learning curve that most apps have.
The site includes the tools needed for project management and communicating with your time. It can also track people's time, share documents, etc.
What is very useful in this software is the ability to invite people and set permissions and roles to them. For example, you can set some people to only view the document but not edit it and other people to edit that document.
Teambox can be used for multiple projects. The free version allows you to manage up to 3 projects with 50MB storage for files. Paid version lets you mange up to 100 projects and 50GB for as low as $12 per month.
ProjectTurf
ProjectTurf is an online project management and collaboration tool that helps businesses and individuals manage projects, people and tasks.
It can tackle any type of projects from your personal project to projects fit for an entire organization.
Once the project is created, you can add team members and have them access it using just the browser.
Within the project, you and your team members can create and manage tasks, add events in the calendar, set up discussions, upload and store documents, check the history and progress of the project and generate reports.
ProjectTurf stores all your projects in one place. This is perfect for managing projects regardless of team size. It's organized, always accessible, secured, and always backed up.
It gets better..
What is great about ProjectTurf is that you can create your own custom URL, change the colors, and modify the app to suit your needs.
ProjectTurf isn't free, but pricing depends on your usage. The minimum is 20 projects for 39.99 per month up to 100 projects at $199 per month.
Huddle
Huddle is a cloud-based online collaboration tool trusted by 90,000 business and organizations in more than 180 countries.
Unlike other project management and collaboration tools, Huddle does less and aspire us to do less. The interface is clean and is highly modular yet very easy to use.
The dashboard shows a quick glance of everything you need to know like your tasks, files you are working on, calendar, notifications, files waiting for approval, etc.
You have the option to arrange, collapse or remove these modules. Most of Huddle's features are self-explanatory. This means that you can start "huddling" almost immediately.
Huddle also has superb file management that you won't see in other tools.
In addition to supporting folders and sub folders, you also have the option to add comments and notifications or even request for user-specific approvals.
Huddle starts at $20 per user per month for up to 25 users and $40 per user per month for up to 100 users. If you need more, call Huddle to discuss your needs with them.
---
Here's a nice Presentation that summarizes the above:

Conclusion
Not all tools are the same, so these 10 will give you a diverse selection of project management and collaboration tools.
If you are new to this and would give these tools a try, we suggest to opt-in for free services first like Trello and Zoho.
Otherwise, any of these tools can work your way to a better project management and team collaboration.