Plenty of  SEO tools exist in the market, most of them are too expensive for what they offer, and some are just too cheap that it is almost useless.
So if you are a small business owner looking to improve your site visibility or an advanced SEO geek, these tools would be a great help.
Take note that some of these tools that are mentioned below  also come with free versions that work just fine but if you want to go for better functionality, don't hesitate to get the paid version.
KWFinder
Keyword Research is paramount for SEO success.  You should know exactly what keywords you should be targeting. You should also be aware of  how relevant keywords are in today's market.
KWFinder is an easy to use, very user friendly keyword research tool that helps you with:
Find long tail keywords that are easy to rank
SEO competitiveness of keyword:  A score , anywhere from 0 to 100, this gives you a measure of how easy, difficult or hard it is to get into top search result positions.
Keyword Trends
PPC Cost for each keyord
Average global search volume per month
Mobile Friendly
Get Instant Access to KWFinder Tool
Moz
Moz is one of my favorite since Moz is where I started learning SEO. Moz is also one of the most reputed SEO in the market, and it is without a doubt that the quality of their product.
Moz contains a complete suite of tools on an easy to use platform. These tools allow to track your site's traffic, check and compare backlinks to multiple URLs, perform keyword analysis, check your rank against your competitors, and other useful tools.
Free Tools include:
GetListed – claim your local US business on Google+,Bing,Yelp, and other local search engines.
OpenSite Explorer – research and compare backlinks with your competitors.
FollowerWonk – twitter metrics and analytics.
MozBar – SEO Toolbar to view metrics, analyze page elements, SERP results and a quick access to your favorite SEO tools.
One notable tool with Moz is Fresh Web Explorer. This tool crawls the feed across the web for brand mentions. If a certain brand is mention in the forums, news site, or blog, you will be provided with the link. With this tool you can track your brand or your competitors and check how popular you or your competitors are.
Start your free 30 day trial of moz
SEMRush
SEMRush is a tool that focuses primarily on search engine marketing and that includes SEO. SEMRush is a rank type SEO which tracks keywords and ranking within search engines giving webmasters information about your targeted keywords. This tool gives webmasters enough guidelines to optimize their current site or choose keywords assigned for their sites.
Organic Research – lets you see your competitor's organic positions.
Advertising Research – see your competitor's ad's texts.
Keywords Research – find long tail keywords in just a few clicks
Charts – competitor metrics are evaluated in a visual sense which can reveal information at a glance.
Ahrefs
Ahrefs is a link research tool that uses their own bot and their own index that gets updated every 30 minutes. It is a suite of tools that contains the largest index of live links. Ahrefs contains a ranking database of about 45 million keywords from 9 countries. Tools included in the membership are:
Site Explorer – site explorer gives you an overview of a domain. You can find technical information and social media information as well.
Backlinks report – Ahrefs backlinks report is displayed in a graphics-heavy, and easy to understand view. You can view what ranks and what doesn't at a glance.
SERP Analysis
and other SEO tools.
Ahrefs is mostly known for Site Explorer. Site Explorer is a backlink checker that is similar to SEOMoz's Open Site Explorer. The tool update its live links for every 15 minutes.
WhiteSpark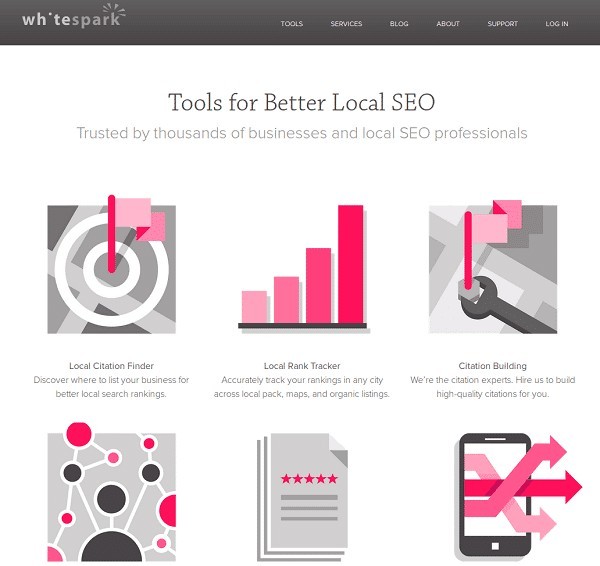 WhiteSpark is a Canadian SEO company that offers tools like Link Prospector, Offline Conversion Tracker, Rank Tracker, Local Citation Finder, and Review Handout.
What is notable about this SEO company is the tool called Local Citation Finder. What this tool does is it targets local SEO, a feature that you won't find in most SEO in the market. Local Citation Finder will let you discover citation sources for a particular keyword in a city you selected. With this information, you can easily develop citations for your clients on the sites that are most relevant and most authorative. Therefore, you won't just rely on blind guess, but a targeted and more accurate SEO based on your location.
Learn why WhiteSpark is trusted by thousands of businesses and local SEO professionals. Visit WhiteSpark
WordTracker
WordTracker is a popular keyword research tool and a great alternative to Google Keywords Tool. The tool can draw data to over 160 million keyword in addition to about 90 million keywords that are powered by SEMRush.
WordTracker can provide you with about 1000 keywords and it also shows how you are competing for each keyword and what the keyword's value is.
WordTracker also released a Link Builder tool. This tool can find the link for the best prospects based on its authority and relevance. It also lets you see who is linking to your page and to your competitors web page. Also, this tool can automatically remove links that don't help your site like no-follow links, redirects, image links, so you won't waste your time on those.
Raven Tools
Raven Tools has more than 30 tools that can help you with any SEO help you need. This includes link building, competitor analysis, backlink reporting, seo research, campaign management, metrics, and many more.
A complete suite of Raven Tools offer:
SEO Software – Raven collects, organizes, and automates SEO from data collecting, contacts, to reports.
Social Media Management – manage multiple accounts, monitor brand terms, and report the business result of your competitors work.
Content Marketing – Organize your content marketing in one place from hiring freelancers, share content and links, to publishing a post in WordPress, and tracking links.
PPC Management – troubleshoot problem areas and gives you a place to manage and report your AdWords campaigns.
What Raven Tools do is it draws data from various sources like Google Webmaster Tools, Adwords, SEOMoz, Majestic SEO, etc. to provide you with a detailed report.
Take a free 30-day trial of RavenTools
Majestic SEO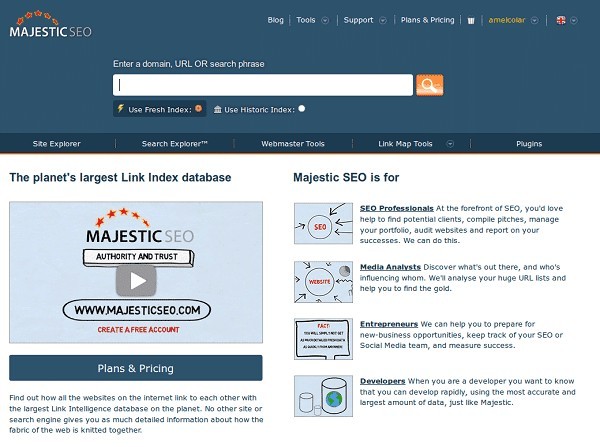 Majectic SEO is popular for its backlink checker and site explorer. There are 4 ways you can access their services. One is the free version, which is only limited to a few tools and some restrictions. Others are silver, gold, and platinum which has more tools and features as the membership level increases.
SiteExplorer lets you explore a domain in detail. Silver, Gold, and Platinum users can gain full access to this tool.
Backlink History Checker determines the number of backlinks detected by Majestic SEO. Registered users can compare up to 5 domains at once.
Link Map Reports helps you create advanced and standard reports for the domains you own. This is a free tool but you need to be a registered user first to gain access to it.
However, whatever membership level you pick, you will have access to detailed reports about your site's keywords, citation flow, backlink history, anchor text, and you can even compare backlinks of your competitors.
Majestic SEO also has its own Webmaster tools that you can link with your Google Webmaster Tools account.
SEO PowerSuite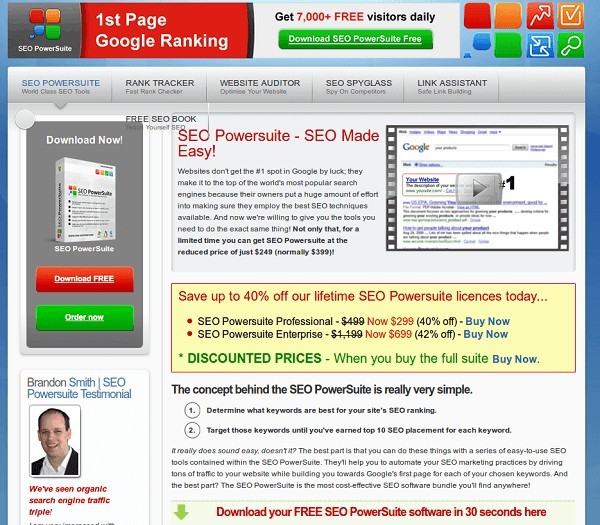 If precision is what you want, SEO PowerSuite can give you that. SEO PowerSuite is developed by Link-Assistant that offer a wide range of SEO products and website promotion services. The suite also include SEO consulting.
The best features of SEO PowerSuite are:
Competitor Analysis
Keyword Research and Analysis
Ability to promote your website to more than 610 local and international search engines.
Create and print all kind of SEO reports, publish it online, or send it through email.
There are three editions available for SEO PowerSuite. Free edition has most of the basic tools you'll need to determine if this tool fits your site. The Pro edition is perfect for start ups and the Enterprise offers a complete set of tools to manage your site.
BuzzStream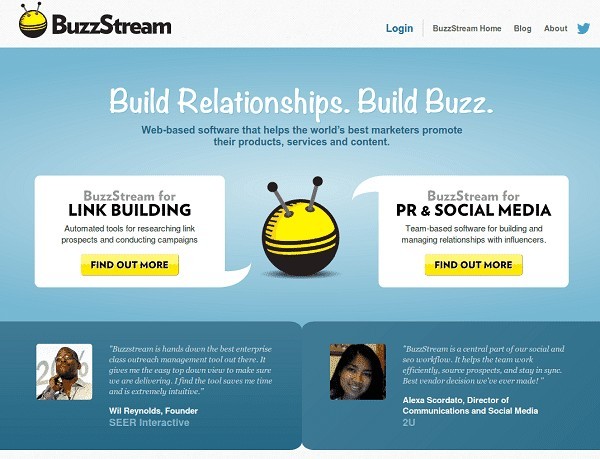 BuzzStream is a great link building tool, social media management and CRM. With BuzzStream, you can do the following:
Search pages for contact information, segment contacts into mailing lists, track social media progress and conversations, collect metrics, and many more.
There are two ways you can use BuzzStream:
Link Building – BuzzStream has automated tools for researching prospects and conducting campaigns.
PR and Social Media – This is a team-based software to aide in managing relationships with influencers.
Advanced Web Ranking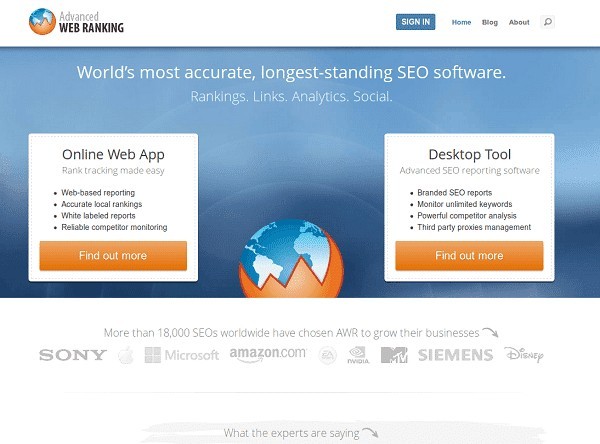 Advanced Web Ranking has one of the most advanced SEO tools you can find. Compared to other SEO tools I mentioned, Advanced Web Ranking is considered as one of the dark horse. It has been quietly praised by SEO professionals and the SEO community. It has robust features that you won't find elsewhere but in Advanced Web Ranking.
You can use Advanced Web Ranking online or in your desktop. The online web app helps you track your progress even when you are on-the-go. It offers web-based reporting, local rankings, white labeled reports and competitor monitoring. The desktop tool is an advanced SEO software that can monitor unlimited keywords, has an advanced competitor analysis, branded SEO reports, and third-party proxies management.
What is best about this tools is that:
It offers the best link building and management elements.
Has keyword analysis and integration
Performance reporting with automated reporting
Competitor analysis
Summary:
So, there you go. These are some of the best SEO tools in the market that you'll find and can fit most of your SEO needs. Although, most are a bit pricey specially for beginners, these tools are worth what you pay for and will give you deliverable results. If unsure, you can always try their free version before paying for any of their services.
Editor's Choice: We lean towards SEMRush, for it's balanced set of tools that covers SEO, Social media, PPC and content marketing.