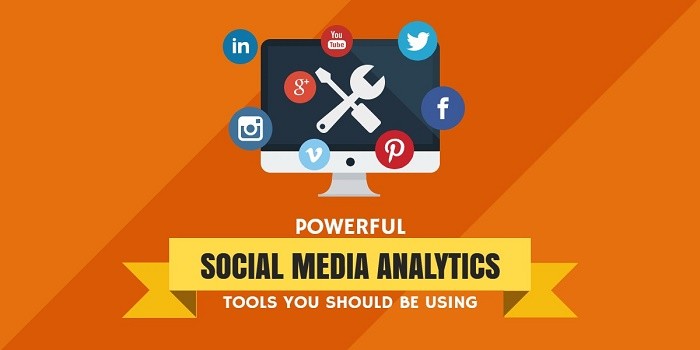 Best Social Media Analytics Tools you ought to know
Tweet This
According to a report by Hubspot, 92% of marketers claim that social media marketing has been an important part of their business and 80% claimed that their efforts increased traffic to their websites.
Some of you might have started social media marketing already, that's great.
But how do you know if you are doing the right campaign for your social media efforts? Where do you find out your social media stats for marketing?
Although you can visually gauge your efforts, there are tools to help you analyze your social media efforts.
These social media analytics tools allow you to learn more about your customers, have a better targeted marketing efforts, enhance your products and services and many other benefits that won't be achieved without the use of these tools.
---
Hootsuite is one of the many tools referred to as a Social Media Management System.
What makes it popular is the way this social analytics platform integrates your social media platforms under one online dashboard.
So every social media you have including Facebook, Twitter, Google+ and LinkedIn are all in one easy-to-glance dashboard.
Hootsuite lets you share posts in these social media under one site. It also lets you schedule your posts and manage our social media content.
Hootsuite also digs into what the social media activity means thanks to its set of analytics tools.
Another great feature about Hootsuite is that you'll be able to have a team that will manage your social media platforms for you, get reports via email and the you can run Hootsuite on your phone or tablet.
Hootsuite can be tried for free but with limited features; however, if you have a social media empire and wants to take social media management to the next level, then it is recommended to opt-in for the subscription option.
---
Brandwatch is ideal for small businesses and corporations that have an international reach. Like most social analytics tools, Brandwatch monitors conversations across social media networks.
What is great about Brandwatch is that their algorithms cut through social spam and find conversations that really matter.
Hootsuite partners with Brandwatch so expect a better social media analytics through this partnership.
---
For those who like to share Twitter posts a lot, there is Buffer. Buffer allows you to schedule your tweets and retweets throughout the day.
It can not just schedule your tweets and retweets, but other people's tweets as well.
Buffer also includes analytics tool that is included in all of Buffer packages.
With the analytics tools, you can analyze a specific data range, compare custom sets, and get the detailed analytics and export the data.
---
SproutSocial manages your social media accounts from one dashboard. This enables you to switch to schedule tweets and Facebook posts and keep your social media status on top.
As with SproutSocial social media analytics, they have plent y of reports that makes it appealing for anyone to your business.
SproutSocial is a great product designed for small business owners. The reports are easy to understand and you can compare your site with the competitors.
The comparisons will show the number of daily mentions, engagements, and you'll see who's talking to them and find out if you are following them or not.
---
Google Analytics is far from most premium social media analytics, but it is free so why not try it?
As a matter of fact last year, Google has added social reports to analytics in which you can use to determine the conversion value of your visitors from social media sites.
Google analytics also has an activity stream that lets you show how people are talking about your site in social networks.
While it can't publish post, schedule posts, or check for mentions Google Analytics is the best way to go if you are unsure of what to use in your social media campaigns.
---
Moz Analytics is a dashboard-type analytics software that lets you view your social status alongside your other marketing efforts.
The software also lets you show how your social media standing affects for SEO (Search Engine Optimization) efforts.
If you feel that Google Analytics is lacking features for your social marketing efforts, then this should be your next stop.
---

Klout works iwth your profiles across major social media channels and puts a score from 0 to 100 to determine your influence in social media.
One interesting aspect of this score is how the contributions break down to access to your connected networks.
With this feature, you can easily see which social network has a bigger impact on your brand and product, then focus your attention from there.
---
Want to know your social media score? HowSociable can do that. HowSociable gives you a simple way to measure your brand's impact on social media.
The company's magnitude score gives you an indication of the level of activity around the brand during the given week.
A score in 0 means there is 0 activity and 10 means the brand is frequently mentioned in social media platforms.
---
TweetReach gives you a snapshot of the analytics based on your search.
This includes charts and graphs for reach, activity, exposure, and contributors.
TweetReach is useful for websites who use Twitter to reach to people. Simply type in any keyword or hashtag and TweetReach will give you a report.
---
Social Bakers has the ability to track not just the performance of your own brand or content, but also competitors in any other public social programs.
With this feature, you gain a better understanding of what content platforms work well in your industry and better form a strategy that works best.
It has the ability to keep up to date with page performance in an intuitive dashboard.
---
Social Media Analytics on Social Media Sites
Did you know that there are inbuilt social media analytics on your social media sites.
These social media analytics only analyses their platform and nothing else, so if you use Facebook a lot, then this might be your better option than relying on third-party social media analytics.
Facebook Insights
Facebook Insights is available when you set up a page in Facebook. Facebook Insights show you the full stats behind your posts, fans, and our reach.
You can set up pages to watch, schedule posts, and gives you the information on the performance of other Facebook pages.
Twitter Analytics
Twitter has its own social media analytics which provides you with insights on how your tweets have performed over a 28-day period. One of the most useful feature is how you can see the impressions of each tweet and the ability to export tall the data and develop your own report.
Google+ Insights
Google Insights gives you a simple information and analysis of your Google+ page.
The insights show the engagement, visibility, and audience overviews.
While there isn't much anything in it that lets you dig deeper into these stats, it still a great way to see your Google+ status from these snapshots.
Pinterest
From the Pinterest Analytics dashboard, you can see the insights to the different aspects of your Pinterest marketing.
This dashboard shows your growth, your impressions, audience stats, followers, and website engagement.
It also provides you with reports on how your pins influence your followers and what pins have the most impressions.
---
Conclusion
Social media is great for brand awareness, but if you don't know what you are doing you'll end up pushing the right campaign to the wrong person.
This is where social media analytics can help. Now, you won't be pushing your campaigns blindly and will be more targeted to the right prospects and customers.
With social media, you reduce your overall marketing costs as it doesn't cost you anything to tweet a message or update your Facebook status.
When you frequently post updates or tweets, it impacts your search engine results and helps in gaining a lot of interest from your target customers.
And the fact that you can connect with your customers easily means that you can also connect to other businesses and entrepreneurs; thus broaden your scope and reach in the world wide web.
Also, combining social media and SEO gives you a better boost to your search engine campaigns and help you get noticed faster.
The true advantage of social media is the ability to get a leg-up on competition by connecting with your prospects in an organic way across the web.
If used correctly, Social media can help boost your SEO rankings, give a better customer service experience, and gives you better exposure compared to those who haven't tapped into social media yet.
Have you used any of these tools?
If yes, please leave us a comment on what you think about these tools and how it has helped you in your social media campaigns.