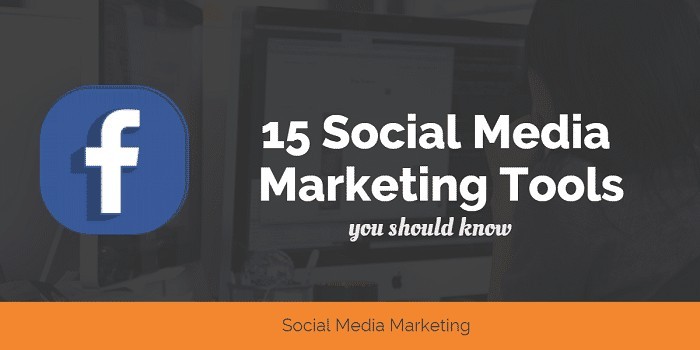 15 Must Have Social Media Marketing Tools

Tweet This


Are you looking for ways to enhance your social media marketing? Look no further. Here I have the top 15 social marketing tools for your business. It simplifies most social media tasks that it why it has been used by the top social media marketers today.
PostPlanner
This is my #1 recommendation. PostPlanner is a content management tool that runs its application within Facebook. Using Postplanner, you are able to schedule content, and do other stuffs like sourcing and adding content to your queue for later posting. PostPlanner also provides analytics so you can see what the campaign is working and what isn't. Worth every penny spent. Period.
Pocket
The biggest problem in social media is how you can curate and create content. Pocket, lets you consume and save a variety of articles which you can later post in social media sites like Facebook and Twitter or review it at a later time.Pocket integrates to more than 500 apps like Feedly, Tweetbot, Facebook, Paper, etc.
Swayy
Swayy is a platform to discover and curate new content online. Its a platform that drops interesting content to your dashboard where you can scan and read interesting articles. With the click of a button, you can share items across multiple platforms and you can also schedule your sharing in advance.
Tagboard
Tagboard is a way you can monitor hashtags or keywords across various social media channels. You can monitor specific hashtags or keywords on Facebook, Twitter, Vine, Google+, Instagram, etc.
This platform pulls in content from all these sites basing on your specified tags, then create a custom board filled with web content. Tagboard is useful for brand monitoring and for finding a content around a certain topic.
SocialBakers
SociaBakers lets you see how you're performing against your competitors and learn which campaign, content, and influencers are driving the most effective conversations.
Socialbakers has a tool called Analytics Pro. This tool provides an in depth understanding of your competitors, particularly in social media sites like Twitter and Facebook. They can also monitor your campaigns in YouTube if you have a YouTube account.
Mention
Mention was developed as a user-friendly replacement for Google Alerts. Mention captures more mentions online than any other social media platform we've used. Mention has several things that are set up – laid out in an easy-to-use dashboard.
Mention is notable for these features: Simple controls to turn specific sources off, but can still monitor spam folder in case you miss something. Default email alerts that get you straight to the source rather than forcing an extra step in taking you to the platform.
Compfight
Compfight is a great way to engage people in your blog and draw them to it. It can grab an attention to your readers, especially when they share your blog post to social media channels like Twitter and Facebook.
Compfight is your all in one tool when looking for images to add to your post. This tool looks for Flickr photos that have the appropriate creative commons license for commercial use.
ShareRoot
ShareRoot is an all-in-one solution for Pinterest. ShareRoot has a suite of tools you can use to manage your Pinterest engagement and product sales.
With ShareRoot, you can schedule pins, cross-promote pins, create a new board, and add a Pinterest tab for Facebook so you can convert your Facebook fans to Pinterest followers.
Rignite
Rignite is a tool that helps monitor several social media platforms including Facebook, Twitter, and YouTube all in once place.
Rignate includes a team. You can chat inside the tools, have forums, and assign tasks to teams. This works for teams with 3 to 6 people managing the same accounts.
OptinMonster
If you are using WordPress, then don't forget to install this plugin. OptinMonster is a plugin that can help you create op-in forms. The plugin is well designed that it can get with a variety of opt-in boxes running quickly and easily.
One great feature of this plugin is the Exit Intent feature. With Exit Intent, you can create a popup box to collect emails and set it up only when your visitor is about to leave your site.
Nimble
Nimble does a great job in finding and engaging with important contacts using their Engagement Opportunities and Important Contacts feature. This tool also keeps track of the activities to do, who to contact – all in autopilot.
SocialOomph
SocialOomph is a social media marketing tool for Twitter. This tool lets you load up to 500 unique tweets. You can load and schedule tweets, but you can also make your tweets recurring saving you the task of ongoing scheduling.
Zapier
Zapier is a social marketing tool that connects systems in ways possible only to those with a massive social media marketing budget. You can say anything in social media and have it sync automatically to whatever email system you have or with any CRM you run.
This tool also automatically generates a Google Spreadsheet that tracks every time a keyword is mentioned on Twitter. It also makes it possible for you to send selected Facebook posts to your blog. The possibilities of using this tool are just endless.
NeedTagger
If you're using Twitter advanced search is to connect with potential customers, respond to compliments and complaints, and make your products or services to people – say they need solutions, then you are going to love NeedTagger.
NeedTagger is a power search engine that is built specifically for Twitter. It looks for real time conversations that are taking place about the topics you are interested in. If you are conscious whether people are talking about your products, giving you praises or complaints, or just looking for stories related to your niche, NeedTagger is the right tool for you.
---