Here we go through top 5 online payment systems that can accept payment online from your loyal customers.  Some of these  online merchants are popular and you may already know them.  We are listing only the best. Most
E-Commerce Hosting companies
support different Online Payment Systems.
What is an Online Payment System?
Online payment system, or usually called e-commerce payment system is the one responsible for accepting payment for online transactions. When you are shopping online, online payment systems work to ensure that the transaction of the customer to the merchant is secure and that the customer's cards are valid. Here are just a few terms to know about online payment systems.
Merchant account is a bank that allow customers to receive payment through debit or credit cards. Merchant providers are required to abide by their rules established by card associations.
Payment processor is the company that handles credit card payment. Payment processors have anti-fraud measures to make sure that both the customers and the merchants are protected.
Payment gateway allow merchants to pass credit card information between the customer and the merchant payment processor securely. Payment gateways are the middleman between the merchant and the sponsoring bank.
PCI Compliance is a certification in which the payment gateway is certified to set up their payment environment in a way that meets Payment Card Industry Data Security Standards.
So here's the list of  Top  Online Payment Systems
Authorize.net is the most used payment gateway system online. It has more than 300,000 merchants and is  mostly sought out  by most major e-commerce sites. Authorize.net is designed to accept payments easier. That's  why you'll find that Magento, and Volusion uses Authorize.net in their e-commerce platforms. (Magento is a popular ecommerce platform)
Price: Authorize.net has a $99.00 setup fee. Monthly fee is $20 and takes $0.10 per transaction.
---
2. PayPal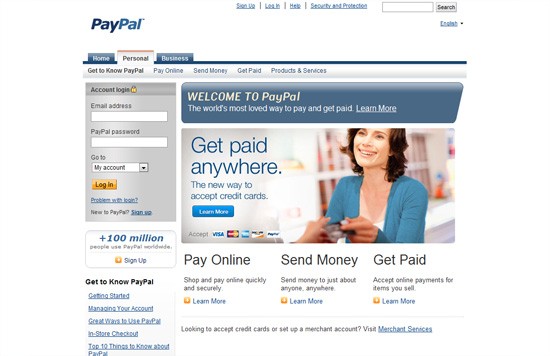 Paypal is one of the most widely used online payment system. This is because PayPal payments are made either through the customers PayPal account, or through credit cards. Money can be sent directly through the email address and if the user doesn't have a PayPal account yet, PayPal will prompt the user to register for an account. Other than taking payments, PayPal allows you to send money to other  other PayPal users using their email address.  Note: Paypal is owned by ebay.
Price: PayPal has no monthly fees for a personal account but it takes 2.9% + 0.30 per transaction.
---
4. Amazon Payments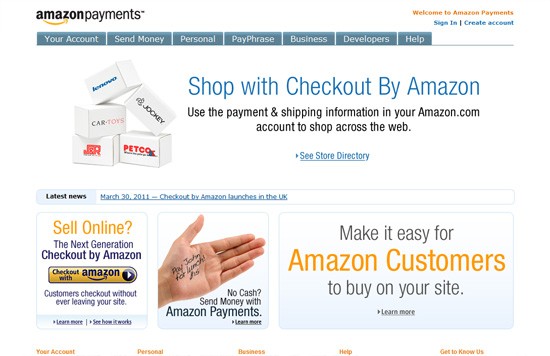 Amazon Payments has a different approach. It allows users to receive money using its API and send money via ACS.
Price: Amazon payment starts at 2.9% + $0.30 per transaction if payments are over $10. Payments under $10 is 5% + $0.05 per transaction. The larger the transaction, the fewer your fees.
---
5. 2Checkout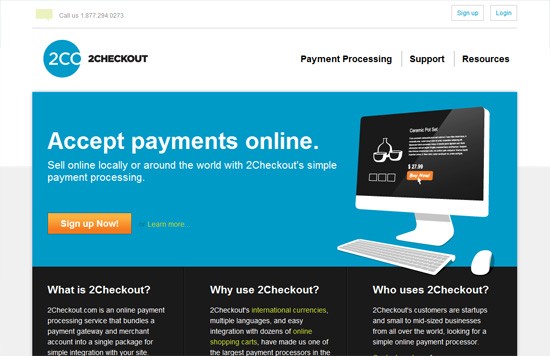 2Checkout combines merchant account and payment gateway into one. Customers can receive credit card payments and PayPal payments. The company also offer international payments, shopping cart stores, and offers recurring bill feature.
Price: 3,99%, $0.45 transaction fee, and a monthly fee of $10.99.
These are some of the best and most secured online payment systems you can use for your e-commerce site. The simplest shopping cart you can set-up is through using PayPal and Google Checkout. These two online payment systems let you create a checkout button which directs customers to their secure checkout page in which they handle most payments coming from your store. If you are looking for more robust online credit card processing, though expensive,
Authorize.net
will be a better choice. Also remember to choose a reliable
E-Commerce Web Hosting company
for your web store.
---