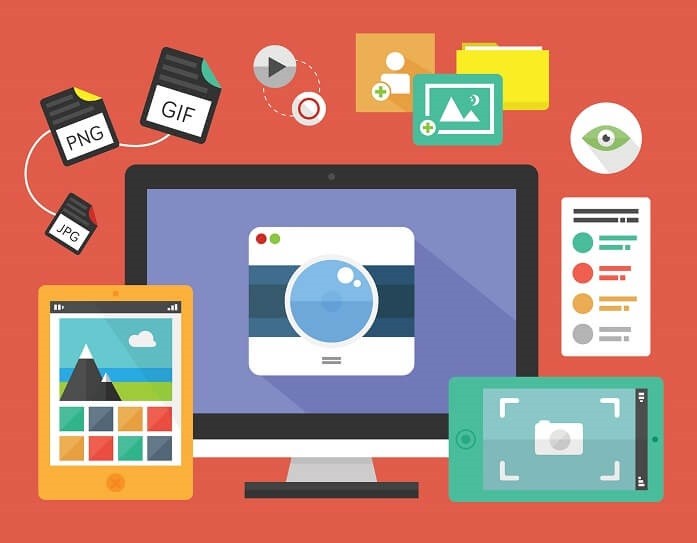 How Not Knowing These 8 Photoshop Alternatives Makes You A Rookie

Tweet This


Photoshop is the most popular image editing tool today.

It has become so prevalent in the image editing industry that Photoshop has now become a verb. For example: When people see magazine pictures, they know it's been Photoshopped.

Despite the many things you can do with Photoshop, people irks at its price.

For about $500, not everybody can afford for such a price. Especially if image editing is only a part of what you do and don't rely mostly on it.

Luckily, there are a wide variety of capable alternatives to Photoshop that waiting to be discovered.

Here are some of the best known free Photoshop alternatives.  
Fotor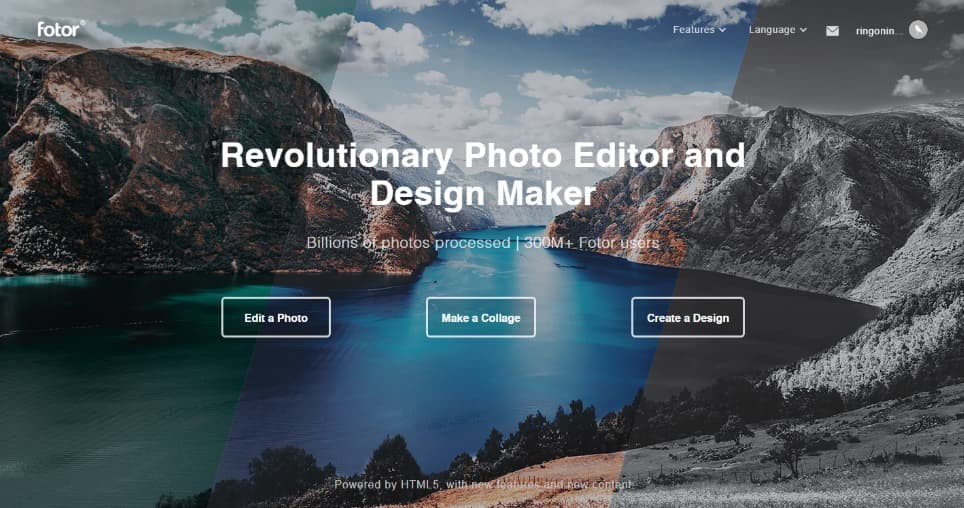 Fotor is an online photo editor and it is also the best design maker for the team, family, and individual.
As an easy-to-use photo editor, it has the simplest one-tap enhance button, so you can easily beautify your photos in 3 seconds. Besides, it's make-up, concealer and sticker functions are also the best choice for beauty-loving people. And the bunch of filters can make your photos feel more stylish.
On the other hands, as the collage maker and design maker, Fotor has thousands of templates for user to choose, with the help of them, your design subject can be finished easily moreover creative. Of course, if you tend to be an inspired person in your life, you can also use design maker with those countless elements given by Fotor. Then give full Play to Creativity.
PicMonkey
PicMonkey is an online image editing tool that allows you to do basic photo editing. Unless you are doing a very advanced type of image editing then PicMonkey is just right, best of all this tool is free.
PicMonkey has everything you need to edit and manipulate photos. On top of that, the software is very easy to use.
You can crop, rotate, sharpen, adjust brightness/contrast, change canvas color, add frames, textures, touch up images, add effects and more. And that's just the free version.
If you are looking for more features, you can opt for its Premium version.
What is great about PicMonkey is how you can easily touch up, design, and make collages with just a few clicks.
DesignCap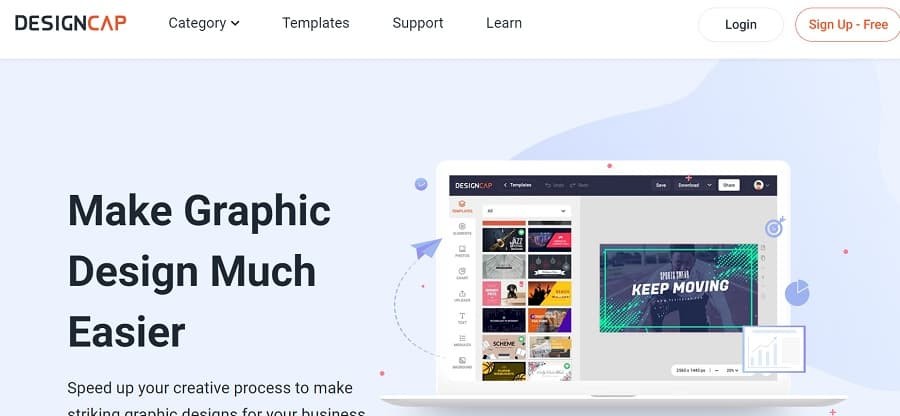 DesignCap is a web platform with which we can create professional online designs in just a moment. Undoubtedly, one of those tools that give wings to our creativity is how easy it is to create all kinds of designs without being designers or having knowledge in the field. This platform can be used for free and also has subscription payment methods.
DesignCap has hundreds of professional predesigned templates, giving us the option of not starting from scratch, and it will be enough for us to customize them to our liking. Of course, we have complete freedom when it comes to customization, so we can create all kinds of impressive designs to fit our projects' needs.
This online platform, to easily create professional designs, stands out for these characteristics :
A free mode is available. It may be enough in most cases.
It is used directly in the web browser, without the need to download or install programs.
Creating all kinds of professional designs online is easy, fast, and fun.
Gallery with hundreds of predesigned templates, if you don't want to start your designs from scratch, and also the possibility of creating designs by specifying their dimensions.
Thousands of images, shapes, fonts, color palettes, and many other elements to customize designs.
You don't have to be a designer. Anyone can achieve spectacular results.
Photoshop Express
Not everyone can afford Photoshop, Adobe knows that. And not all who wants to use the software will use its full features, some just want some basic image editing.
So, this is where Photoshop Express came in.
Adobe Photoshop Express is an online image editing tool that lets you do basic image editing like resize images, red-eye reduction, rotate, brightness, contrast, and more.
It also has a touch up feature that beautifies your image and removes any blemishes.
Since it's free, you don't get the same pixel-by-pixel control you would expect from Photoshop but it's capable and it's a worthy alternative.
Adobe Photoshop Express is also available in Android, Windows Phone and iOS.
Pixlr
Another online editing tool is Pixlr. This online tool looks and feels a lot like Photoshop but it's free.
It also has some of Photoshop's image editing features like Blur, Dodge, Clone stamp, Burn and plenty of other tools.
Pixlr also support text overlays and layers and if you open up the Filter menu, there are a lot of effects to play with.
Pixlr is also available in Android and iOS.
Canva

Canva is a web-based image manipulation tool that creates professional-quality designs for any image manipulation purpose.
It features an intuitive drag-and-drop interface along with a rich library of pre-designed illustrations and design templates to make designing easier and faster without compromising quality.
In just over 2 years since its inception, Canva has already managed to increase its user base to approximately 6.6 million and is still fast rising.
Placeit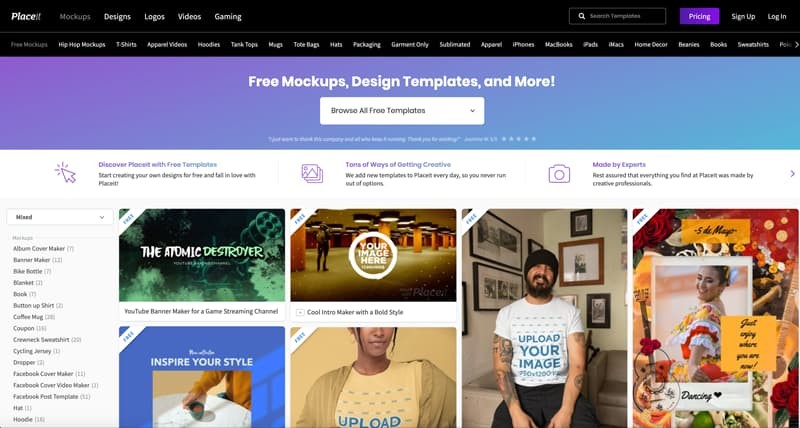 Placeit is a design template website where you can find everything you need to brand your product. Choose from their wide selection of logos, mockups, social media designs and videos to get started.
It is super easy to use, all you have to do is customize to your needs their pre-made templates made by professional designers. The website is sorted out by the type of templates you may need: mockups, designs, logos, and videos. It is also very friendly, to customize your template you simply click through the entire design process, then just download! Access PNG, PDFs, or MOVs. files depending on the format you need for your campaign. If you still need to make last-minute changes, use their free tools like an image cropper, video cropper, or video to gif converter for that perfect final touch.
PicsArt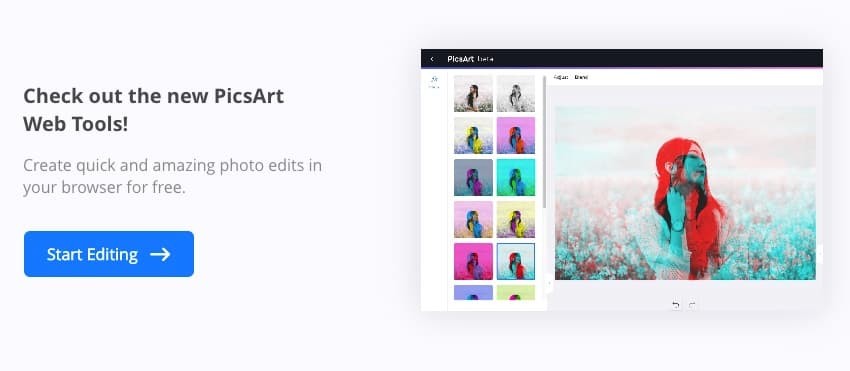 PicsArt is an all-in-one photo and video editing app with one of the largest creative communities in the world. Currently it boasts 700 million installs and 140 million monthly active users.
PicsArt has recently launched a wide range of creative web tools for businesses, making the editing experience on desktop much more efficient. From AI powered background removal to creating designs from scratch, PicsArt offers all the necessary tools for businesses to succeed in content creation, social media, and web marketing efforts. Unlike Photoshop, PicsArt Web does not require professional graphic designer experience. PicsArt tools are intuitive and easy to use. Simply upload your images and start editing!
You can also download the PicsArt app from your phone.
Toolpic
Another online photo editing tool that you can benefit from is ToolPic.
ToolPic is a completely free image editing tool that has some of the basic Photoshop features with its own trick up its sleeves. The site has a familiar look and feel of Photoshop.
Toolbox on the left, pallette box on the right. It even has all the basic tools in Photoshop that it almost exactly feels like it.
But what set ToolPic apart from Photoshop is its tons of ready-made effects and the ability to create a GIF animation in a snap.
GIMP
GIMP (GNU Images Manipulation Program) is a free and open source alternative to Photoshop Started as a Linux alternative to the said software,
GIMP offers a wide toolset that is also available in Photoshop today. It has some of the features of Photoshop but also lacks a few.
If you are looking for a no-cost image editor, GIMP is one of the best image editors out there.
However, that doesn't mean it works exactly like what you would expect in Photoshop.
Aside from some missing features, you'll not be able to use Photoshop plugins but there are alternative downloadable in GIMP.
Also, keyboard shortcuts in GIMP is not similar to Photoshop but it can be done through a script.
GIMP is available for Windows, Mac and Linux.
(photoshop alternatives mac, gimp photoshop)
Paint.NET
No. This is not the Paint we grow up with.
This Paint is the next best thing to happen in Windows. Paint.NET is a Windows-based alternative to the one that comes by default in Windows.
Paint.NET offers a wide variety of effects like zoom, 3D rotation, blend, push pixels, repeat selections and it even has layering.
Imagine having the capabilities of basic image editing tools the same way you would experience in Photoshop, only that it's free!
Xara
Xara is one of the underrated image editors but is surprisingly capable.
I bet you haven't heard of this until now. Did you know that it has been available in various guises for more than 20 years?
Although it's not well known compared to Photoshop and CorelDraw, its suite of tools and features isn't to be taken lightly.
First, what we observed with Xara is the speed of operation.
Whether color-correcting photos, warping vector graphics or positioning lights to 3D shapes, the workspace updates almost instantaneously as soon as the adjustments are made.
It doesn't have the same level of features as its expensive counterparts but what it has is a wide array of vector-graphics and bitmap editing tools and its desktop publishing and web design capabilities are just stunning.
You can create edit photos, create shapes, create gradients, correct colors and you can even create a 3D image inside of Xara!
What is great about this software is it has infinite number of undos and redos.
Xara is available only for Windows and is priced at $69.
Acorn
For a low price of $29.99, Acorn has provided hobbyist with a Photoshop alternative on a budget.
Don't be undermined by the price as Acorn has almost all the editing features found in a photo editing software and more.
With the level of features and the amount of things you can do with it, we're still surprised that the software is easy to use.
Acorn has a full-featured toolset with support for raw images, PSD files, text layers, filters, etc.
Unfortunately, Acorn is only available in Mac. If you are a Mac user who doesn't do extreme photo editing, then Acorn might be for you.
Design Wizard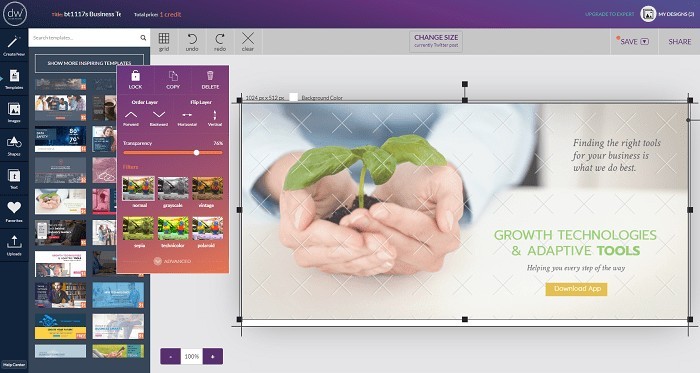 Design Wizard is a free photoshop alternative online graphic design software which lets users create and share attractive visual content within a very short period of time. It is very easy to use and user-friendly. free photoshop alternative online
Design Wizard will give people access to a bunch of images and templates (read: over 1 million in total!) which can be used for businesses or private use.
Design Wizard offers many different types of templates, including those for social media posts, flyers and events, business card templates, and many more.
Thousands of images are being added every week, by an amazing and enthusiastic team of researchers and graphic designers.
Besides using Design Wizard's images, people can also upload and use their own images and designs.
Nice to know, people can resize their own designs and create their own color palettes.
After finishing the design, people can either share, download or schedule their design to be shared.
Good thing is,  beginners are being guided through the entire process step by step.
No ideas or inspiration? Design Wizard will inspire you to make amazing designs. Also no need to worry about licensing and copyright. All images are licensed for commercial use.
To Sum it up:
Photoshop is an amazing photo editing tool and has amazing capabilities.  While no tool can replace photoshop, tools mentioned above are more than handy and can very much help you to create awesome designs.
What do you think? You have  more suggestions? Add to comment section below.
And do not  forget to share this article. Thank you 🙂