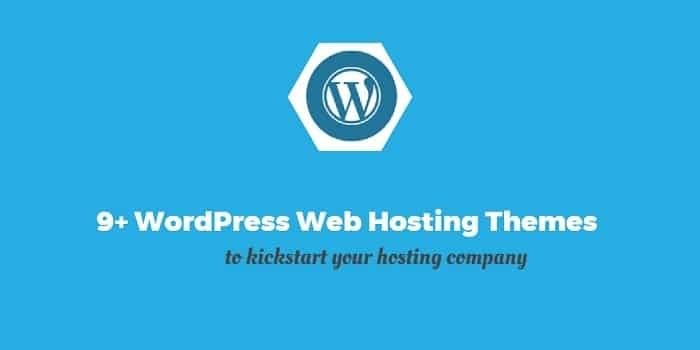 9+ Web Hosting WordPress Themes to kickstart your hosting company

Tweet This


Thinking of starting a web hosting business?

You should be as with today's demand for the internet is vastly growing, web hosting will never go out of business. Being a successful web hosting provider relies on your customer's first impression.

How you are seen as a stable and reliable hosting provider relies on how you are able to portray yourself to them. So, the first rule of web hosting success is a professional looking website.

Here are some of the best WordPress web hosting themes to splurge up your web hosting business.   
1. Alpha WordPress Web Hosting Theme
Alpha is a web hosting theme that offers a professional design that comes with powerful features and a wide array of customization choices.
The theme features a responsive layout which works perfectly on mobile phones, tablets and desktop and a responsive slider. You can choose also from the 5 pre-defined color skins: Blue, Red, Green, Dark, Orange.
The theme has support for slideshows, testimonials, client, feature. It also has custom post types for Portfolio with categories filter with widgetable slidebar and footer area.
Price: $16
---
2. MegaHost Web Hosting Theme
MegaHost is an excellent multi-purpose WordPress theme using Bootstrap frontend framework. Made for web hosting sites and corporate websites, this theme offers a unique design that you can customize for as much as you want. With the Bootstrap framework, customizing this theme should be almost effortless.
Megahost is compatible with WHCMS integration using the WHMCS Bridge plugin. It has support for WordPress menu, and comes with 8 pre-defined skins. It also offers multiple page layout and is excellent in high resolution screens.
Price: $16
---
3. NewHost Web Hosting Theme
NewHost is a responsive theme that offers a minimalist approach that comes with a huge slider to showcase your products and services. The theme is made for a hosting website by default, but you can customize the website to be a company, portfolio,, or a blog site. The theme is based on Bootstrap 3 which makes this theme easy to edit and customize. The theme has WHCMS integration with advanced option panel.
Price: $48
---
4. Hostify Web Hosting Theme
Hostify is a responsive WordPress theme that focuses in website usability. This wordpress theme is custom-built for web hosting providers. The theme is build with a template that offers a very fluid layout that works flawlessly in desktop, tablets and mobile phones. Built using HTML5 and CSS3, the theme is up to date with the latest in web technology standards.
Hostify is created under Superfish. Superfish is an improvement in Suckerfish-style menu that makes use of existing CSS drop-down menu but adds many features. This feature makes it touch compatible especially with multi-level drop down menus. Another feature that will greatly benefit a web hosting provider is its compatibility in WHMCS. This includes WHMCS support and billing software information.
Price: $48
---
5. Cloud Hoster Web Hosting Theme
Cloud Hoster is a modern, responsive WordPress theme that offers a modern approach to a standard hosting theme. At first, the theme looks like your usual hosting theme, but the more you look at the theme, the more you are able to explore some of the unique features this theme has to offer. It is a mix of classic and contemporary web hosting theme.
The theme is made under a 960 grid system built in Bootstrap. With that feature, the customization option of this theme is almost limitless. Cloud Hoster comes with a free Revolution Slider and the images are optimized with SmushIt by default.
The theme is in light and dark version. Don't forget to check out this theme's unique two tone blog as it's absolutely stunning.
Price: $15
---
6. HostMe Web Hosting Theme
HostMe is a clean and minimal WordPress theme made specifically for a web hosting provider. The theme is offered in happy colors like light blue and plenty of white space which is usually conveyed by customers as friendly and approachable.
The theme is responsive and is compatible with more than 600 Google web fonts. It has a short-code generator that you can use along with the pre-defined shortcodes and comes with a wide array of color options that will make it easy to fully customize the theme and make it your own.
The theme comes with Business Hours plugin , Flex Slider and Planbox Slider that is specifically designed for a web hosting site.
Price: $48
---
7. RackHost Web Hosting Theme
RackHost is a clean and modern WordPress theme made for hosting providers and businesses. The theme comes with 4 various color sets that you can change via shortcords or with WordPress' default functions. With that in mind, you should have a little knowledge in HTML codes and with WordPress.
The theme includes server icons, unique content slider, and is compatible with Google Web Fonts. Built in HTML5 and CCS3, the theme is cross-browser compatible and is responsive.
Price: $16
---
8. Orbit Web Hosting Theme(WHMCS  hosting theme)
Orbit is an excellent choice for a web hosting theme as it has specific features that will make your site hosting-ready in just a few clicks.
Orbit has live domain name checker where customers can check for available domain names.
There is also a tool for pricing table and allow customers to compare them at a glance and a plan box builder which allow you to highlight specific plans and features that your customers will be looking forward to.
Orbit is a fully responsive theme that comes with automatic WHMCS synchronization. It also comes with a vast library of shortcodes as well as a tool in creating your own shortcodes.
The theme is fully customizable and is feature packed making it the only web hosting theme you'll need to start your own hosting business.
Price: $169.99
---
9. Servereza Web Hosting Theme
Severeza is a responsive WordPress theme built perfectly now just for web hosting, but for business/corporate, portfolio and blog websites as well. The theme has a vast array of features and an impressive visual design.
The theme has support for building a web hosting site that will allow you to showcase your services and attract new clients. the them has the ability to add full width images, create a pricing table to compare your plans and packages in a breeze, and so much more.
The theme will also allow your customers to check for the availability of the domain name they are registering and support for client lists and testimonials.
Price: $48
Sum it up!
So you have 9 great Web Hosting themes to get started. Choose the best one.
And if you have any theme to suggest why not add in comments section.
And if you want to start a web hosting business, choosing a good reseller plan from a reputed company like BlueHost will always be a good decision.
Also do not forget to share this article 🙂