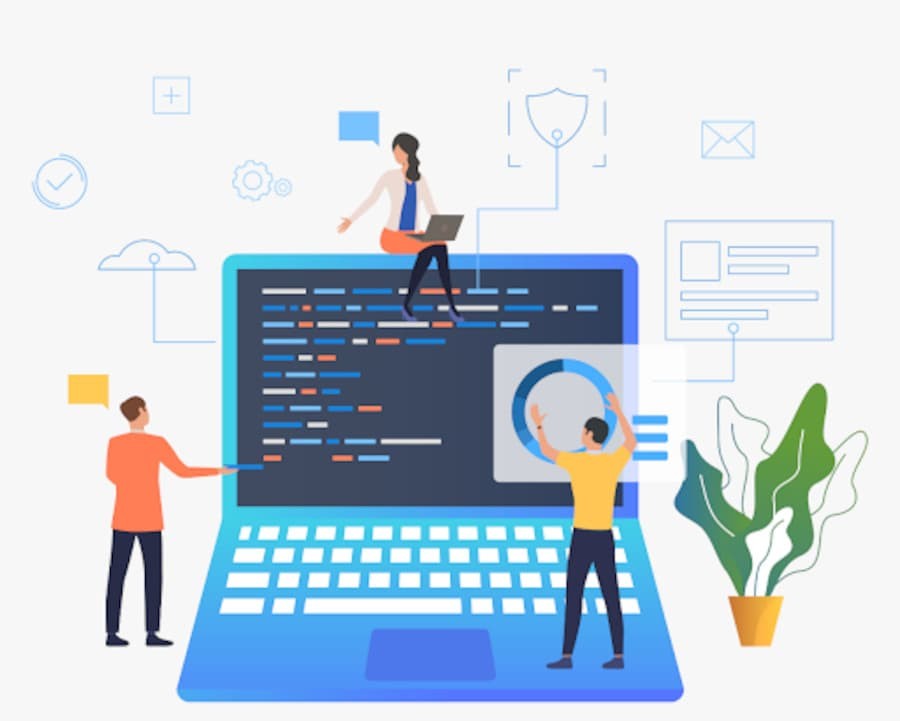 How Web Development and Digital Marketing Create an Amazing Synergy
Tweet This
How many times have you visited a gorgeous but annoyingly slow website?Or, have you ever encountered a responsive landing page with no clear structure or visual appeal?These issues are a result of inconsistencies in web development and digital marketing.
They are usually perceived as separate practices.
Programmers have little or no digital marketing and SEO knowledge, while marketing professionals do no coding experience.
In today's customer-centric era, websites need to provide holistic, consistent, and seamless user experiences. To achieve that, there needs to be a strong alignment between web development and digital marketing, especially SEO.
Web developers need to understand the basics of digital marketing and vice versa.

In this article, we explain why web development and digital marketing are a match made in heaven.
Why Digital Marketing Professionals Should Learn to Code
As a digital marketer, you wear multiple hats. No matter if you are an SEO professional, email marketing strategist, or continent developer, you need to work with interdisciplinary teams and keep expanding your skillset.
Coding helps you take your industry knowledge to the next level. From PPC and social networks to email and web analytics, almost every aspect of your digital marketing strategy is powered by code.
By learning the basics of web development, you will understand what is going on behind the scenes and make informed marketing decisions in the future.
Here are a few reasons digital marketers should learn how to code.
Collaborating More Effectively with Tech Teams
Knowing the basics of coding, you can collaborate more effectively with interdisciplinary teams, including web developers, product managers, and UX designers.
If you do not speak their language, executing your marketing initiatives can be challenging.
When knowing the programming languages they use, you can ask the right questions and meet their needs more effectively. You will also be able to manage your timelines more precisely.
Coding Gives You Greater Autonomy
Digital marketing professionals usually need to hire web developers or wait for in-house web developers to make website updates. When knowing how to code, you can do that on your own.
Programming languages, such as HTML, CSS, and JavaScript, are the basis of many digital marketing tools, including HubSpot, WordPress, and Google Analytics.
Therefore, coding knowledge will help you perform many tasks more independently, including:
Resizing images or changing text format without calling in web developers
Creating visually-appealing email marketing campaigns
Improving the looks of your website/blog content
Performing basic split testing with a little HTML and CSS knowledge.
With JavaScript, you can programmatically control Google Ads in a browser-based IDE.
Leveling Up Your SEO Game
SEO is the backbone of any effective digital marketing campaign. Now, no matter if you specialize in technical, offsite, or on-site SEO, coding can take your performance to the next level. Image yourself reading the website code to analyze and update meta tags, ALT tags, and keywords.
Knowing HTML helps you with the technical aspects of SEO campaigns. That way, you will optimize your pages more efficiently and understand which tactics work/do not work for your online presence.
Appealing to Website Visitors
It takes less than 50 ms for online visitors to form an opinion of your website. Precisely because of that, investing in spotless web design and site responsiveness is crucial for your (or your clients') website performance in the hypercompetitive market.
With the basic knowledge of CSS and HTML, you can boost the appeal of your website on your own:
Format text
Assign headers
Embed images, audio, videos
Change colors, fonts, and themes
Measuring your Campaigns more Effectively
In the customer-centric era, digital marketing is more analytical and data-driven in nature. The goal is to deliver highly personalized and relevant customer experiences that will engage audiences and convert them into paying customers.
While Google Analytics is easy to understand, to stay on top of your website performance, you need to dig deeper.
That is where coding steps in. For example, with Google Tag Manager, you can put tracking and optimization tags on your website. These are JavaScript snippets that send data to third-parties. Understanding this concept requires the basic knowledge of JS and HTML.
Best Programming Languages for Marketers to Learn
When choosing coding languages to learn, pick ones that are relevant to your profession and career. Some of the languages that may start as your solid starting point are:
HTML
JavaScript
C
PHP
SQL
Python
Ruby
Why Web Developers and Designers Should Rely on Digital Marketing
To become a web developer, you need to know the programming languages mentioned above. However, web development is not always code-based. There are many additional practices and tools to use to create a user-friendly website.
That is why you need to understand the basics of digital marketing.
For starters, digital marketing data helps you understand a client's industry. You will be able to adapt your web development processes to their specific needs. That way, you will create highly functional websites that resonate well with clients' audiences and convert fast.
Now, the digital marketing field is wide. Start by studying those aspects of digital marketing that can help you improve your web development services. Technical and on-page SEO can serve as your starting point.
According to AdVisible, a digital marketing agency in Sydney, web developers and SEOs need to work together to create seamless customer journeys. By integrating SEO processes during the website development process, you will:
Enhance website rankings in the organic search.
Improve user experiences.
Maximize website usability and performance.
Help your employer or clients generate higher ROI and conversions.
Given that, it is not surprising that many employers and clients are looking for web development professionals with at least basic SEO knowledge.
Here are a few technical aspects of SEO website developers should know.
Using the Right SEO Tools in Web Development
Neither your clients nor employers will expect you to take care of their websites' SEO. However, you should have at least a surface-level understanding of how your web development practices impact the site's performance. On the other hand, you should also measure how their SEO tactics impact the website function. That is how you can provide better web design and development solutions.
Now, several SEO tools should always be at your disposal.
For example, GTmetrix helps you analyze website speed. It also provides insights on how to improve website performance.
Tools like Responsive Web Design Testing allow you to test site responsiveness across multiple devices.
With Screaming Frog SEO is a proven website crawler that provides actionable on-side SEO insights.
Optimizing Website Speed
While juggling client reports, bug fixes, and code revisions, many developers ignore the importance of website speed. However, keep in mind that it is a vital SEO factor. According to statistics, a website that takes more than three seconds to load faces higher abandonment rates.
That is why optimizing page speed from the very beginning is just as important as laying the foundations of the website. If your project manager or client has no SEO knowledge, web developers need to explain the importance of investing in reliable hosting providers for website performance.
Linking Properly
Internal linking is a fundamental part of SEO. As such, it needs to be considered in the development phase.
By knowing internal linking practices, you will simplify site architecture and it more navigable for users.
Creating Meta Robot Tags
For example, noindex tells search engines not to crawl content, while nofollow links tell them not to crawl the page links.
Similar to internal links, meta robot tags need to be handled early in the development process. By understanding them, you will communicate with the SEO team and take care of the process more effectively.
Optimized Website Architecture
Even though the website architecture mainly depends on the website domain and niche, it is also a web developer's responsibility. When building a website, you need to follow website development and design recommendations, such as Flat Site architecture.
It is easier to implement the technical SEO aspects, such as page linking, during the development process. You will also collaborate with SEO teams more effectively and work together towards simplifying website architecture.
Over to You
Web development and digital marketing go hand in hand.
If you are an online marketer, learning the basics of coding will help you gain deeper insights into website analytics. You will work more independently, make website changes without hiring external programmers, and make data-driven marketing decisions.
Knowing the basics of SEO helps web developers on multiple levels. With these skills, you will create highly user-centric and responsive websites that resonate well with target audiences. That is how you will boost client satisfaction and maximize your revenue.
Most importantly, both web developers and marketing professionals will be able to communicate more effectively. That breaks down the silos between these teams, enhances collaboration, and provides a more holistic approach to every project.
Any additional examples of the importance of aligning SEO and digital marketing? Please, share your thoughts with us!