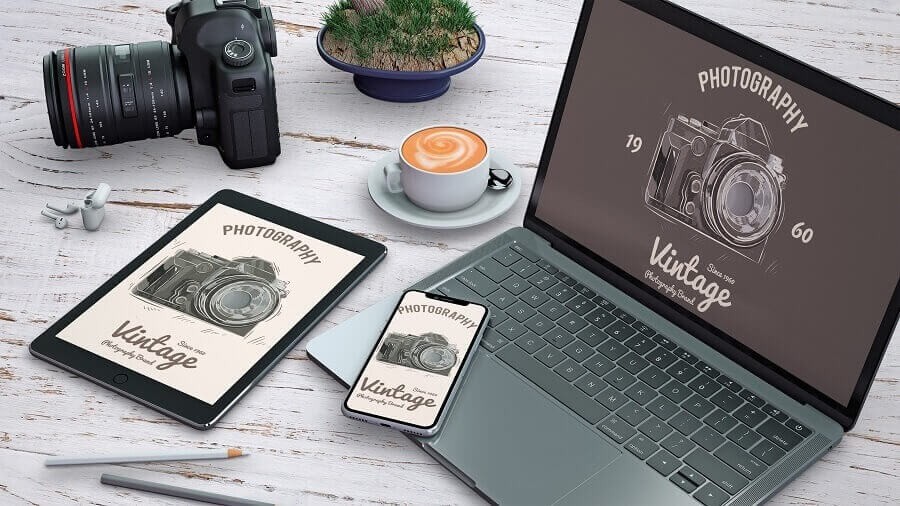 How to create an awesome photography website using Wix?
Tweet This
You are probably thinking..
I do have Instagram and Flickr to showcase my best shots…
So why a website then?
Well..here goes..
You need a website, that enables you to showcase your best shots the way you want – with no limits of size, quality or design. It also enables you establish yourself as a field expert.
Plus, a website can get attention from Google's and thus reach people – your potential future clients!
5 Good reasons why you need a Photography  website
Photography websites allow you to display your work in online portfolios, sell your stock photographs and  describe about who you are.
For a freelance photographer, having your own website is great for sharing photos and connecting with other photographers.
It is a wonderful self-promotion source.
Selling photographs from a website is a also a good revenue source.
Nowadays, most professional photographers have an online portfolio, where they proudly display their work.
Whether you are a photography studio  owner or a freelance photographer, there are good options to create a beautiful photography website.
How do I create a photography website?
Some folks get a strong feeling that creating a website  and maintaining it is a difficult task.
But in reality, it is not that difficult to do.
With the help of following user-friendly website builder tools, you can create a functional beautiful photography website yourself. Build a portfolio that is complete as well as that is visually stunning.
About this guide and our promise:
There are many ways to create a stunning photography website. In this guide, we will learn how to create a photography website using a website builder,Wix.
Why Wix? Wix is the most popular website builder and  has a good edge over other competing website builders.
We promise that once you read this guide, you will be able to create a photography website the way you wanted.
Before that. let us see what features a photography website ought to have..
7 Essential Photography Website Features
Beautiful Online portfolio and animated galleries: This is where customers or readers get a chance to evaluate/see your work. You should be a able to create a wonderful portfolio with minimal technical skills(zero). You should be a able to upload your photographs and also view in a nice portfolio.  Example:See this nice online portfolio created using Wix Site builder tool for photographers.
Online Storage for your photographs: High quality photographs consume disk space and you need to ensure that your web host can handle and store all the photographs that you upload.
Social features: Success of a website also depends on how social friendly your site is(read facebook friendly, tweeter friendly etc). Your users should be able to tweet about your specific photos or post to facebook etc.
Host your site with your domain name(site name):  Of course, viewers should visit your site using your site name or domain name(example: www.mysitename.com). Your web host should allow you to connect your account to your domain name.
Create a blog: Users may be curious to know more about you and your latest works etc. Best way to achieve this is to  update all this information into a blog. So you should be able to create a blog and update on  a regular basis.
Search engine friendly: Okay, you created a beautiful stunning, but does it appear in Google? For that your site needs to be "search engine friendly". Which means simply that Google should be able to pick best features and pages of your site and present to users.
Sell photos: You should be able to sell your photos to users using e-commerce features(store builder features). You can integrate to payment gateways like paypal or Google check out so that users can pay for your photos.
Remember your photography website is intended to show off your photos and images. So add all features that support the site's main goals.
For example include photo galleries, a blog, photo downloads, newsletter subscriptions and an about page.
Always display high quality photos in your site. Your Portfolio should be easy to navigate.
Watermark your photos and make it as difficult as possible for someone to steal them.
---
How to Create a Photography Website for free using Wix, the best website builder for photographers
Wix is one of best site site builders that has awesome features. It is the best website creator for photographers.
Wix.com is a cloud-based website builder development platform with millions of clients.
You get free fast cloud hosting along with CDN technology, a website optimized for better search result page ranking(think google!) and then a good support to back you in case you have issues.
Wix has helped many freelancers and photostudio owners to create a beautiful, professional web presence.
Why Choose Wix for a photography website? Advantages
Minimal technical skills: Wix has the most necessary features a photography site needs and with minimal technical skills, you can create a beautiful functional photography website. Wix is also the best photography website builder, making web design of your photography website much simpler
Many Website Templates options(mobile friendly as well): This popular photography website maker also features very good photography website templates and hosting as well. Numerous website templates to suit your style. Family Photographer,Art Photographer,,Landscape Photography,Photography Portfolio,Wildlife Photography,Urban Photography,Wedding Photography,Architecture Photography,Food Photographer,Photo Studio,Photographer,Aerial Photography. All these templates are HTML5 compatible and are responsive to make sure that your mobile visitors can also see the awesome design on mobile devices as well. 
Easy Customization and User friendly: Wix platform is user friendly and allows plenty of customization, making sure the site appears the way want the site to be. You can add pictures. add text blocks, or edit texts, add layouts, add nice backgrounds.
Wix Editor: Total Design Freedom. Wth Wix's innovative and Sophisticated drag and drop website builder, you can customize anything you want. Add stunning video backgrounds, animation, and more—all without worrying about writing code. Wix Editor is very user friendly.
Monetization: Add an estore and sell online:  You get an advanced e store features with multiple payment methods(popular payment gateways like paypal included). Also you can build a very good product catalog that has some amazing features as well. User friendly as well.
Ability to setup bookings online: Wix lets you setup pages so that your clients can setup bookings with you.
Wix App Live Chat: Once installed, Wix app notifies you when you have visitors in website. You can now do a live chat with your visitors and thus get a very good opportunity to interact with future clients/visitors when they visit your site. Engage with your potential clients for more business.
Cons Of Using Wix: DisAdvantages
Now that you have seen significant advantages or Pros of using Wix, it does have one disadvantage.
You are stuck with Wix site builder. Say, tomorrow, you want to move away from Wix and host your webite somewhere else, it wont be easy.
We do have a Solution for this. Use WordPress CMS and with the help of a nice theme or template, you can create your own photography website.
But one may argue that, won't I be stuck with WordPress then? Sure. But, it is possible to convert your wordpress theme to normal html files and host somewhere else. So you do have options in this case. And you certainly "own" in the wordpress case as you can host anywhere you like. In wordpress CMS you have many options and freedom. There are plenty of web hosts who offer wordpress hosting and you can choose any place you like. Thats freedom for me. Better than just one Wix Server.
So whats the point?
As long as you are okay with continuing with Wix, you should be fine. It is fast and easy and convenient to get started fast. So just go with Wix.
Else you are not sure, do the WordPress way.
So How this works? How to create a Wix website?
Wix lets you play with all its features for free, so that you can see how your site is going to look like.  This way you get a chance to play and pay only if you like it.  You can start for free without giving your credit card info.
Once site is ready and you want to  attach your own domain name, you have to upgrade to it's nominal monthly fee(which is a bargain price).  This is how it works. 
Steps to create a photography website using Wix
Get started and Signup for free at Wix.com   Click here to launch the start page. Then Signup  is straightforward. If you have a facebook or google account, it is much easier.
Choose a Website Category:  Select "photography" from list of categories
Choose a stunning photography template: There are so many photography website templates available. wix photography templatesFor example, a few Wix photography templates: Family Photographer,Art Photographer,,Landscape Photography,Photography Portfolio,Wildlife Photography website templates,Urban Photography,Wedding Photography,Architecture Photography,Food Photographer,Photo Studio,Photographer,Aerial Photography. Choose the most appropriate one that suits your style.
Start Editing your template: Wix will  launch its own sophisticated and user friendly editor. Now you can start adding/editing pages, add text content etc.
How to Edit Pages: Anytime you wish you can edit any page. Just click on "Menu and Pages" and then select the page you want. You can instantly start editing the page.
Creating photo albums: Now you can start setting up your client albums.  Click on "Menu and pages", then select "Client Albuns".  This will bring up "Client Albums" page. Now click on the nice images you see and click on "Settings". Now click on the nice image and this will launch the photo album editor. Now you can choose what type of album you want to create. Now select photo Arrangement.And you start adding your nice photos.
How  to create a "Book Online" Page:  Wix lets you setup an book online page so that clients can setup bookings with you. Click on "Menu and Pages"  and then choose "Book Online" page at bottom. Then start editing "Book online" page.
Publish your website: Once all set and you have added all your changes, you can make your site live by clicking on "Publish" at right most top corner.
Adding your domain or website name: Once published,  you can add your own website name or domain name. For this, you have to upgrade to a paid plan. Once upgraded, it is very easy to attach your domain name to this live site. Once all set, when you enter your domain name in chrome ot any browser, this wix site will automatically come up!
Start Wix Now, It's Free to try
Summary
So there you go. You have all the steps you need to create a wonderful photography website using Wix.
Recommended Reading: How to create a photography website using wordpress?
Please don't forget to share this article 🙂