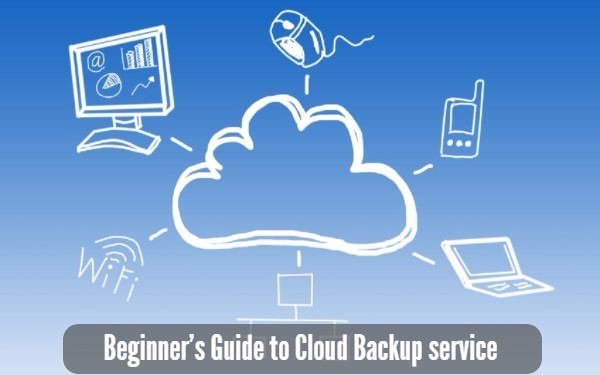 Beginner's Guide to Cloud Online Backup service
Tweet This
Having an online Cloud-based backup service makes lot of sense.
Especially the automatic option of having your critical data being backed-up or stored to a secure remote server location.At the same time, you may argue that I cam simply backup data or burn to DVDs or store to an external hard disk or external USB drive. So why spend for online storage?Let us see advantages and disadvantages of online storage so that you get a fair idea and thus make a decision.
Advantages of a cloud based online backup service
In the unfortunate event of a flood or fire or similar natural disasters, it can destroy your precious data in your laptop or pc as well in your external storage device. Having your data stored in a safe and secure remote server gives you peace of mind that you can always recover your data. Another unfortunate event (rather irritating) is virus or malware infected pc/laptop, that can crash our data .  Or your pc/lapiie/device can get stolen. In  these special cases, cloud based online backup makes lot of sense.
Completely automated service:
No need to purchase expensive backup devices
---
Disadvantages of a cloud based online backup service
Initial backup takes time.  Depends on your data volume. For example, if you are a photographer, your data volume(total file size) could be very high and initial backup can take days.  But after the initial backup, the software knows which files are new/updated and only backups the new updates.
There is always a security risk from hackers. But online backup companies take precaution for this too. Read paragraph below where it explains how your data is transferred securely and stored securely.
What if the backup company shuts down one day? You backup data is gone for good too. Good news is if we rely on reliable big brands, the chances of  this happening is very less.  Even if a big company decides to shut down, they have legal obligations to give clients sufficient time to transfer data to another provider or plan alternatives.
---
How does the entire thing work? How secure is my data?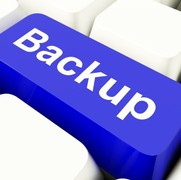 Your biggest concern is, how secure is my data? How can I rely on some backup service that promises that my data is safe and secure?
This is how it works:
Prior to data transfer from your laptop/pc/smartphone, your entire data is encrypted to 128-bit level(high level). After data is encrypted, data is transferred. Once the data transfer is completed, the data that resides in the remote server is also encrypted.
So only the owner has the permission to see the data. No one else can view your data since it is encrypted. And in the event of a disaster, on request and after authorization from you, the owner, data is decrypted and downloaded to your device.
Also, the remote physical server itself is protected by all means. Class-A server facilities that have  fire suppression, high end security cameras, strict access controls for security personnel, backup generators, multiple Internet Service Providers, firewalls etc
---
The Backup 3-2-1 rule
Even though online backup service has distinct advantages listed above, a 3-2-1 rule is suggested by prominent backup professionals based on their experience.  Here's the rule.
3 copies of of your most important data
Store in 2 different formats – For example, take backup in an external hard drive (the old fashioned way) as well as in a USB memory Stick. In addition, use an online backup service to store your data.
1 off-site backup – Keep your  backup data offsite, meaning away from home. Reason being, what if house burns down?
Let us simplify this rule for a more practical approach.
Take TWO physical backups (hard drive, memory card) of our entire data and automate it to take once a week. (Note: For the extreme paranoid, who is extremely nervous about data, you can buy a disaster-proof drive like an ioSafe Solo)
Make use of a reliable cloud online backup service (See list of recommended backup providers below)
Once a week, keep one of your physical backups elsewhere other than your home. And the other one will be attached to your pc/device. The following week, you do a "swap".
While the 3-2-1 backup is the ideal plan to follow, for most of us, an online backup storage service is more than sufficient, provided you choose a reliable storage company.
We have compiled following list of  best online  Backup Storage Companies.
#1 BackBlaze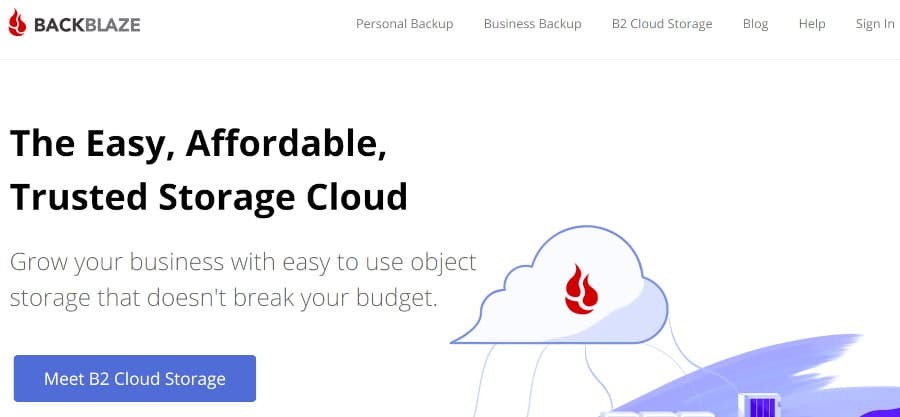 BackBlaze is a  popular cloud backup tool well known for it's affordable and trusted Storage Cloud stoage for business or personal use.
Personal backups
You get Unlimited Online Backup and it will automatically back up all your pesonal files that includes your documents, photos, music and movies. It has Unlimited speed as well. All files are securely backed up in the cloud.
Sceure: All data is stored in secure datacenters with 24-hour staff, biometric security and redundant power. Backblaze also uses encryption to protect your data. You can even use a personal encryption key for additional security, if you want to. It also has two-factor authentication.
Version History: You can Keep your old files versions for 1-Year or Forever. Know that Backblaze keeps old file versions and deleted files for upto 30-days. It is like a recycle bin of your PC! And if you want you can extend that period up to 1-Year by paying additional $2/Month.
Restore and Access: You can download a free restore of all your files anywhere in the world. You also the option to get a 256 GB flash drive ($99 fee) FedEx to you or an external drive up to 8 TB ($189 fee). You can access files on iPhone, iPad or Android.
Try Personal Cloud backup for just $6/month, Back up your Mac or PC just $6/month.
Cloud Solutions For Business
BackBlaze makes lot of sense with it's array of business services like Veeam backups, Server backups, NAS backups and Computer Backups. Protect your business data by backing up critical data from all your devices.
Veeam Backup: You can tier your Veeam backups into Backblaze B2 with Cloud Tier,without any interruptions to your workflow. This is because all backup jobs and restores occur directly within Veeam Backup & Replication service.
NAS Backup: You can backup and sync your NAS data to BackBlaze B2 Cloud Storage(see below).
Server Backups: Server backups are one using a joint "light-touch solution" from Backblaze and MSP360.
Computer Backups: Easily protect your business data through a centrally managed admin. Unlimited, secure, offsite backup for your business. Extended Version History: Retain files versions for 1-year or forever.
B2 Cloud Storage and object storage
Backblaze offers B2 Cloud Storage to grow your business, and this is meant for Object and File Storage and is Amazon S3 compatible. Just like Amazon S3, developers can use to build apps and manage services. Big IT leaders use Backblaze for backups, whereas media-heavy companies use Backblaze in their existing workflows and media tools.
Your business gets significant savings when compared to Amazon S3. You can migrate out of Amazon S3 for free and can significantly reduce Your MonthlyCloud Storage Bill by 75%!
#2 SugarSync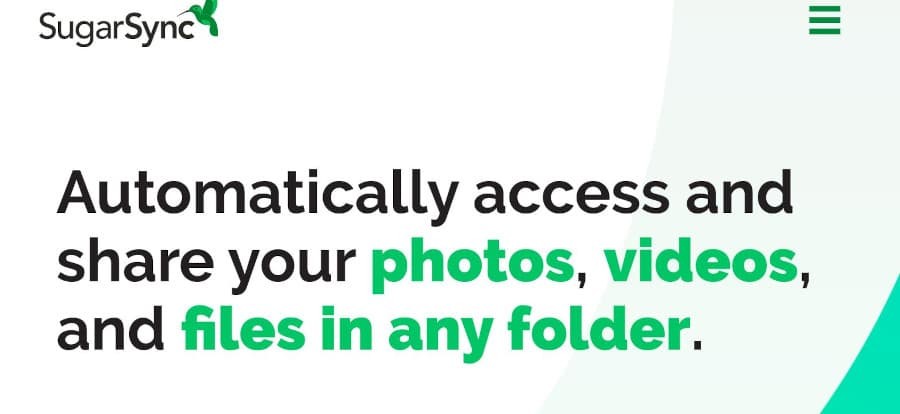 SugarSync is another powerful online data backup service. SugarSync will let you view, share and sync between multiple devices and computers. Start with their 3 user plan and add more users as your business grows.
SugarSync Backup Features include: automatically syncs your files to the cloud, sync to offline devices, automatic Online Backup, keeping the five most recent versions of your files in the cloud, allow Remote File Access using any web browser or SugarSync mobile apps, back up files of any size and more.
#3 Bitcasa.com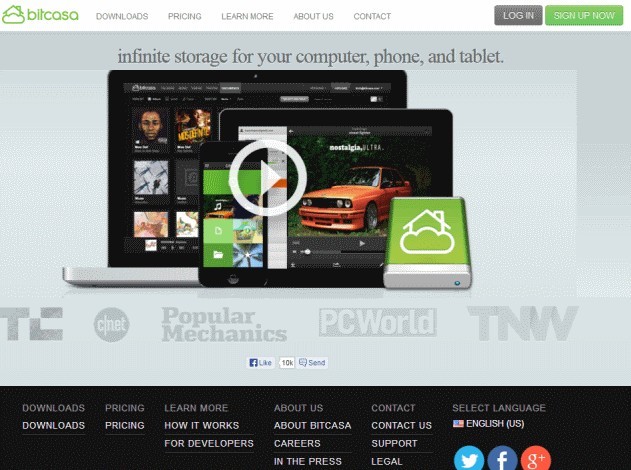 Bitcasa is an American cloud storage company founded in 2011. Bitcasa promise infinite storage & Infinite file version history. It is a cloud storage service that store and share everything you've ever owned.
Here you can store all your documents, video, photos and music, and share them across multiple devices. Unlike other cloud storage providers, Bitcasa provide centralized streaming storage. Which means files uploaded from one device are instantly available on all devices.
Any changes made to the file or folder will be saved onto the cloud, and your actual hard drive is just the cache which contains the files that you use the most. So it does not require file syncing between devices.Bitcasa provides client software for web browsers, Mac OS X, Microsoft Windows and mobile apps for Android and iOS platforms.
It is very easy to set-up and use Bitcasa. After signing up, download and install the Bitcasa applet, then follow it through the setup procedure. You can simply drag & drop OR copy & paste files and folders in Bitcasa server.
For security purpose, Bitcasa encrypts everything before you upload with 256-bit AES encryption. Bitcasa provide 2 sign up options. Pay $10 per user for infinite storage, while it is free for up to 10GB. Bitcasa is an excellent choice for those who deals with large files, including photos, video, print-ready layouts or graphics.
#4 SOS Online Backup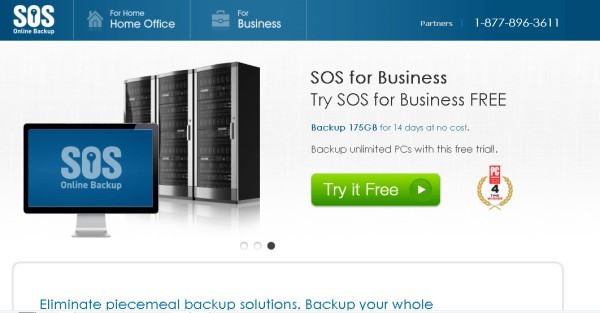 SOS Online Backup provides online backup solution for Home Users, Businesses and Resellers world-wide. SOS Online Backup provides great security features and it is easy to use.
SOS Online Backup Features : Backup Unlimited PCs Online, instant backup of changed or new files, large file sharing, Flexible Backup Scheduling, Access all of your files any time without having to download software, back up from PCs, Macs, iPhones, iPads and Android devices,
Keep an unlimited version history of all your files and much more. They provide 2 types of plans: SOS for Home & Home Office (price starts from $9.99/mo) and SOS for Business (price starts from $99.99/mo).
Signup for SOS Oonline Backup
#5 Zipcloud.com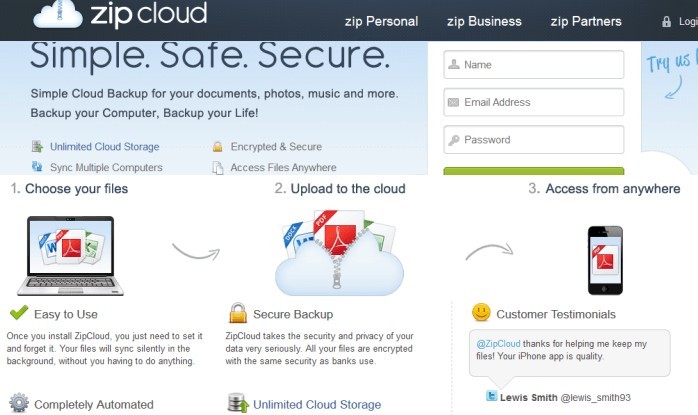 Zipcloud is another cloud storage company from UK. Data is stored at Amazon S3 and utilizes grid infrastructure to handle the data. Zip Cloud also offers online file syncing which allows you to access files from any computer or mobile device that ZipCloud supports.
ZipCloud also supports file sharing with your friends and coworkers. Zipcloud lets you create unlimited user accounts and you can allocate space to each user and their computers, phones or other web enabled devices.
The ZipCloud software will run on each users computer in the background and you can set up automatic backs up once daily at a time you choose. If you want to set up automatic hourly backups, you need to pay a one time fee of $19.95.
If you need to synchronize files across multiple PCs, or collaboration between teams or people working on a project, then zipcloud is best option for you.
They currently offer 3 Personal plans, 3 Business plans and 3 Reseller plans. You will get 14-days free trial on any plans.
Personal pricing plans
Home – 75GB Storage. From $4.95/month
Premium – 250GB Storage. From $5.95/month
Unlimited – Unlimited Storage. From $6.95/month
Wraping up
So now you know why cloud backup makes lot of sense and some simple strategies like Backup 3-2-1 rule can sure help. We strongly recommend BackBlaze as it has good set of features and it has plans for Personal or business users. Why not try it for free?