Stats & Trends For M-commerce Prominence Over E-commerce
E-Commerce has been on the high-rise in recent time and will also become one of the best ways to manage online shopping activities of users.
You may only see different ways to access the online store that may be laptops, tablets and more importantly the smartphones.
In the future, eCommerce may not be the major frontier for online shopping as you may see a drastic growth in M-commerce (mobile commerce).
However, mobile commerce is the advanced abbreviation which is covering the e-commerce sector, but still, it will on the peak of success in few years.
Most of the people must not be clear with the facts of e-commerce and m-commerce.
We have brought this blog to clear their doubts regarding the market growth of e-commerce & m-commerce and to put strong points that provide detailed growth stats for both.
How eCommerce & mCommerce are compared by the market experts?
India is flooded with hundreds of brands that are competing with each other to outperform in the e-commerce industry.
People excitingly prefer E-commerce to buy things from the comfort of their homes using desktops, laptops and tablets.
On the other hand, m-commerce provides the new ways that include shopping through mobile devices. Shopping via smartphones is in trend which makes it the major source people are using to fulfill their online shopping needs.
Thanks to the technological advancement which has made things easier for people to shop stuff by their handsets.
Below, we have outlined the scope and the growth of mobile commerce in the market:
Scope & Advantages of M-commerce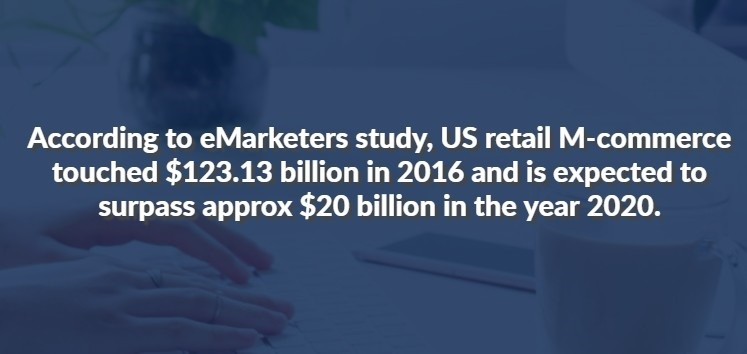 According to eMarketers study, US retail M-commerce touched $123.13 billion in 2016 and is expected to surpass approx $20 billion in the year 2020.
Mobile devices are rapidly replacing the personal computers and laptops with their strong existence and the quality of keeping the world closer to each other.
M-commerce proved to be an outstanding platform for work and pleasure purpose. It has become an impressive source for people to shop or to make payments with ease and convenience.
Today, M-commerce is counted as the major channel which provides ultimate shopping experience by changing the regular habits of consumers of making purchases via desktops.
Earlier, people were afraid of making purchases through mobile phones and the reasons were small screen sizes that make the purchase process frustrating for users, site loading speed was not good and the prime fact was users don't feel secure while making payments through mobile sites.
E-commerce businesses have started addressing these issues to provide out of the box m-commerce results.
They are working on making their websites compatible and clearly visible over the new generation large mobile screens.
Apart from this, they regular make studies and introducing various other features to make mobile shopping easier.
M-commerce Market Growth
Due to the high-rise in mobile manufacturing and usage, it is projected that M-commerce will get boomed in the upcoming years. It is also said that it will cover a larger part of U.S. retail industry.
BI (Business Insider) Intelligence said on the above-mentioned stats that m-commerce will reach $284 billion or in other words, 45% of the total U.S. retail ratio by the end of 2020.
Valid M-commerce Stats
Various organizations and firms are making in-depth researches to tell the world that how m-commerce is on the cusp of becoming the major habit for shoppers.
Have a look at true stats:
Researchers conducted analysis and polled around 1000 U.S. retail businesses.
After the intense study revealed that more than 1000 U.S. merchants 16% are already providing the mobile shopping to the consumers.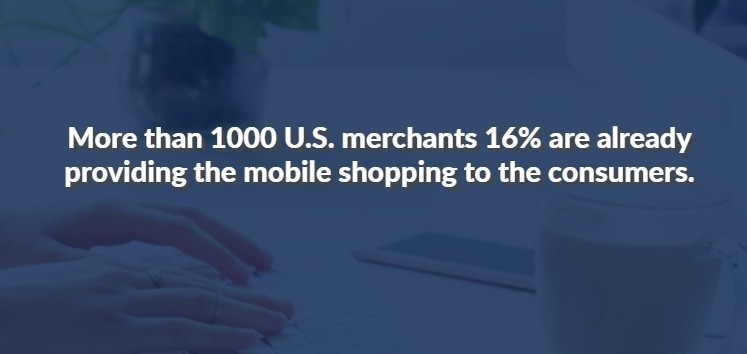 On the other hand, 32% of the merchants are planning to add m-commerce technique to give convenience to the users.
You must be observing that there is a huge adoption of m-commerce which influences almost 80% of e-commerce merchants to offer an enhanced shopping experience to the users.
More About M-Commerce
Gradually, M-commerce is becoming the future wave for the online shoppers as it is continuously pointing to the new mobile shopping trends. But, it can be achieved if you build your online store user-friendly & uncluttered.
These types of website design bring utmost user engagement and drive higher conversion rates for the associated business.
Final Thoughts
There are many retail businesses that own an e-commerce store and planning to grow it by giving mobile shopping facility to users.
For them, adopting m-commerce can help gain better outcome for your business.
They need to focus on making their websites more responsive, crisp and simple. It can assist users to make quick purchases and payments for their selected products.
This creates a positive impression and provides ultimate shopping experience to the users. This was all about M-commerce and its dominance on E-commerce.
There is a lot more to cover on this topic. Here, I have tried to cover maximum about it.
Author Bio:
Tom Hardy is a hard working person employed at Sparx IT Solutions- Mobile App Development Company. He is highly skilled and has engaged himself in keeping a close watch on the true facts of the designing domain.
He keeps researching new designing techniques and trends to serve the users with the knowledgeable and informative write-ups.