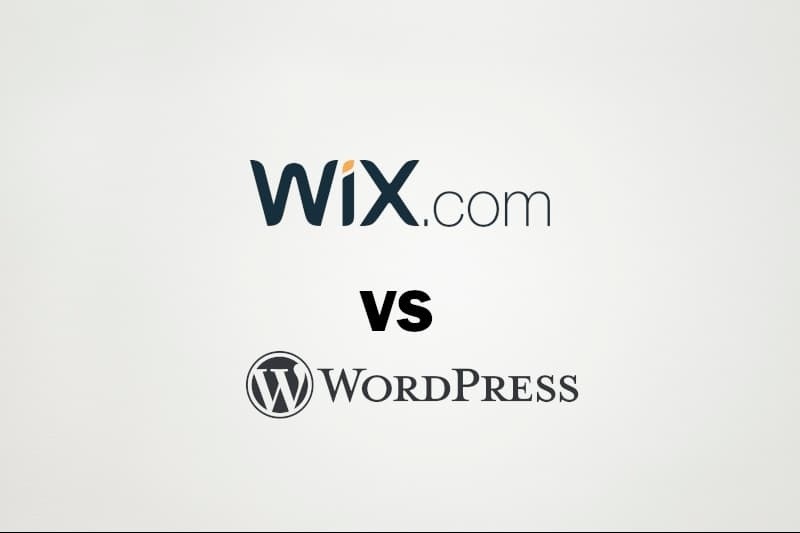 Wix Vs WordPress: 7 Interesting Facts I Bet You Never Knew!

Tweet This


You probably heard about Wix and WordPress a lot recently. Both are awesome publishing platforms and are user friendly.

With Ads being flashed across YouTube and even in TV, a big competition is going on between these two for sure!

Both can help your business grow. They have different platforms, But Wix and WordPress can go toe to toe when it comes to creating a high quality website that suits your needs.

Many folks think that WordPress is just for blogging only! The fact is that, many big names you know is using WordPress. The NewYork Times, MSNBC to name a few…

So it is only natural that there is a dilemma among small business folks as well as organizations as to which one suits them the most?

To make this clear let's have a look at some of the interesting points and decide the one which one suits you best. Following covers Wix review as well as WordPress reviews.

Let's Get Started!!!

#1 Ease of getting Started 
Wix: Getting started with Wix is a breeze. You visit wix.com home page and just click on "Get started" button, signup, and you start creating a website right away by choosing a nice theme!  Try Wix Now! 
WordPress: WordPress platform is open source/free. So to get started with  WordPress, you can approach a WordPress web host who runs WordPress optimized  servers and purchase a hosting plan.
For example, BlueHost  is  a WordPress specialist web host and has WordPress plans.  You can just sign up for a WordPress plan and then install it (Support staff can do the installation for you for free!). It takes only 5 minutes to setup WordPress. Once installed, you can start with a nice free WordPress template/theme and you can start playing!
Click here to see a WordPress Hosting plan from BlueHost so that you get an idea.
Ease of getting Started: Who wins:
Wix wins here, since with Wix you get started instantly. No payment at all to start a  trial! You can play with Wix features for free! You can even publish the site with a Wix temporary address. Once you want to attach your own domain name(website name like mysiteadddress.com), thats when you pay.
In case of WordPress, you have the slight inconvenience of  signing up for a hosting plan to get started. (But then you have other significant advantages with WordPress. See below.)
#2 User Friendliness
Wix: Wix has a visual, user-friendly interface, where you'll be doing a great deal of dragging, dropping and clicking. The website builder makes it snappy and effortless to plan and create your website, regardless of whether you have no clue about how websites are being made.
WordPress: Once you have setup WordPress from a Web Host, you can choose from thousands of beautiful themes and install within a minute. You can customize logo, play with colors, add pages and make it live.
But it does not have a drag and drop site builder by default. But you can overcome this by installing a Page Builder plugin
User friendliness: Who wins?
Here also Wix gets the edge since it comes with a drag and drop site builder.
Don't get me wrong. WordPress is also user friendly. But to get a page builder, you have to do the extra step of installing a Page Builder Plugin.
#3 Flexibility
Wix: Wix has a very easy to use yet sophisticated website builder using which you can create a website, setup a blog and setup eCommerce store as well.
In addition, Wix has AppMarket, from where you can get free or paid add-ons. For example, Holiday badges (free), Comments (free/premium), Events Calendar (free/premium), Live Chat Room (free/premium), Customer surveys (free/premium).
WordPress:  Even though WordPress began as a blogging tool and CMS, it has evolved a lot. WordPress is beyond blogging now. Thanks to thousands of plugins and themes, you can create blogs, eCommerce stores, Corporate websites, forums,portfolios, photography websites and this list goes on.
Related Resources:
In addition, you get security plugins, SEO plugins and so many other useful plugins, many of them 100% free!.
Wix Vs WordPress: Flexibilty: WordPress wins here
WordPress, due to the amazing variety and options it provides, is a clear winner here.
#4 SSL Security
SSL(Secure Sockets Layer) ensures that users can visit your site with confidence,
Wix: Wix provides inbuilt SSL security for its users. This means that you may not go in search of SSL certificates.
WordPress: In case of WordPress, you have to install SSL certificate or use a shared certificate issued by your web host. For example, certain web hosts like BlueHost now provides free SSL certificates for all wordpress customers. You can then easily enable SSL from control panel. Or You need to look out for a genuine SSL certificate provider like SSL2BUY. Or opt for a SSL certificate that can fit in your budget. While installing a SSL certificate is not a big deal, but it is a slight inconvenience.
Wix Vs WordPress: Who wins?
Wix wins here since naturally SSL is included in its package.
#5 Designs
Wix: Wix has a lovely templates for more than 70 industry categories. It also has one-page templates (greeting pages) and clear layouts.
While Wix's templates are without a doubt delightful, yet there's a critical disadvantage – clients can't switch layouts halfway through the editing procedure.
All Wix templates are mobile friendly, thanks to Wix's Mobile Editor.
WordPress: WordPress has thousands of templates/themes, for almost any industry.  Many of these are free, while there are also premium themes.
Dissimilar to Wix, WordPress doesn't have WYSIWYG altering. But it does allow lot of customizations. But to make deeper customizations you should know a bit of coding.
But unlike Wix, you can easily switch to any theme anytime.
Wix Vs WordPress:
Since Wix can be customized using WYSIWYG editing environment, it holds an upper had here.
#6 Customer Support
Wix: Wix has an amazing support structure. There are more than 262,000 hekp toipcs posted in the official help section, many video instructional exercises and walkthroughs, email support system and furthermore a whole training system – WixEd.
Also the Wix Editor itself has "prompts" or tiny help icons for almost every section. Just click on it to see more info right there!
WordPress: WordPress has a huge developer community and you just post your question in wordpress forum and you sure will get helpful answers from other bloggers or developers as well. Also you can get additional support from your web host as well.
Wix vs WordPress:
Both Wix and WordPress have good support ratings. So they have a tie here 🙂
#7 Cost effectiveness
Wix Pricing: Wix is a premium site builder. You can get started for free  and you will be given a temporary web address. When you want to have your own domain name attached to this wix website, thats when you pay. It is always fair.
There are five paid versions: Connect space ($4.50/mo), Combo ($8.50/mo), Unlimited ($12.50/mo), eCommerce ($16.50/mo) and VIP ($24.50/mo).
WordPress: The platform itself is free(open source) and you can get started with WordPress by purchasing any matching wordpress hosting plan from a web host like BlueHost.
Monthly hosting expense should be around $4-$5 per month for a starter account.   If you opt for a free theme and free plugins, then your expense will be just your hosting plan expense. But if you need a paid/premium theme and premium plugins, then cost should go up.
Premium theme cost is mostly a one time expense and plugin expenses could be monthly or a one time expense.   But hey, you have plenty of free high quality themes and plugins to choose from and that should suffice as a beginner.
Wix Vs WordPress:
Wix designs cover hosting and templates. The cost can go up if you purchase  a premium wix App  from the Wix App Market.
WordPress is free, and the cost will mostly rely on hosting plan and premium themes and premium plugins.
So WordPress has an adge here.
Verdict:
While WordPress is by all accounts more amazing than Wix, for a beginner who needs a basic website Wix makes a lot of sense since it is very easy to get started.
When to consider Wix?
If you need a basic website and want to get started without any hassles, go for Wix.

When to consider WordPress?
If you need a nice blog or a nice web store or a more advanced website, go for WordPress. For a WordPress website, your best bet is BlueHost, who has everything you need for a WordPress website. These guys are WordPressexperts and have very good support folks.