WooCommerce Hosting- Get everything you need to sell online

Tweet This


What is WooCommerce?
WooCommerce is an eCommerce plugin developed by WooThemes and is the best e-commerce plug-in available for WordPress. Many site owners are using WooCommerce for selling products online. WooCommerce is user-friendly and makes an excellent choice even for beginners. There are many free and paid extensions available to customize the look and function of your new online store. 
WooCommerce Hosting Requirements
WooCommerce hosting requirements are a slightly different from regular WordPress-powered sites. In my opinion, not all WordPress hosts are suitable for WooCommerce.
You need a WordPress host optimized for eCommerce. Choose a hosting that provides additional layers of security (like SSL certificates), eCommerce-specific site speed, reliable support etc.
Give yourself room to grow – Choosing between a shared, VPS or dedicated web hosting package will depend on the number of products you plan to sell and the number of daily visitors you expect to your store. If you're a beginner, you may not be expecting much traffic to your website. You can start with shared hosting but make sure that you have room to expand and grow.
Installing WordPress and then installing and configuring wooCommerce plugin and themes can be complicated process for some users. Hence it is a wise decision to go for preinstalled WooCommerce hosting package.
The following two hosting providers will make things easier for you. I've been using both Siteground and bluehost for a while and I'm impressed by what they've been able to achieve. Get your WooCommerce store up and running with these fast reliable and secure hosts.
---

Bluehost is one of the well established hosting companies in web hosting arena. Bluehost provides dedicated support to WordPress users and have staff committed to full-time WordPress CORE development. Small to medium-sized sites can use their low-cost shared hosting. WooCommerce-specific hosting plans from $12.95/month. With this you will get: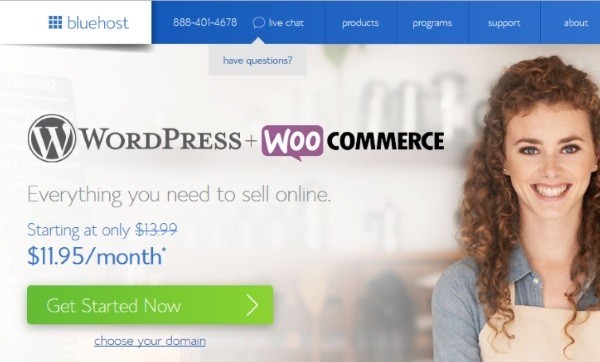 Easy set up. Pre-installed WordPress and WooCommerce.
Woocommerce optimized servers
Free Dedicated IP and SSL to enable secure payments
Custom WordPress management tools
Automatic WordPress upgrades
FREE domain name
24/7 support by in-house WordPress experts.
Visit Bluehost >> then go to /wordpress-woocommerce page as shown in picture below.
---
Siteground is a veteran web host providing quality hosting for small businesses as well as for big companies alike. Siteground has optimized servers specifically meant for WooCommerce.
Let us see details:
WooCommerce optimized servers and a free CDN
WordPress and WooCommerce are pre-installed and ready before your first log-in.
Pre-installed Storefront Theme to ensure a great look at the very start.
Free Private SSL and dedicated IP
Great speed, guaranteed security and expert support.
Pre-installation of Premium Plugins (Akismet Plus, VaultPress Lite (both premium plugins) and Jetpack)
WordPress autoupdates
Include all the necessary caching   as well as daily backups
Server-level protection against vulnerabilities
Free Domain name
The Ultimate WooCommerce Package starts at 19.95/mo.